Looking for an affordable, fun Halloween costume for your kids? Look no further! I'll show you how to take some thrifted finds and turn them into an amazing Jack Sparrow costume. Trust me, your kids will love this DIY pirate costume.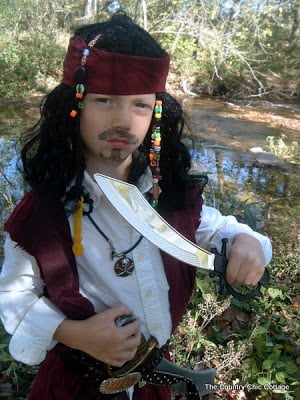 Jack Sparrow is arguably one of the most well-recognized pirates out there, His costume also happens to be pretty simple to make and I personally think it is adorable! My little man thinks he is a super scary pirate though so don't ruin it for him, okay? 😉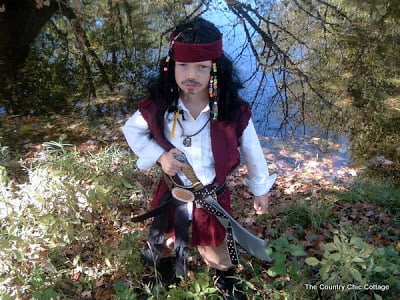 How to Make a Jack Sparrow Costume
All this costume takes is a little bit of creativity and a few supplies! You may even have these items in your home already. Here's how you can put this outfit together step by step.
Hair
Okay, this may be one of the few things you have to buy, but thankfully it's an inexpensive purchase! To create Jack Sparrow's hair, I took a black witch's wig, and cut it off to be about shoulder length. I recommend having your child try it on so you can get the length right.
Then add on some beads and a few braids for authentic Jack Sparrow hair.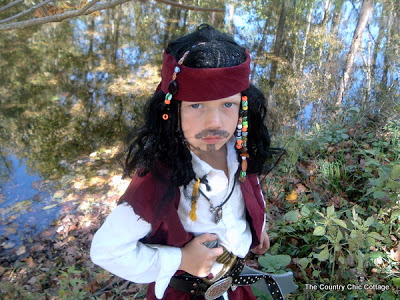 Facial Hair
His mustache and goatee are just Halloween face paint applied with a make up sponge. It is easy to apply and remove.
If you don't have face paint around, you can use a smokey eyeshadow as a last resort—just make sure it isn't a shimmery one or you may miss the look.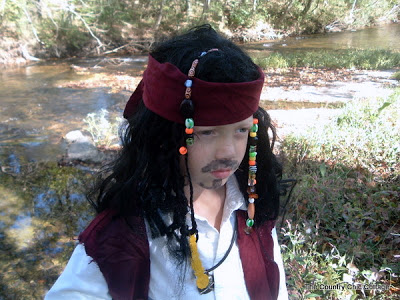 Accessories
Perhaps my son's favorite part of this Jack Sparrow costume for kids is the necklace. He got the pirate necklace for his
birthday
this year. It was the only thing he wanted!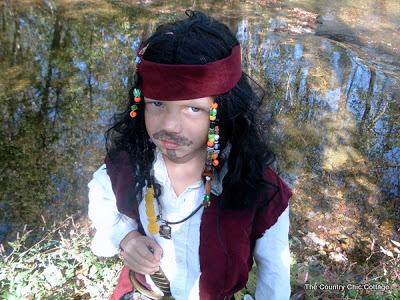 For the belt, I dug out two old belts that came from who knows where. If you do this, you will likely need to do as I did and add a new hole for your child's small waist.
There is also a black sash in there. I just took a long strip of fabric that I ripped off of a remnant in the closet. The sword he has had forever but you can certainly find one at a
dollar store
.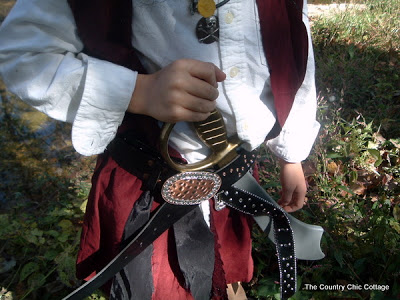 Pants and Boots
The pants came from Goodwill and so did the boots. I looked for over a month and finally found the perfect pair of boots!
The key to a great budget Halloween costume is deciding waaaay in advance what your kids are going to be. That way you have time to look for budget options at Goodwill, thrift stores, or garage sales.
Shirt, Vest, and Bandana
I took a red woman's shirt from the goodwill and cut it into a vest. I then used the arm fabric to make a bandana to go around his head.
The white shirt is just a button-down shirt. I actually got that one at goodwill as well but you may already have that in the closet.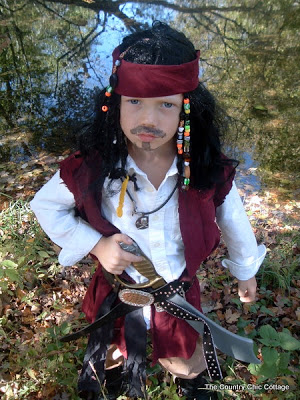 Total Budget Spent on This DIY Jack Sparrow Costume
Okay, I've shared a lot about the deals and what I did to make this kids' costume come to life. But here's the part where I really get to brag…guess how much I spent in total?
Budget total — $12.97!! Any Jack Sparrow costume I looked at that even came close to looking like this was over $50.
Plus, it was a fun project for my son and I to work on together. We enjoyed hunting for deals and piecing ideas together. We made it into a bonding experience that neither of us will forget, which is priceless!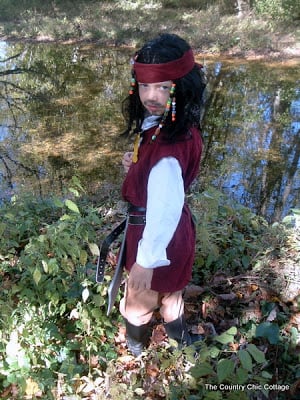 My little Jack Sparrow is ready to go trick or treating next week!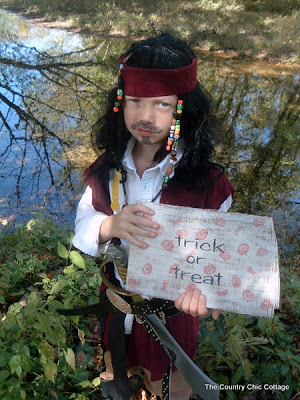 We had to get down in the creek at the house to get all of these pics. The little man insisted that pictures with cows in the background were not good enough for Jack Sparrow.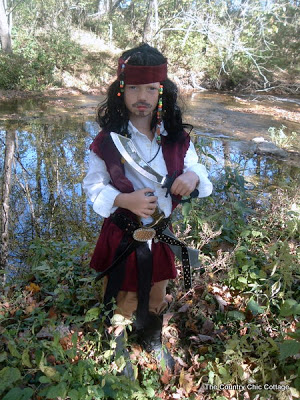 Do you have your kids (or your) Halloween costumes complete?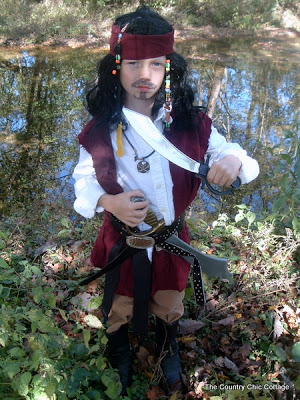 Be sure to make this Jack Sparrow Halloween costume for your little one! They will love how it looks!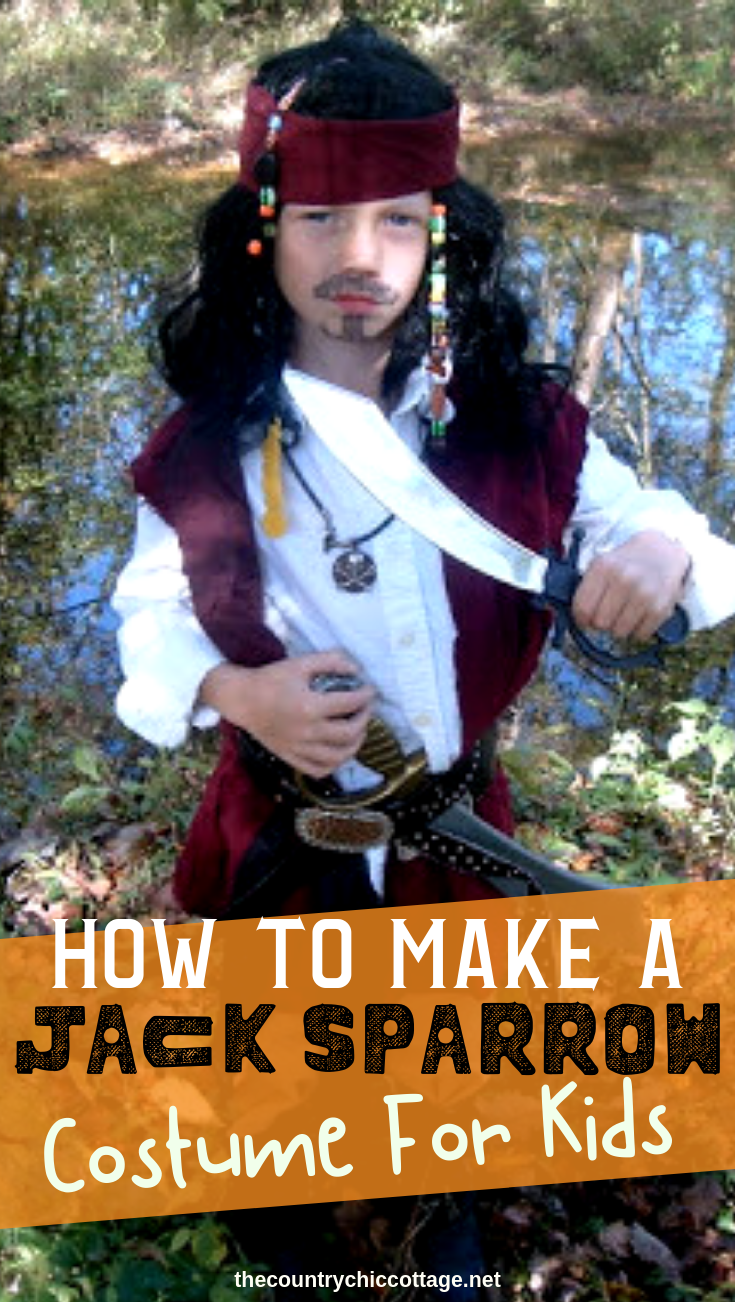 More DIY Halloween Costumes
Love this DIY pirate costume and want more ideas? Try the links below!