Fall decor is so much fun since the colors and textures provide endless inspiration! This fall indoor fairy garden also doubles as a non-traditional fall snow globe. Learn how to make it yourself in just minutes.
I love fairy gardens! They're whimsical and beautiful and add a touch of fun to your decor.
I've made several, including my Mini Fairy Garden, Fairy Garden Terrarium in a Mason Jar, and Make a Fairy Garden with a Pool! Each one is special in its own way, and they all have a fun dose of character.
Today I have a new indoor fairy garden tutorial to share with you. It's inspired by classic symbols of fall.
This fall snow globe is the perfect indoor fairy garden for the upcoming autumn season. Plus, it's so easy to make! You will have your own adorable mason jar craft to add to your fall decor in just minutes. And it looks wonderful lit up next to my Simple Fall Fairy Light Luminary!
Note: If you want to make even more autumn-inspired crafts to round out your fall decor, try my Fall Mason Jars, Fall Wooden Sign, and Easy DIY Pumpkin Door Hanger.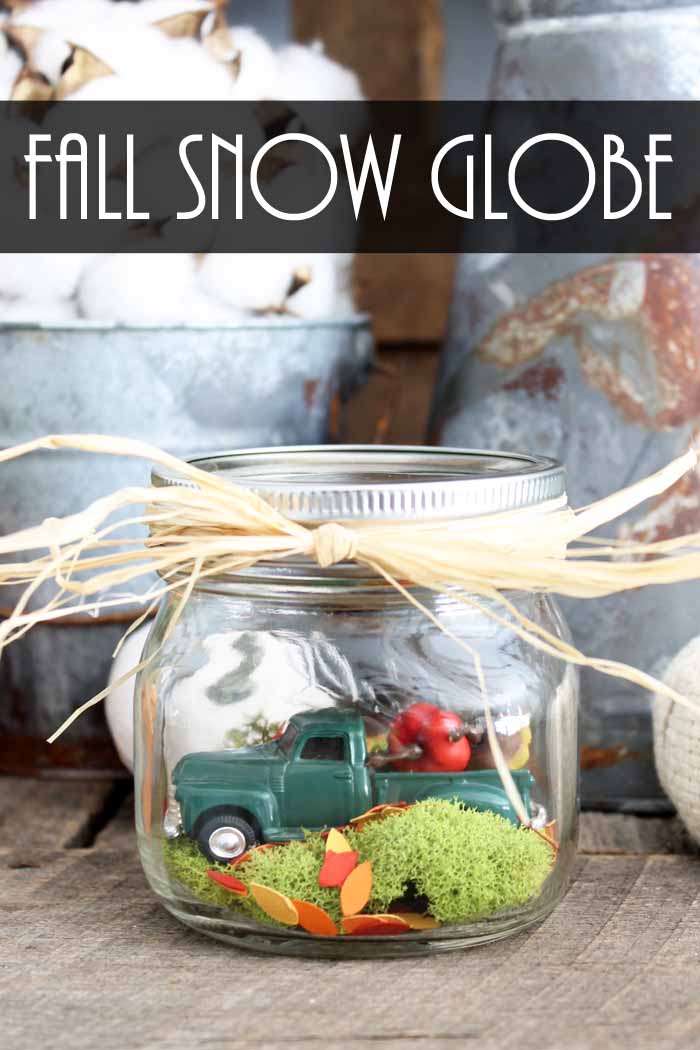 How To Make An Indoor Fairy Garden
I love crafts that come together easily, and this one is a terrific example. It'll be ready in less than 10 minutes!
Supplies Needed
Here's what you'll need to complete this project. I've even included a few handy links to make it faster to find certain items.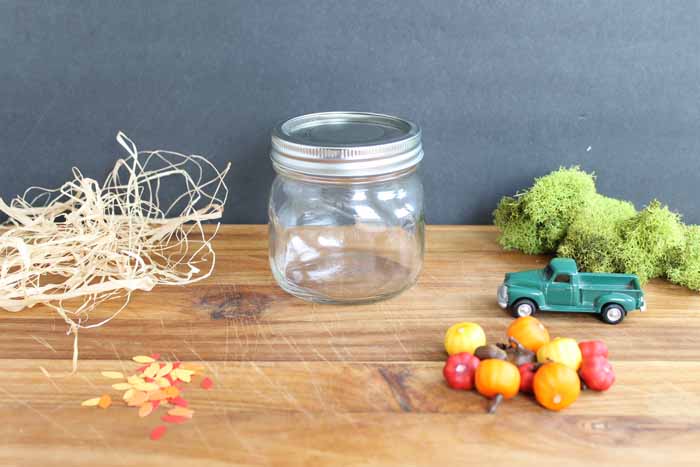 Video Tutorial
This project is so quick and easy that I thought I would share the process in a short video. You can watch that below!
Fall Fairy Garden Instructions
So easy, right? If you can't watch the video or missed some of the steps for this fall snow globe, follow along below.
Step 1
Add moss to cover the entire bottom of your jar and hot glue into place.
Step 2
Add a couple of pumpkins to the back of your truck and secure them with hot glue.
Step 3
Then put the truck on top of the moss in the jar and secure it in place with hot glue.
Step 4
Drop small leaves into the jar. Please note that these are easily made with yellow, orange, and red card stock.
Step 5
Then screw the lid onto the mason jar.
Step 6
Tie the raffia around the lid and also trim off any excess with scissors.
Your fall snow globe is ready to display around your home.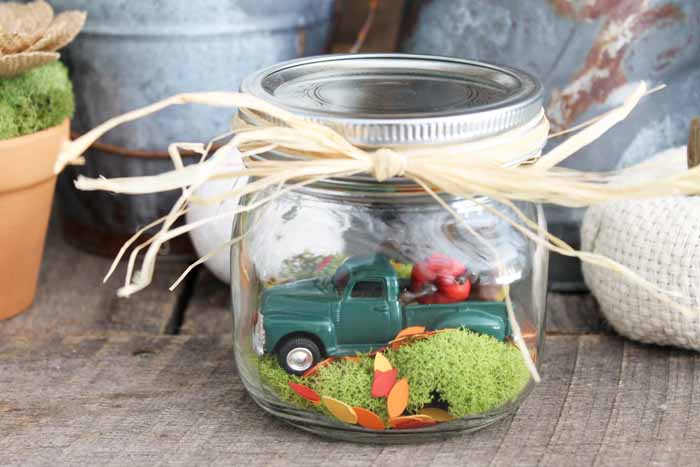 Make this indoor fairy garden to add to your decor or give as a DIY gift. It's easy to make a few of these in just minutes!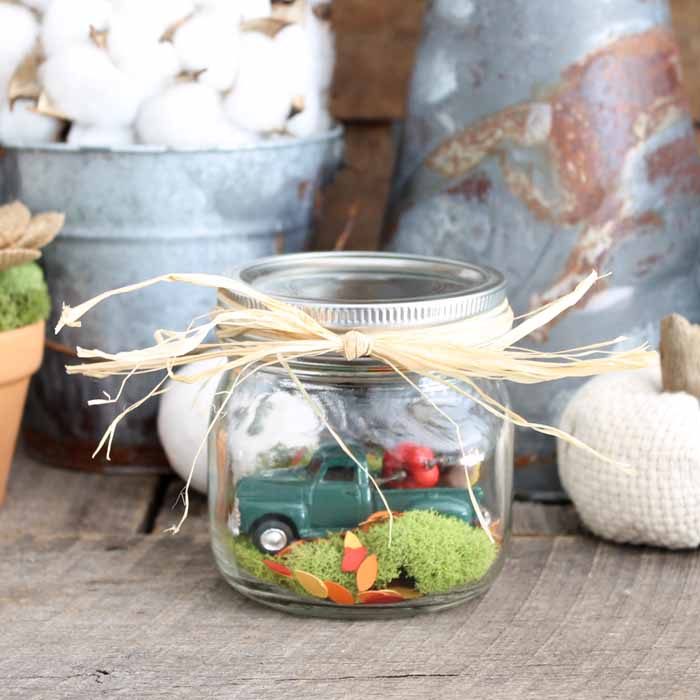 FAQs
Do you have questions about this indoor fairy garden? Please check below to see if I've already answered it down below and leave it in the comments for me if you don't see it.
How do you lay out a fairy garden?
This particular design doesn't require much laying out because there aren't lots of pieces. Start with your container, add the base (moss), then insert the truck and add accessories. Package it up with raffia and call it done.
If you choose to make a more complex design, follow the same general process until it looks the way you want it to!
How do I maintain this indoor fairy garden?
There's nothing you need to do! Since nothing is alive inside the mason jar, there's no need to water anything. I do recommend keeping your completed fall snow globe out of the sunlight, though, so the sun doesn't fade the items inside.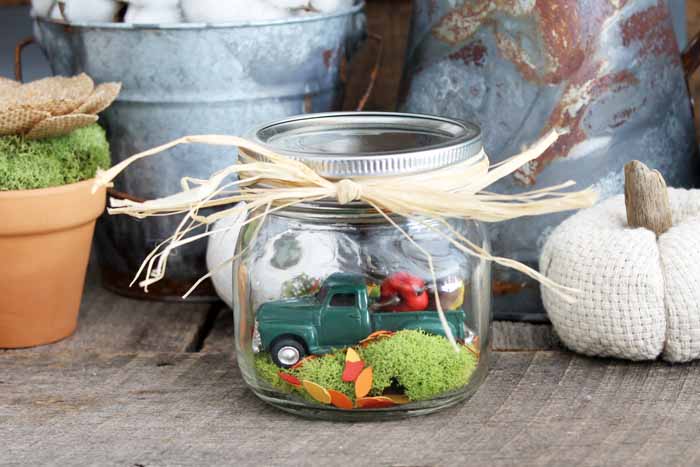 More Crafting Inspiration
Do you love this and want more fall mason jar craft ideas? Try the links below!
Pumpkin Spice Sugar Recipe With Free Printable Label
In less than 5 minutes you can have a big batch of Pumpkin Spice Sugar made! Make extra as gifts…there are lots of ways to use this sweet treat!
Read More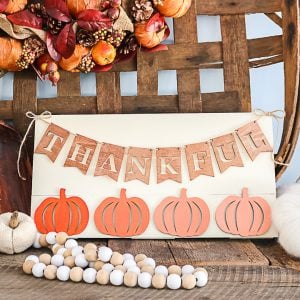 Thankful Sign for Fall
Make this cute fall sign from wood and add it to your home's decor this autumn.
Read More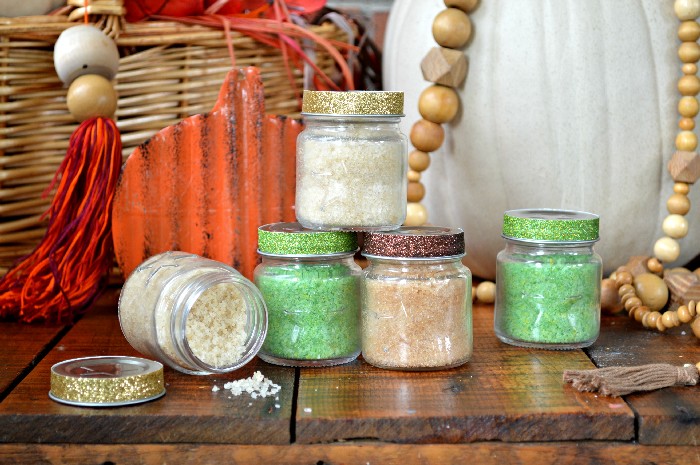 Fall Scented Bath Soaking Salts
If you want your relaxing soak in the tub to have those same delicious scents, you can easily make homemade fall scented bath soaking salts.
Read More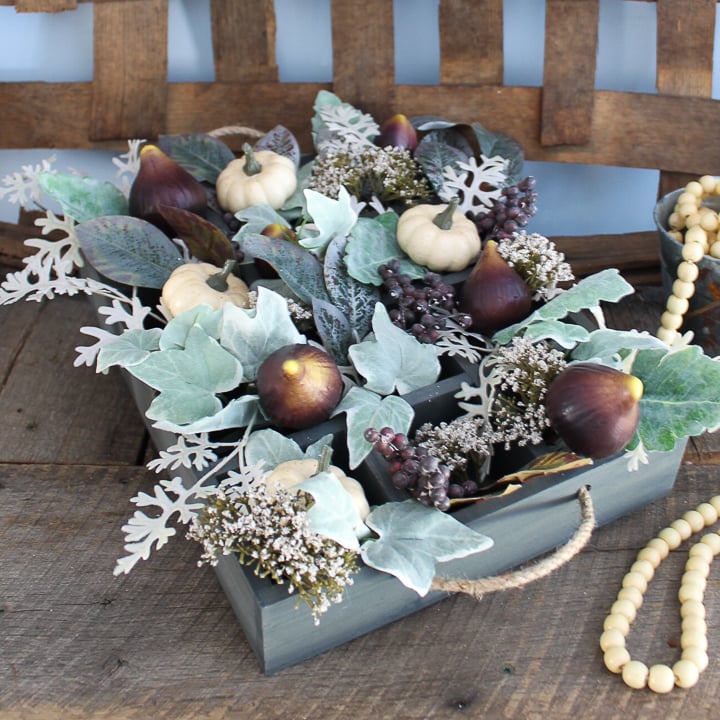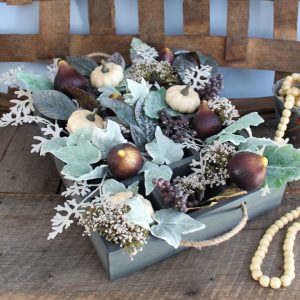 DIY Rustic Farmhouse-Style Fall Centerpiece
Make a simple and easily customizable fall centerpiece to complete your fall decor.
Read More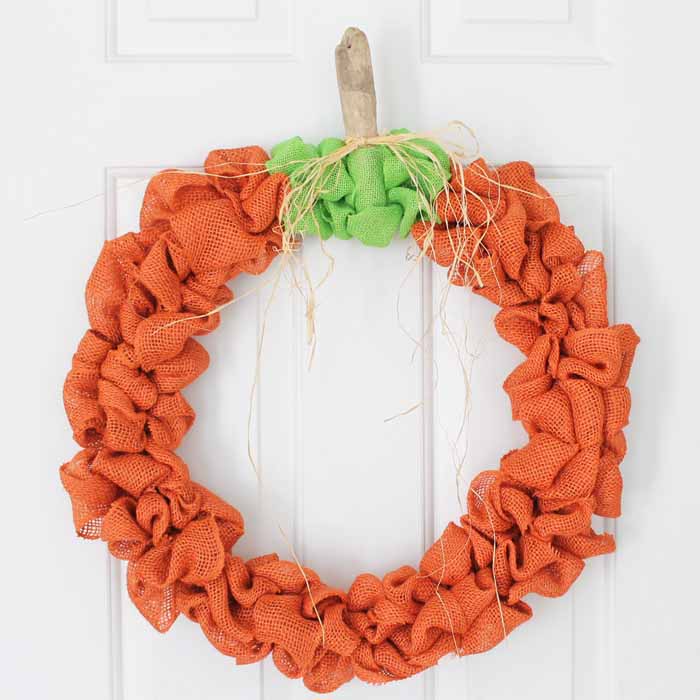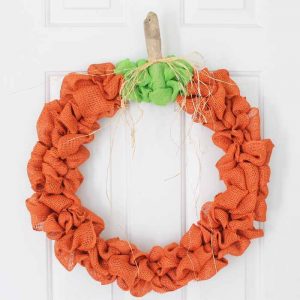 Fall Burlap Pumpkin Wreath
Make this adorable fall wreath to grace your front door and add that perfect fall color – in just 15 minutes!
Read More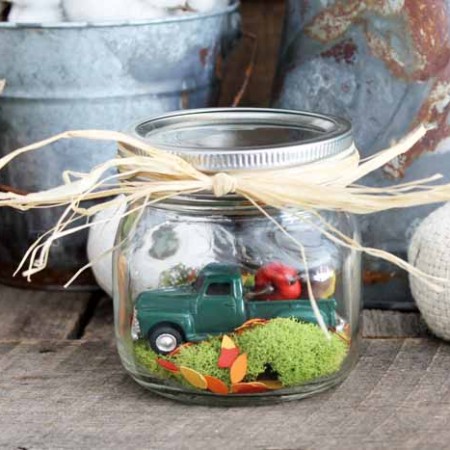 DIY Indoor Fairy Garden
This fall indoor fairy garden also doubles as a non-traditional fall snow globe. Learn how to make it yourself in just minutes.
Supplies
Vintage truck miniature

Leaves

I cut mine from cardstock

Hot glue and glue gun
Instructions
Cover the bottom of the mason jar with moss, hot gluing it into place.

Hot glue mini pumpkins into the bed of the truck.

Place the truck into the mason jar and glue it into place.

Drop some cut leaves into the jar.

Close the lid and wrap some raffia around it.
Tried this project?
tag us to show off your work!
A Year of Jar Crafts
Sign up for our email list to get a FREE book with an entire year of jar crafts! 12 months, 12 crafts, tons of fun!