This post and photos may contain Amazon or other affiliate links. If you purchase something through any link, I may receive a small commission at no extra charge to you. Any supplies used may be given to me free of charge, however, all projects and opinions are my own.
Christmas is fast approaching and if you still need a handmade gift idea this monogram knit coffee sleeve is for you. It is made on a knitting loom and trust me even a beginner can make this in a few hours. I had never in my life made anything successful with knitting and I made this! So follow along below with the instructions and make these for everyone on your holiday gift giving list. This one was originally posted over at Crafts Unleashed where I am on the design team.
Supplies needed to make your own monogram knit coffee sleeve:
Links are affiliate links which means a portion of your purchase will go to support this site.
Start with the instructions that come with your knitting loom kit. You are going to be using those to knit a long sleeve with the gray yarn and the blue loom. The only difference is that you will be wrapping each peg twice then pulling those over two more wraps. TIP: Wrap LOOSELY or this project will not turn out correctly. Follow the instructions with the loom exactly except for the wrapping of the loom twice. Stop with the kit instructions before finishing off your project. The instructions are for how to loom knit a hat and obviously we are not making a hat!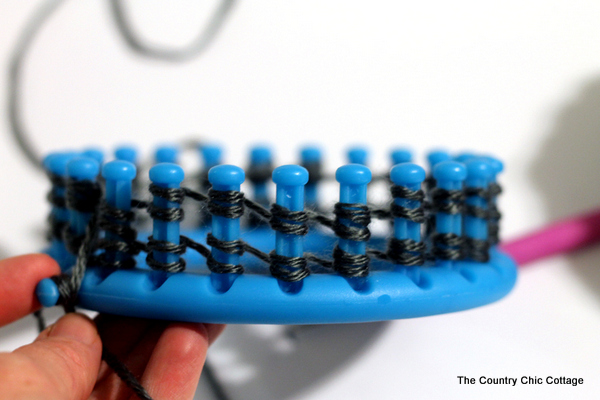 Use the instructions to knit a tube about 6 inches long using this method. Now we are going to deviate from the how to loom knit manufacture's instructions to turn this into the monogram coffee sleeve.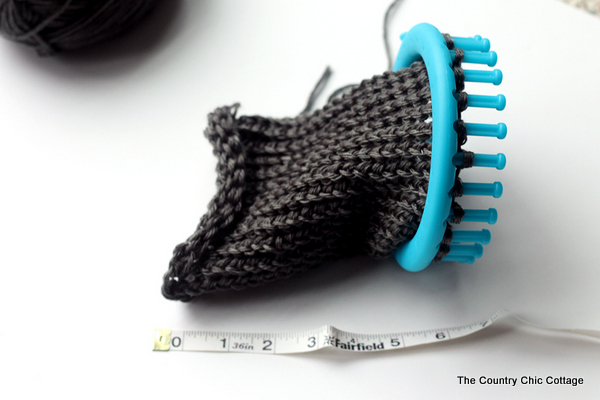 Pick up the bottom of your tube and put the loops onto the loom from the inside. This will basically double over the tube that you have created.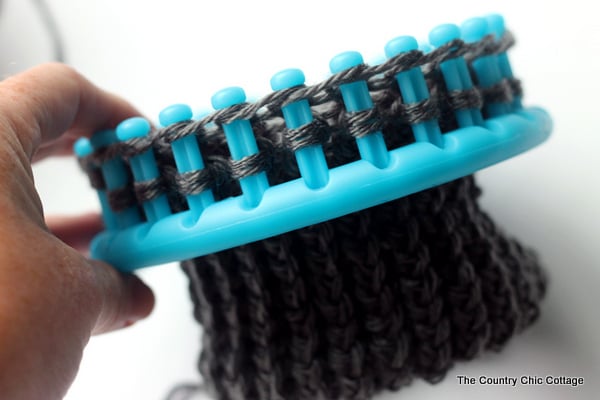 Pick up each bottom set of loops and put it over the top loop. You now have a coffee sleeve but we have to finish off the top. Start with the second peg to the right of the loom as shown below. Lift off the loop and put it on the peg directly to the left.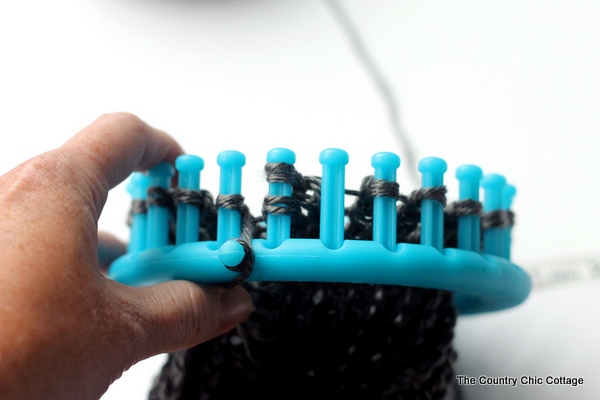 Lift the bottom over the top with your tool.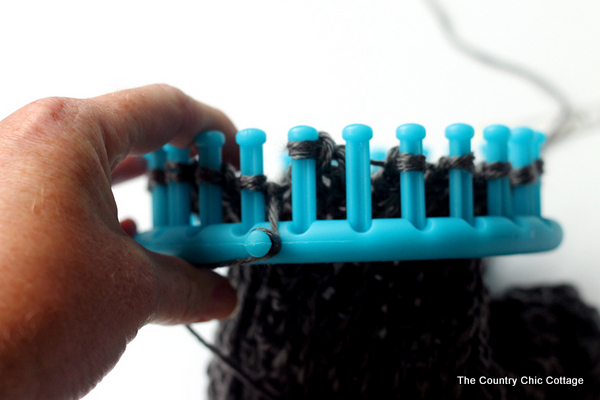 Then move that loop from the peg it is on to the peg directly to the right. Keep repeating all the way around the loom.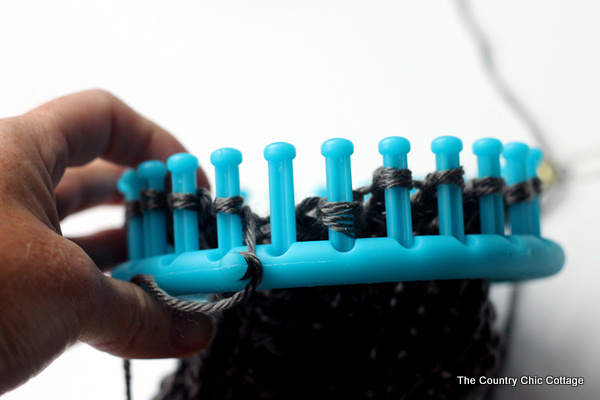 You will end on the last peg. Wrap the yarn end around twice and lift the bottom loop over the top.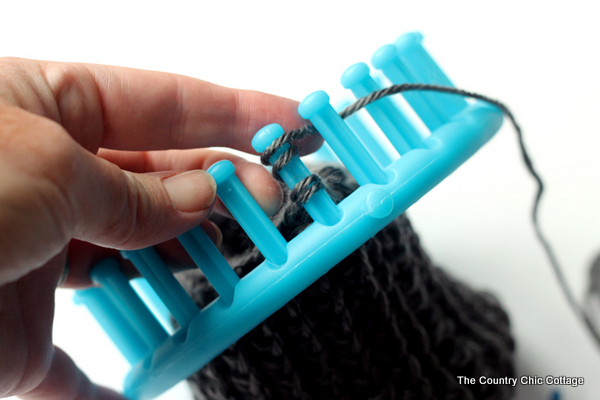 Repeat once more but with a single wrap.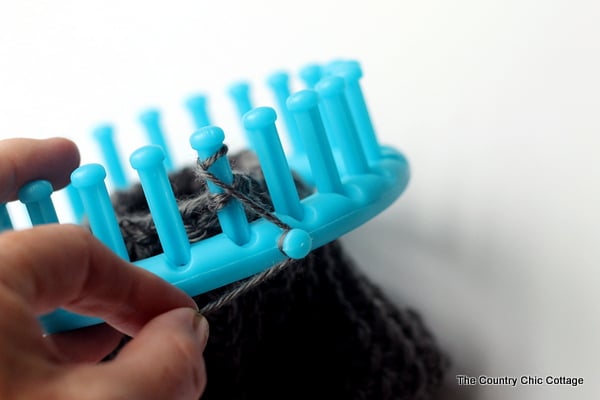 This time pull the end after you lift the bottom loops over the top.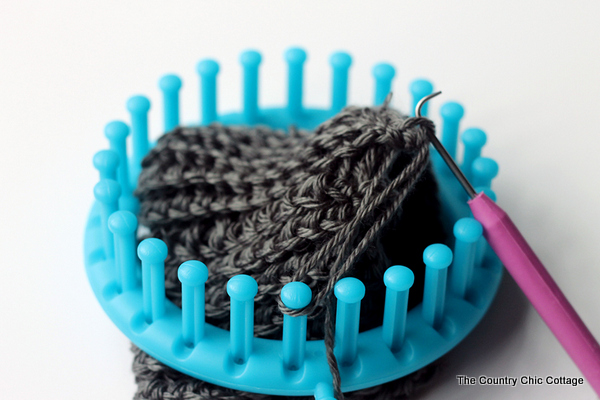 You will be left with a sleeve and two ends. One from the beginning of your knitting and one from the end. Tie these two in a few knots and trim ends. Weave ends into the coffee sleeve.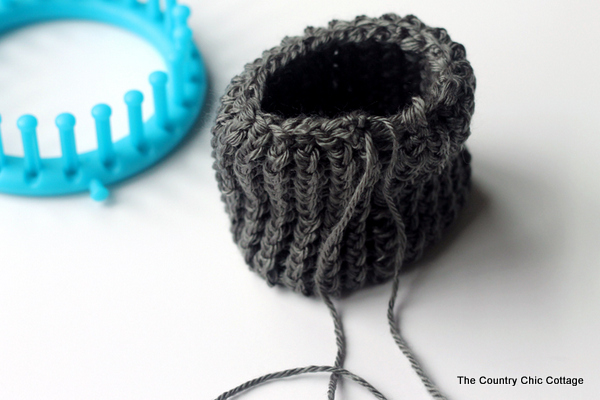 Try the sleeve onto your mug for size. I found it worked best when the braided end I just finished was up.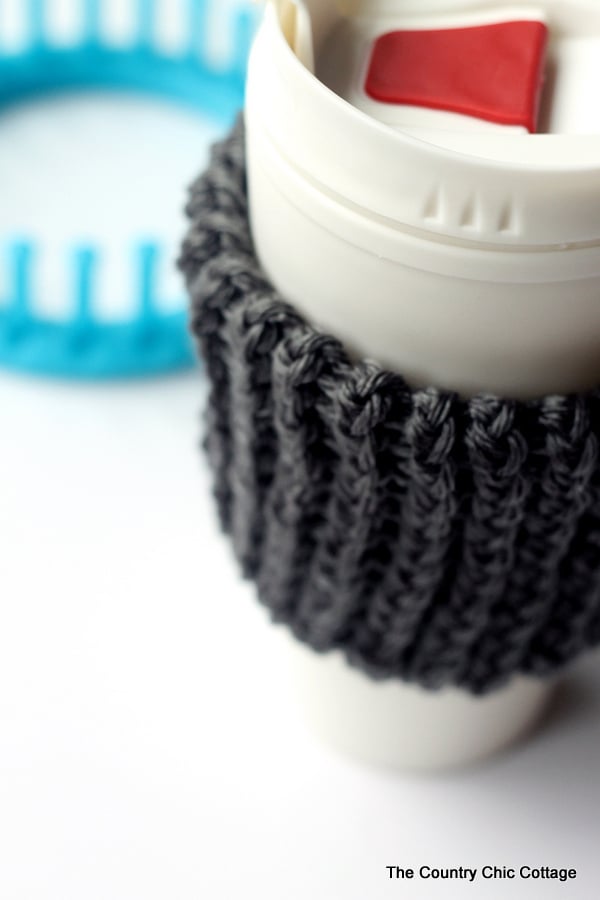 You can leave your knit coffee sleeve plain but I wanted to add just a little something to it! You can add the monogram with just some contrasting yarn (in this case white) and some fabric glue.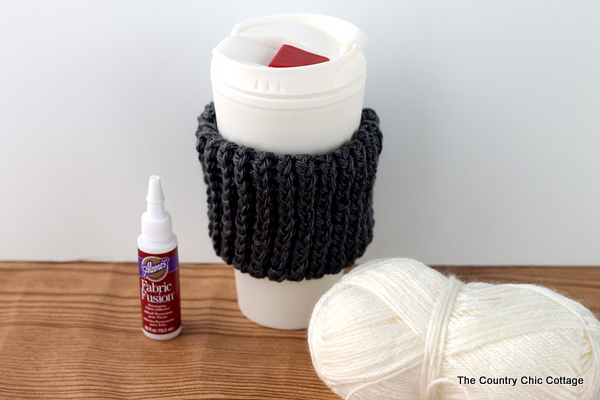 Just use the glue to draw a monogram.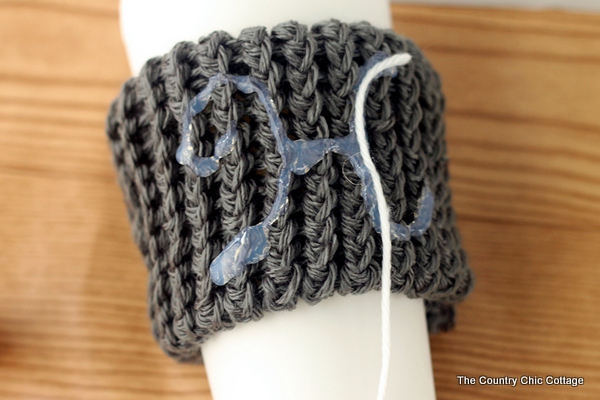 Then apply yarn in the shape of the letter. I doubled up the yarn to create a fun monogram design on my coffee sleeve. Allow this to dry completely.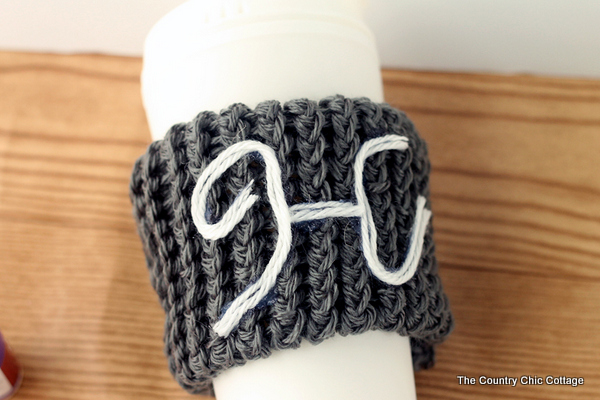 Now your monogram knit coffee sleeve is ready for gift giving. Make one of these fun gifts for teachers, friends, co-workers, and so much more. You will get a ton of these out of a single skein of yarn. I plan on trying my hand at other projects using the knitting loom so y'all stay tuned for more ideas!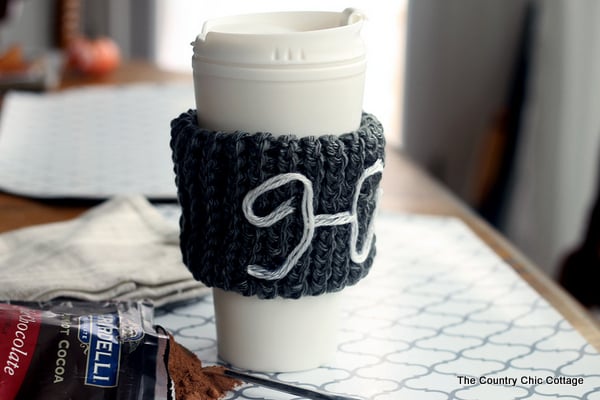 Until then, order your looms and make a few of these to get started! You won't regret it!!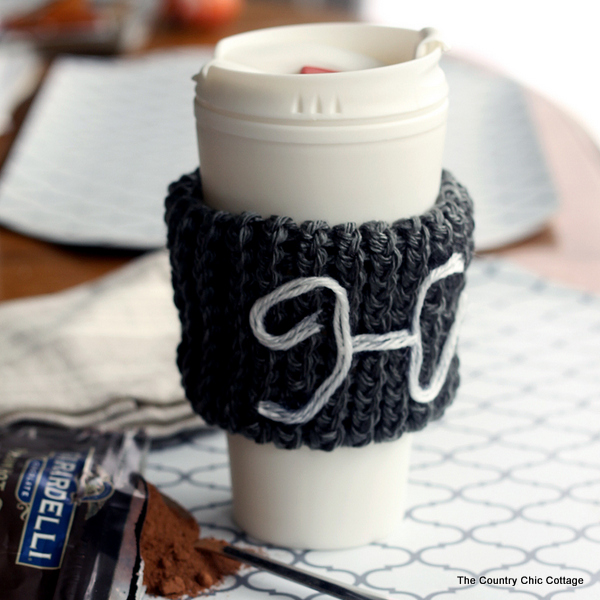 Want to make a handmade mug as a gift instead? Try our marbled mug tutorial by clicking here.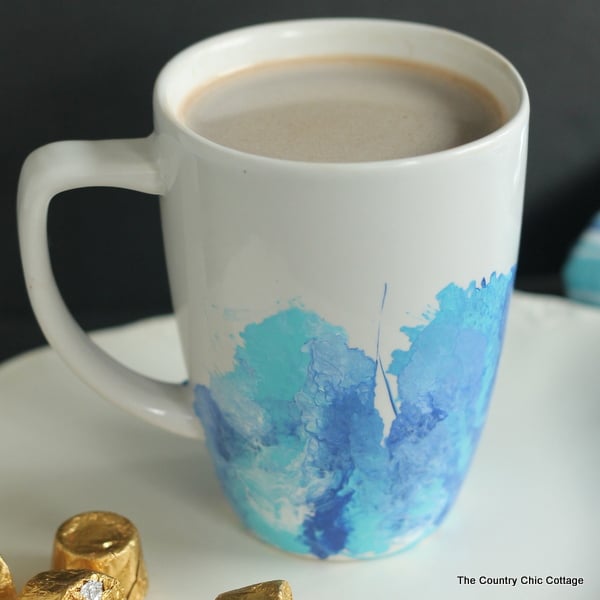 You can also click here for even more ways to make a DIY coffee sleeve.