We have been talking a ton about mugs lately so why not share some free coffee cup SVG files today? Seems like a great idea right? I am sharing my design for free and I have paired up with some of my favorite SVG designers on the web and they have created some amazing files as well. Scroll down to the bottom and you will get 12 total free SVG files to put on your mugs. You can use Infusible Ink to make them or just regular permanent vinyl. These work whether you have a mug press or just can't afford one right now. So drink up and enjoy!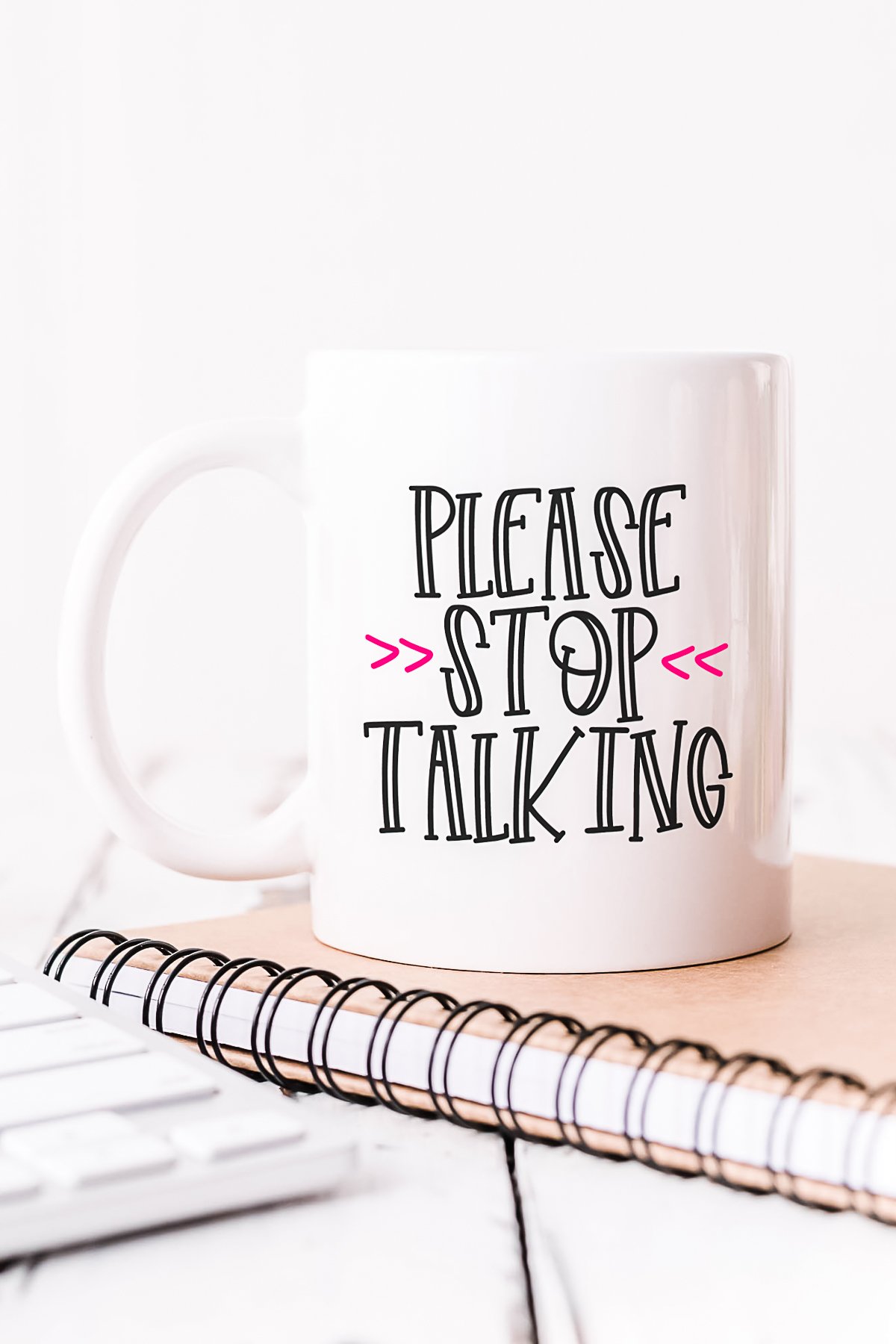 Coffee Cup SVG
Are you ready to download the please stop talking SVG file? Just sign up for the newsletter in the box below and the file will be sent to your email address. Look for a box below with a picture of the file you want to download. If you already get our newsletter, add in your information again as you will not be signed up for anything further. A ZIP file will be sent to your email address and you will need to unzip in order to use the file.
Please note that this file is for personal use only. You can contact me if you want to use it commercially. You can also contact me if you have any issues with your download.
How to Use Your Coffee Mug SVG
Now that you have your file or one of the files below, you will need to add it to a coffee mug. There are several ways you can do that. Let's talk about each of the options.
Permanent Vinyl – this is one of the easiest ways to add a design to a coffee mug. You just need adhesive vinyl and your cutting machine. You can see another handmade mug in this post. I actually don't like to use a sealer or anything on these mugs but I do recommend hand washing only. Also, I would recommend waiting 72 hours after application before using the mug. You can see more about the basics of applying vinyl here.
Heat Transfer Vinyl – yes, you can add HTV to mugs. But does it last? Is it any better than the permanent vinyl method above? I personally do not feel it is a better option. In fact, you can see me comparison test the two methods here.
Infusible Ink or Sublimation – this is definitely a winner as far as the longevity of the design. These mugs are completely dishwasher and microwave safe. You may experience a learning curve with these methods and they can be more expensive to get into. You can see more about using this coffee cup SVG on these types of mugs here.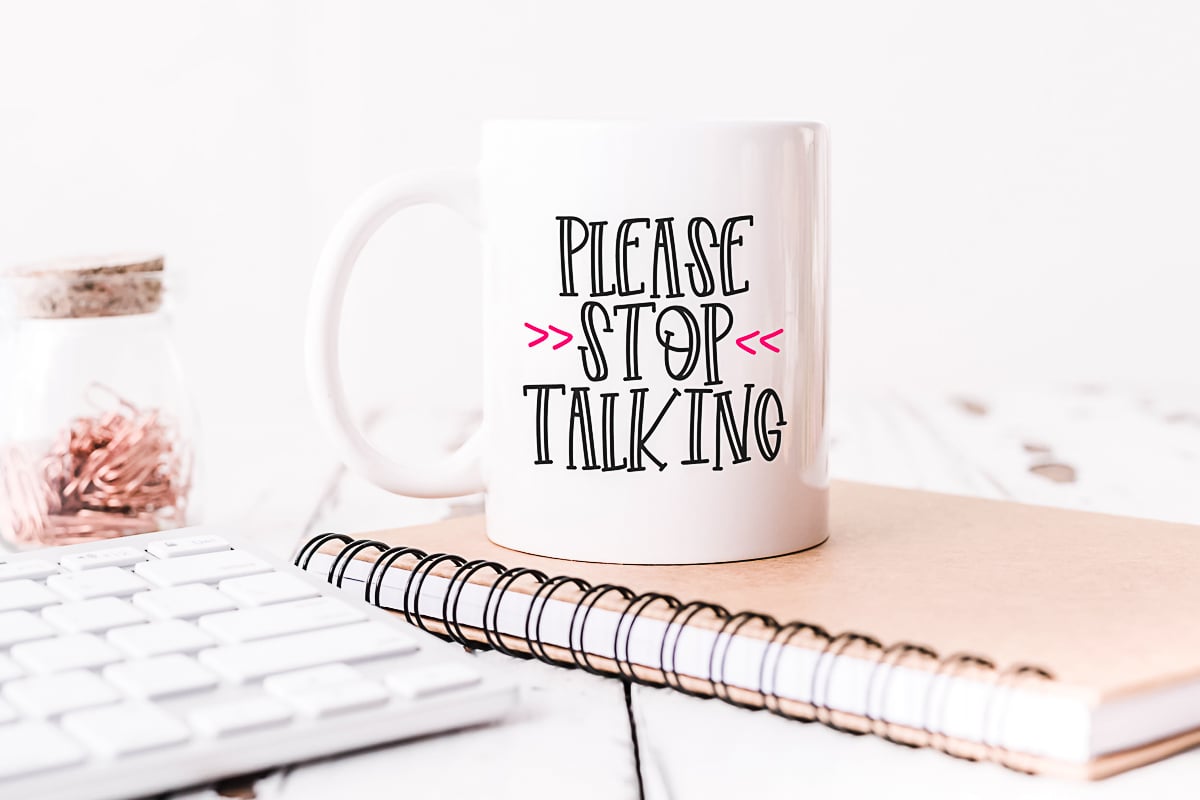 Whatever method you choose, you will love this cute please stop talking SVG file. I don't know about you, but I am that girl that doesn't want anyone walking to her in the morning. If you are with me, be sure to get this file above and start making a coffee mug of your very own.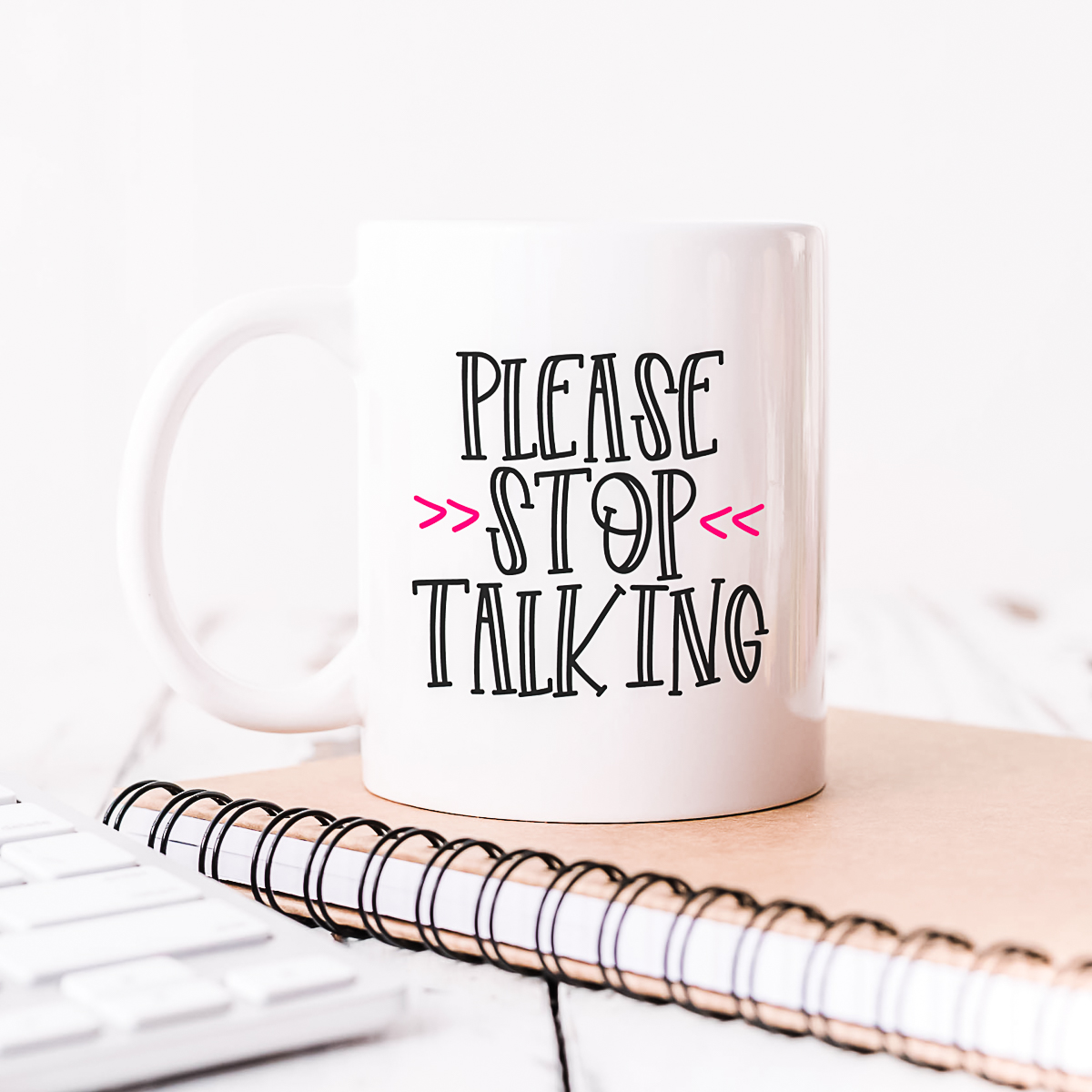 I used a combination of two colors on my mug but you can definitely change it up to fit the colors that you love. And if you are giving this as a gift, be sure to choose colors that they love. I would also lightly recommend color-changing vinyl on coffee mugs. It is so much fun to watch the colors change! Now, enjoy this coffee cup SVG and keep scrolling for even more digital cut file fun!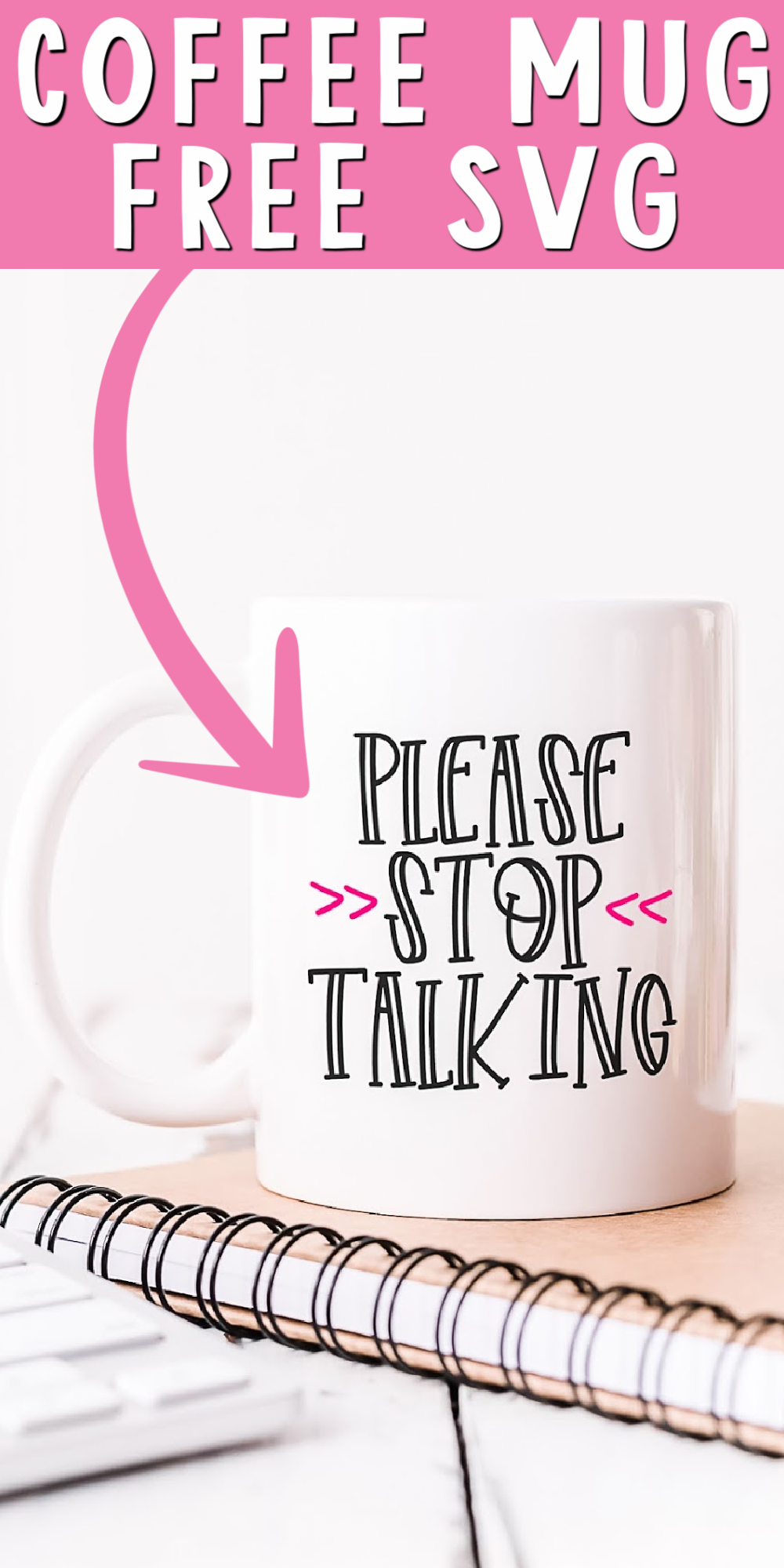 More Free Coffee Cup SVG Files
I promised you even more cute files to add to those coffee mugs. You will love these files and want to download them all for your crafting and gift-giving!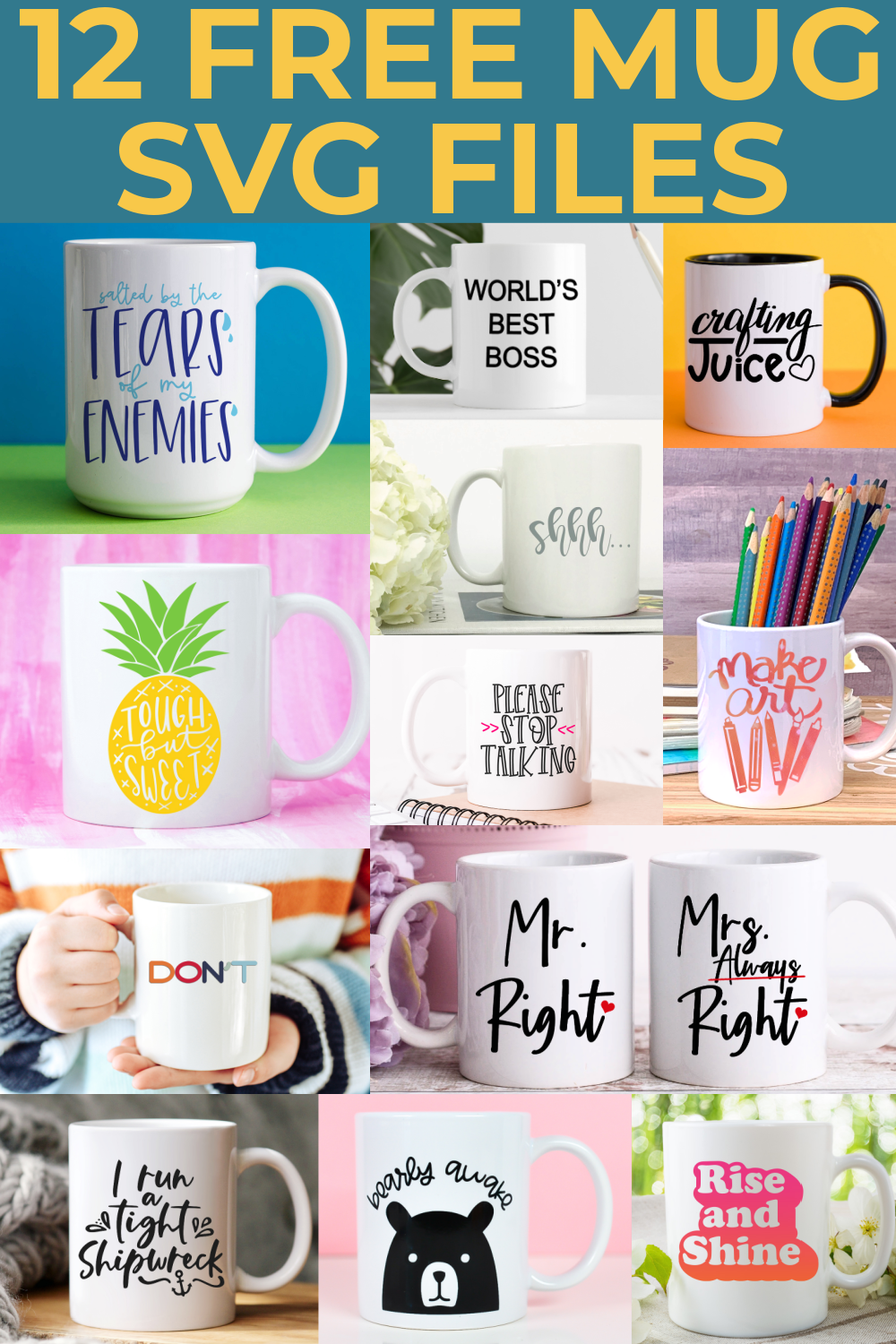 Just click on each of the links below and follow the instructions to download.
Use these coffee cup SVG files to make your morning just a little bit brighter! I know you will love serving up your coffee in a special mug that you made just for yourself!