Y'all I have been so busy the past few weeks working on my craft room including a craft room pegboard that you are going to love. I thought I would give you a sneak peek into this corner of my space. You will have to wait for the full reveal of the room in a few weeks. But today, if you have ever dreamed of craft room organization, a pegboard might be just what you are looking for. I have a pegboard I made years ago but there are also new modular options and I am loving them. Keep reading to see both in action!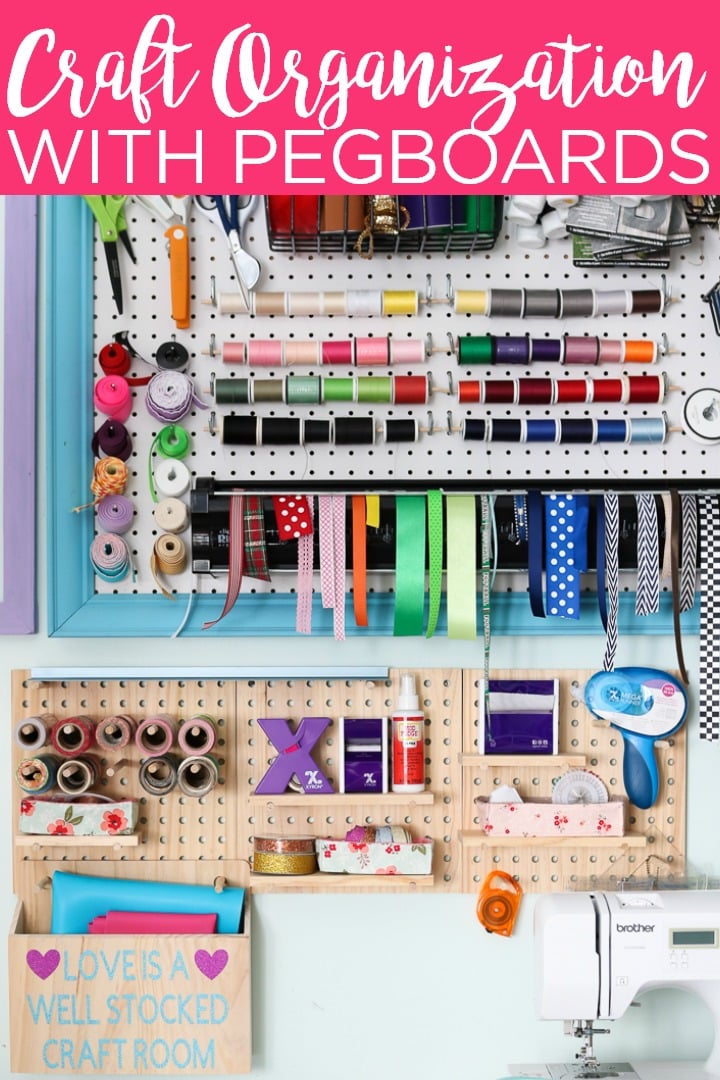 Where to Get a Wood Pegboard for Your Craftroom
I ordered the wood pegboards and accessories from Consumer Crafts. There are boards, shelves, hanging bins, and so much more. I would recommend starting with one of these kits and adding to it as needed. I love that you can start small and grow easily with this system.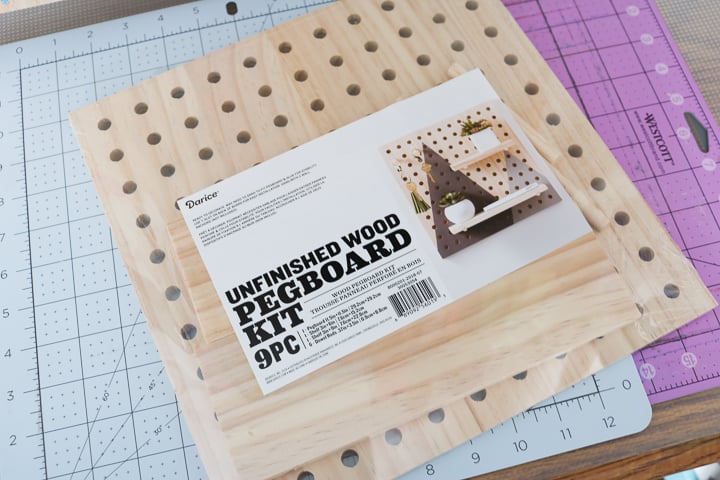 For my room, I used three of the kits as well as one of these hanging containers. There are so many things you can do and organize with this system. I am actually wondering if I can use this in other areas of my home as well. It would be great in a closet to organize jewelry. Or in a pantry with kitchen tools. Even in a bathroom closet for things like rolls of tape and small bottles of essential oils. I am sure you can think of other things as well.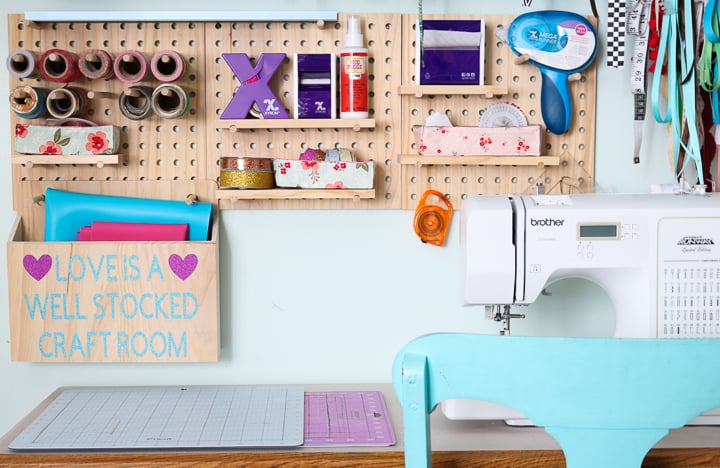 How to Use a Craft Room Pegboard
Hang the pegboards themselves on the wall and space so that they hang together. Then put on your accessories. I added rulers, washi tape, Xyron adhesive, Mod Podge, pins, glitter tape, and more to my craft room pegboard. What would you organize on your version?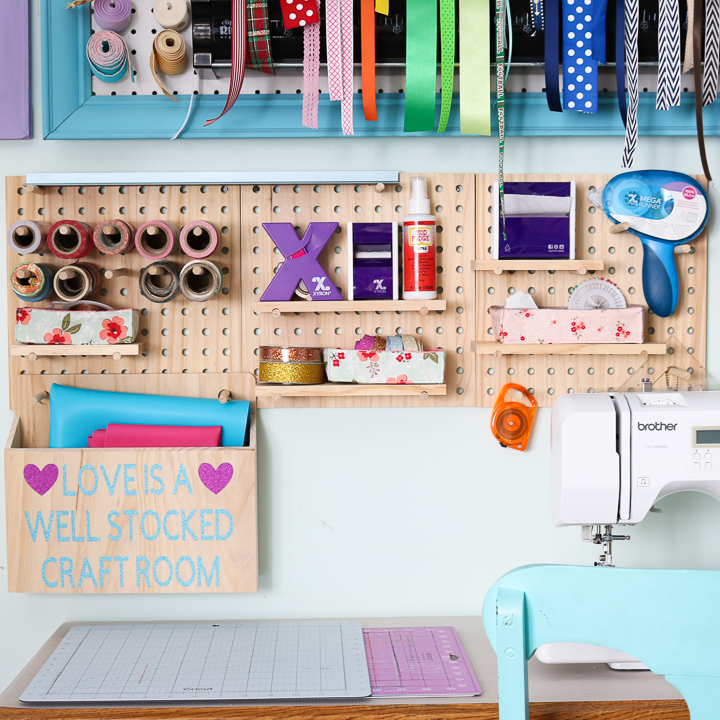 I will say this is the best washi tape organizer I have ever used and I have tried quite a few different methods. To do this, I used a few longer dowel rods. If you get the right size dowel rods, you can put whatever length pegs you would like on this board for some customized storage.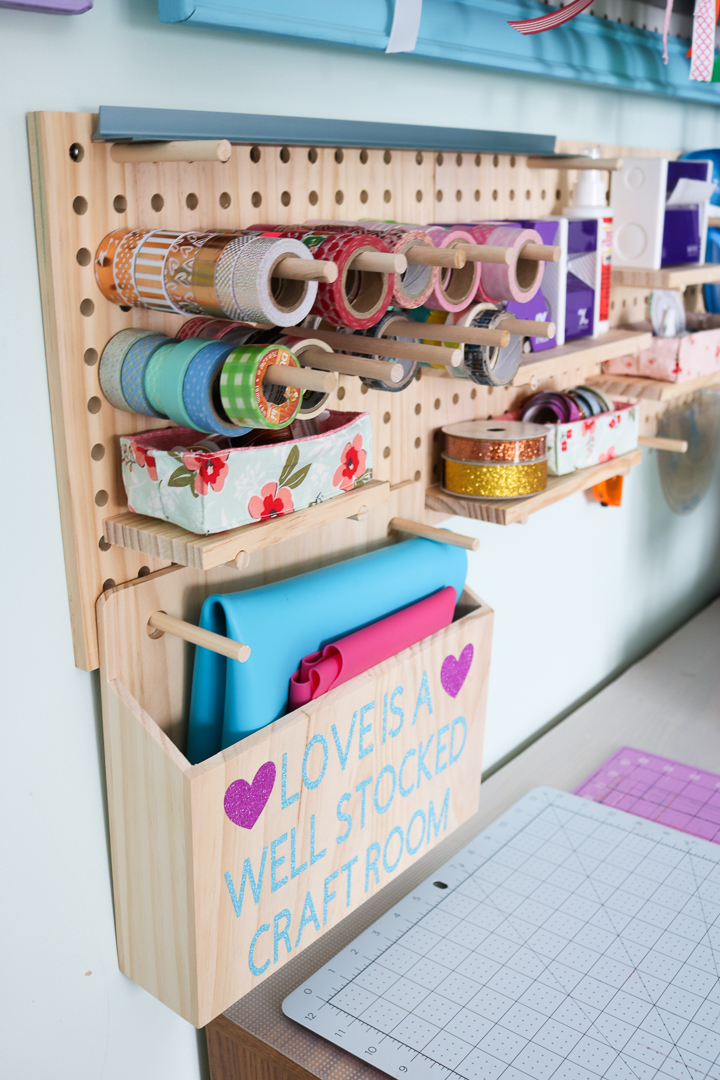 The shelves can be wherever you would like on the pegboard and you can move them as many times as you would like. Having a pegboard organizer is the best because nothing is permanent.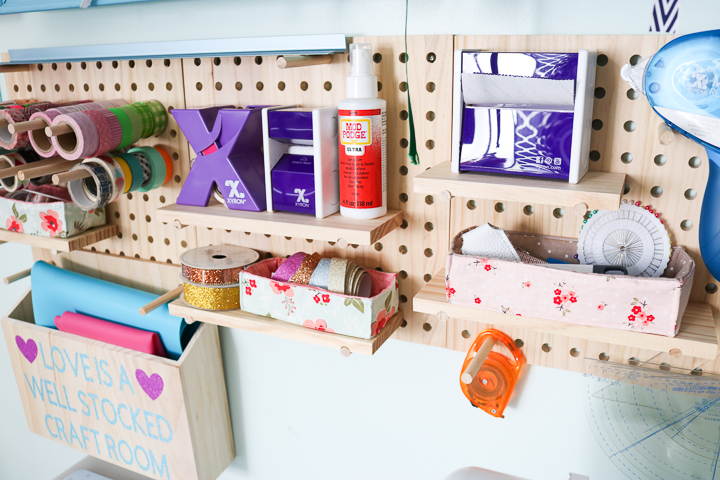 You can even make fabric bins like these to add to the shelves. They are one of my favorite projects I have ever made with my Cricut machine.
Customizing Your Pegboard Organizer
Speaking of a Cricut machine, I also used mine to personalize these wood pegboards a bit. You can also paint them any color you like or just add vinyl as I did. If you want to add the love is a well stocked craft room quote to anything, you can find the cut file for it here. I just cut mine from glitter vinyl and applied it to the front of this bin. You can see how to use adhesive vinyl here.
I personally love the raw wood but, if you don't, just imagine this one in your favorite color or even all in white.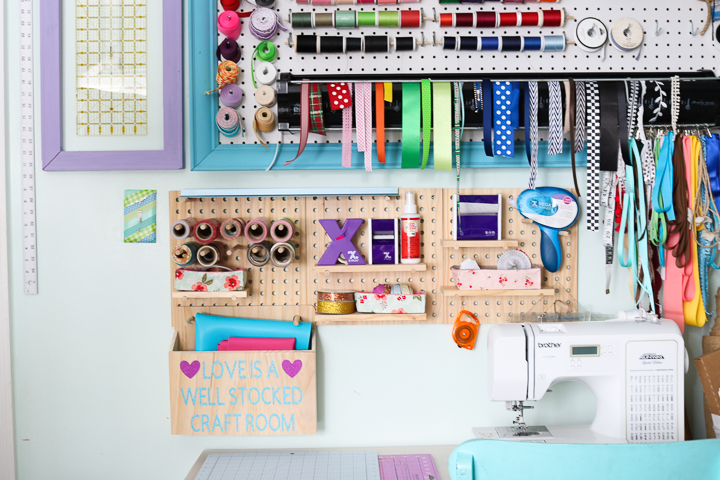 Customize your craft room pegboard to match your room's decor then hang it up and start organizing.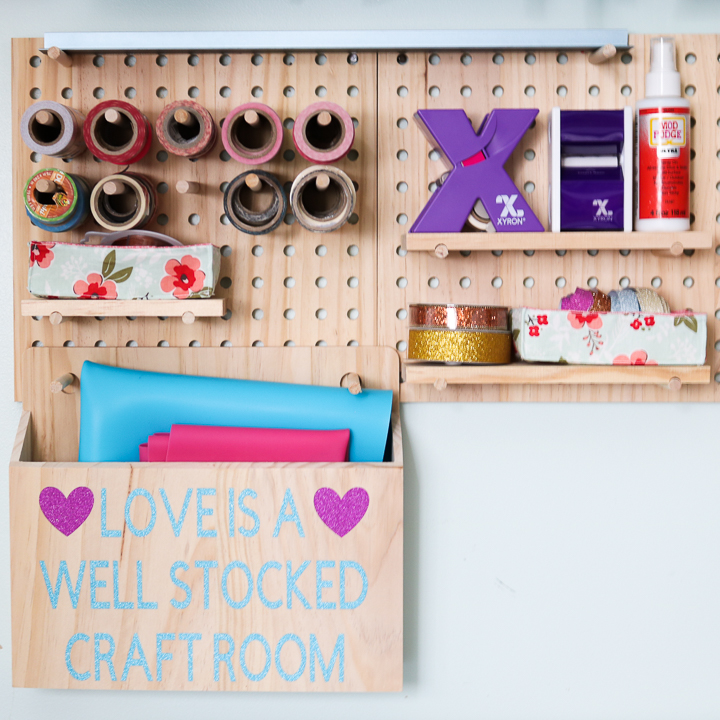 If y'all need me, I will be organizing the rest of my space. I can't wait to share a big reveal with you because I really think you are going to like it.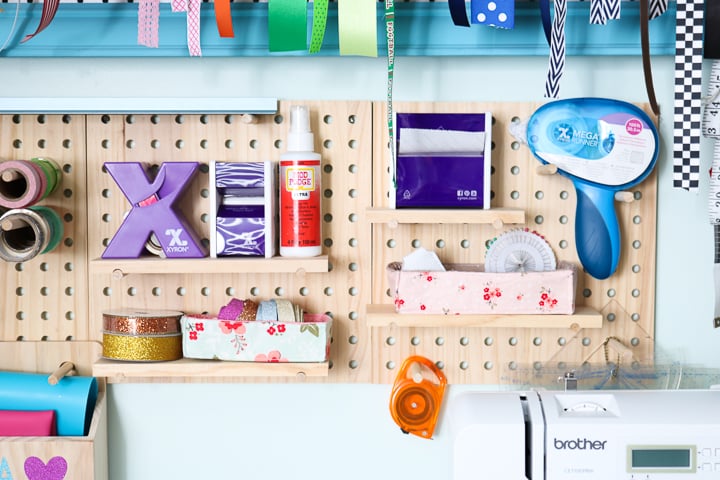 For now, I will leave you with this organized corner with a traditional pegboard as well as a wood version. Either way you go, a craft room pegboard is an ultimate way to organize your craft supplies.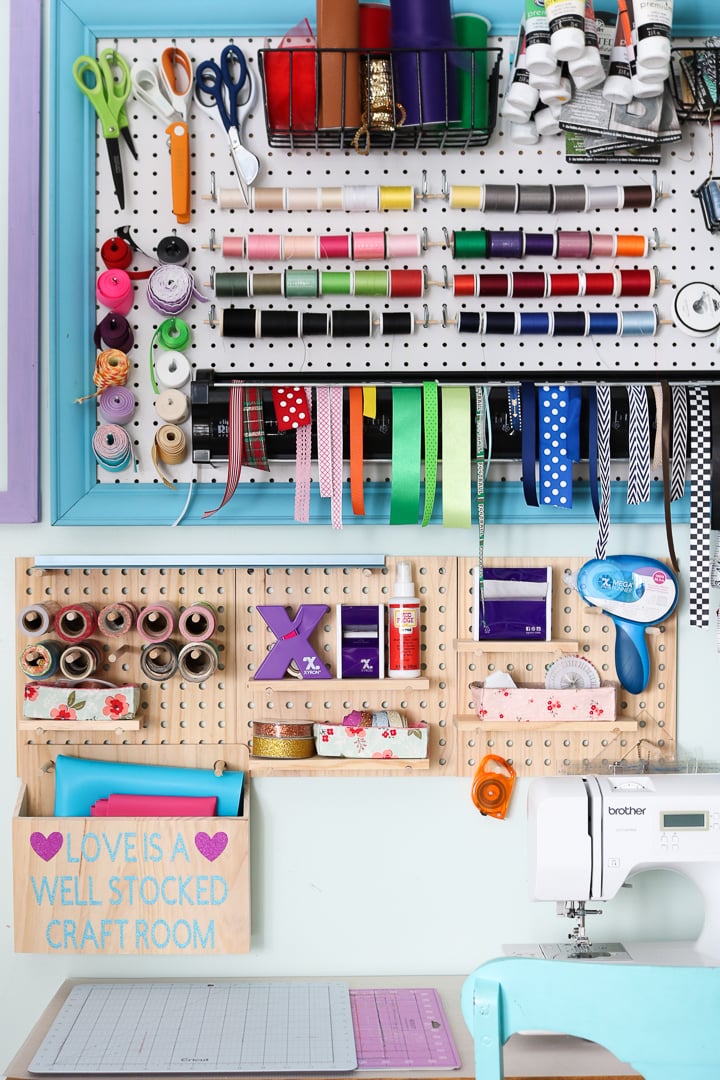 Love this post and need more craft room organizing ideas? Try the links below as well!
Declutter Your Home in 31 Days!
Clear the clutter and organize your home with our daily emails! Every day for a month we will send you a prompt to declutter! Sign up for our email list below to get started.