Jen Goode is back this month with place setting ideas for your Thanksgiving holiday! Y'all enjoy!
Nothing is prettier on a festive holiday table than pretty flower place settings. Fresh flowers (or even nice faux flowers) can change the whole look of a classic table set up. Today I have a simple paper napkin ring you can make using your favorite coloring pages. I'll also show another way you can use fresh flowers on your table.

DIY Pretty Flower Paper Place Setting
Use paper to create your place settings so you can easily customize all kinds of styles and designs for your pretty table layout. For this project I used my own watercolor background printed on white paper and then I printed a coloring page right on top of the first printed page. This is an easy way to add color to a coloring page without spending hours with your colored pencils. I have links to coloring pages and colored backgrounds that you can use below.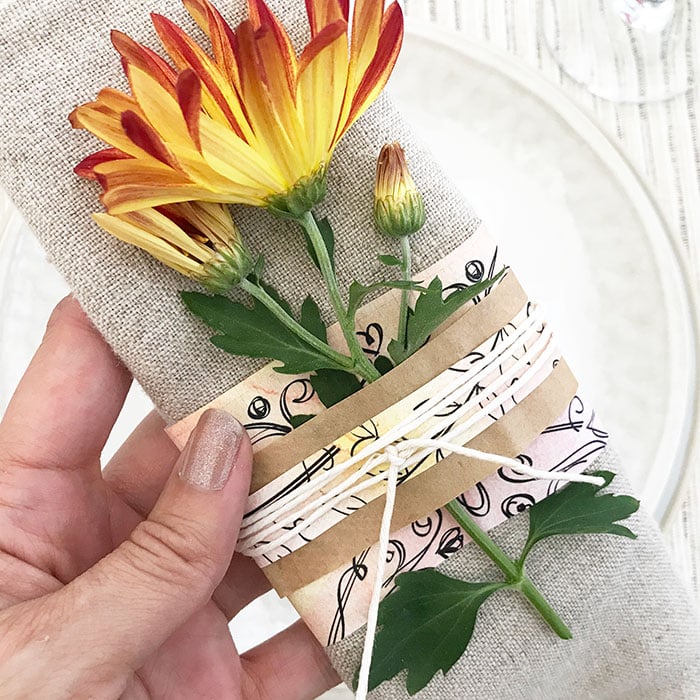 Materials Needed
Napkins
Printer and Paper – cardstock will work too
Brown Paper
Twine
Tape or glue
Fresh flower stems
Tip: I used my Thankful for You coloring page on top of a watercolor background paper (also printable if you don't want to make your own). Once you cut the paper strips, you'll only see parts of the design, so a pretty, floral design works great.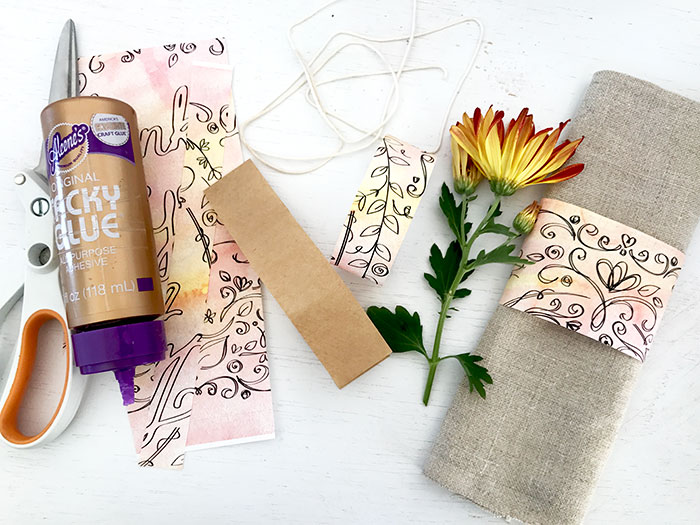 Instructions
Print out your favorite coloring pages. If you'd like to color them quickly, start with colored paper and print the coloring page design on top.
Cut a strip of paper and wrap it around the napkin as a band. Adhere it in place.

Add a strip of brown paper and another strip of printed design paper on top.

Wrap the entire napkin ring with twine and tie in a little knot.

Add your cut flower in between paper layers, right before your guests arrive.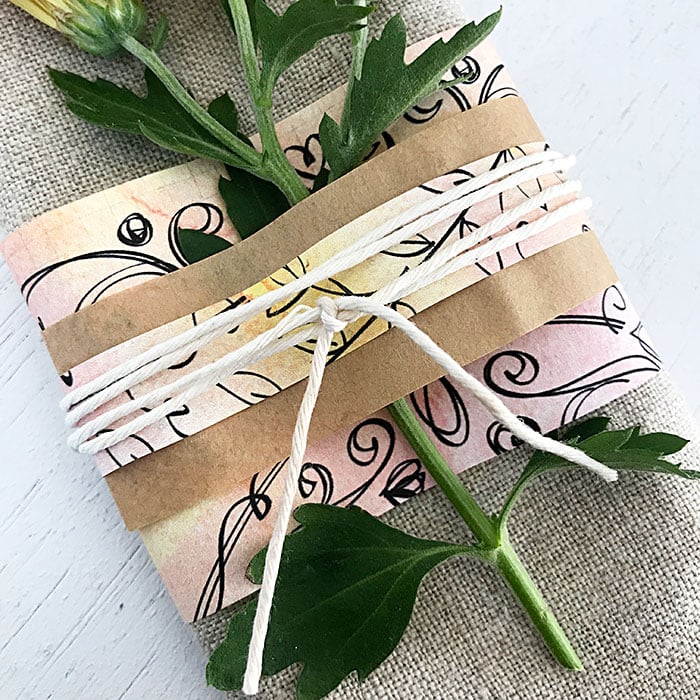 Quick and Easy Floral Napkin Rings
Instead of all the printing and cutting and layering. You can simply tie a ribbon around your napkins and then add the flower between the napkin and ribbon.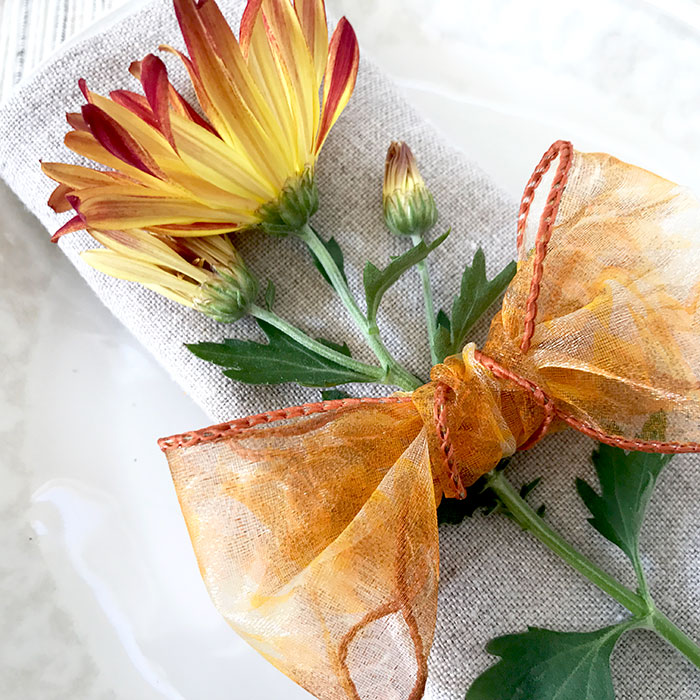 Place setting tips
Neutral colors are a great place to start. Then you can add pops of whatever colors you'd like for your table theme.
Let your accents be the focus. You don't need a bunch of different decorations and designs all over the entire table. A nice centerpiece with some pretty place settings can look stunning.
Think of different ways to layer color and materials to create different looks to the place setting.
I like to place the fancy napkin right on the center of the plate. You can also add silverware to the center of the napkin for a different place setting style.
And of course, fresh flowers are fantastic additions for any occasion! They add color and style to the other materials and pieces you've created.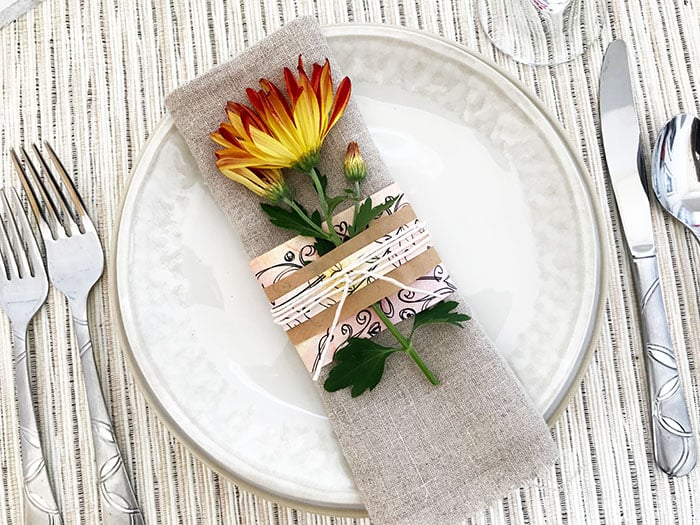 I'd love to hear your tips, how do you like to set your table for fancy gatherings?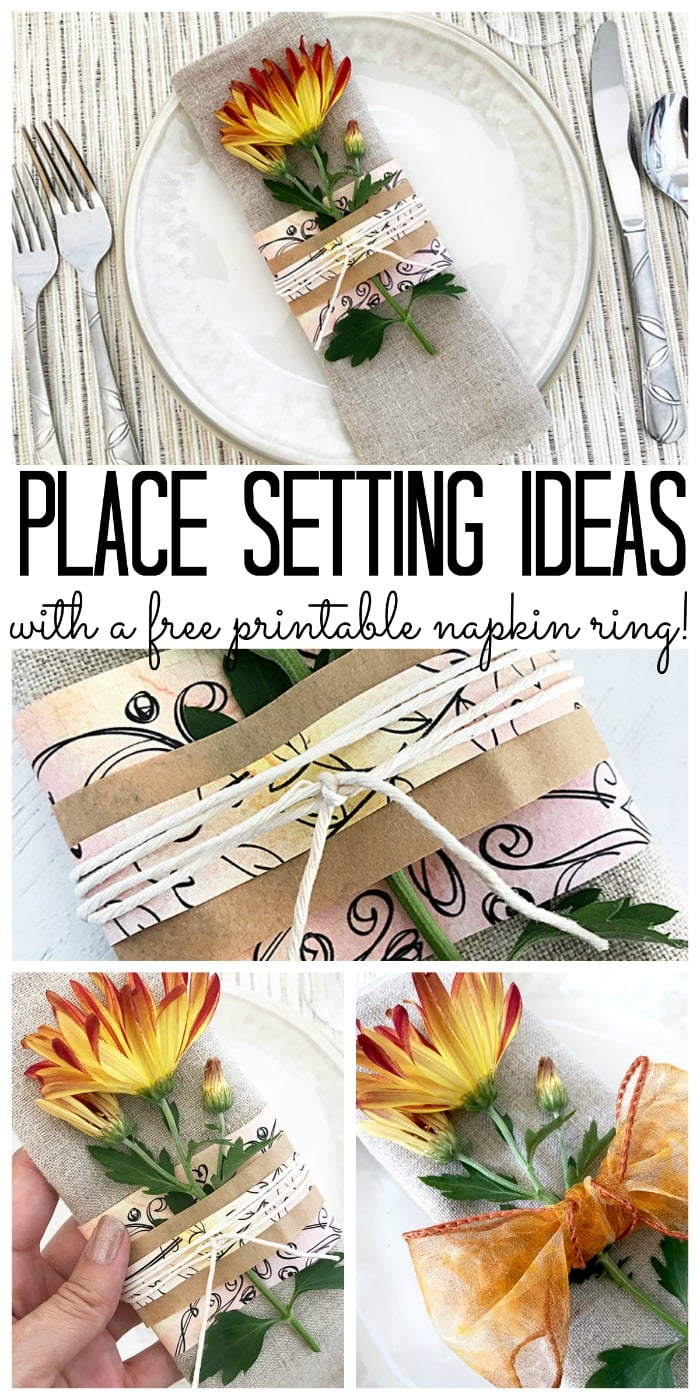 Love this and want more ideas for Thanksgiving? Try the links below!