Learn how to make a photo lantern and use this method to make gifts for everyone on your list. These lanterns are so easy to make and they look amazing once complete. They are perfect for your own home or giving as gifts. Everyone loves a gift that is personalized, so give them a sentimental gift that they really love.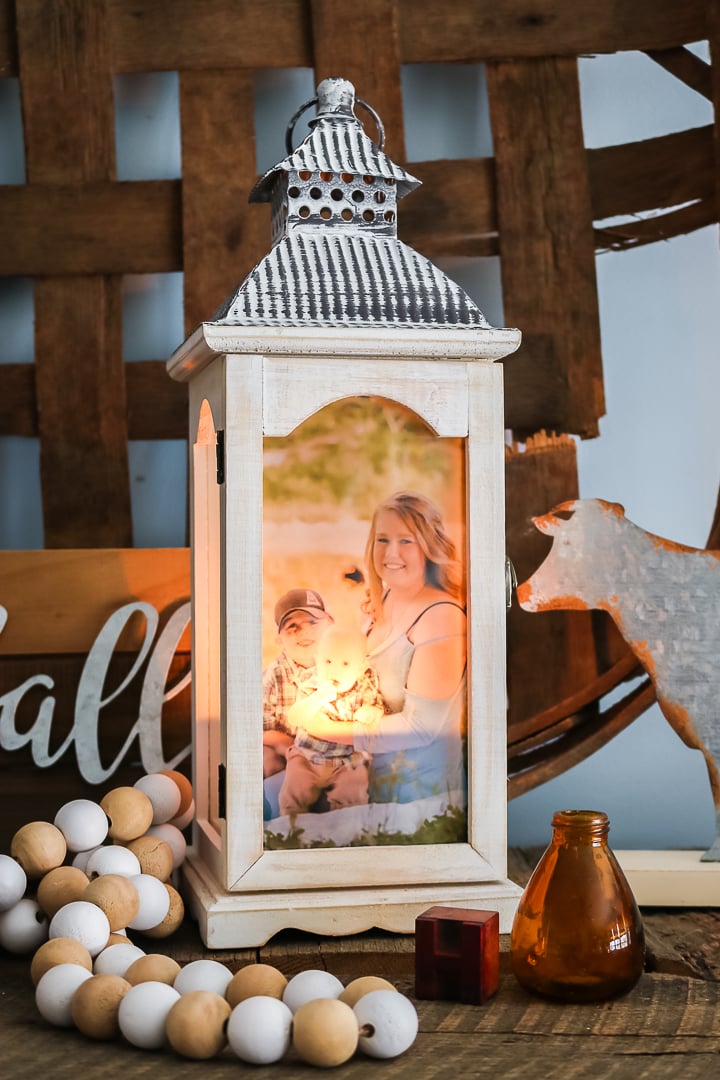 Supplies to make a photo lantern: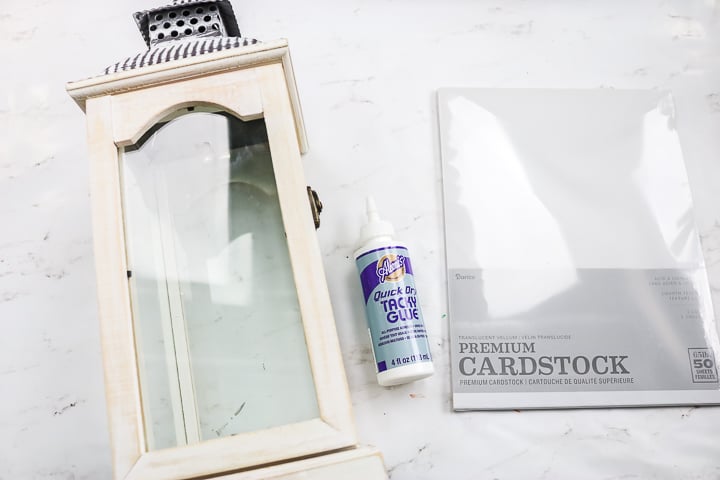 How to Make a Picture Lantern:
Pick a photo that will look good in your lantern pane. It needs to be a photo that will look good when printed vertically. Once you have an image, you can continue below to make your own photo lantern.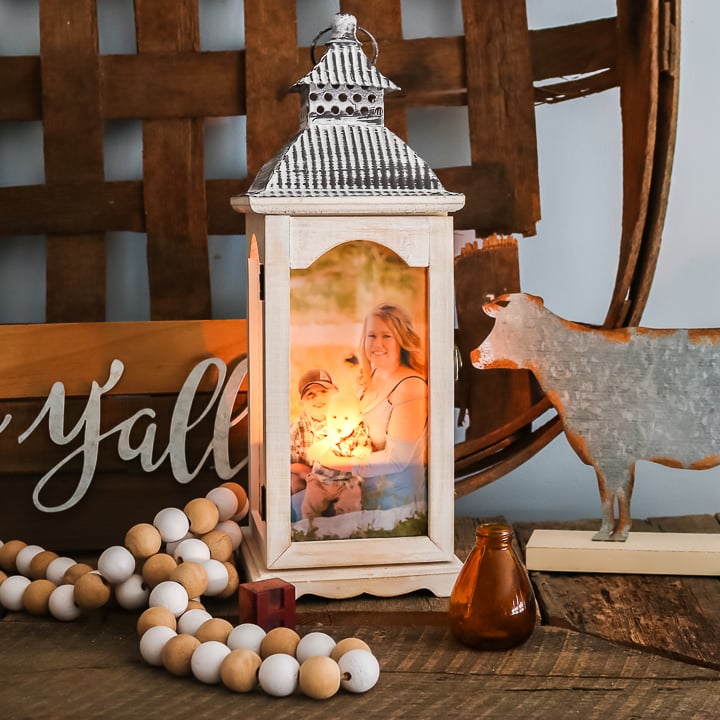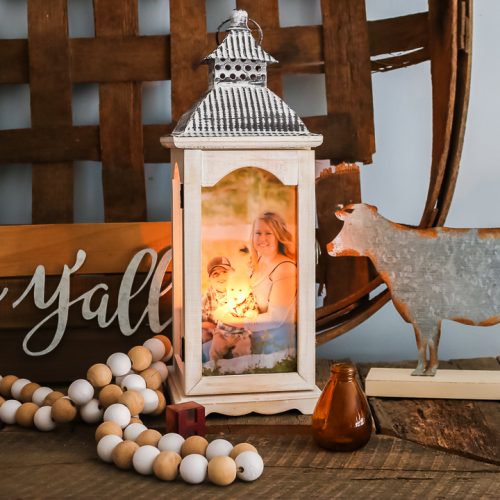 Photo Lantern Project Idea
Make a photo lantern for your home or to give as a gift with this easy-to-follow DIY tutorial.
Supplies
Lantern

with panes smaller than 8×11 inches so it works with your vellum sheets

Vellum Cardstock

Inkjet Printer and Ink

Glue

LED Candle
Instructions
Measure the window where you would like to add your image. Choose the image you want and print it on your vellum using an inkjet printer. You will want to make sure to print where it will fit inside the window you measured. Allow the ink to dry completely on the vellum. It will be wet when you remove it from the printer.

Cut the vellum to the size of the pane of your lantern. I was able to remove the pane from my lantern and trace it with a pen. If you can't remove it, just measure and use a ruler to make the lines on your vellum.

Cut around the lines you made with scissors so that your photo is the same size as the lantern pane.

Once you cut with scissors, it is time to secure the vellum to the glass pane. Use a very thin bead of glue around the outer edge.

Then add the vellum to the glass. Remove any excess glue. Allow to dry completely.

Once dry, add the pane back to the lantern and place an LED candle inside if you wish.
Tried this project?
tag us to show off your work!
I only added a picture to the front of my lantern, however, you can repeat this same procedure on all four sides of the lantern. Add a different picture to each side for something they will cherish for years to come.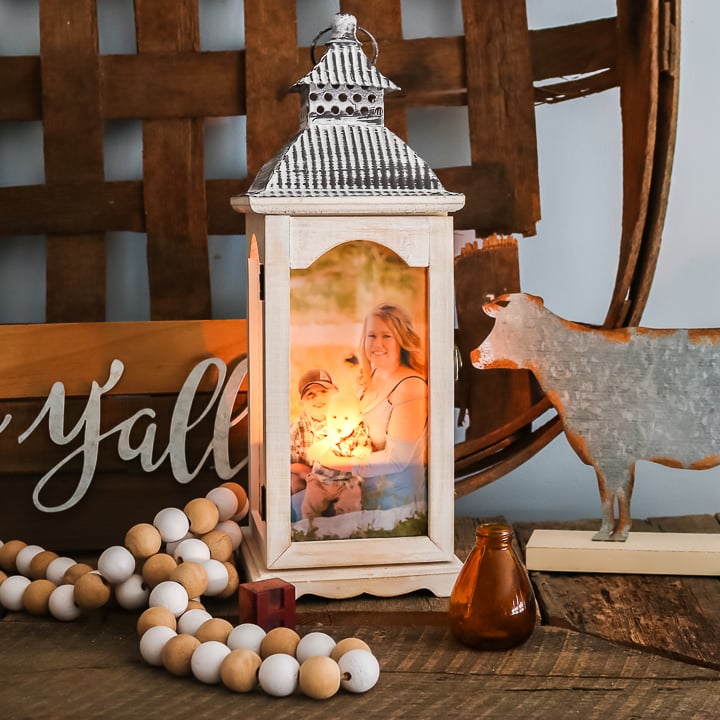 The best part of this project, for me, is that the lantern looks great with a candle glowing inside or with nothing at all to light it.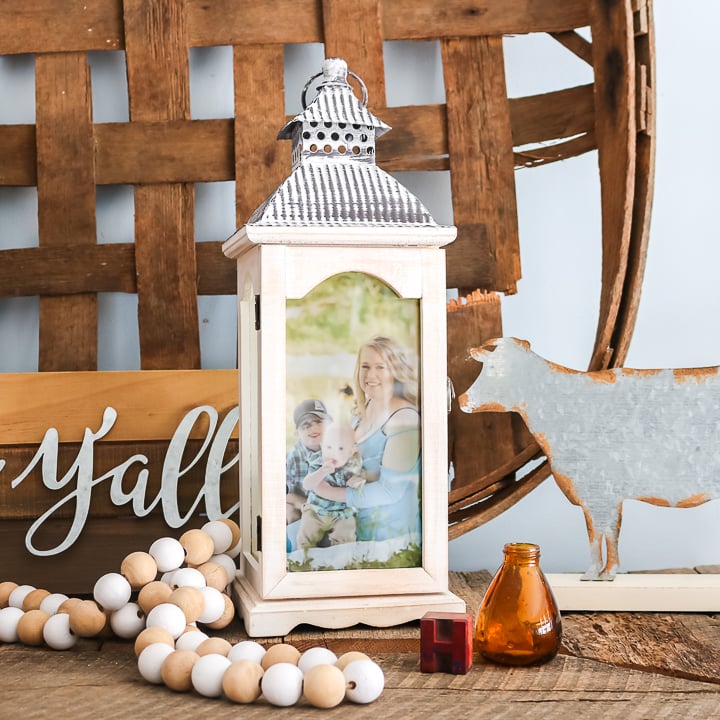 So, pull those pictures and start picking a lantern you love. I ordered this lantern online but you can find similar versions at a local store. As long as you have vellum and a printer, you are ready to make a gift that they will love.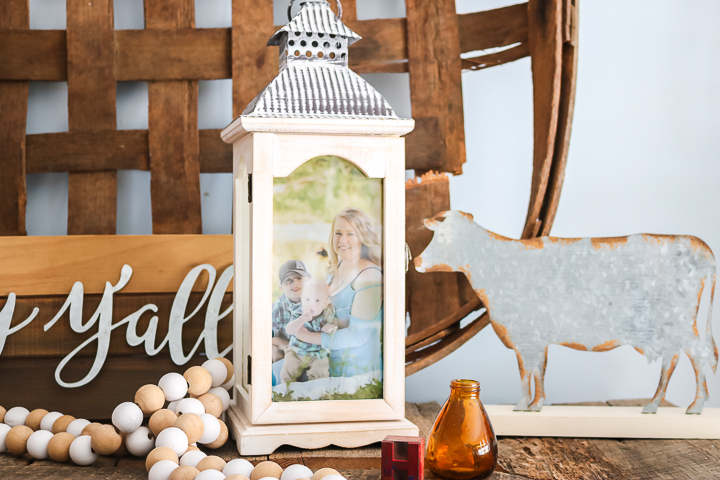 Will you make a photo lantern for your home? Be sure to pick up several lanterns because once you make one of these you will totally be hooked. You will want to make these for everyone in your life. I love giving these as presents for moms, grandmas, and so much more.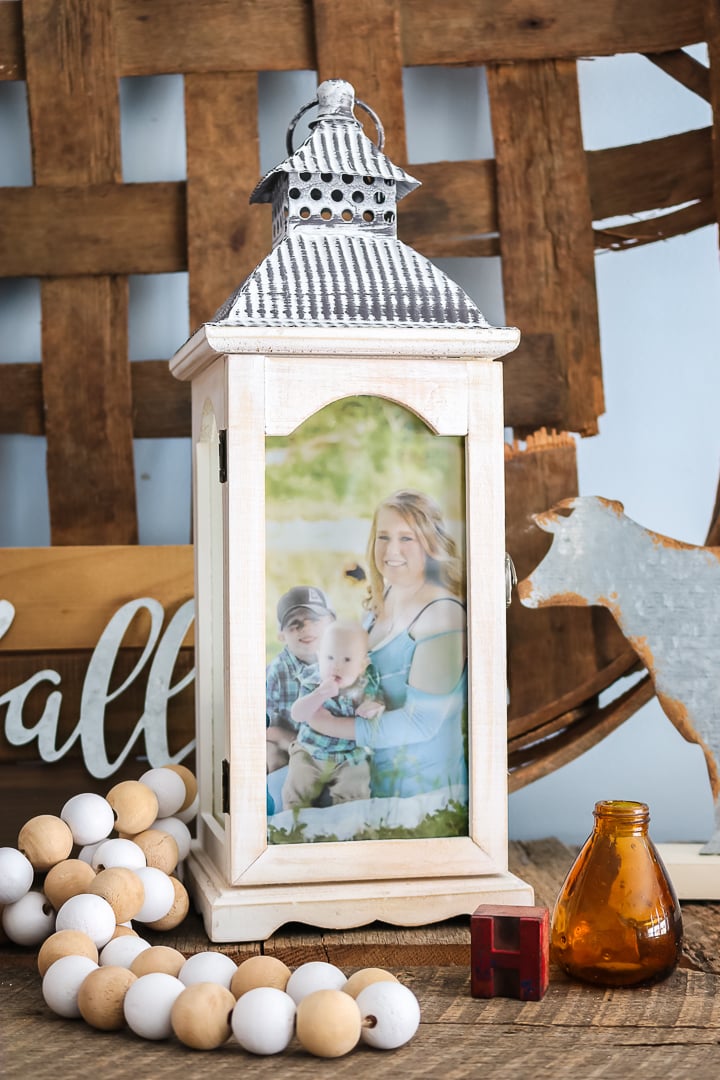 Actually, making gifts with photos is one of my favorite things to do. You can make coasters, jewelry, or even a mason jar. Any of these would be great paired with this photo lantern. They will think you are the best gift giver on the planet!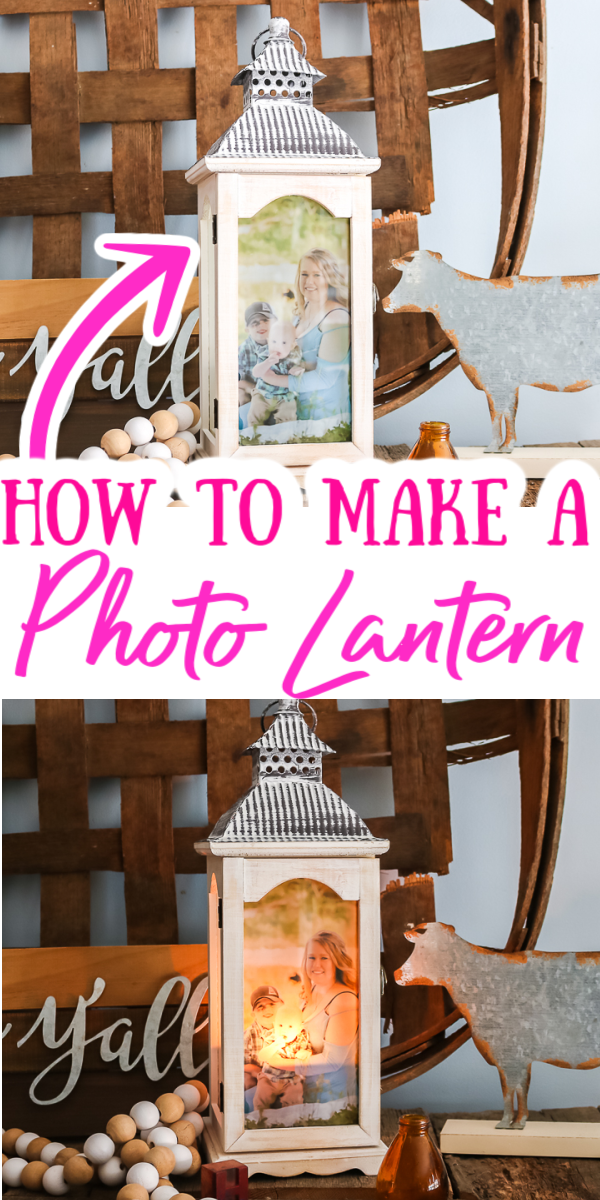 Love this gift idea and want more? Try the links below as well!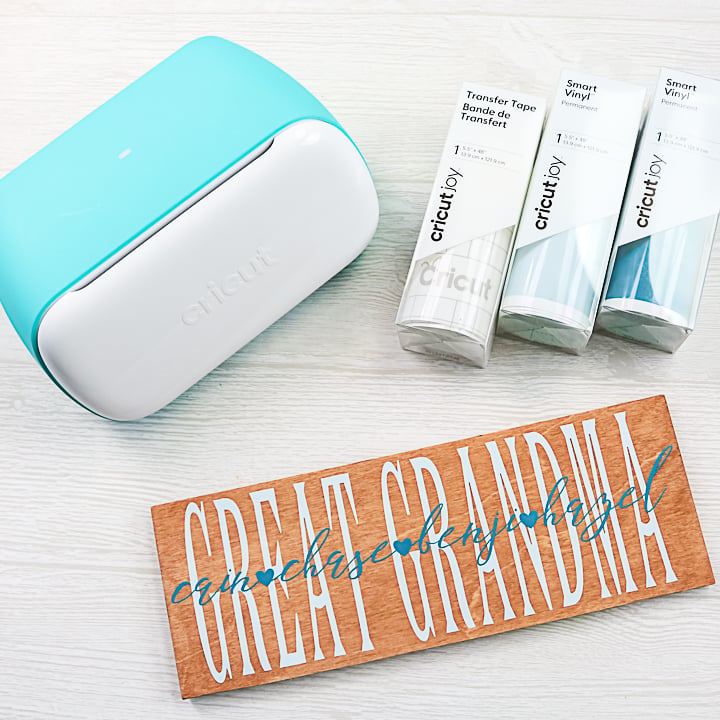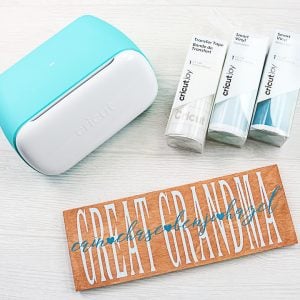 DIY Grandma Gifts
Make a DIY grandma sign in minutes with your Cricut machine then gift it this holiday season.
Read More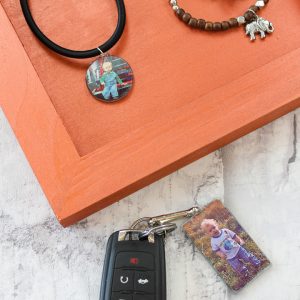 Guide to Making Photo Gifts
Grab your supplies and make these DIY photo gifts for mom.
Read More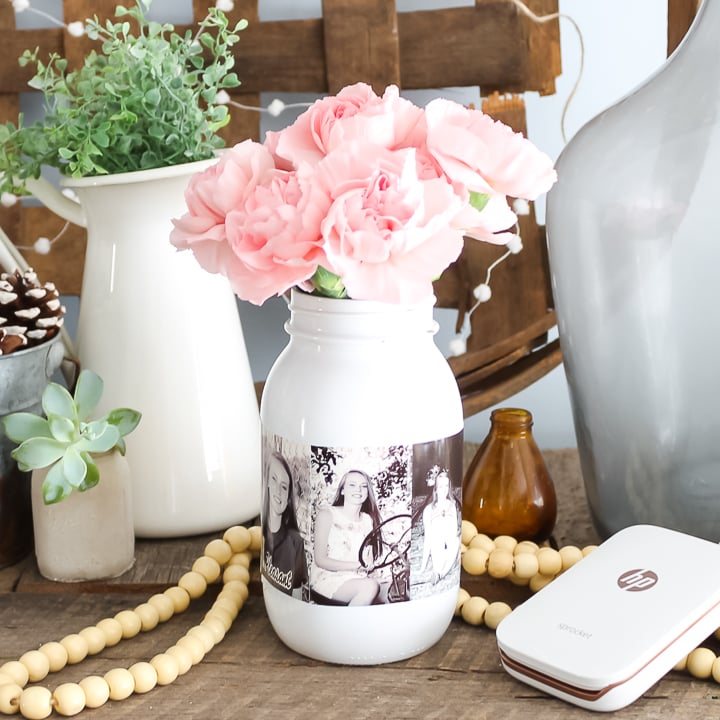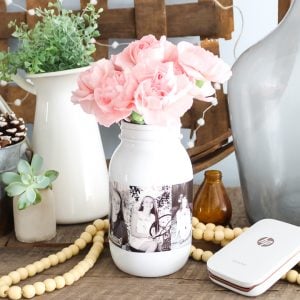 Mason Jar Centerpiece with Pictures
This photo mason jar is easy to make and will make a great gift as well.
Read More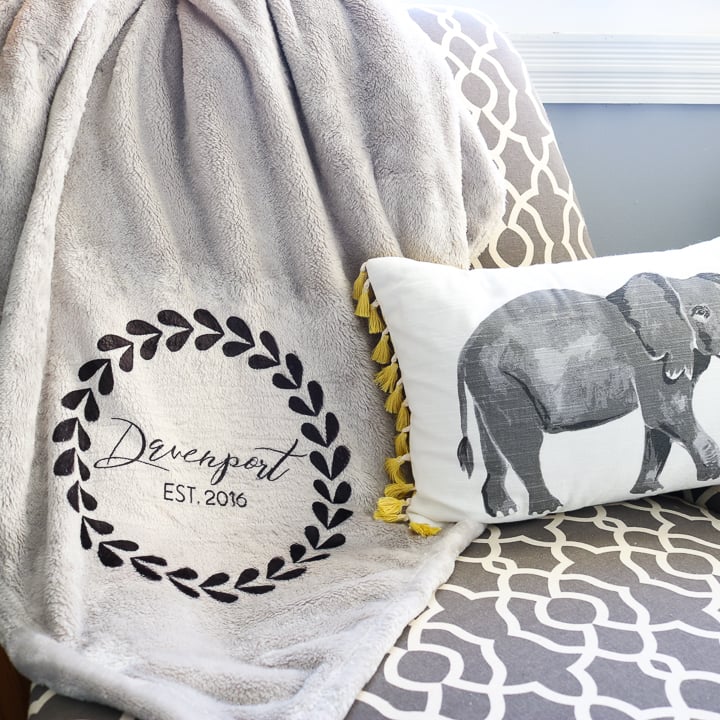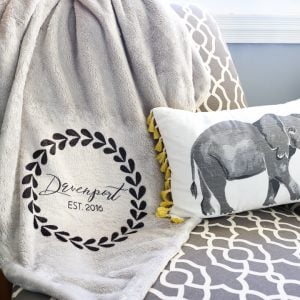 How to Make an Infusible Ink Blanket
Use the new Cricut Infusible Ink on a polyester blanket for a personalized gift idea.
Read More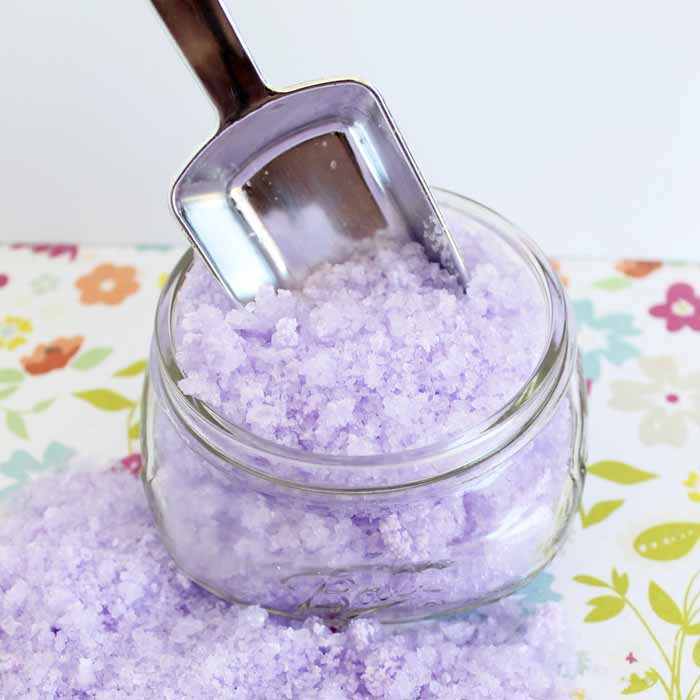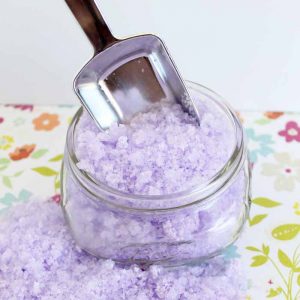 Bubbling Lavender Bath Salts
These homemade lavender bath salts are perfect for any gift-giving occasion! Give the gift of self-care and relaxation with these soothing bubbling bath salts.
Read More