My rustic farmhouse big boy room needed a lamp! Why not a baseball lamp? A good knock off seemed to fit the bill. So I made this kids baseball lamp similar to one I found in the Pottery Barn kids catalog. I love the way it turned out and I am showing you how to make your own below.
This was originally published on March 29, 2011 but I am republishing with a new template and information.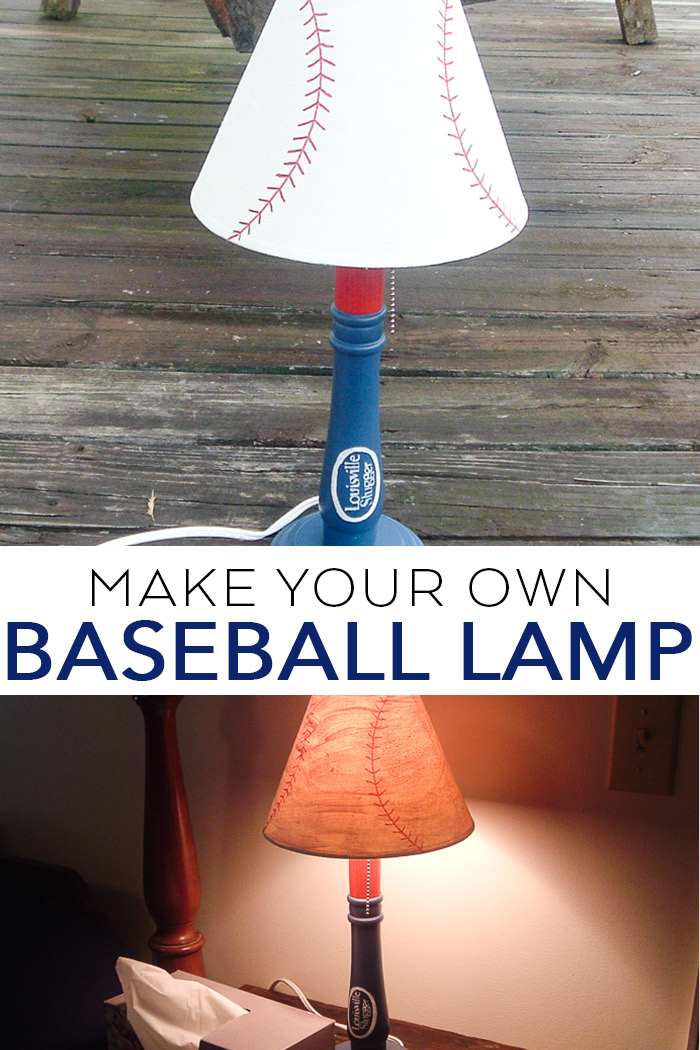 Supplies needed to make this baseball bat lamp:
Some links below may be affiliate links which means that you do not pay anymore, however, a portion of your purchase will go to support this site.
Lamp (I found mine at the thrift store)
Shade (again from the thrift store)
Spray paint
Craft paint or vinyl
Duct tape
Cricut cut file (click here to access)
Card stock or vinyl
Red permanent marker
How to make a baseball desk lamp:
I started with this lamp from the thrift store.
My cost: $3 for the lamp, $1 for the shade, $1 for red duct tape, $4 for spray paint = $9.00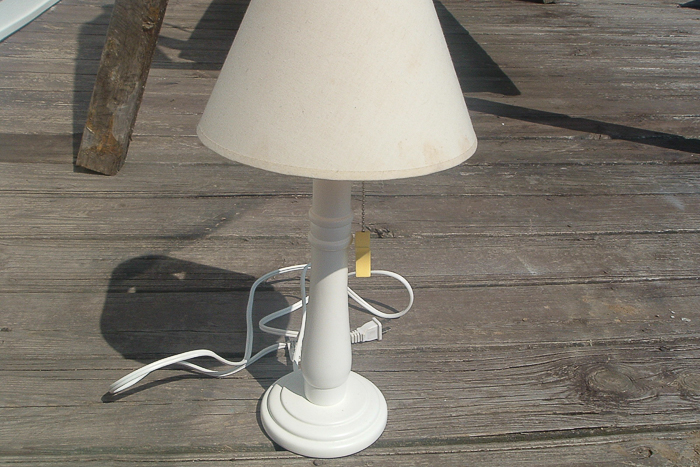 I cut off that moon on the pull, masked it off, and I painted my version a navy blue. You could use any color that you want here. I liked the blue to go with my room decor.
For the shade, I took white craft paint from Folk Art I had on hand and went over the shade on the inside and out.
I then took a red permanent marker and drew on the baseball lines. I used a plate for the general circle shape but the entire thing was free hand.
For my lamp, I wanted a Louisville Slugger so I used my Cricut to make a stencil. You can get the cut file by clicking here. I cut mine from just card stock and made a stencil. You could use stencil vinyl or even just cut the entire thing from white vinyl and stick it on your lamp.
I painted my logo on in white (with that same Folk Art paint).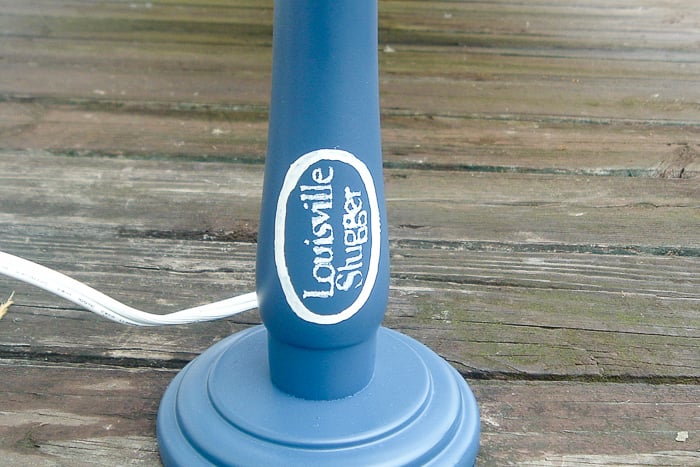 For the grip area, I just wrapped red masking tape around the lamp. Easy and it looks like the grip on a bat!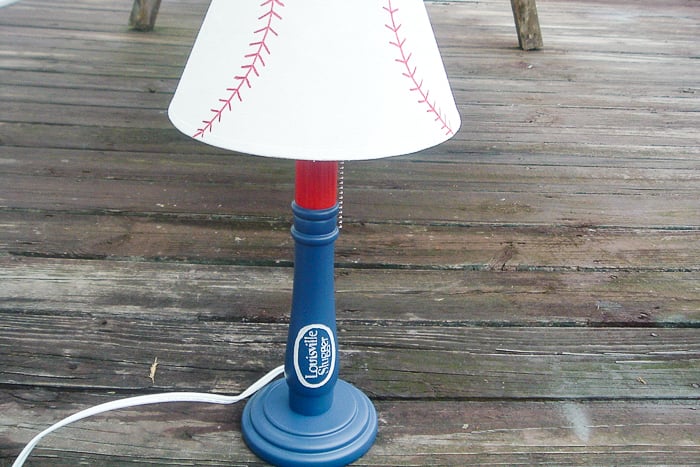 I am so pleased with the results! This baseball lamp is the perfect addition to my room.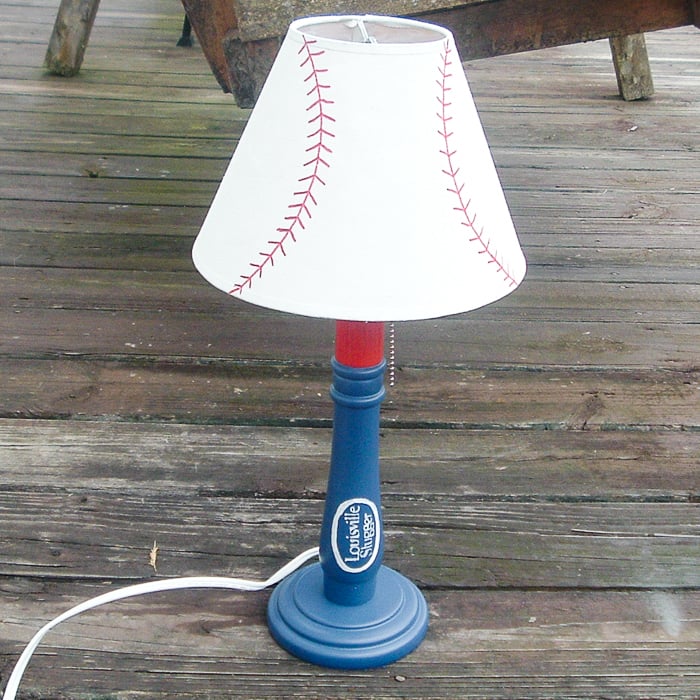 The shade came out to look just like a baseball! With sort of a worn texture. I couldn't have picked a better shade.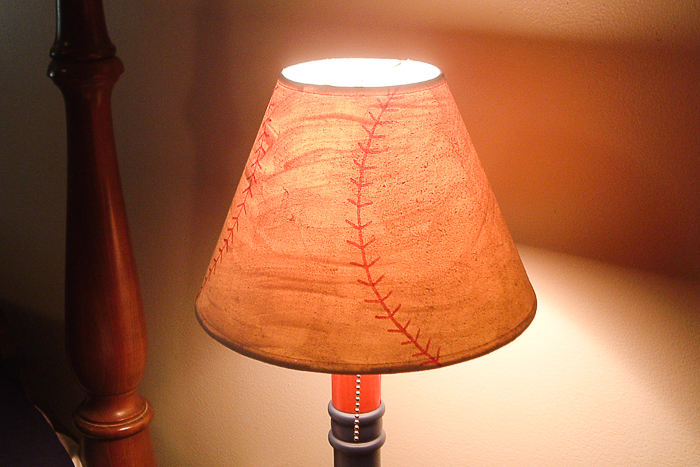 And the lamp…well that was a stroke of luck to find one in that shape! I could have fallen over when I saw it on the shelf!
Plus a "happy accident", when you turn the lamp on, the shade looks like a well-worn baseball. It is perfect for my rustic themed room. I adore the lamp when it is on.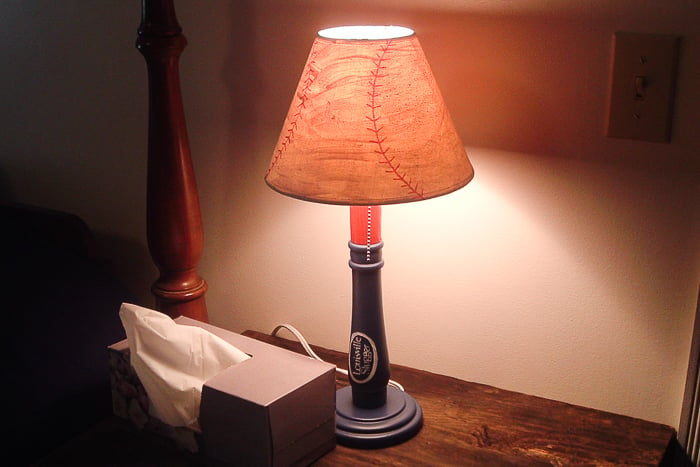 See that table underneath the lamp? We will be talking more about that tomorrow so stay tuned.
So how many of you will be stalking your thrift store for a baseball bat lamp?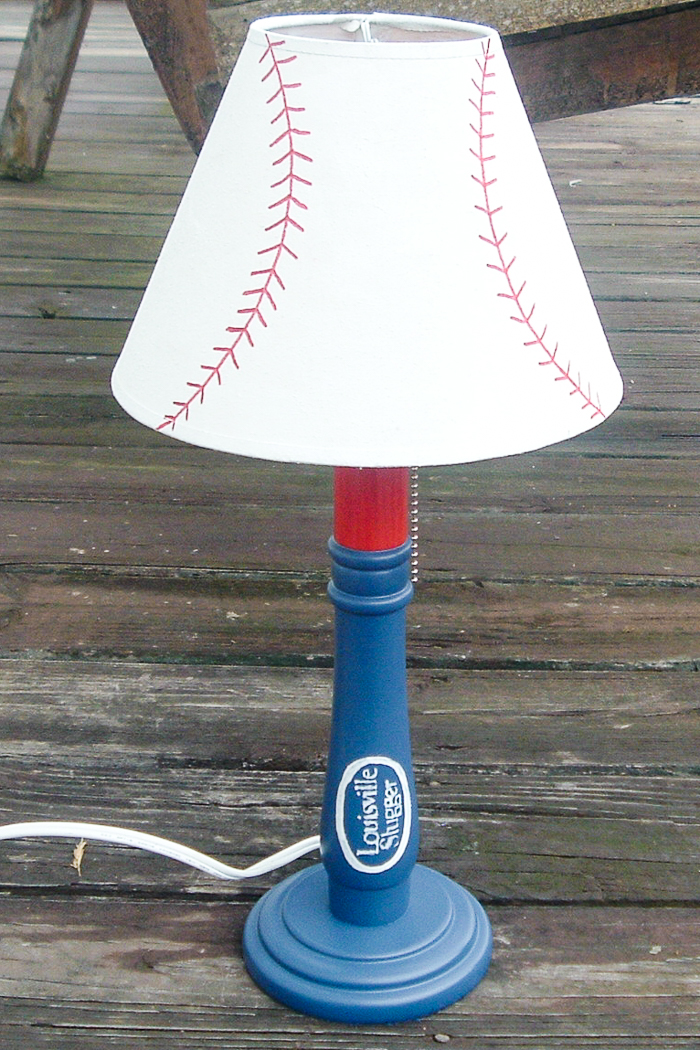 Love this baseball lamp and want more ideas? Try the links below!
New to Cricut?
Sign up for our email list to download the Beginner's Guide to Cricut Design Space for FREE today!
Sign up to get the guide emailed to you!