Are you planning to host a seasonal or holiday gathering? A tiered dessert stand is a must-have for serving all kinds of finger foods (including desserts!). Learn how to make this DIY dessert stand in just 5 minutes so that you're always the hostess with the most-est.
It's one of the best times of the year! Fall gives us warm days and cool evenings, gorgeous colors, and delicious flavors. And, in my personal, opinion, it's also one of the best times of the year to host gatherings!
Whether you're planning to host a group to celebrate the seasons changing or for holidays such as Halloween or Thanksgiving, you need a great way to display and serve desserts and other finger foods.
This tiered fall dessert stand is perfect for your Thanksgiving celebration or any fall-themed party that you're hosting. It's fun and festive. But my favorite part about this DIY dessert stand that is you can make it in minutes with just a few simple supplies.
If you love cute and easy DIY dessert stands, also check out my Decorated Cupcake Stand with Labels, Cupcake Stand from Clay Pots, and DIY Cupcake Stand with Three Tiers!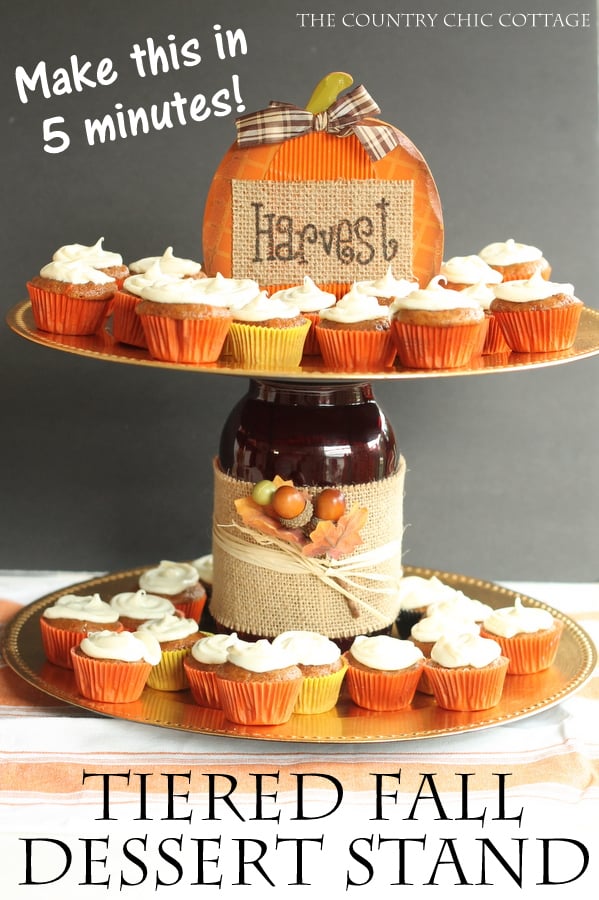 How To Make A Dessert Stand In Just 5 Minutes
Y'all are going to be amazed at just how quickly this DIY tiered dessert stand comes together!
In fact, it's so quick and easy to do, that I made two versions to ensure that I would have plenty of room for my mini carrot cake cupcakes. Both versions are similar but just ever so slightly different.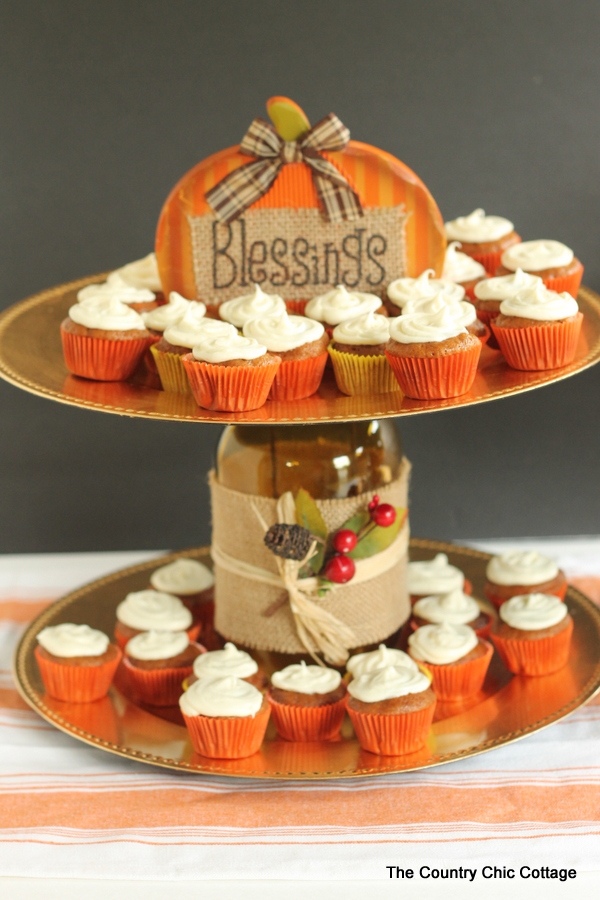 Supplies Needed To Make A DIY Dessert Stand
Start by shopping for the supplies you will need. You can buy items anywhere you'd like, including online, but I opted to shop at a budget-friendly store: Dollar General. They have a fabulous fall section where you can pick up those jars as well as the pumpkins for the top of the stands. 😁
The gold plates are actually from the Christmas section, believe it or not! Yep, you CAN do a little shopping for Christmas decor already!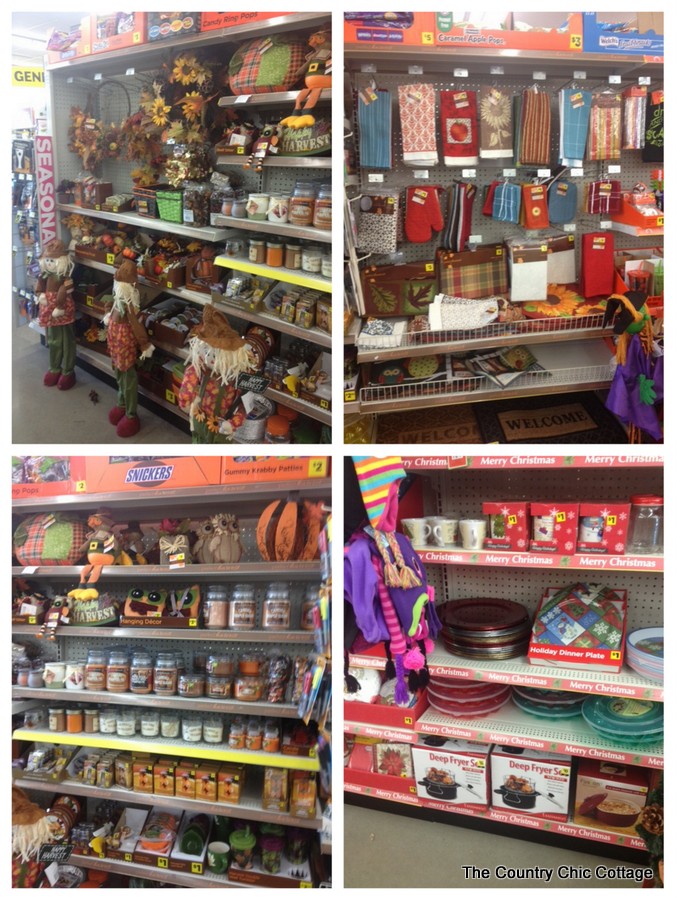 For each tiered fall dessert stand, you will need this list of items. Please note, I've included some links to help you find supplies easily. These links may be affiliate links.
a wood pumpkin
some striped tea towels to make a runner under the dessert display (optional)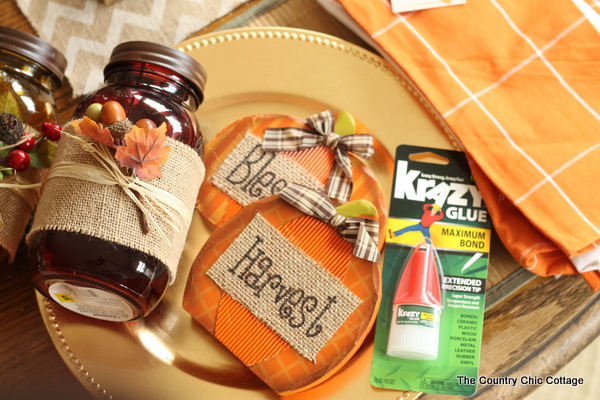 DIY Dessert Stand Instructions
The process of making these DIY tired dessert stands is very easy. Similar to this Three Tier Stand for Fall Decor project, this craft really only involves putting items that are already made together. Just follow these instructions!
Step 1
Start by placing glue on the bottom of the mason jar and adding the mason jar to the center of one of the gold plates.
NOTE: The Krazy Glue dries SUPER fast, so you will only have to wait a minute or so before adding the next layer.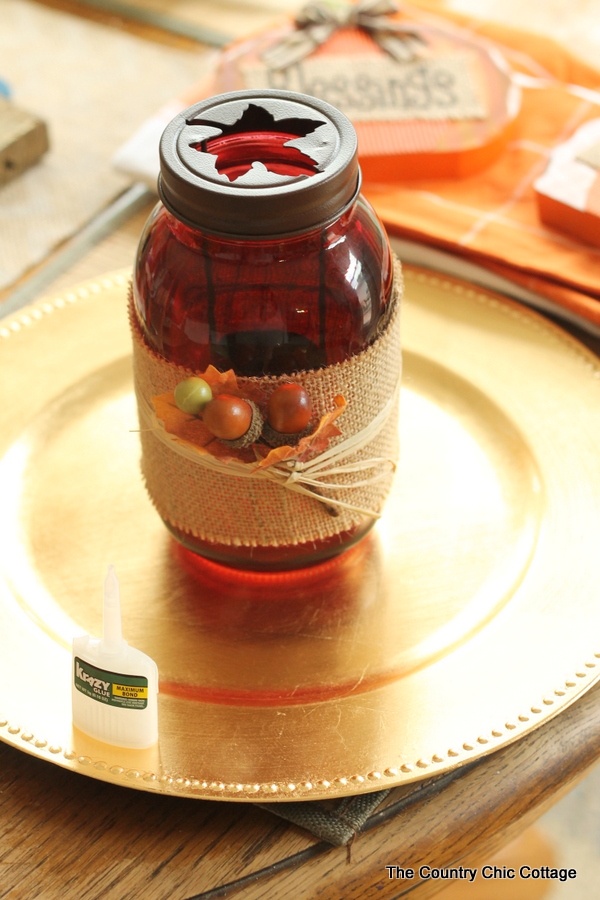 Step 2
Put glue on top of your mason jar and add the next plate carefully, making sure to get it approximately in the center. Again, this will dry fast.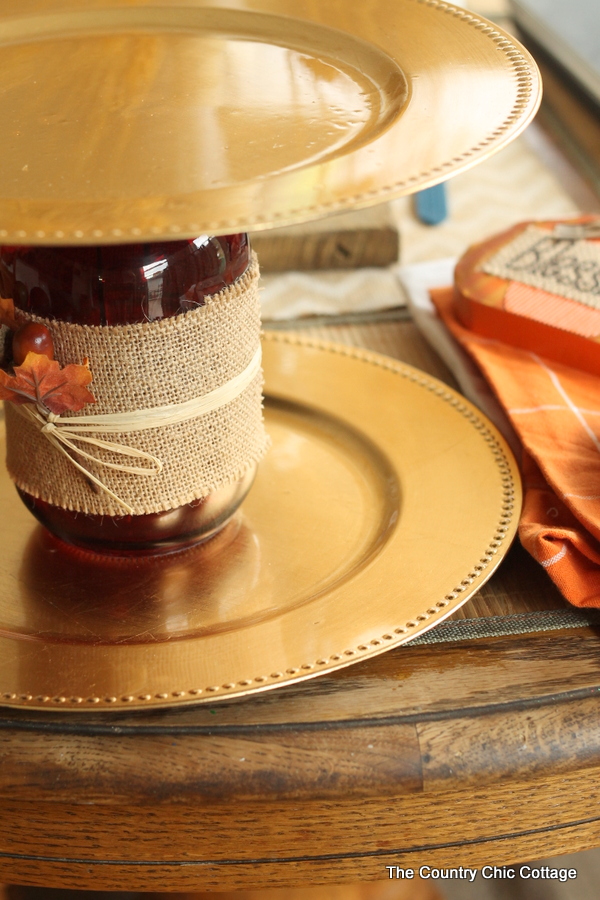 Step 3
Add some glue to the bottom of your pumpkin and put it on the top. Just be sure that the pumpkin and mason jar face in the same direction.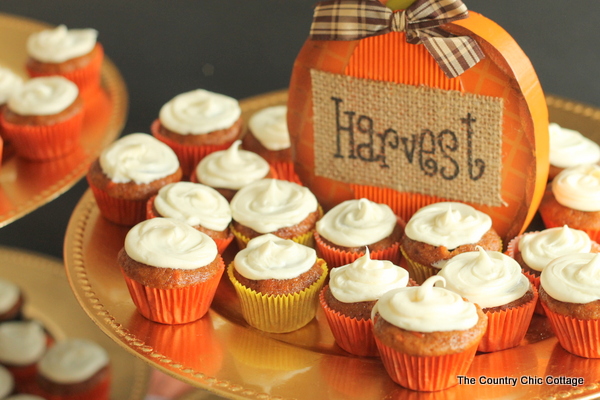 Step 4
Fill your stand with delicious treats!
Make cupcakes, cookies, or any other dessert to add to your stand. I used a boxed carrot cake mix and some cream cheese icing to make these little mini cupcakes.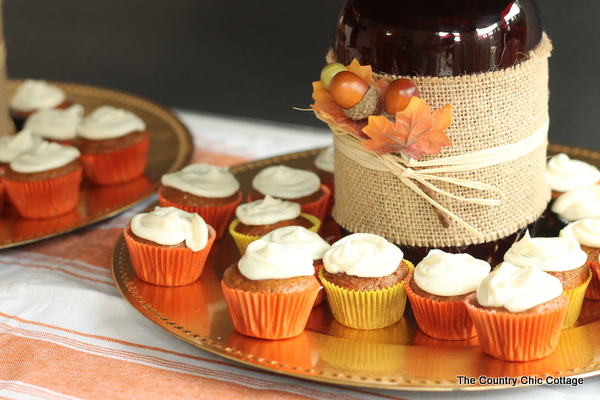 Project Notes
I also took two striped fall-themed tea towels from Dollar General and sewed them together end to end to make a festive runner for under the stands. Doesn't the runner make the perfect festive backdrop for the stands?
This additional touch is totally optional, but it takes hardly any time and completes the staging.
FAQs
If you have questions, check below to see if I've already answered them. If I haven't, please leave your questions in the comments so I can!
How do you make a dessert stand?
When you get right down to it, a dessert stand is simply an elevated flat surface that you can use to display and serve desserts. All you really need to do is find something to use as the stand (in this case, the fall mason jar) and something else to use as the flat surface (ex: the plate chargers).
You can use a variety of materials from wood slices to clear plastic discs to ceramic quiche dishes. I love the fun touch that the gold plate chargers add to this project (and how affordable they were!).
Can I use hot glue instead of super glue?
Yes! Here's the thing I'll say about that: hot glue may not last as long as super glue. If you simply want to create a stand for a one-time event or one season, hot glue will do the job.
However, if you want to create a fun permanent DIY dessert stand, I recommend using super glue.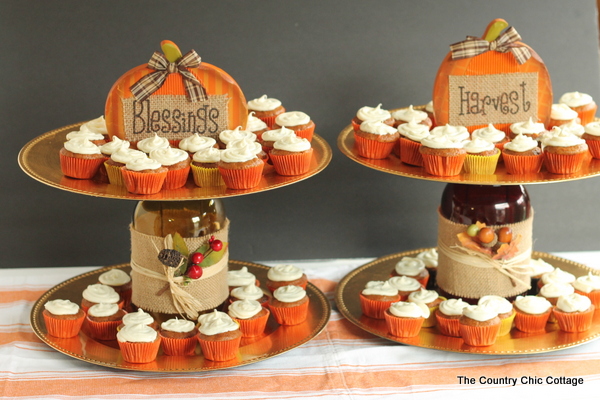 A DIY dessert stand like this idea is a fun way to serve dessert to a crowd and make a gorgeous display at any fall party. Make your own version in minutes with simple supplies from Dollar General.
A fabulous tiered fall dessert stand, like this one, can even add that special touch to your Thanksgiving day meal!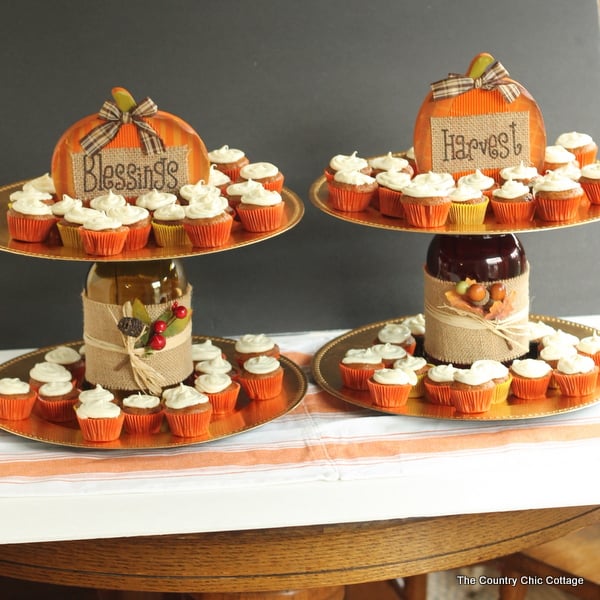 More Fall Projects You'll Love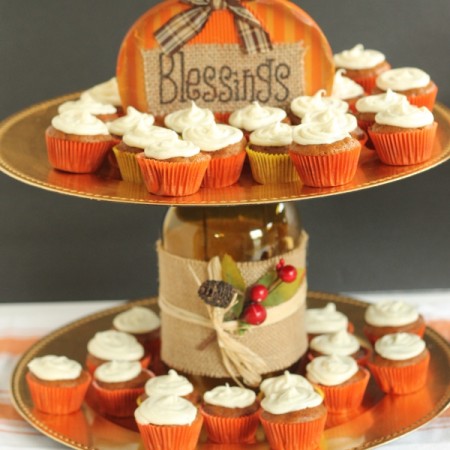 How To Make A Fall-Themed DIY Dessert Stand
A tiered dessert stand is a must-have for serving desserts when you hot a gathering. Learn how to make this DIY dessert stand in just 5 minutes so that you're always the hostess with the most-est.
Supplies
fall-themed mason jar

wood pumpkin

2

plate chargers

gold, or the fall color of your choice

Krazy Glue

striped towels

optional
Instructions
Put some glue on the bottom of your mason jar. Then put your mason jar in the center of the first plate charger.

Next, add some glue to the top of your mason jar. Carefully line up your top plate charge with your bottom one as you place it on top of your mason jar.

Add some glue to the bottom of your wood pumpkin. Making sure it's facing the same direction as your mason jar, put your wood pumpkin on top of the top plate charger.

Fill your new dessert stand with delicious treats!

Optional: you can sew your fall-colored towels together end-to-end to create a lovely fall-themed table runner and place it under your dessert stand.
Tried this project?
tag us to show off your work!
A Year of Jar Crafts
Sign up for our email list to get a FREE book with an entire year of jar crafts! 12 months, 12 crafts, tons of fun!