Looking for a beach-themed project to do this summer? Use the ocean eater and sandy beach as inspiration for this sea glass art project. Create this lovely monogram wall art with beautiful sea glass in just minutes, but keep the memories alive for years to come!
I LOVE the beach! The sand, the waves, the wonderful salt air…it all just makes me so happy. Since we live in a landlocked state, we don't get to the beach as often as I would like. That's why I love making and having beach decor to make me feel a little less landlocked and a little more, well, beachy!
Sea glass is one of my favorite things from the beach. It's muted, smooth, beautiful, and every single piece is unique as it's worn down by the sand and the surf.
If you love sea glass as much as I do, be sure to also check out my Sea Glass Wind Chimes, Sea Glass Mason Jar, and Decorative Flower Pots with Sea Glass!
Now, let's get crafty! I grabbed my sea glass collection and got creative with this project. My monogram sea glass art will make a lovely addition to your home. Plus, it makes is a great way to display those vacation memories!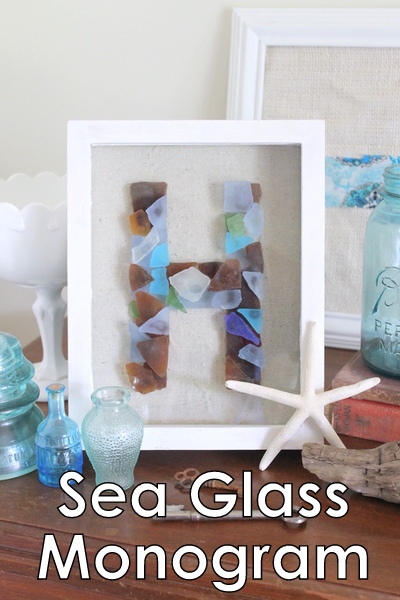 Supplies Needed For Monogram Sea Glass Art
I love making craft projects that have short supply lists. This sea glass wall art project definitely qualifies!
Pencil
Ruler
Hot glue sticks
Supply Notes
You will need some sea glass
either collected from the beach or purchase it online. Of course, I prefer using the sea glass I collected when possible, but I'm grateful to be able to purchase sea glass for projects when I run out of my own before our next beach trip!
I also used a shadow box
, as shown below. It is already painted white and has some fabric that I added over the back. You can always find one at Michaels or Hobby Lobby.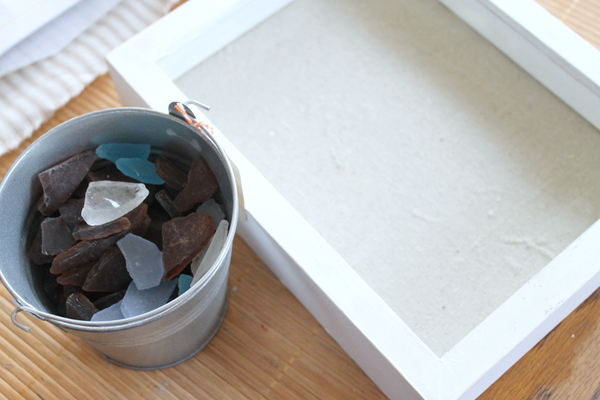 How To Make Sea Glass Art In A Monogram Shape
The process for this project is so simple that it just may surprise you how quickly it comes together. Just follow these steps to create your own monogram wall art with sea glass.
Note: If you want to create other types of sea glass wall art, you would use a similar process!
Step 1
I used a ruler to draw my monogram since ours is so simple. If you have a more complex letter you want to use, you could free-hand it. Or, if that feels too intimidating, you could print a letter from the printer and trace it onto your fabric!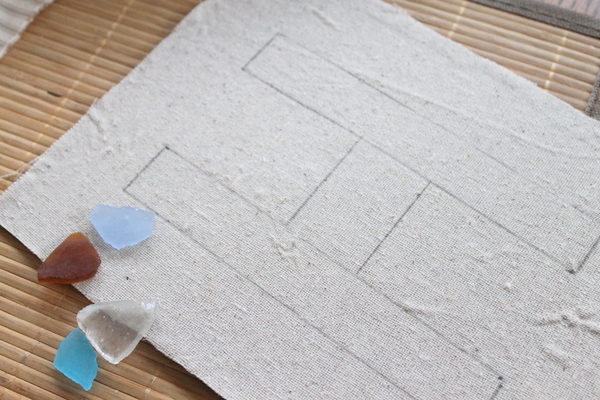 Step 2
The next part of the process is sort of like working on a puzzle. Add in pieces of sea glass here and there until you have completely filled your monogram.
Instead of keeping all the pieces of sea glass on the same level, I opted to layer the sea glass pieces on top of one another for a lovely three-dimensional effect. I simply used hot glue to attach my sea glass pieces.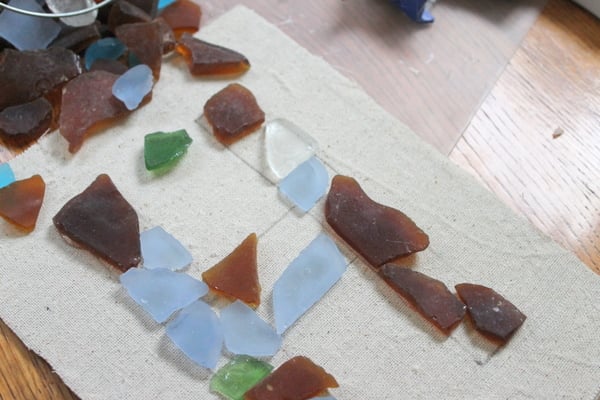 Step 3
Once your monogram is filled completely with sea glass, just add it to your shadowbox for a fun addition to your beach-themed decor. Don't hide your sea glass collection away in a box – display it by making my sea glass monogram craft!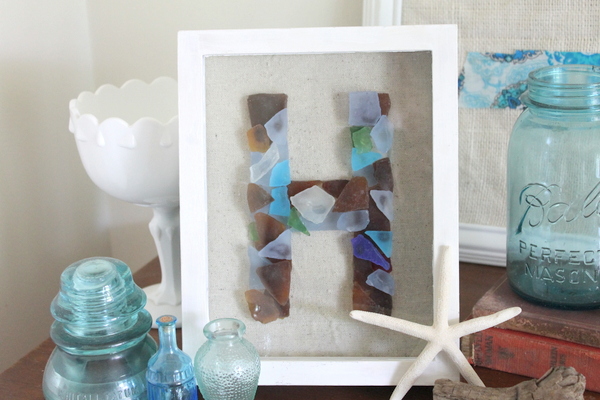 Isn't it amazing? I love that perfect beach touch it adds along with my other beach decor. 😁
Love Sea Glass Art? Try These Other Beach-Themed Crafts
Sea glass art projects aren't the only beach-themed crafts you can make! If you love the beach, check out these other beach craft ideas.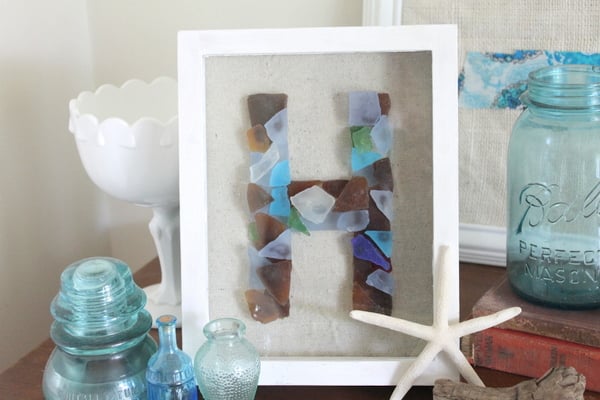 How To Make Monogram Sea Glass Art
Enjoy those beach vacation memories with this easy peasy monogram sea glass project. It's super simple to make and looks amazing!
Supplies
Sea Glass

Shadowbox frame

Pencil

Ruler

Hot glue and a glue gun
Instructions
Prepare your monogram letter outline by free handing it, using a ruler to create it, or printing out a letter and tracing it.

Add your sea glass pieces to your letter outline by working it like a puzzle to fit shapes together. I overlapped my pieces of sea glass. Once you like your arrangement, glue down your pieces with a hot glue gun.

Once your monogram is complete and the glue has dried, add it to your shadow box. Then it's ready to display!
Tried this project?
tag us to show off your work!