Sublimation on sequins is a fun project with a BIG impact. It is perfect for those that want to make a unique pillow for their home using either sublimation or Infusible Ink. Plus it is an easy project that will look amazing on your bed or even in your living room. Ready to get started? Grab your supplies and keep reading for three wants to personalize a sequin pillow cover.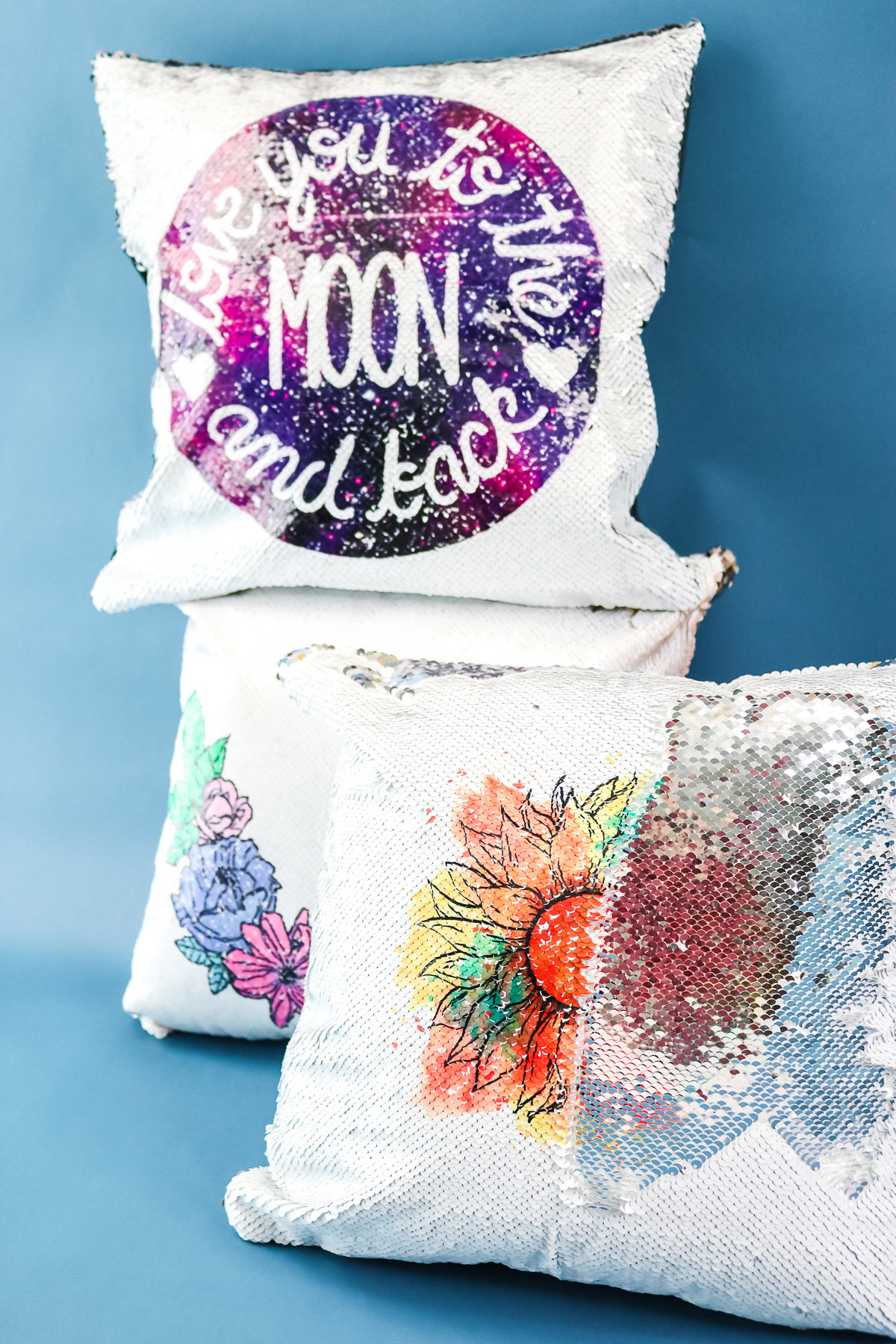 Sublimation on Sequins
I am actually going to do this three different ways. I am making one with sublimation markers from Artesprix, one with a sublimation print, and a final version with Infusible Ink transfer sheets. You can watch me make all three in the video below.
Can't watch the video or missed some of the steps? You can also follow along with the details below.
Supplies needed:
Please note that the Artesprix pillow covers are only available for a limited time. I am giving you another alternative below if those are sold out.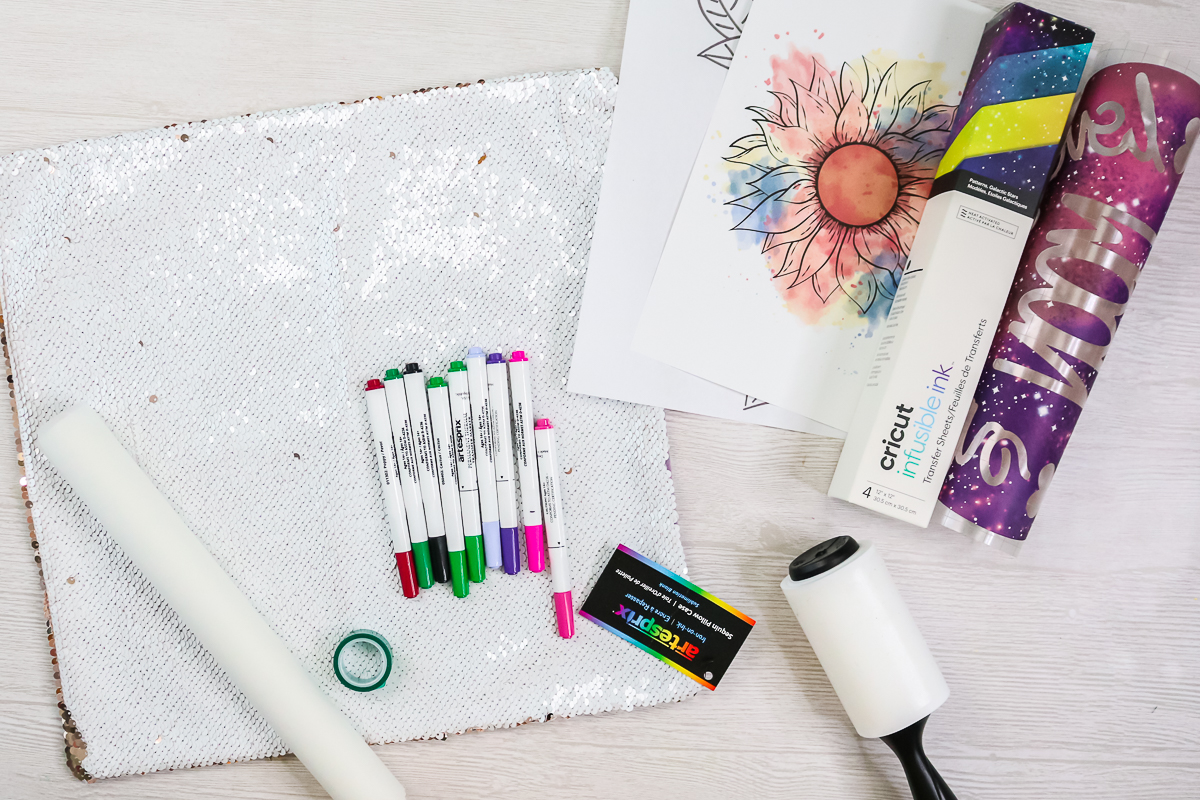 Preparing Your Pillow
Remove the pillow cover from the packaging and cut off the tag. Carefully turn all of the sequins so that the white side is up. Use a lint roller along the sequins to clean off any debris. Be sure to run it in one direction with the sequins so it does not flip them back over.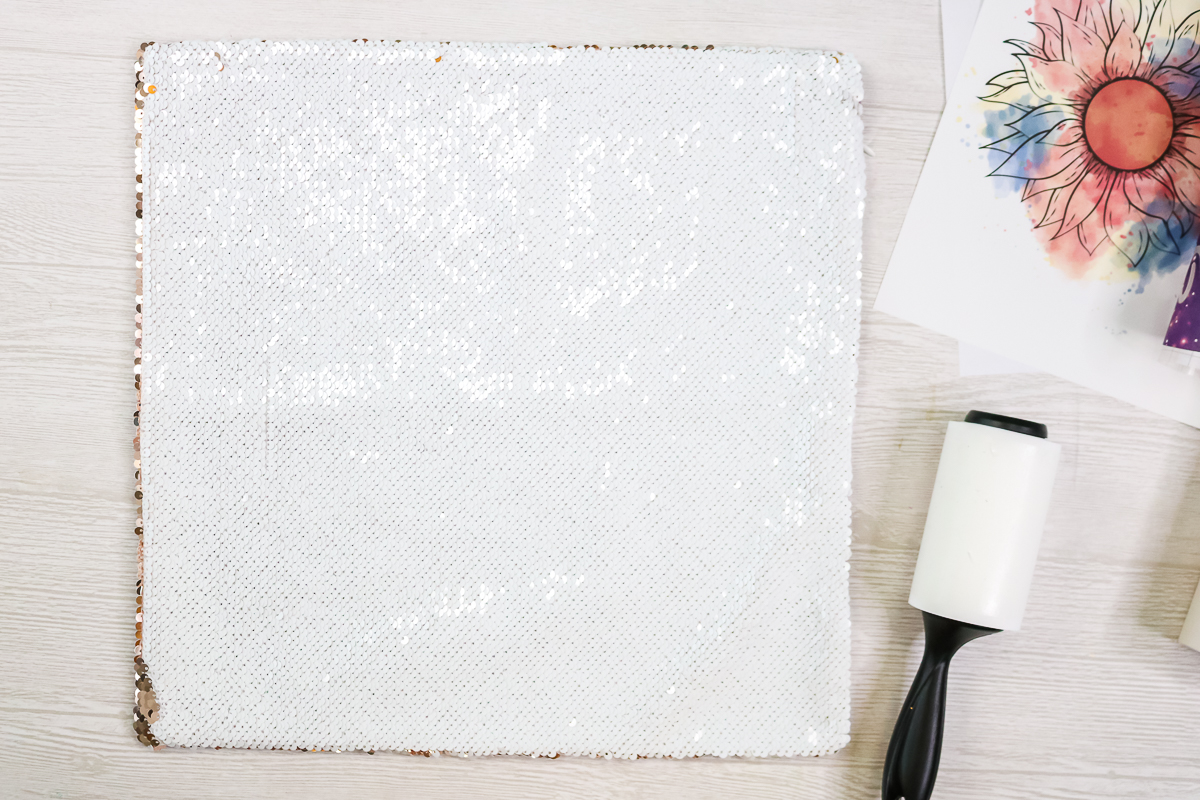 Making Your Design
Now you will want to prepare your design. You can do that a few different ways depending on what you have available.
Making a Design with Artesprix Markers
You can draw and color a design with Artesprix sublimation markers. You can use this trick to add the markers to your Explore or Maker or they will just fit in the Joy. Then use that to draw an outline you can color in. You can also freehand this if you feel comfortable with that.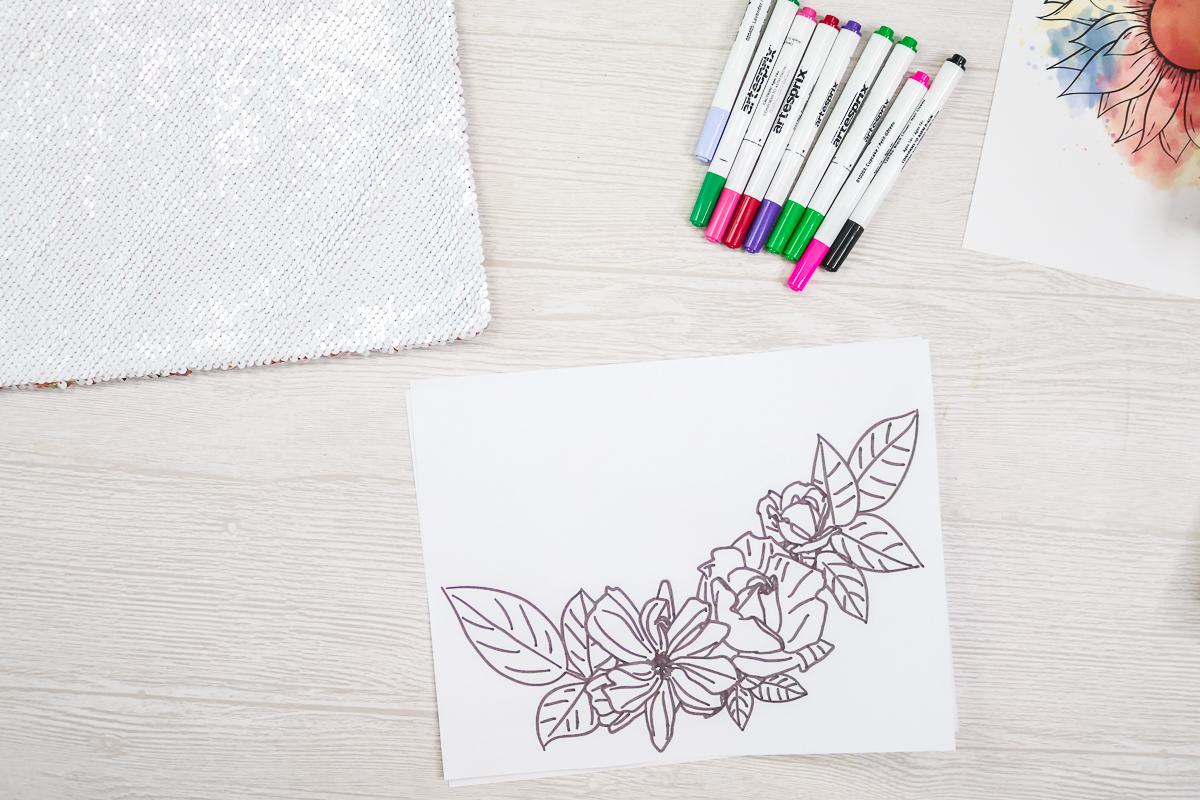 Remember that your design will be mirrored when pressing. You can color in your design like a coloring book page at this point with any colors that you like.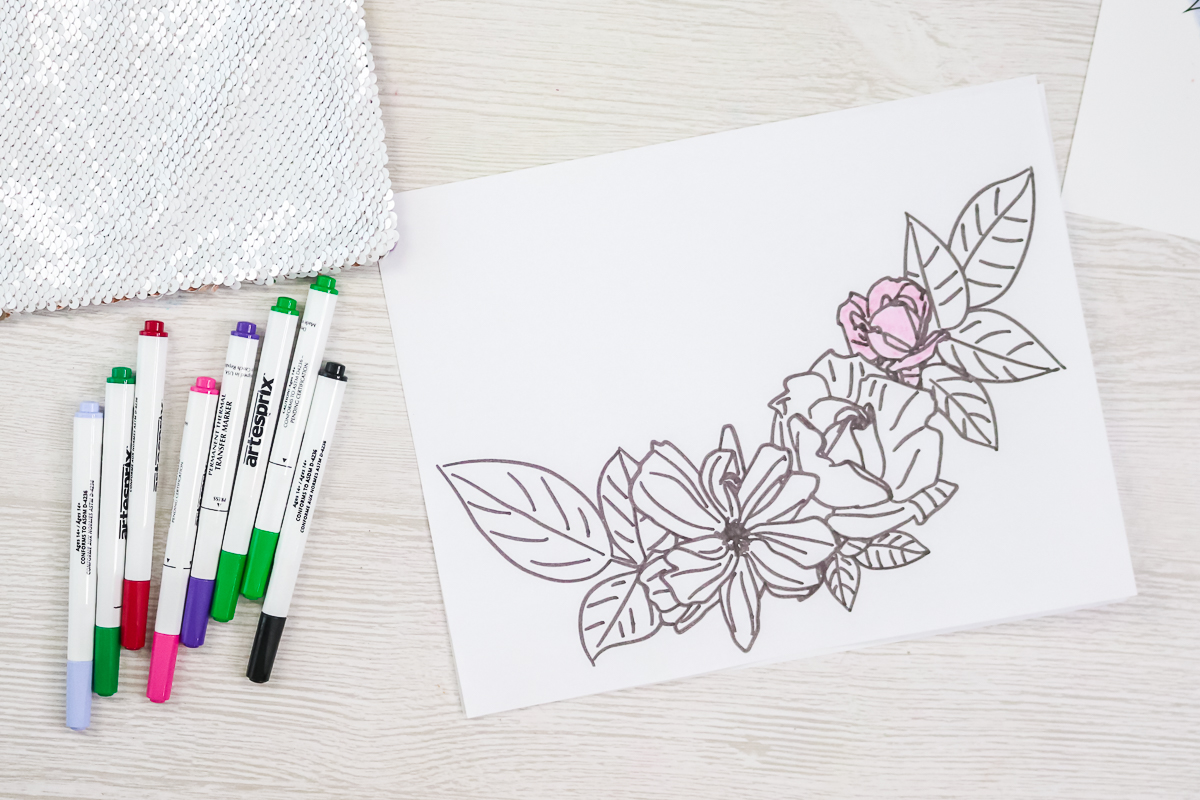 This is done on regular copy paper and nothing special is needed to make your design. You can draw or write anything that you would like! Just be sure to mirror all text or any design where direction is critical. This is ready to press as soon as you are done coloring.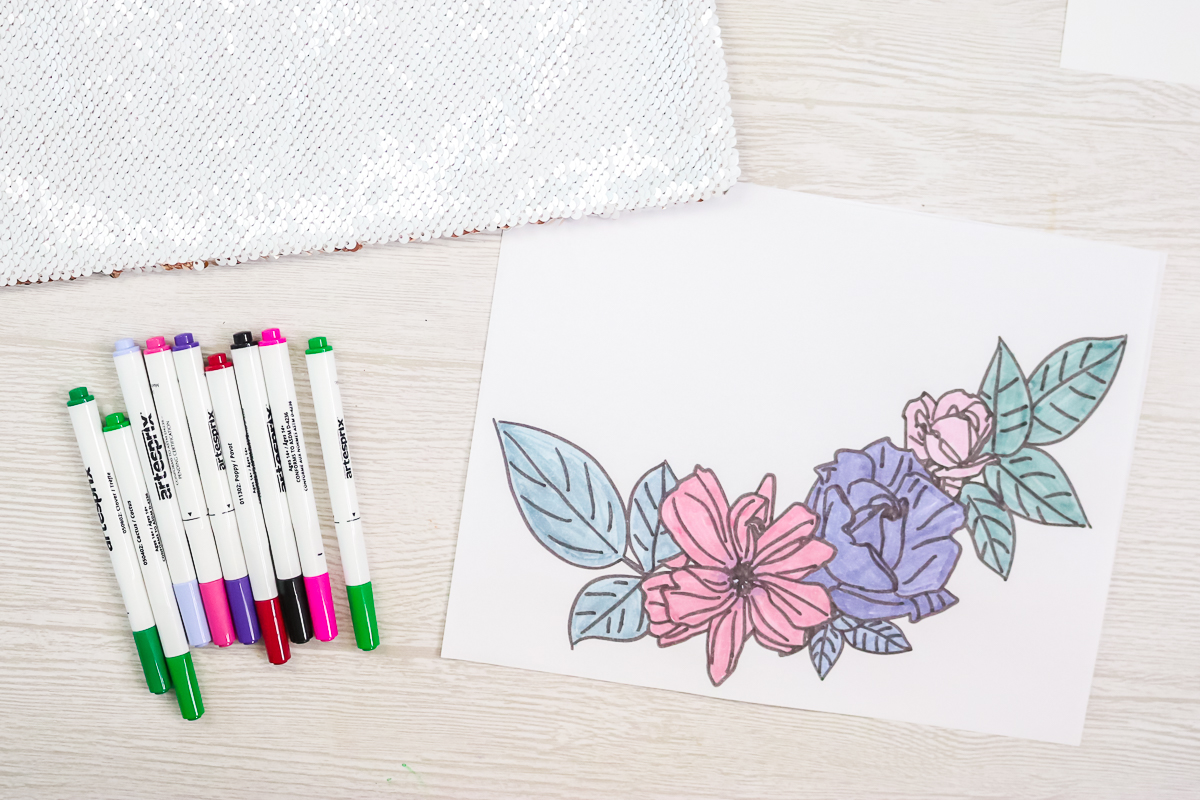 Printing a Design with a Sublimation Printer
You can also use sublimation ink in a sublimation printer to print any image. I used my converted Epson printer to print a sunflower design for one pillow. Again, you will want to make sure this is mirrored when printing and print on sublimation paper. Always mirror when doing sublimation on sequins.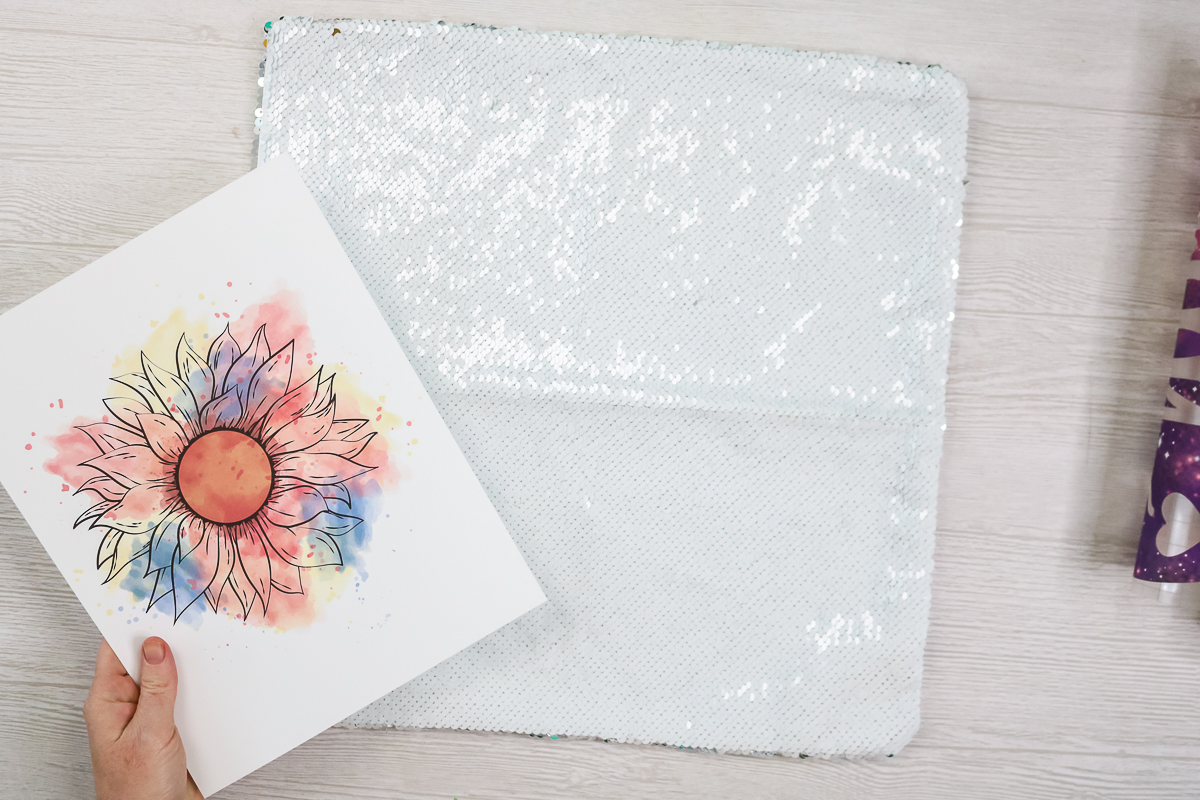 Cutting Infusible Ink with a Cricut Machine
You can also use these sequin pillow covers with Infusible Ink transfer sheets. Just cut your design from your sheet with a Cricut machine. Again, you will want to mirror before cutting and follow all directions on my Infusible Ink guide here. The sheets I had were really curled but I did find a way to make those work so keep reading to see my tricks!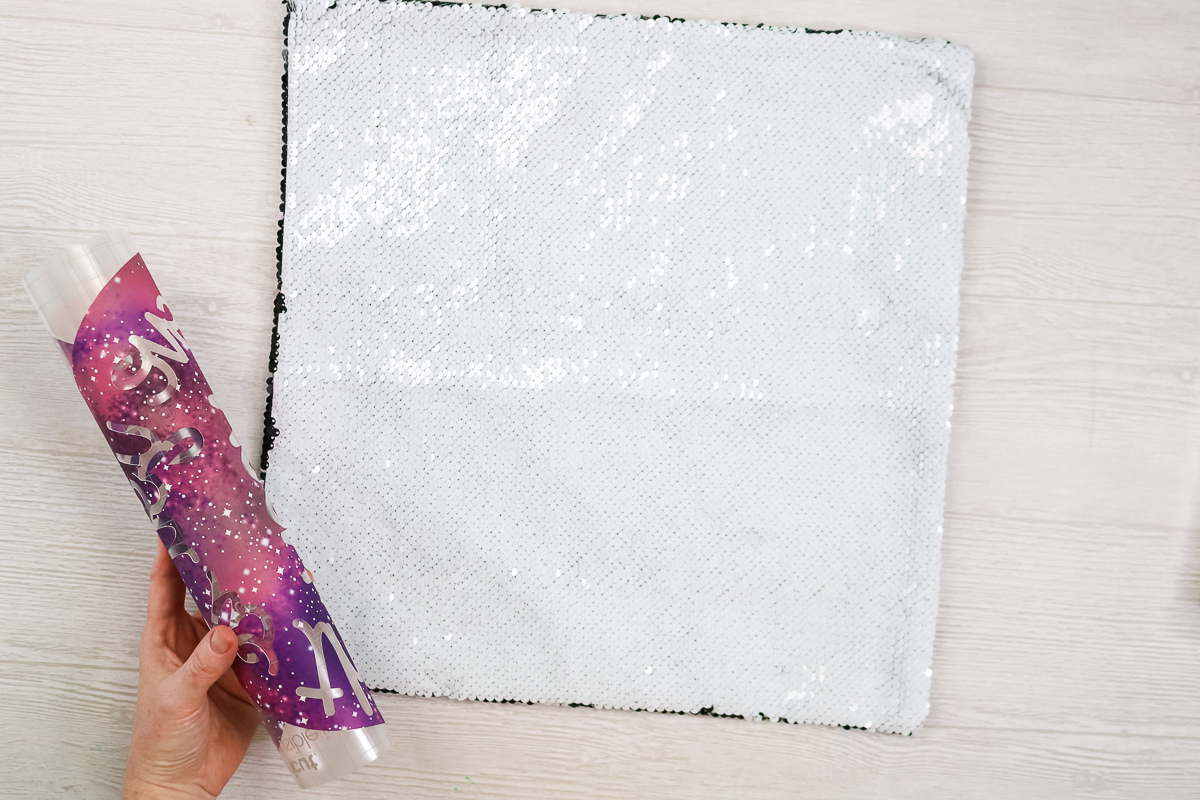 Pressing Your Sequin Pillow Covers
Now that you have your designs, it is time to to sublimation on sequins. First, you will need to secure your design in place so it doesn't move when pressing. There is a trick to doing that on sequins. If you can avoid it, try not to add tape to the sequins themselves as you do risk pulling them off. For both the sublimation markers and print, I was able to secure the design to two pieces of protective paper first.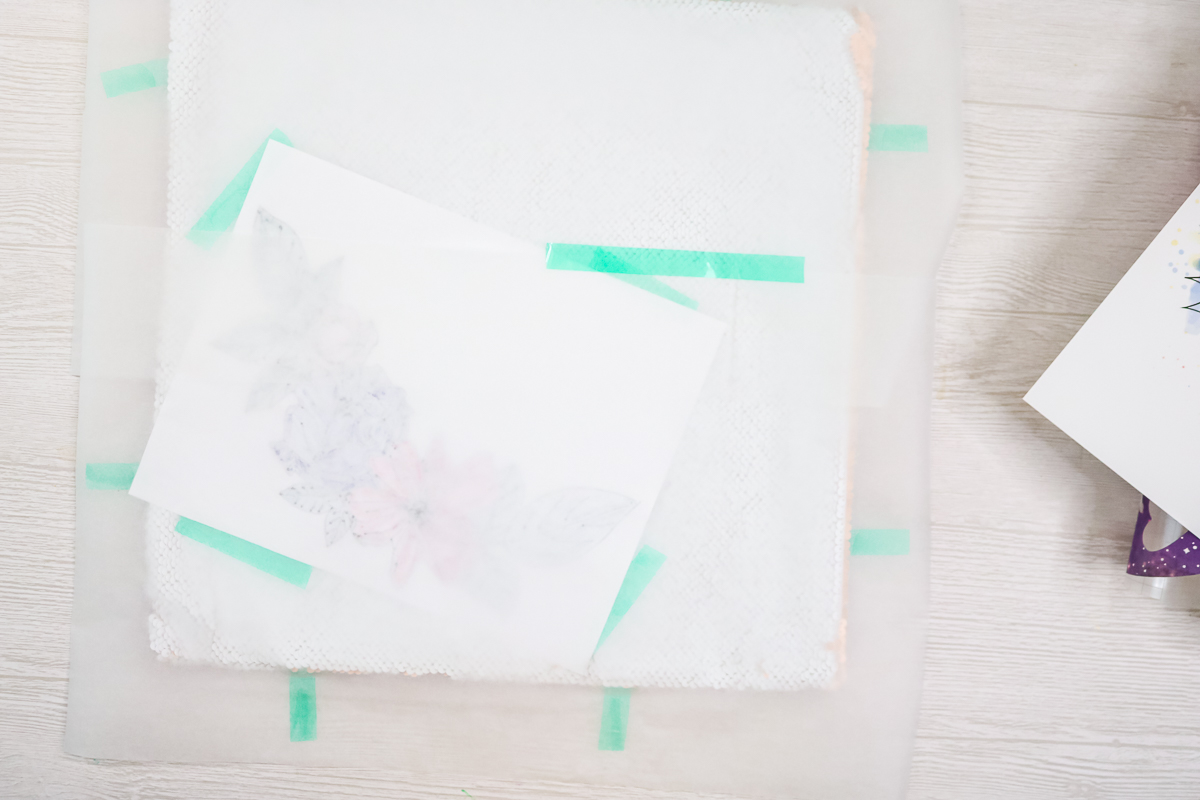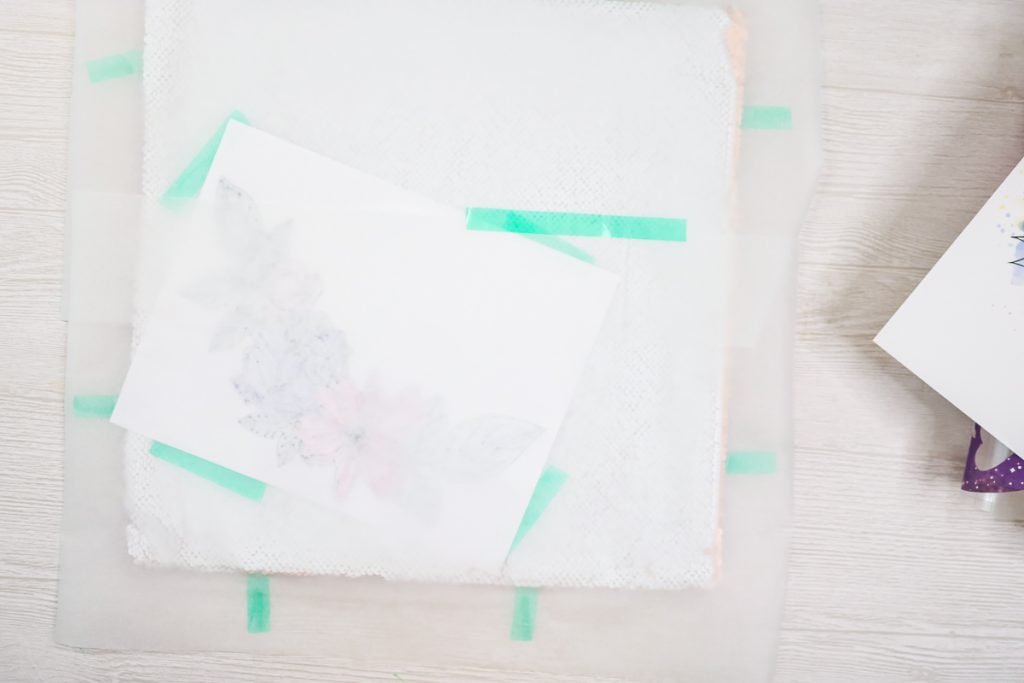 Then I put that with the design down on the sequins and taped the protective paper to the BACK of the sequin pillow cover so that my tape didn't touch any sequins. NOTE: Orient your design so that the zipper on the pillow cover will be down when in use.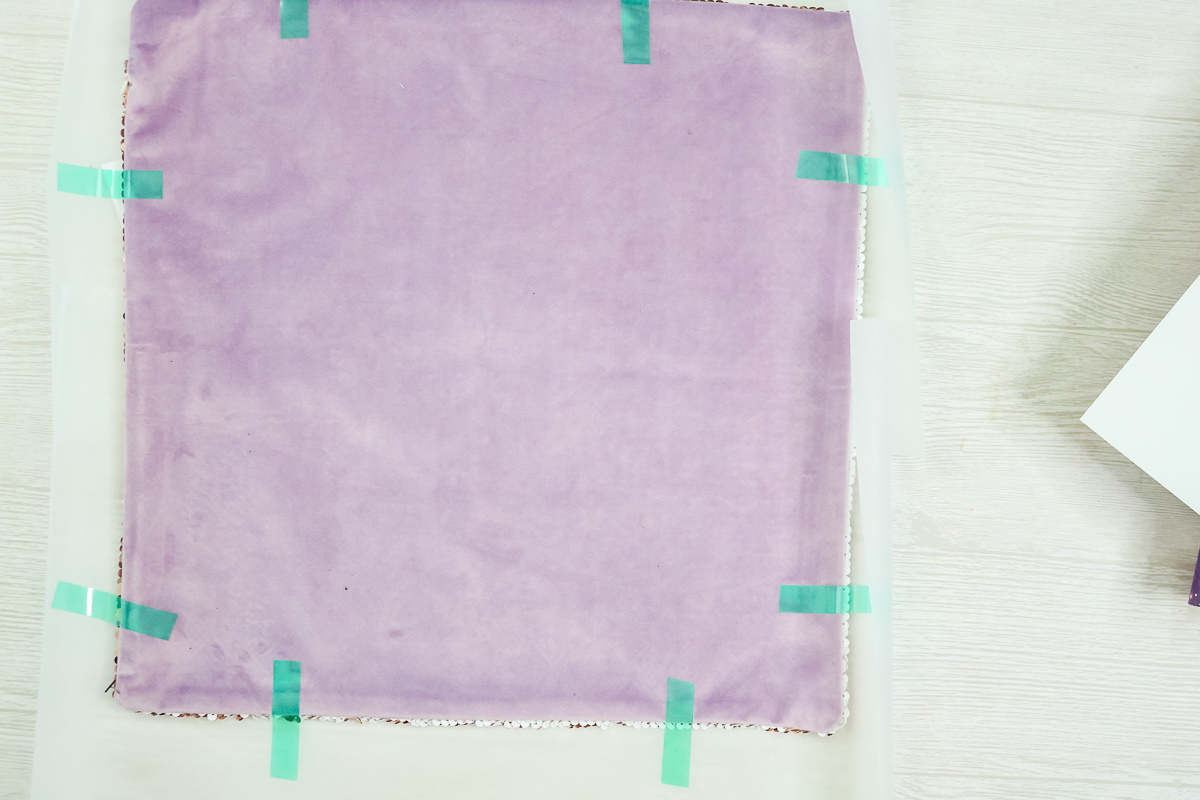 The Infusible Ink sheet was way too curled to work with that same method so I carefully taped it to the sequins using as little tape as possible. Once again, I covered the entire thing with the protective paper. I would use the protective paper over the entire pillow regardless to protect your press as well as the exposed sequins.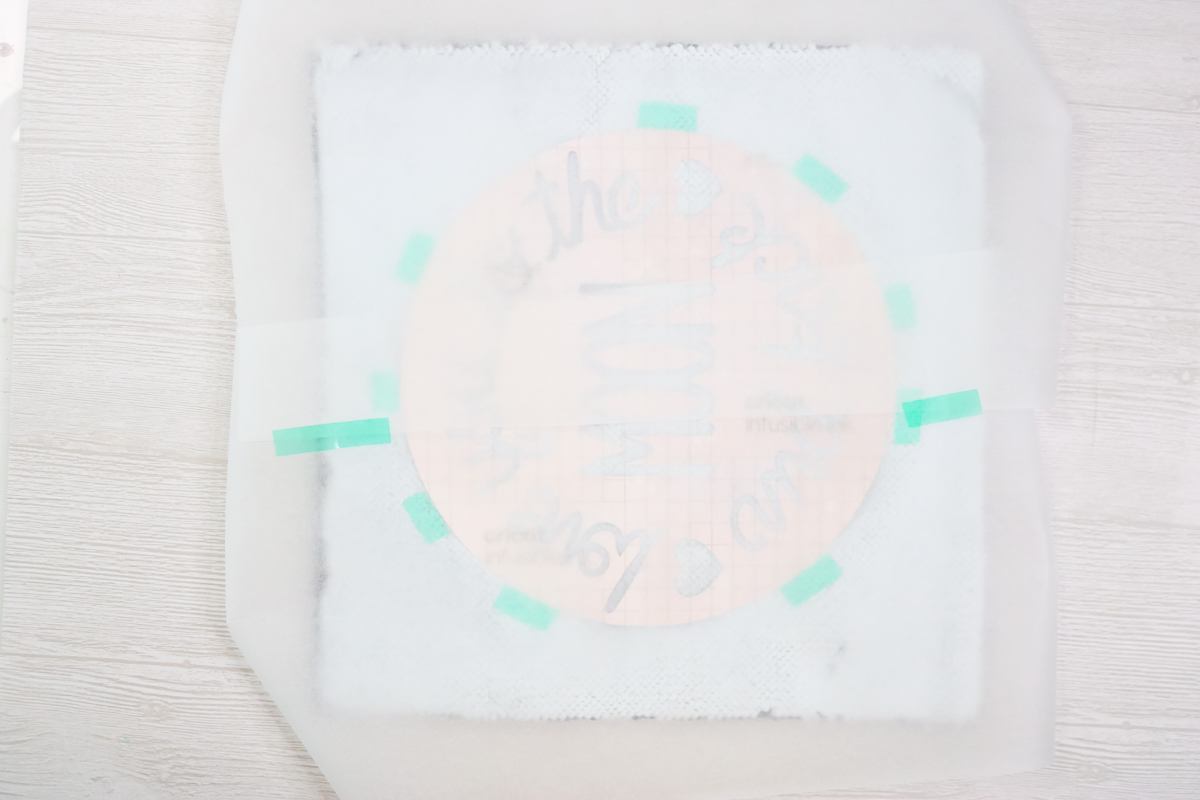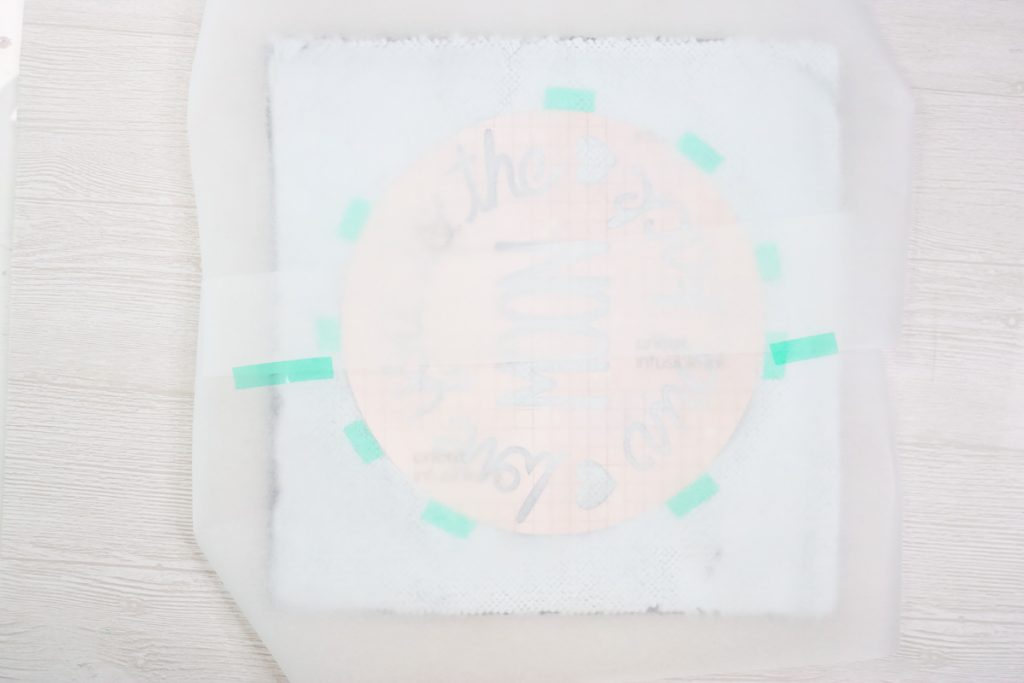 Now you are ready to press! Be sure to set the time and temperature on your press and allow it to heat up. Then try to press the design all at once if your press is large enough. For the Infusible Ink design, I did press twice with no issue. NOTE: Be sure to protect the bottom of your press with some protective paper as well just in case.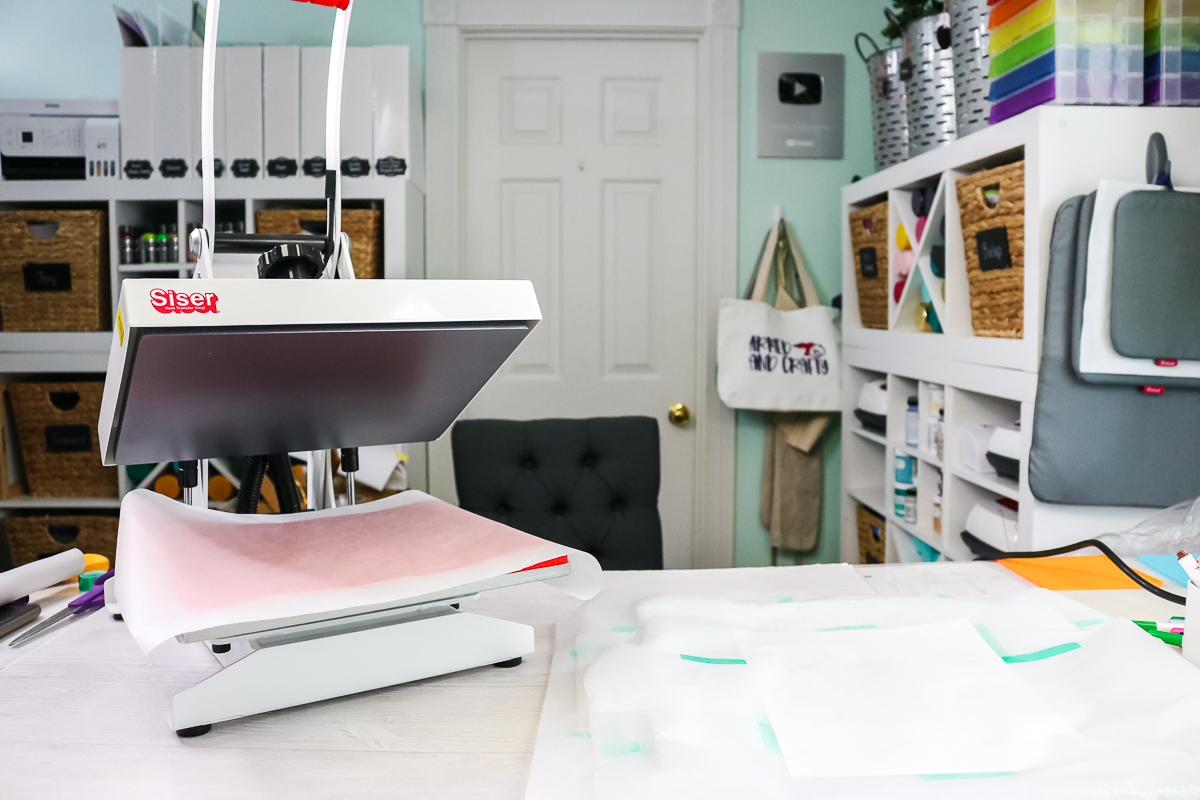 Be sure to check with the manufacturer's instructions for time and temperature depending on where you bought your pillow cover. I used my heat press as it does call for heavy pressure. I think you might be okay with an EasyPress but I would press as hard as you can. Once pressed, remove from the heat press and peel back your design. I like to wear heat-resistant gloves so I can peel them right away.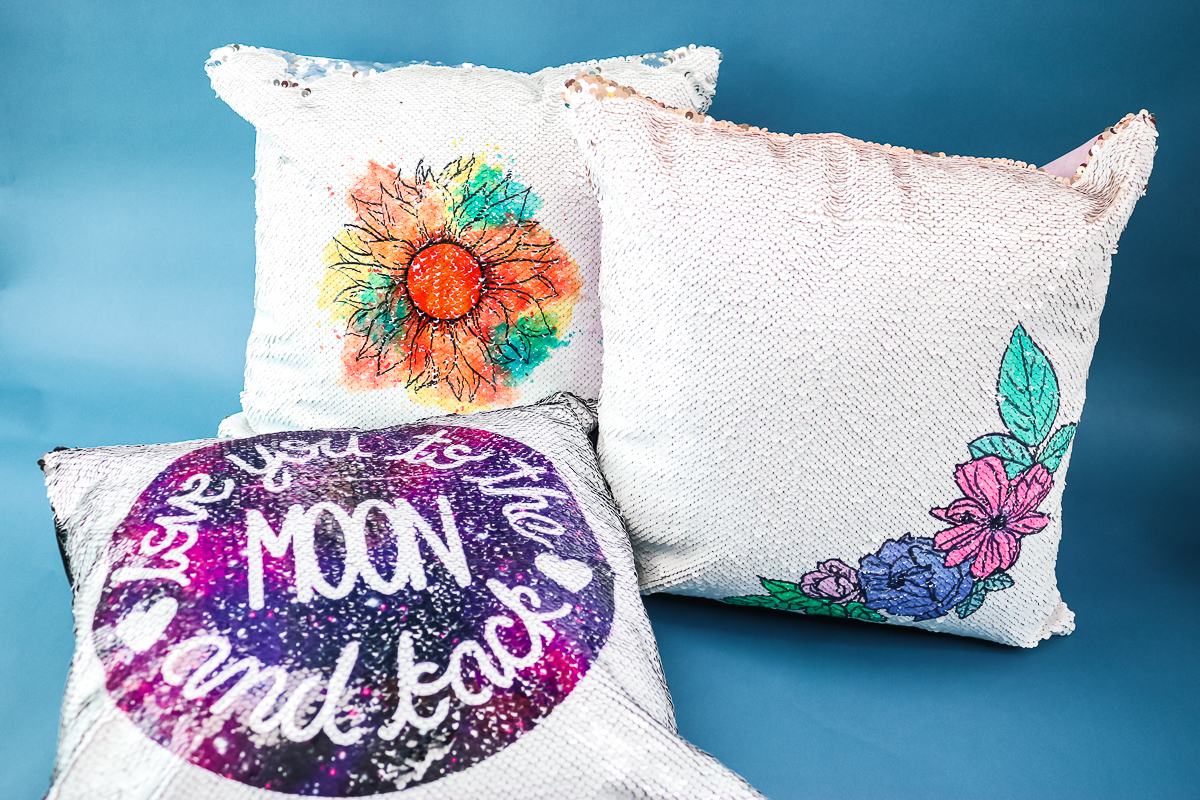 You can make as many or as few of these cute pillows as you would like. Once you see how easy the process is, you will be ready to make as many as possible!
Care and Use Instructions
Once your design is on your pillow it is permanent. You do want to follow all care instructions that are with your blank, however. You don't want your sequins coming off in the wash! I added a pillow form to the inside of each of my pillows but those can be removed easily with the zipper in the bottom for washing.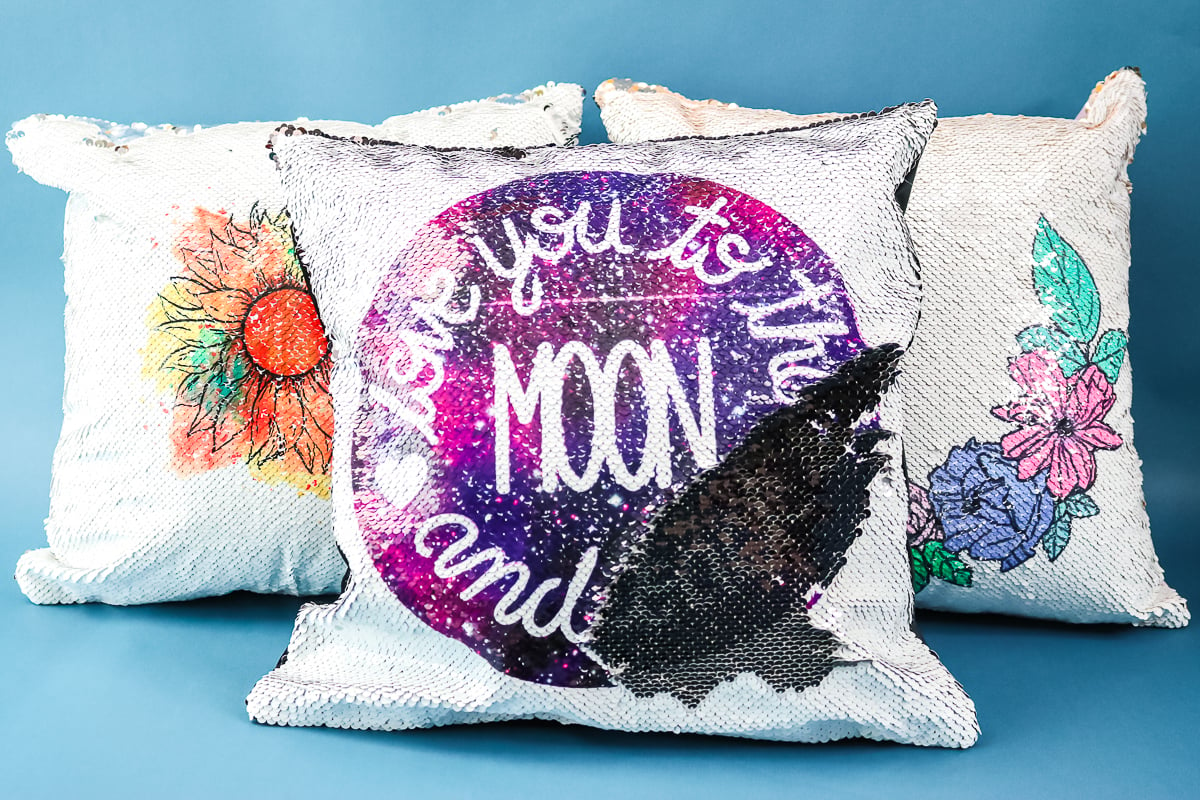 The pillows that I am using actually come in three colors. The one shown above has a black backing and black sequins. The pillow below has silver sequins with a white backing.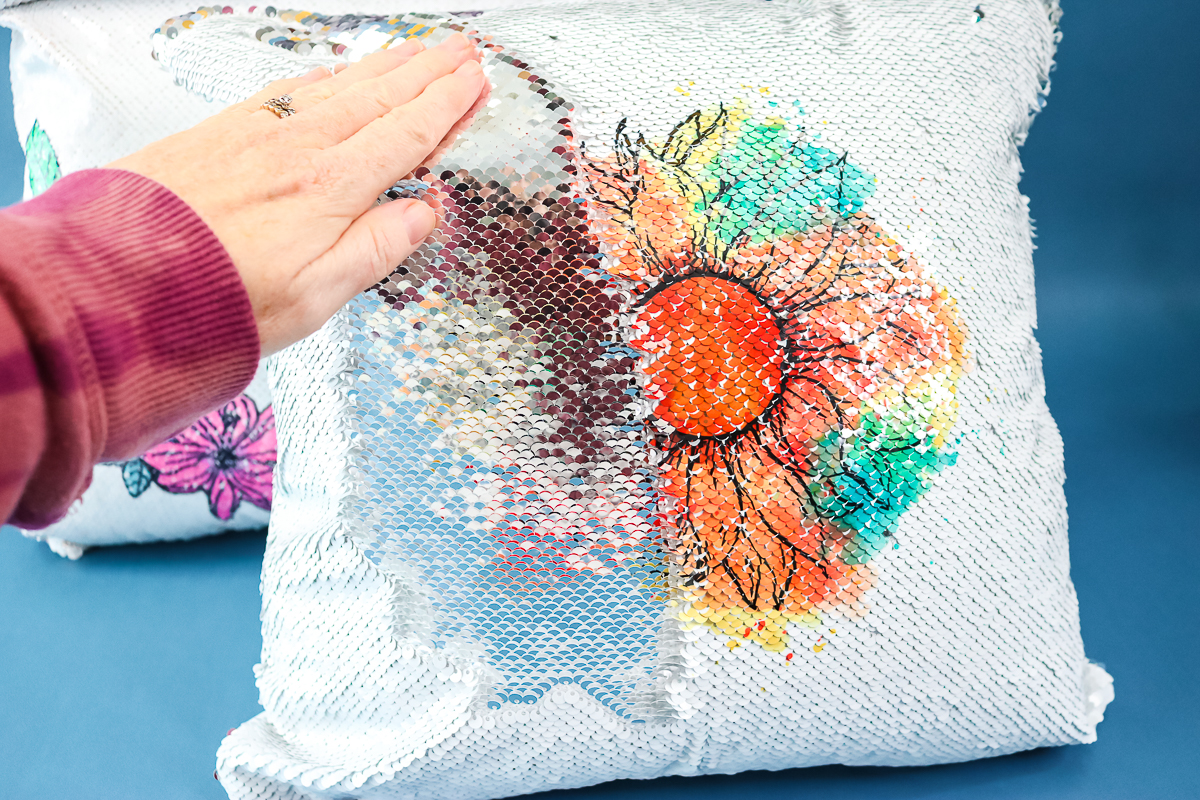 And, finally, there is a rose gold version with a purple backing. You may have heard these called mermaid pillows and they are simply mesmerizing. Flip your sequins to hide of reveal your design as many times as you would like.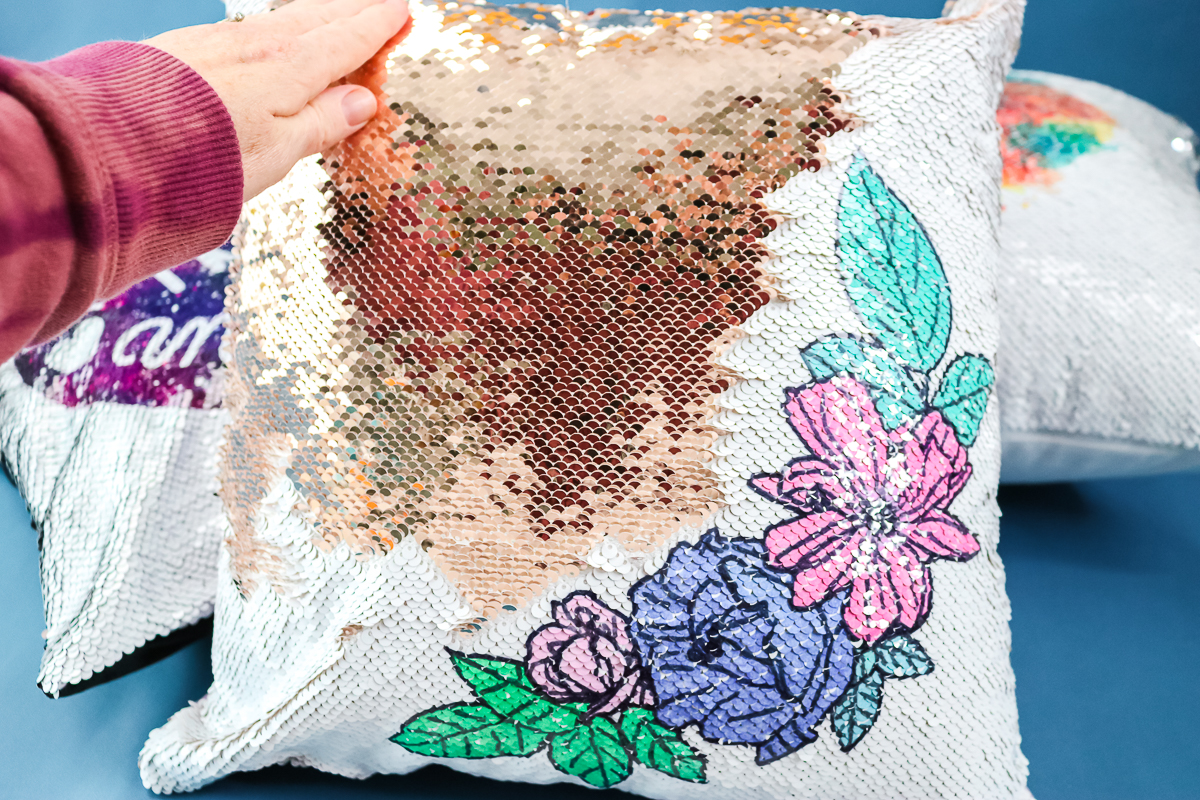 These are also the perfect addition to a kids room or make them as a gift for a teen or pre-teen on your list. Sublimation on sequins is an easy project and will look amazing in any room!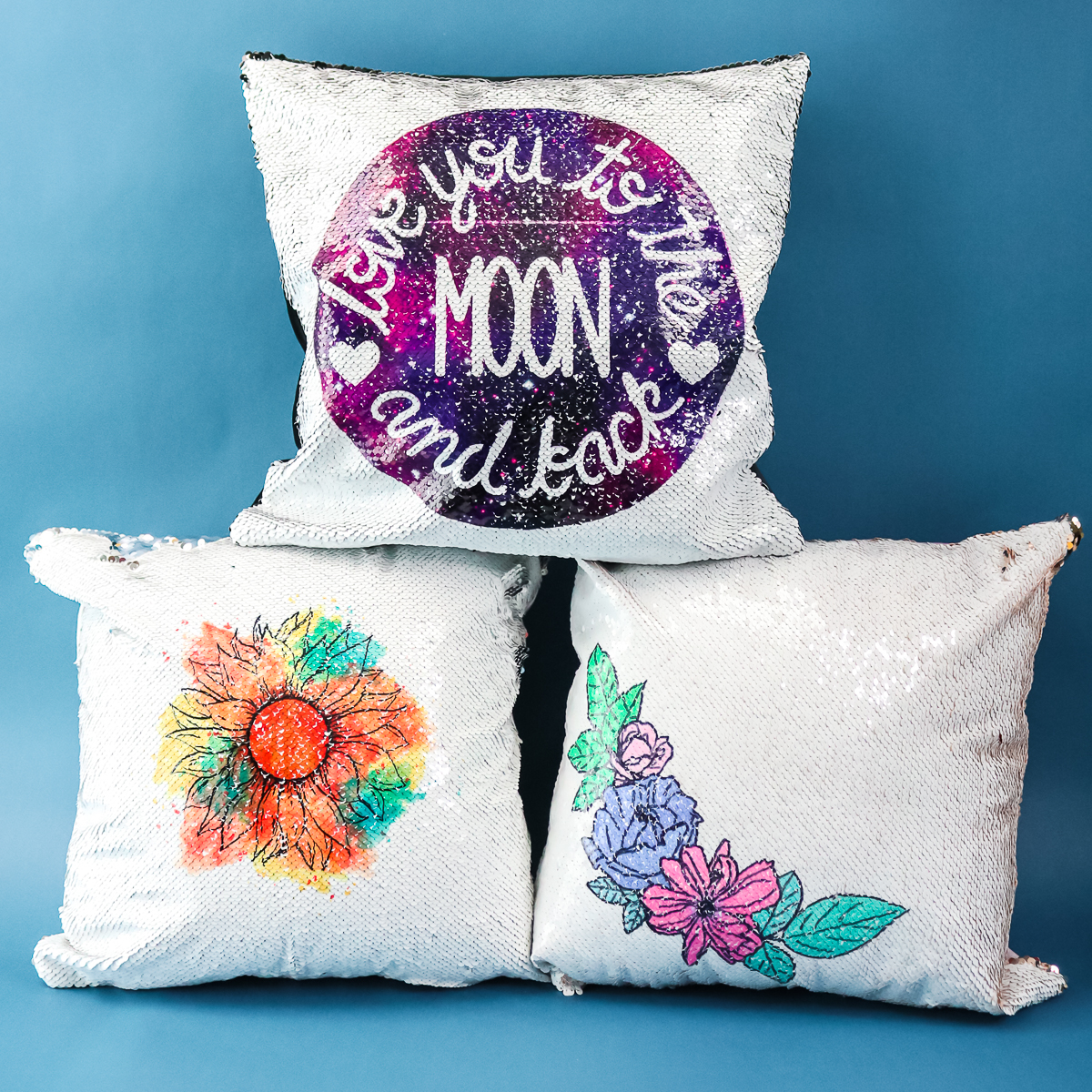 So, will you be giving sublimation on sequins a try in your home? Grab your pillow covers and start making cute pillows that the entire family will love.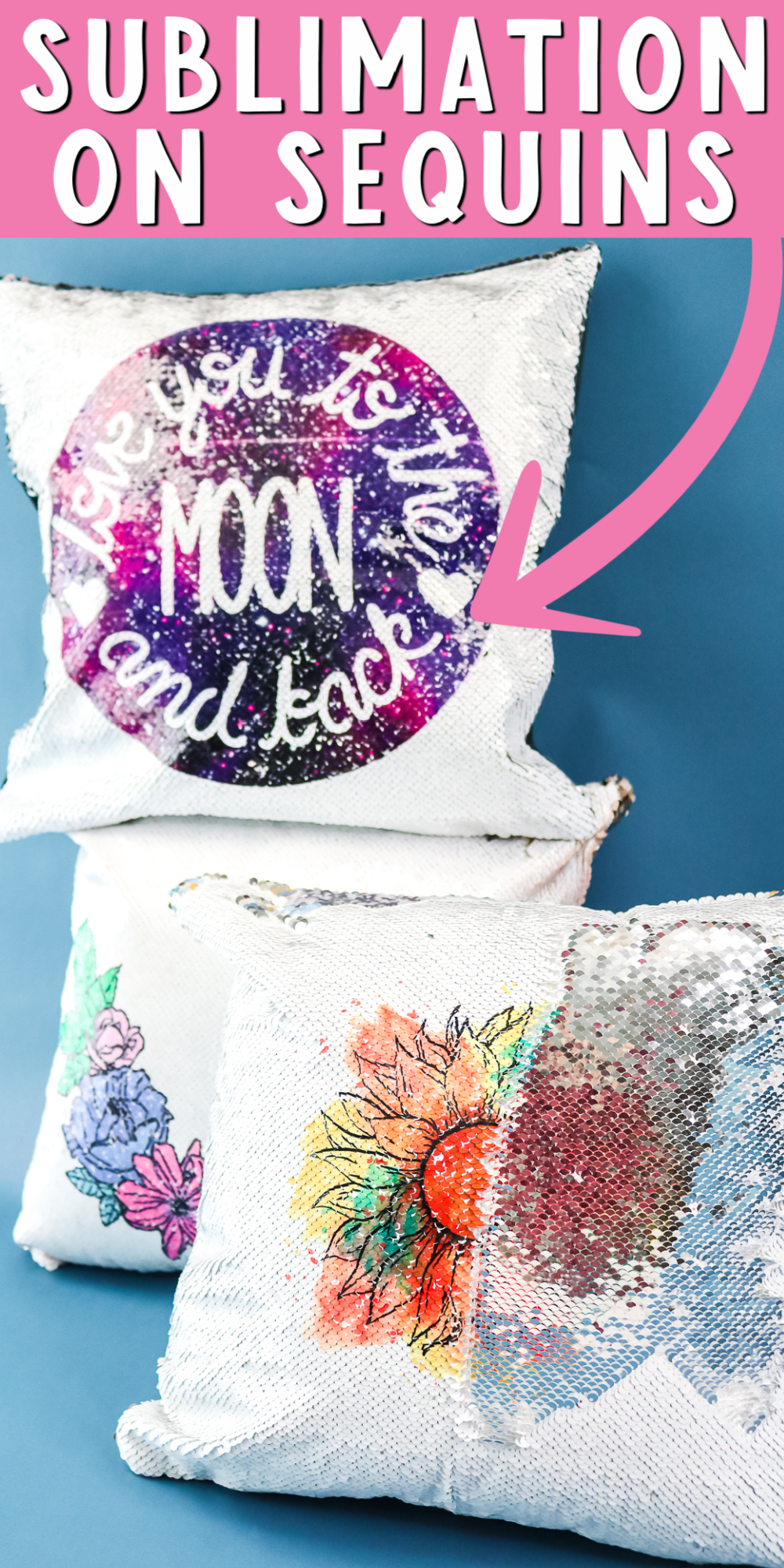 Love the idea of using sublimation on sequins and want more? Try the links below!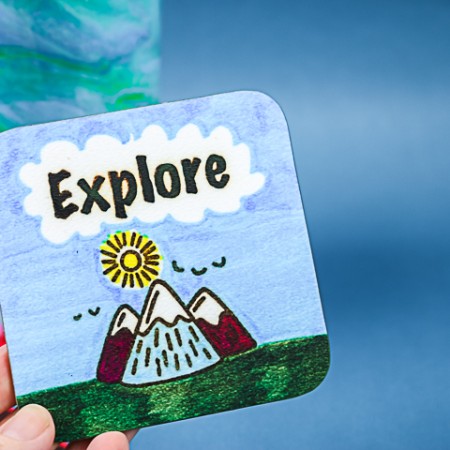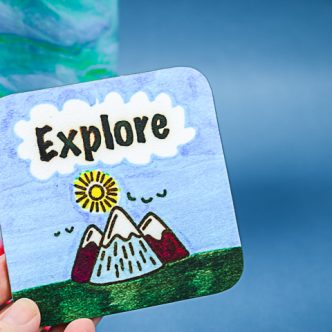 Sublimation Stamped Ink Coaster with Words
Add sublimation ink to a coaster with a stamp pad and this method.
Read More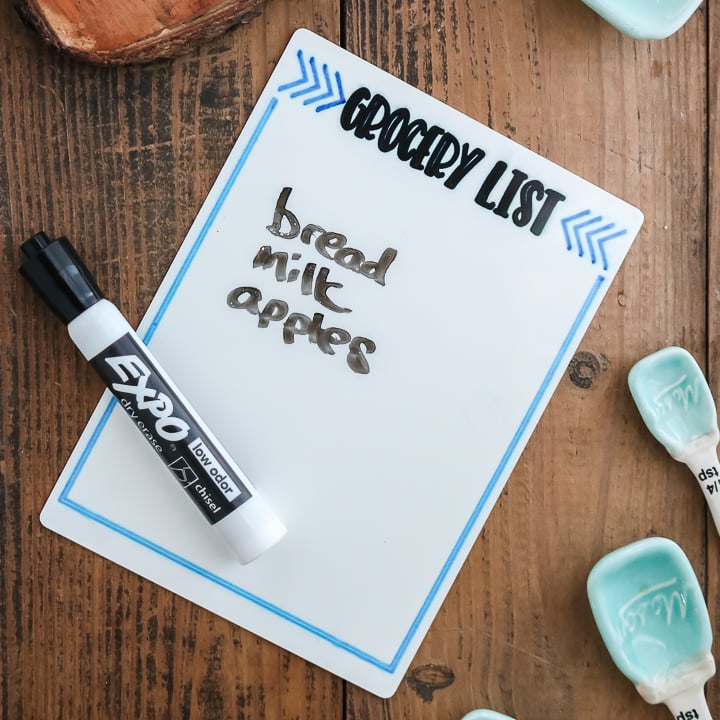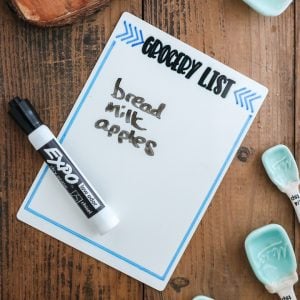 Grocery List Board with a Free Kitchen SVG
Make a dry erase grocery list board with sublimation markers and this organization SVG file.
Read More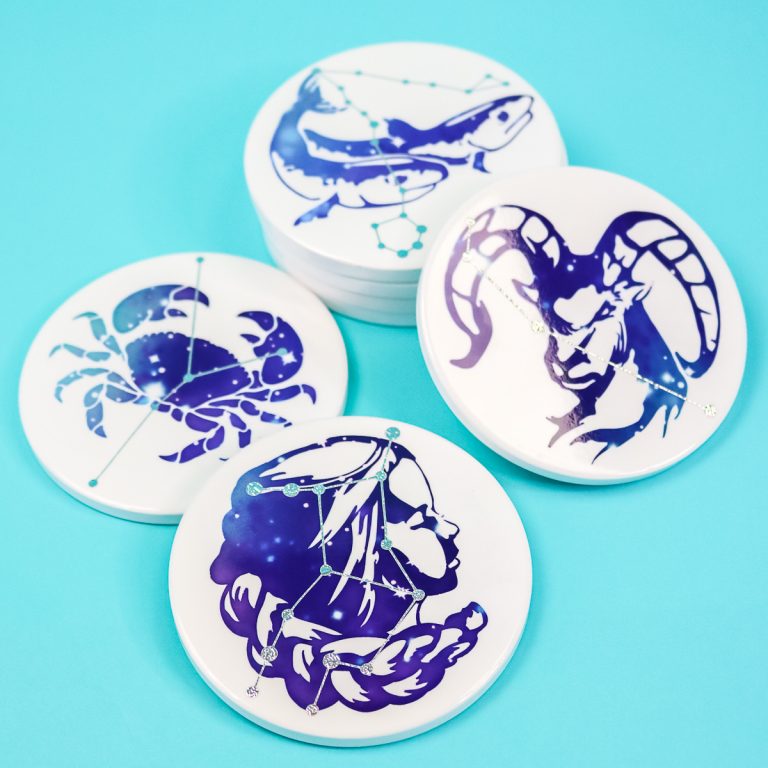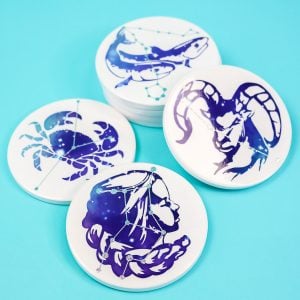 Infusible Ink Coasters with Constellations
Make this constellation craft with Cricut Infusible Ink and use in your home or give as a gift.
Read More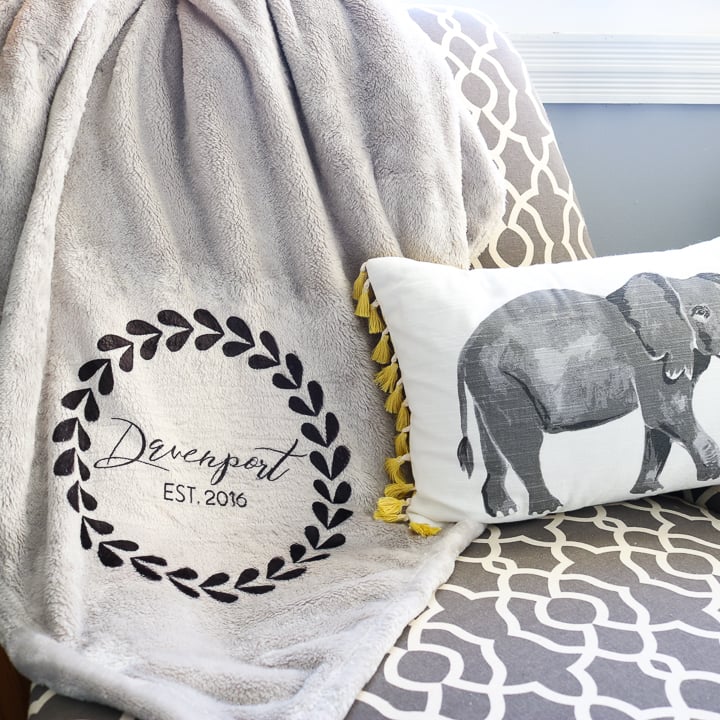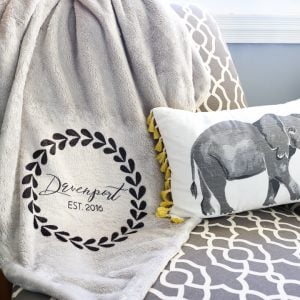 How to Make an Infusible Ink Blanket
Use the new Cricut Infusible Ink on a polyester blanket for a personalized gift idea.
Read More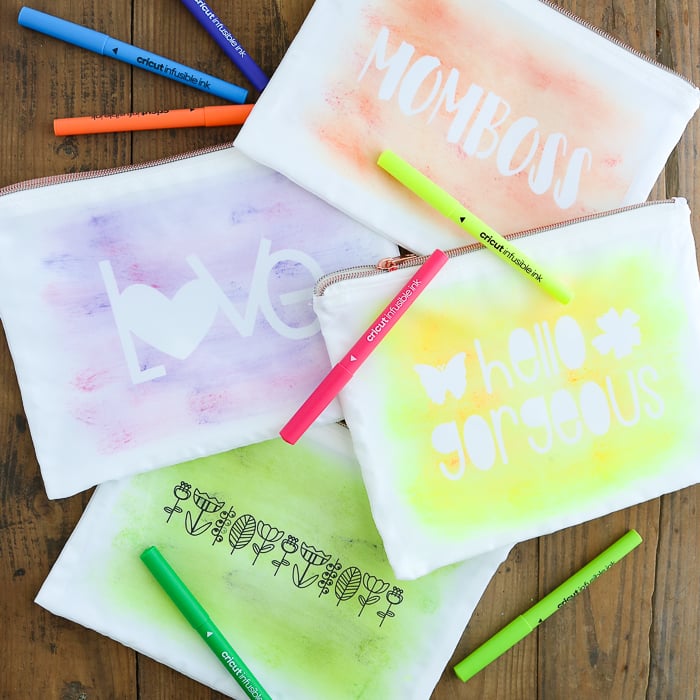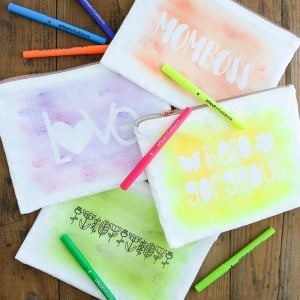 DIY Makeup Bag Using Cricut Infusible Ink
Create this cool personalized makeup bag using Cricut infusible ink! Here's a step-by-step walk-through on how to create cool watercolor designs.
Read More