Are you ready to take your sublimation to the next level? Keep reading to learn all about sublimation on slate and why you should be doing it today! You will not believe how easy these projects are to make and you will love giving them as gifts to everyone on your list.
Are you new to sublimation? Find my sublimation for beginners post here.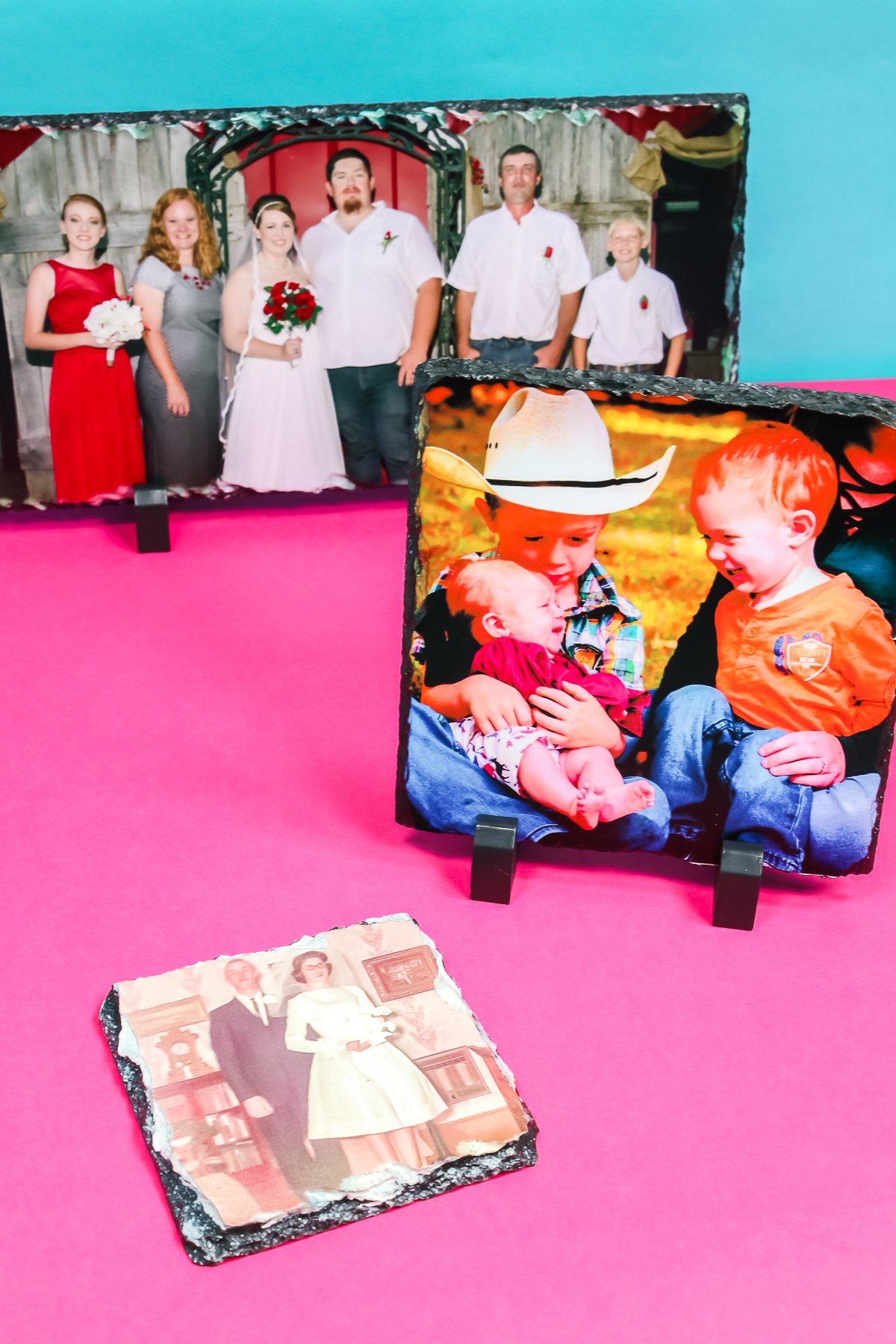 Sublimation on Slate
Slate sublimation blanks are some of my favorites to sublimate on. They're actually not that hard to do once you know my tips and tricks and they make amazing gift ideas. Sublimation on slate creates a very impressive project. Slate sublimation blanks come in a variety of sizes from small coasters to large objects that come with display stands to stand them up.
I think they're a great way to turn your photos into handmade gifts. You can watch me create these sublimation on slate projects, just press play on the video below:
Supplies Needed to Sublimate on Slate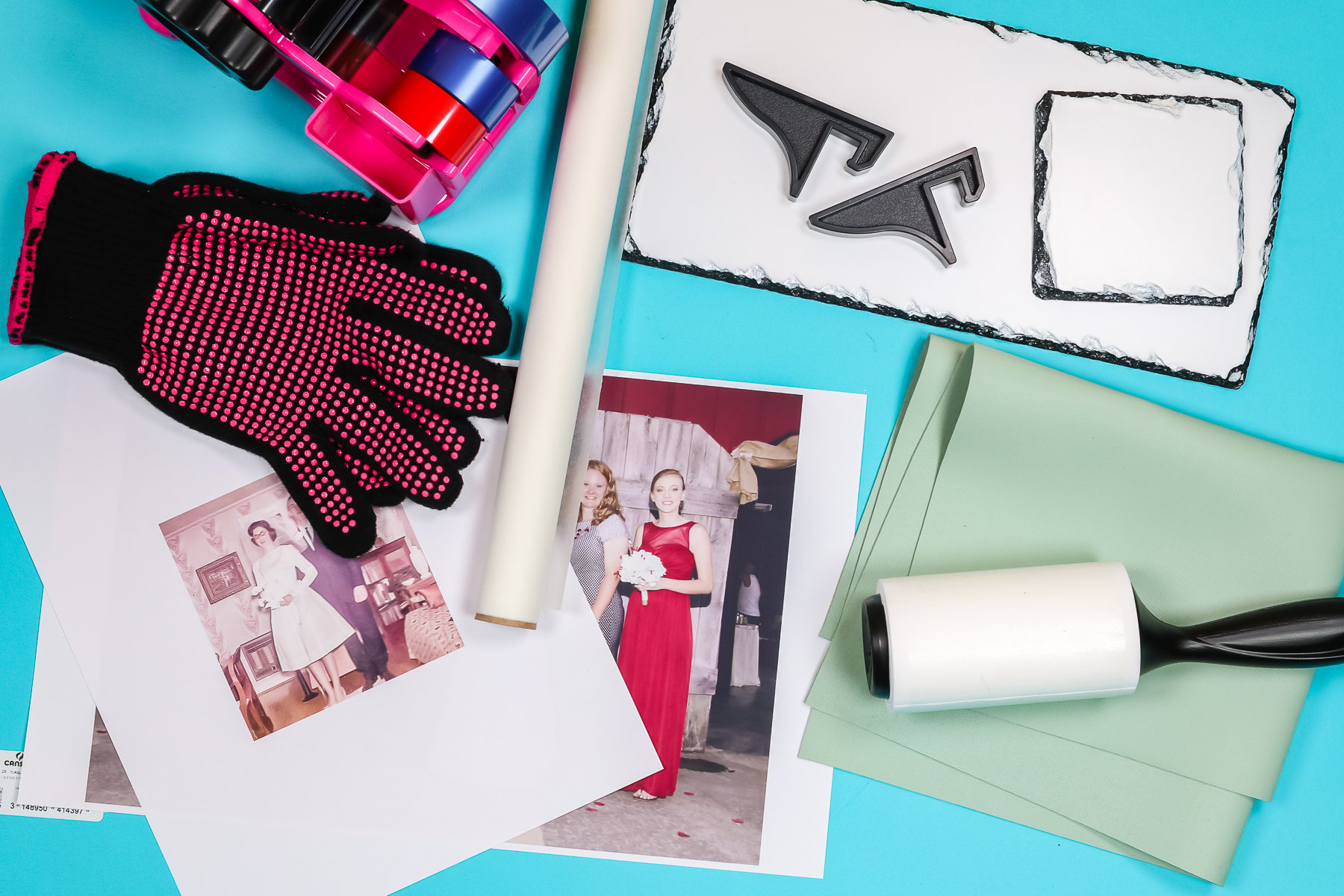 How to Sublimate on Slate
Before we begin our sublimation on slate project, there are some things you need to know.
The first is the press times are very long for sublimating on slate. I am using my Siser Heat Press and have also used my Cricut AutoPress. Both presses worked well. Because of the long pressing time, I would not recommend doing this with an EasyPress.
The small coaster-sized slate piece has a press time of four minutes and the larger one has a press time of nine minutes. They all require at least medium pressure which would be hard to do for the required time with an EasyPress.
Can you try it? Of course you can. Slate sublimation blanks however are not cheap. That's one of the reasons I put this tutorial together. I highly recommend reading through the whole process before attempting to make one yourself. If you want to experiment with a different process do so at your own risk.
How to Apply a Sublimation Print to Slate
The first thing we need to do for our sublimation on slate project is to clean our slate. All of these slate pieces are sublimation blanks. They have a poly coating that the sublimation bonds to, to create the finished product.
You need to clean your slate really well. I recommend using a lint roller and going over it multiple times to make sure you remove any dirt and dust from the surface.
Because these slate pieces have some white areas all the way to the edge you want your sublimation print to be larger than your blank all the way around. Your print needs to be a sublimation print. That means you used a sublimation printer with sublimation ink to print onto a sublimation paper. Print your image larger than your blank and then use heat-resistant tape to adhere the print to the blank really well.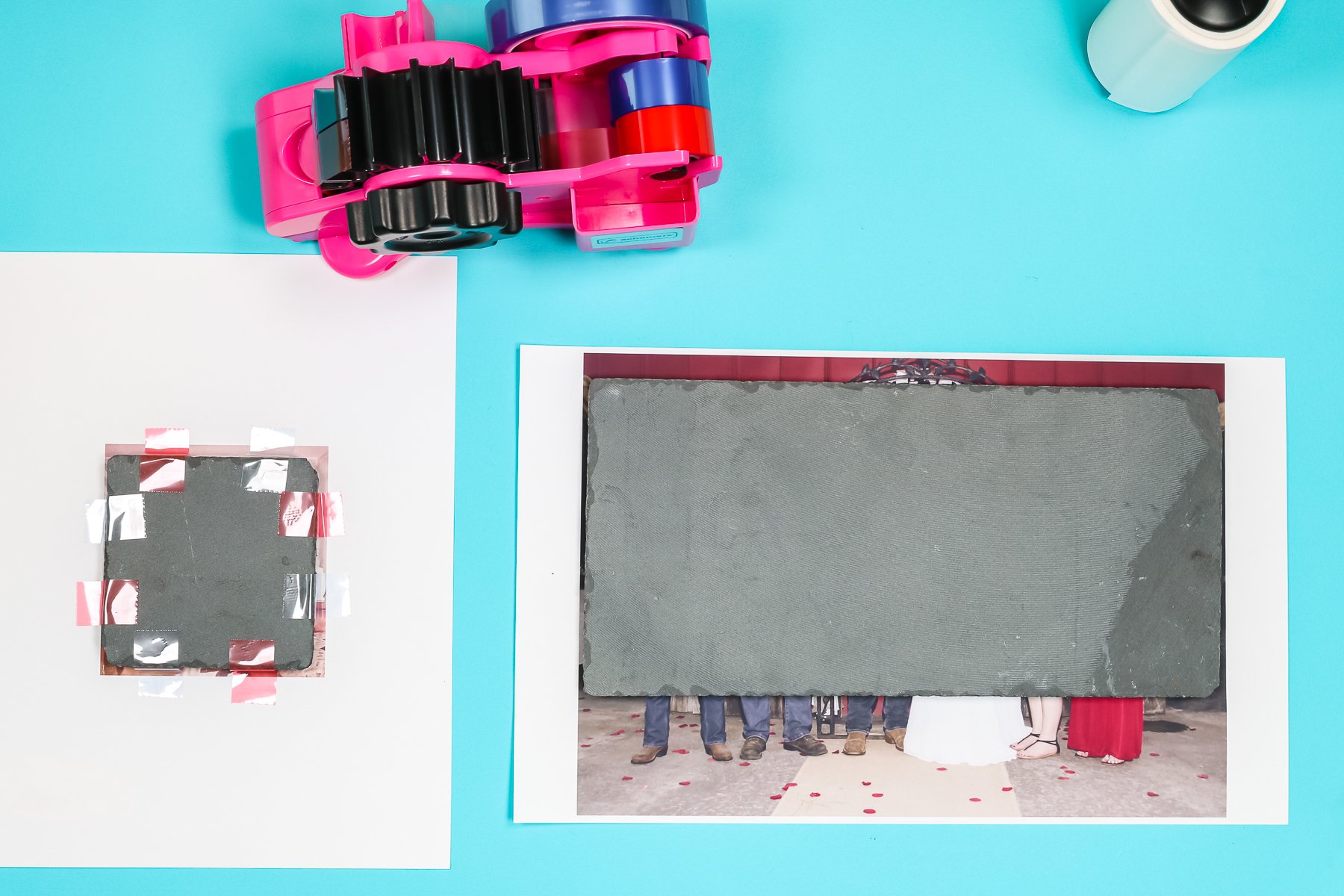 Pressing Sublimation on Slate
When pressing you want your project to be printed side up. I add my items in the following order.
Slate Sublimation Blank
Sublimation print (taped to the blank)
Green Pad
The green pad helps distribute the heat evenly on something like slate that might not be an even surface. Plus, if you've ever sublimated on slate before and had your paper stick to the slate surface, it's because you did not use a green pad. I highly recommend using the green pad and it needs to be a size that is larger than your blank, about one inch, all the way around your slate.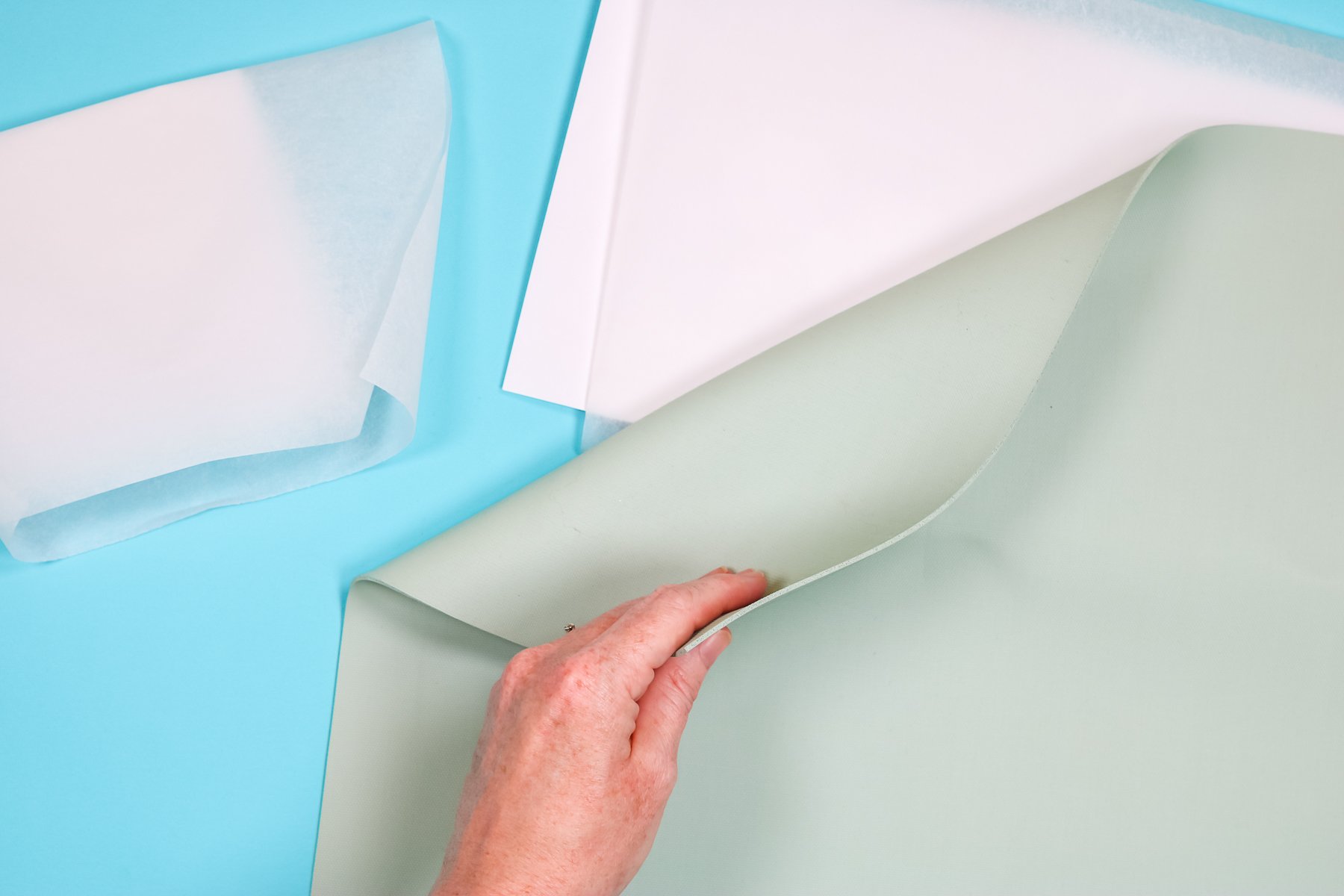 Now that I have everything loaded into the heat press I am going to press for the recommended time. Check the instructions for your slate. I am pressing this large one at 400 degrees for 9 minutes.
Removing Sublimation Print from Slate
When removing the slate from your heat press, you will want heat-resistant gloves. The slate is very hot after pressing. You will also want a heat-resistant mat to set it on.
You can allow your sublimation on slate project to cool before removing the paper or you can remove it while it's warm. Peel off all the paper and tape and you'll see your print on the slate!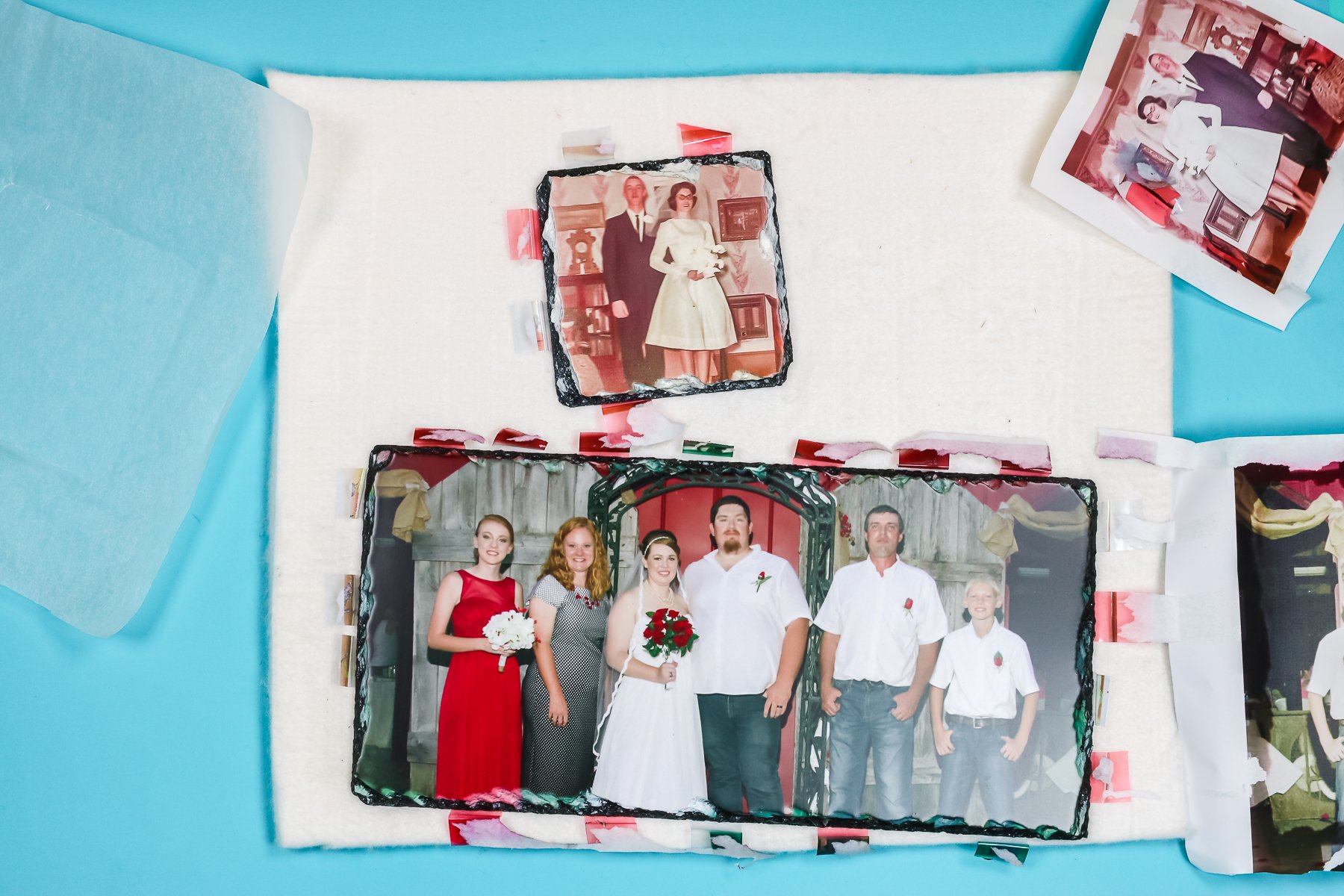 Up Close Look at Sublimation on Slate
Let's take a closer look at the finished product. I did want you to know that sometimes around these jagged edges, it sublimates well, and other times it does not, so it may look a little shadowed around the edges. That's just the nature of the slate itself and is not a defect at all. So that is just the way it will look, once it's done sublimating.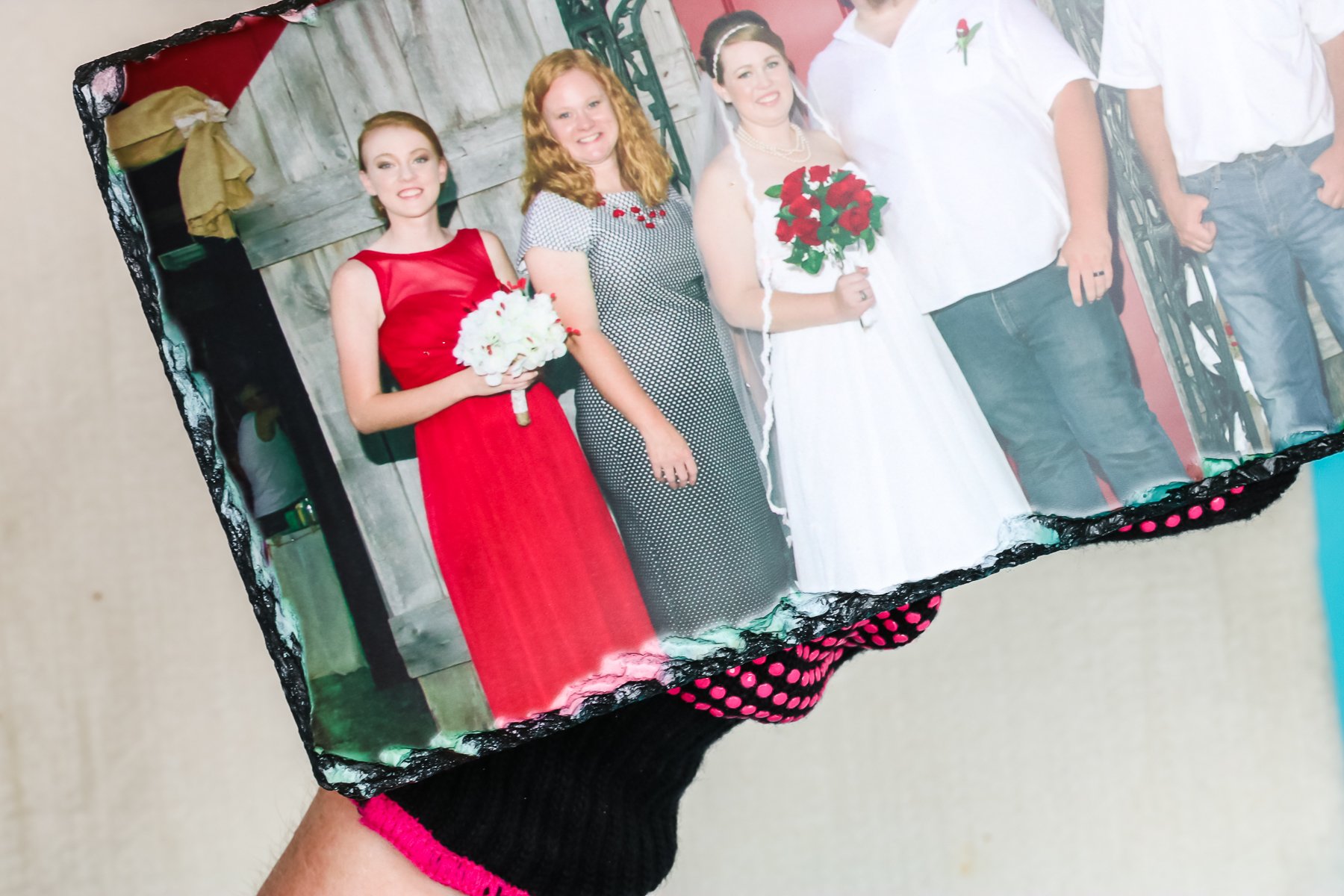 I did press the large one to the limit of my heat press, this is about as wide as that particular heat press would go. I have done these at my AutoPress as well and they worked fine, but because it was to the limit of the heat press, I feel like I did not get a good enough press just right along the edge. This is 11.7″ wide and my heat press is 12″. In the future, I would stay farther from the edge of the heat press.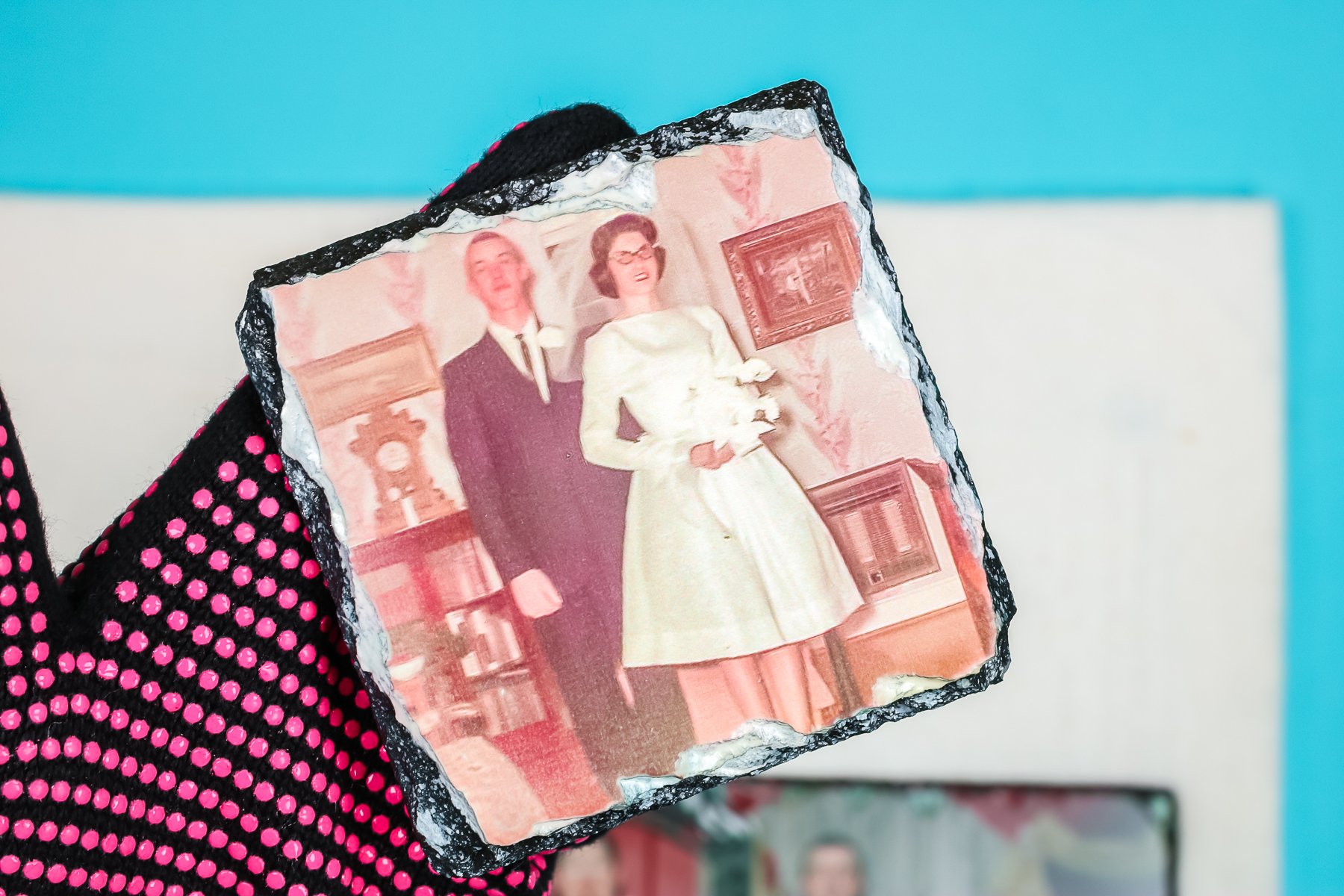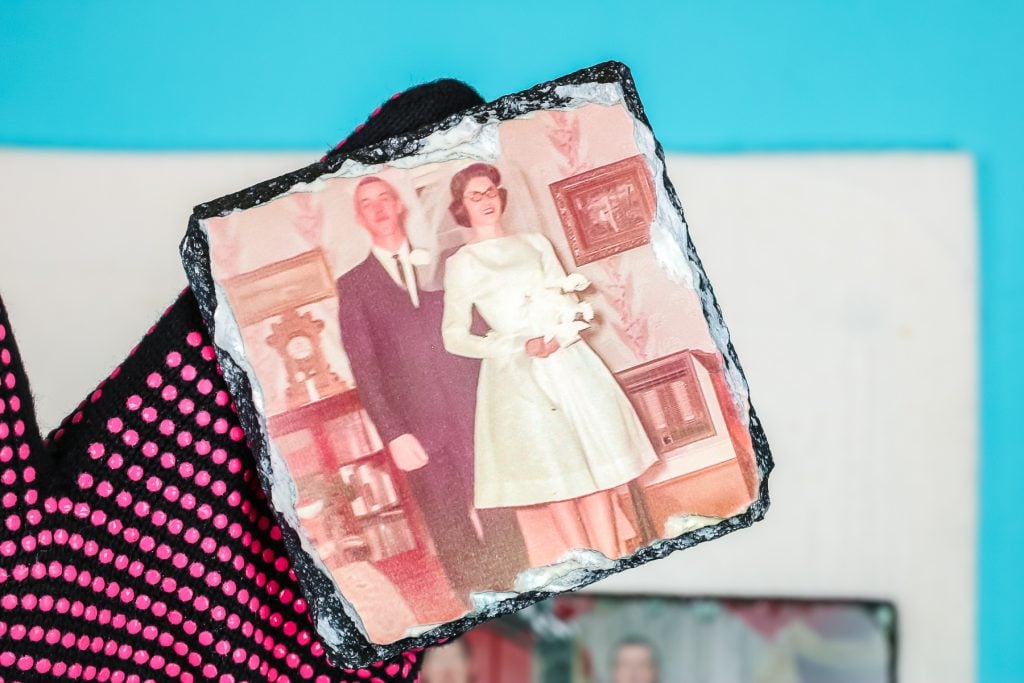 On this one above, you can see the white edges I was talking about before and it really just depends on the piece you're pressing as to how much of that white you will have.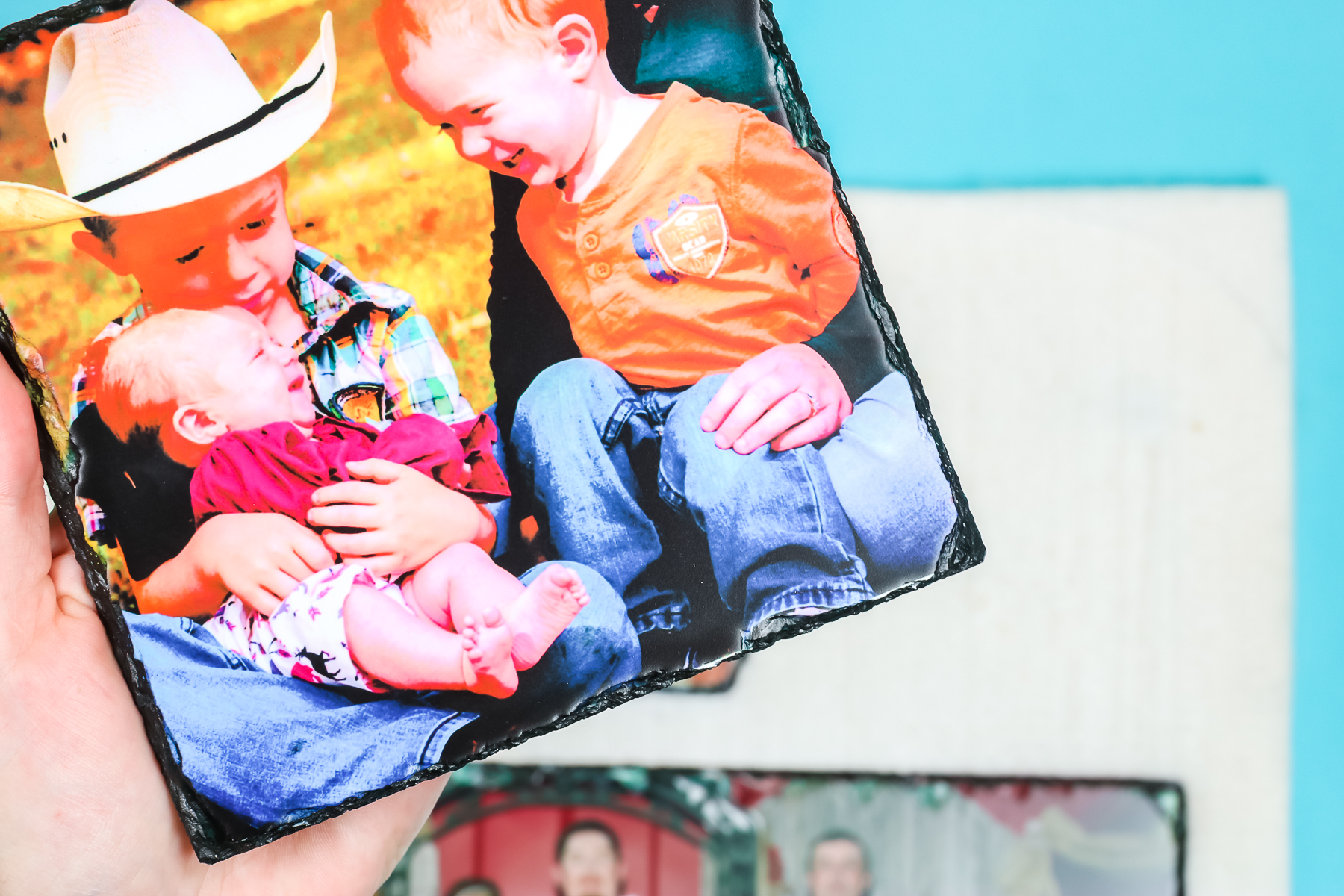 You can see on this one above, a lot of the white sublimated, and it actually looks a little bit better. Earlier I was talking about making your print oversized to accommodate around the edges, and this is why. You can see, right at the bottom right edge just a little bit of white shows. My print was too small or I got it just a little bit off, and there is a white line here at the bottom. Now it's just a little bit, but you can see it, so always make your print oversized for these to accommodate for like the rough, jagged edges.
Final Tips and Tricks for Sublimation on Slate
I really like how sublimation on slate looks. I think adding photos to the slate makes a beautiful finished project and they're perfect for home decor and gifts. The slate sublimation blanks are expensive. Make sure you read through any instructions that come with your blank to confirm time and temp settings.
Here is a wrap-up of my favorite tips and tricks for sublimation on slate:
Make sure your print is oversized. You want it to hang off the edge all the way around.
Make sure and use that green conductive pad. They are expensive but they can be used over and over again and are so helpful when using slate or even tile blanks that may be uneven. Make sure you always use a protective paper between your print and the green mat to protect it from any ink transfer.
Follow all the tips and tricks that I list here. Make sure you follow the time and temp recommendations that come with your slate sublimation blank.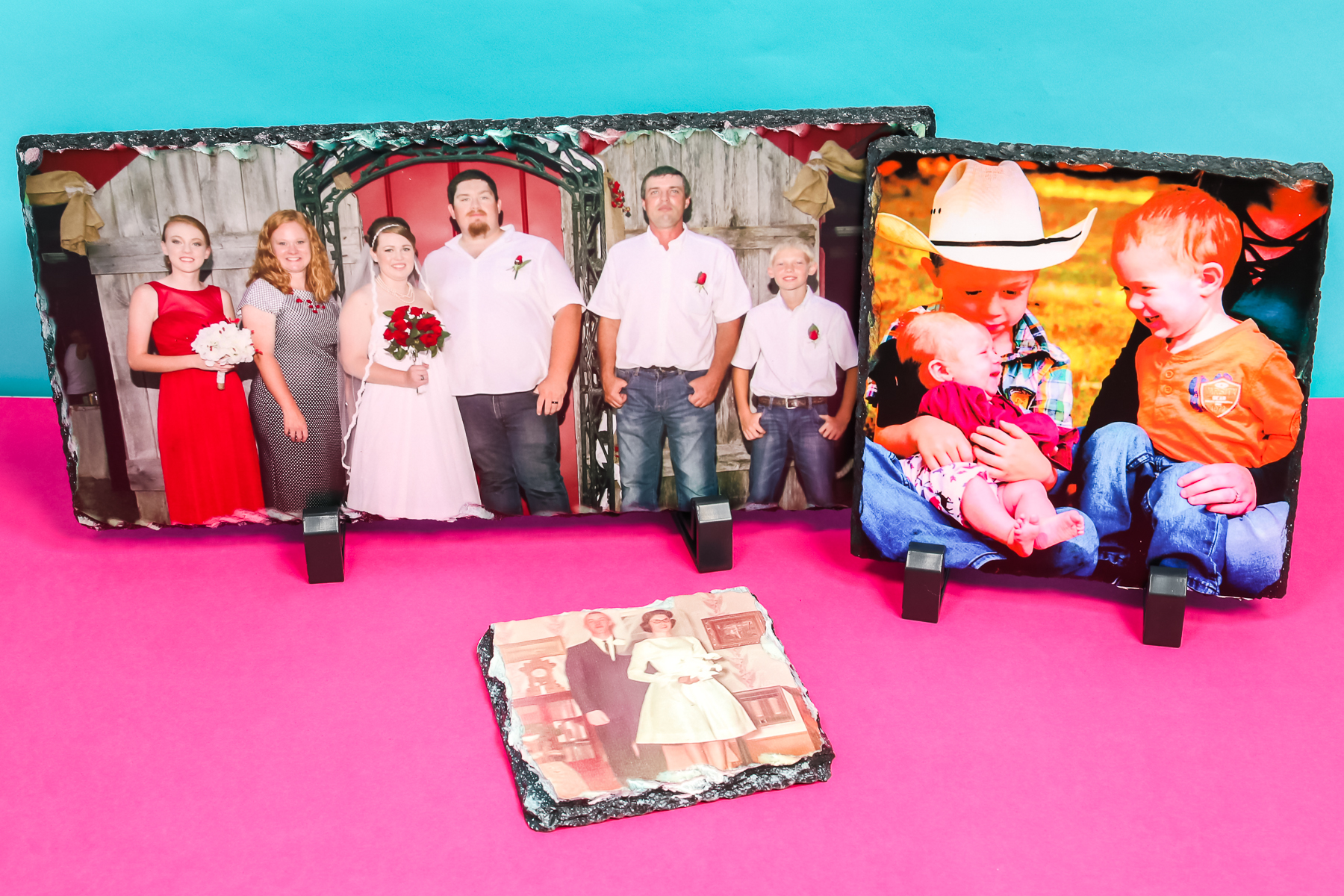 If you have any questions about sublimation on slate leave them in the comments. I'm happy to answer them. If you're new to sublimation sign up for my free sublimation class here. You can also join my sublimation Facebook group here.