I have been having tons of fun with gifts in jars this holiday season. I have 10 MORE ideas for you that have never been seen before on The Country Chic Cottage. These are all super simple quick and easy gift ideas that can be completed in minutes. In fact, Carolina with 30 Minute Crafts and myself do 10 gifts in a jar LIVE in a short 10-minute video. This is part of a fun last-minute handmade gifts series over at Crafty Hangouts that you don't want to miss.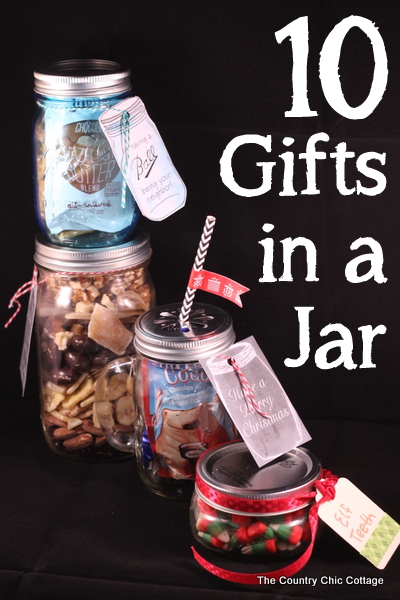 Gifts in Jars Video
Hang out with Carolina and me in the video below. You can see me make the four gifts in jars pictured above plus Carolina will give you six more quick and easy gift in a jar ideas. Grab your jars and give handmade this holiday season. Grab two people, 10 jars, and you can have 10 gifts in 10 minutes as well.
Even More Gifts in Jars
I promised y'all a few links in the video. Be sure to print out my chalkboard mason jar gift tags or Ball mason jar gift tags for all of your gifts in a jar. Now for some close-ups of my four gifts in case you can't see them well in the video. First up is my elf teeth in a jar. This one is a fun gag type gift for Christmas.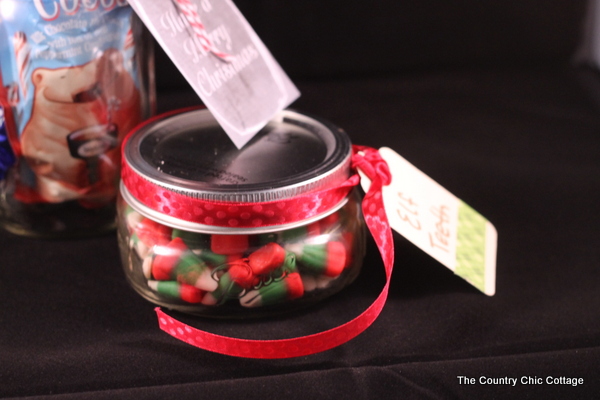 My spin on hot chocolate in a jar is packed full of fun and given in a mason jar mug.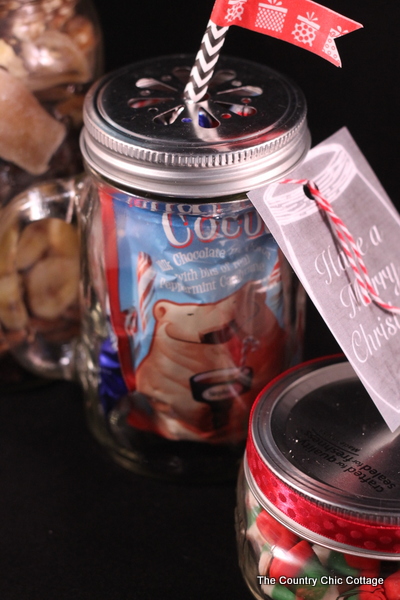 Give anyone on your list this fun nut butter and pretzel gift in jar.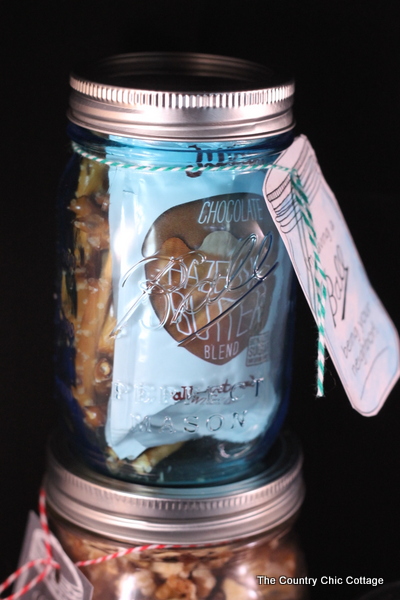 Layer up dried fruit and nuts in a jar for a pretty gift that only takes a couple of minutes to pull together.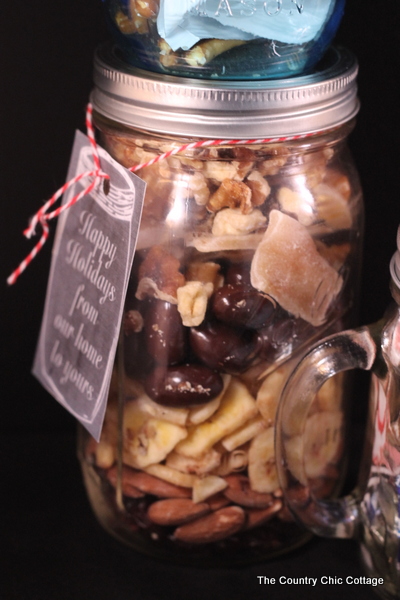 Love these? If you want even MORE ideas, be sure to watch the video above and get the other six ideas. With 10 ideas, there is a gift in a jar for everyone on your gift-giving list. For the rest of the gifts in a jar from The Country Chic Cottage be sure to check out my 5 mason jar gift ideas plus the ultimate guide to gift in jars.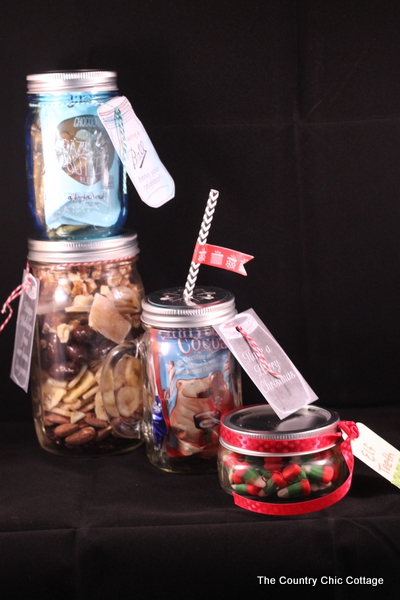 If y'all need even more last-minute gift ideas, be sure to follow along at Crafty Hangouts all week as the ladies over there rock the last minute gift videos! I hope y'all have enjoyed our 10 last-minute gifts in jars and will use a few of these ideas for your loved ones.
A Year of Jar Crafts
Sign up for our email list to get a FREE book with an entire year of jar crafts! 12 months, 12 crafts, tons of fun!