I owe y'all all the details on the vintage cabinet I refinished with chalk paint. Original post is over on Mom It Forward. Here I am going to dive into a few more details. I always start with before and after pictures…get the good stuff out of the way first! Here is my after….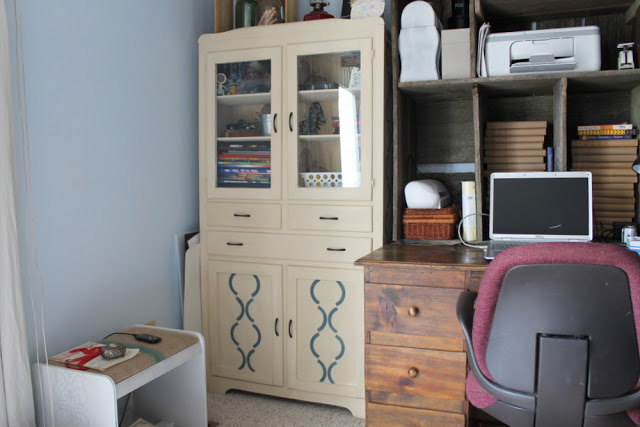 And the (aaackkkk) before….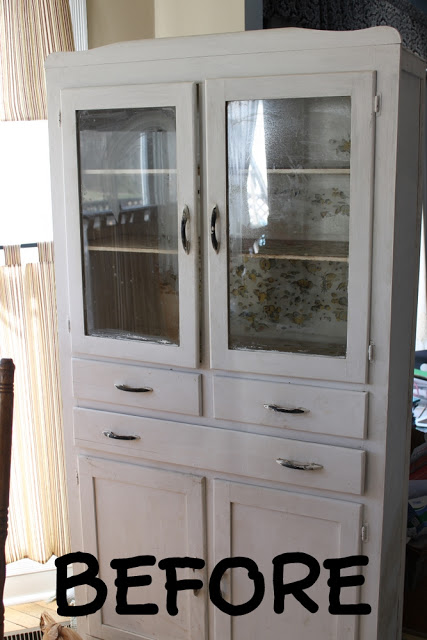 The paint job was awful and DIRTY! To see my failure on stripped the cabinet hardware…head on over to this post.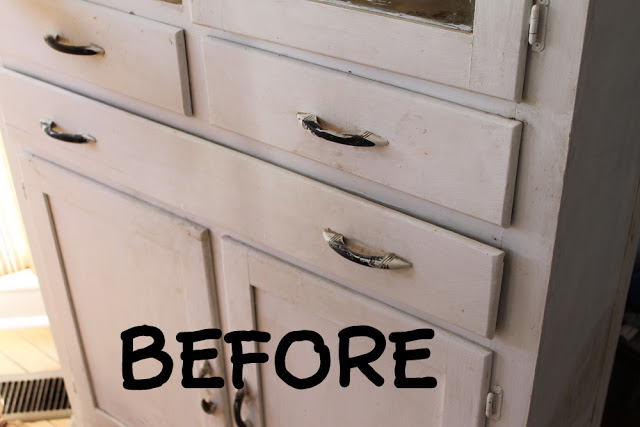 Of course, the inside was covered in faded 80s contact paper. But I found a super easy way to remove contact paper!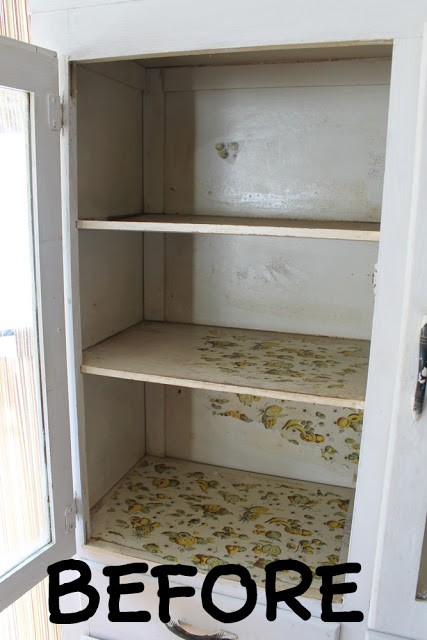 Now for some discussions on how we got from before to after. First of all, I will backtrack to the failed cabinet hardware. I had to order all new hardware. The spacing on the original holes was very odd. I ended up going with eBay. The handles were the perfect shape, color, and best of all…price!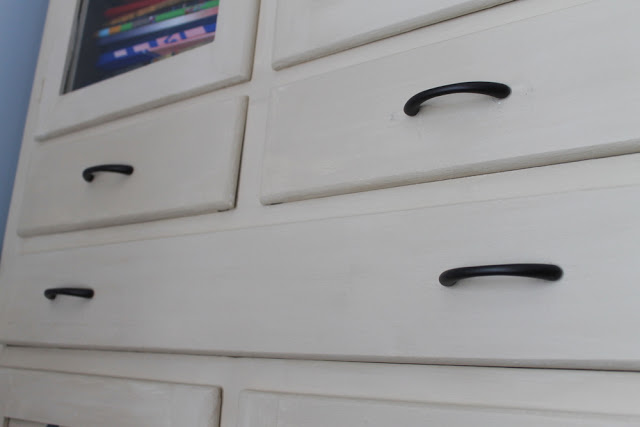 Now let's talk about the inside of the cabinet for a second. I had this vision of something behind those glass doors. Something on the back that would make the cabinet pop. Then I saw this tutorial over on Pretty Handy Girl on how to add fabric to the back of cabinets. I had found my solution. Brittany's tutorial is super easy to follow. The solution is temporary so it can be applied and removed easily. It is really perfect for a vintage piece that you don't want to harm. I will offer some instructions below, but head on over to Pretty Handy Girl for even more pictures and step-by-step instructions!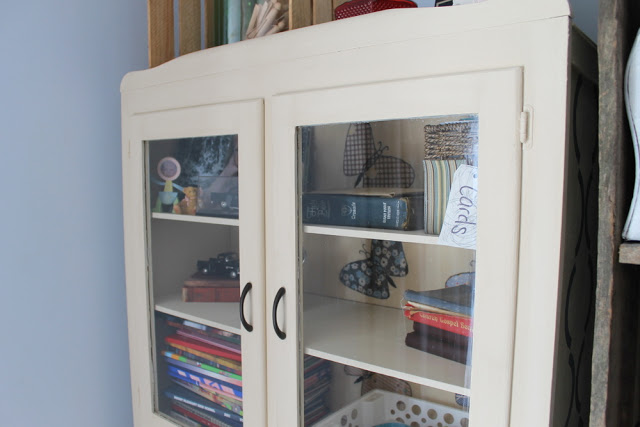 For my "fabric back", I wanted to use vintage quilt squares. That is more my style and makes the cabinet more "me". So I gathered up these quilt squares that I have been saving for a special project. (Many thanks to Tricia and Gina for the squares!) I had to sew the squares together for this project. Plus I added filler strips to some of them to have something to wrap around the foam board. The squares were almost perfectly the right size. This meant I had no fabric left to wrap and secure. These filler strips worked perfectly for that.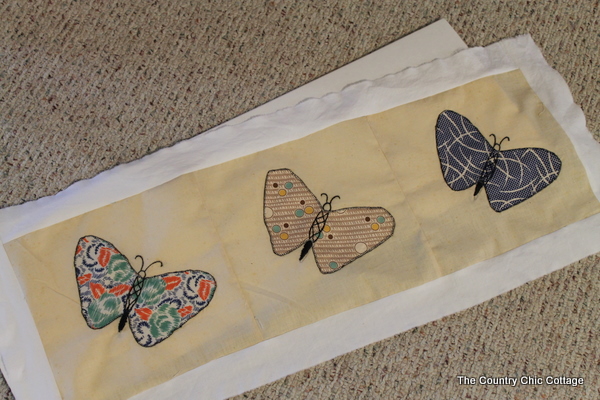 Now for the very basic how-to steps. Cut foam board to the exact size of the back of your cabinet.
Wrap your fabric (or quilt squares) around the foam board and secure with tape in the back. Pop the board into place. The tight fit will hold it securely without any glue or tacks or anything! See this is perfect! So easy to change out on a whim.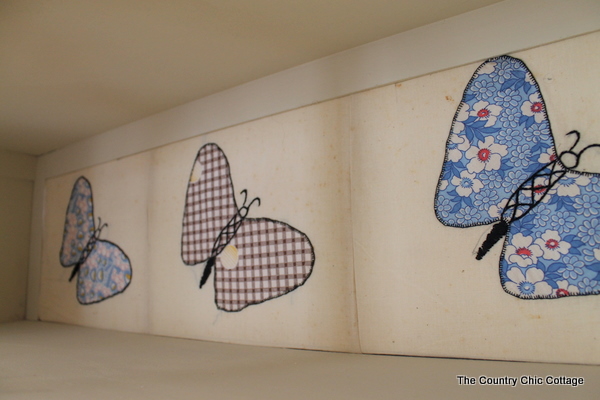 The butterflies are all made with different fabrics. I tried to coordinate them somewhat with my living room colors.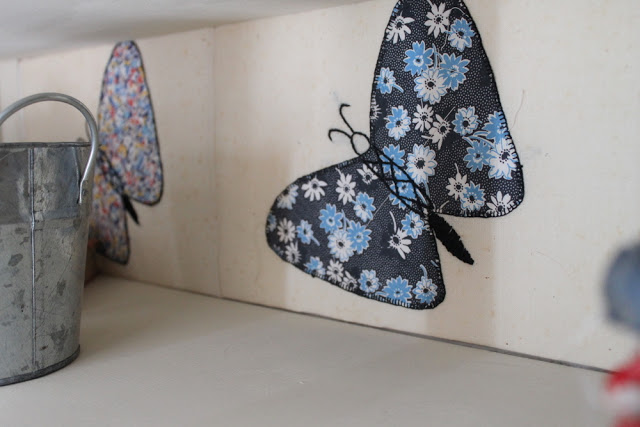 The fabric is sort of discolored with age — which I adore! It is the perfect addition to this cabinet.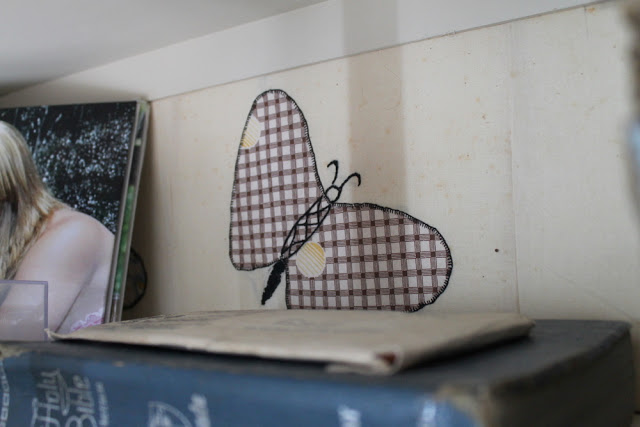 Now for all the painting details — is that what y'all were waiting for? I used Annie Sloan
chalk paint
for the creamy off white on the cabinet. My wonderful friend Gina over at The Shabby Creek Cottage had some extra she let me borrow.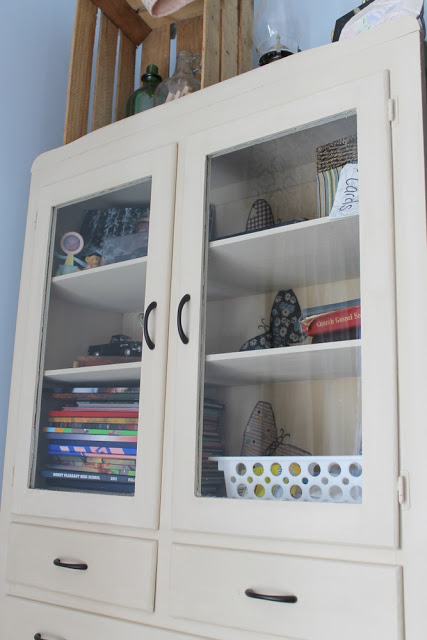 So let's talk chalk paint. I was unsure if chalk paint was worth the money before I started this project. Now I know it is! Here are my thoughts:
You use MUCH less paint then with regular paint. Gina gave me a partially used pint. There was a little less than 1/2 of the pint left when I gave it back to her. Two coats on a very large piece of furniture with less than 1/2 a pint of paint. That is amazing all on its own.
The coverage is beyond anything I have ever used before. This piece was a mess. I did clean it well, however, there were aged stains that just were not going anywhere. They were completely covered with the chalk paint. It was like magic gold.
This is the first time I have ever painted a piece of furniture that I felt the finish was even close to being professional. I did use a really good brush with the paint. But, I know that my skills as a furniture painter did not improve that much. It was the Annie Sloan magic that made the finish what it was.
It is there to stay. I would never say it is impossible to scratch but I will say that I feel the quality of the finish is stronger than with regular paint.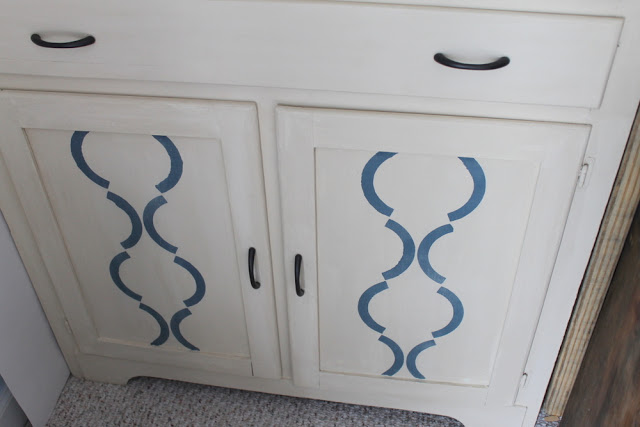 The only possible downside is that you have to wax over the paint with Annie Sloan wax. So it does require an extra step. However, it is worth it. Hands down the best paint I have ever had the pleasure to use. Now for the stencil details.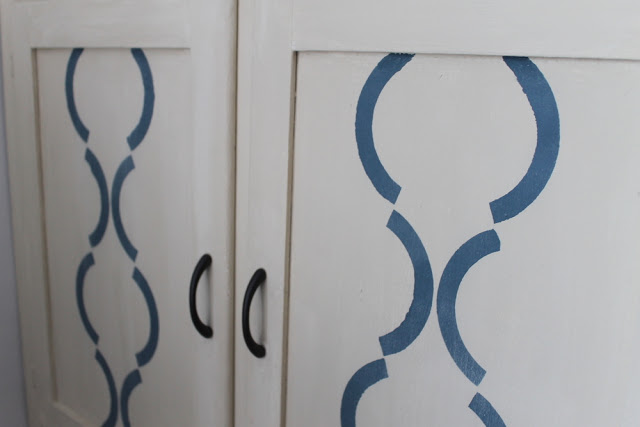 I was sent a stencil from
Royal Design Studio
to use for this project. I used
the large deco damask stencil
on the bottom doors. I mixed up a custom color for the paint. I also used stencil brushes from Royal Design Studio for the painting. After the stencil was complete, I used the Annie Sloan wax over the top. Rubbing slightly to give the stenciled area a slight worn feeling.
I can't wait to try out this stencil in some other areas of my home. So y'all stay tuned!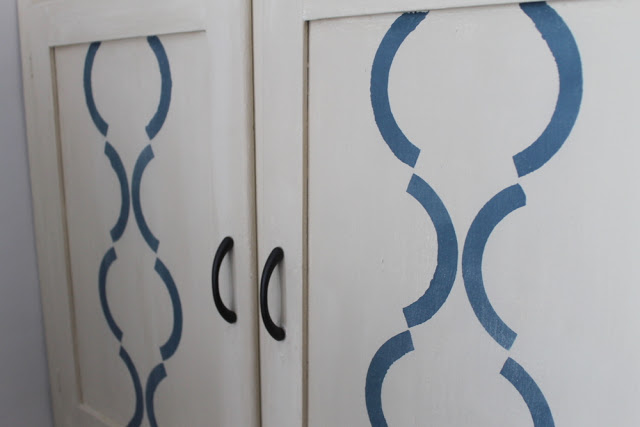 The cabinet is now in my living room next to my desk with barnwood hutch.
I am using it to store school and office supplies. I am in love with the look and feel it really brightened this corner.