Do all of the different Cricut mats confuse you? Which mat should you use for which material? Today we are sharing our guide to Cricut mats along with tips and tricks for making them last longer and so much more.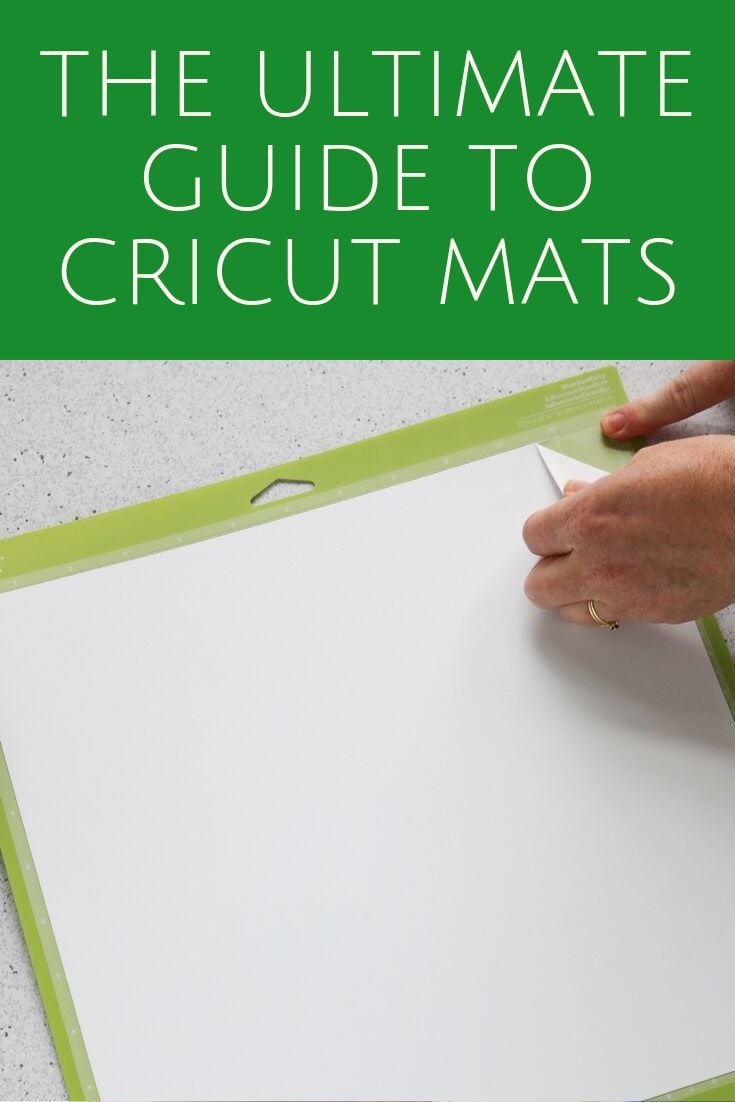 If you have ever wondered about the mats and if you were using them correctly, this is definitely the post for you. A few weeks ago we covered how to wash your mats, now we are deep-diving into the other aspects of the mats for your Cricut machine.
Some links below may be affiliate links which means that you do not pay anymore, however, a small commission will go to this site
Your How-To Guide to Cricut Mats: Video Tutorial
Want to watch all of this information on a video instead of reading it? We have that for you below!
Can't watch the video or would rather read the information? Just keep scrolling!
Everything You Need to Know About Cricut Mats
Types of Cricut Mats
There are currently four types of Cricut mats and we are listing them below from lightest grip to strongest grip.
Also, note that each of these mats comes in both 12×12 and 12×24 size. For the sake of this post we are not getting into the Joy specific Card Mat, you can learn all about that mat here.
Which Cricut Mat for Which Material?
The first thing we are going to address is which is the right mat for your Cricut machine? Which material is used with each mat? Use our handy guide below to pick your mat type. Remember that using the mats for the intended materials will really help extend life!
How to Extend the Life of the Mats for Your Cricut
There are a few things you can do to make your mats last longer. After all, this is one of the most expensive parts of operating your Cricut machine. So, how do you make your Cricut mats last a bit longer? Just use our tips!
You can wash your mats when they get dirty. Click here for information on washing the mats.
Start with a stronger grip mat and as it loses its sticking power use it as the lower grip mat. So, you might buy a new strong grip mat and use it over a year or so. After that, it is just not sticky enough to be a strong grip any longer. Write GREEN in the corner with a marker and use it as a green mat for a while. You can do this with any of the mats and it will really extend the amount of time you can use the mat.
Don't touch the fabric grip mat. The oil in your fingers can actually break down the adhesive. Try using tweezers to remove the pieces from your mat so you never touch it.
Always replace the clear protective cover on your mats when not in use. This will protect them from dirt and dust when not in use.
Try using a scraper to scrape off excess pieces and a spatula to carefully remove cut images (on blue, green, and purple mats only.) This can help you remove all of those tiny bits and use the mat a bit longer in between washing.
On the pink mat, try using a brayer to push the fabric onto the mat. You might be surprised at how well the material will stick once you use the roller.
Tips and Tricks for Making the Most of Your Cricut Mats
We, of course, have a few tips and tricks that we use with Cricut mats! Try a few of these on your Cricut crafts as well.
Find the adhesive a little too aggressive on a new mat? Stick it to your shirt a few times to pick up some fuzz before using it.
Is the material still shifting on a strong grip mat? Use masking tape all around the outer edges.
I, personally, have not had any luck re-sticking a mat (or adding adhesive back to a mat that is ready for the trash.) I did want to share a tutorial with you on how to do that. You can find one here. Again, I personally do not do this as I don't like it but you can definitely give it a try once and see if it is for you!
One of my favorite tips is to stock up on mats when they are on sale. Cricut offers mat bundles and with my code on top of sale prices mats become quite reasonably priced.
Hopefully, this has helped you with your questions about Cricut mats. Use our information above to pick the right mats for your Cricut machine and happy creating!
Want to learn more about your Cricut machine? Try these links!
New to Cricut?
Sign up for our email list to download the Beginner's Guide to Cricut Design Space for FREE today!
Sign up to get the guide emailed to you!