Are you looking for adorable whale party decorations for your next kid's paryt? Whether you're throwing a baby shower or a birthday party, your decor won't be complete without these cute ideas!
Y'all, I'm getting ready to throw a baby shower, and the whales I am using for it were drawn by my friend Jen Goode from 100 Directions. She is here with some more fun whale baby shower ideas that you don't want to miss!
If you love whales, make sure you also check out my Whale Baby Mobile, Whale Canvas Art, and Whale-Painted Dresser.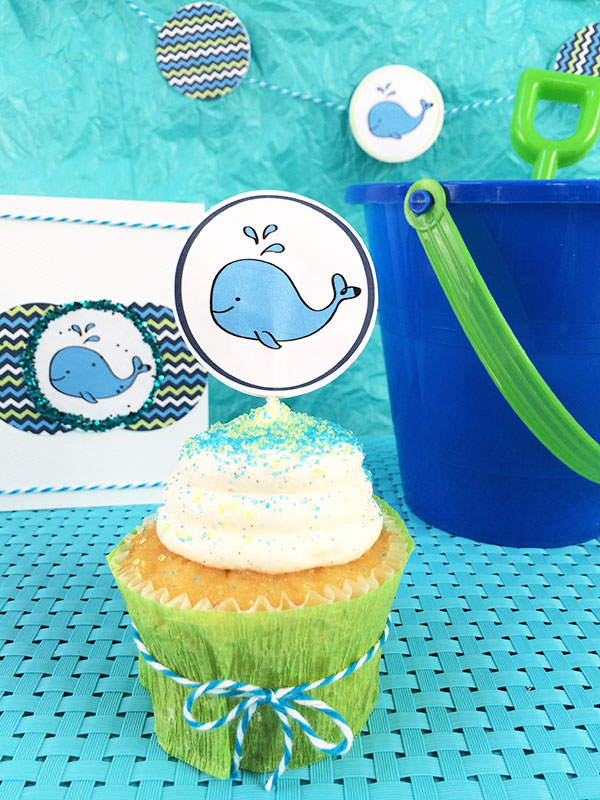 Hey guys – Jen here. I'm having a whale of a good time sharing fun whale party printables! (is my nautical humor too corny?). Angie asked if I'd make her some cute baby nautical art to use for all her upcoming celebrations, so of course, I jumped in to help!
I'm sharing a free printable that you can use to make a whole pile of cute party accessories. I hope you love it!
DIY Baby Whale Party Decorations
Worried about running out of ink with these pages? Did you know that if you have an HP printer you can print for just $0.03 per copy? Check out HP Instant Ink and start getting your prints and ink for cheaper today!
I designed this free baby whale printable in cute circle art so that you can use these circles to make a whole bunch of fun party accents. Use them to make baby whale garland, cupcake toppers, and even party invitations (or thank you cards).
The art is designed in 2″ circles so they are big enough to cut by hand or use a standard 2″ circle punch. I've also included a cut green, blue, and white chevron pattern circle to coordinate with the baby whales. I hope you have fun with this!
Here are some different ways you can use your whale cutouts.
Baby Whale Garland
Every party needs some festive garland! I love using these cutouts to make garland because it's SUPER simple to do but adds a huge visual impact to your baby whale party decorations.
All you have to do is:
Cut out two circles.
Add some glue to the back of one of the circles.
Lay your twine over the glue.
Add your other circle on top of the glue/twine.
Repeat this process until your garland is as long as you want it, or you run out of twine!
If you love garland, check out DIY Magnolia Garland, Shabby Chic Fall Garland, and Burlap Garland for more year-round inspiration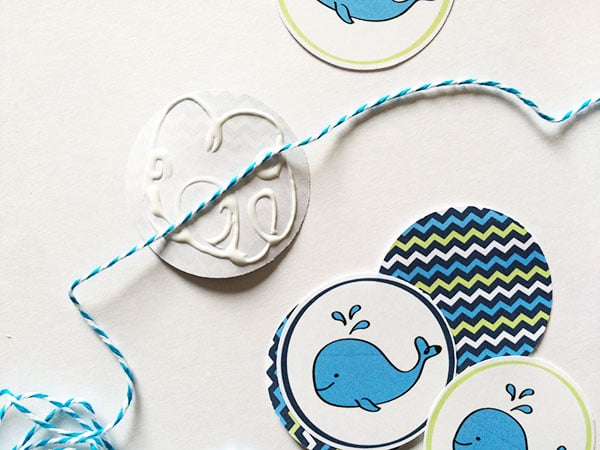 Baby Whale Cupcake Toppers
Decorating cupcakes isn't for everyone. It takes time, creativity, and most of all: patience. Fortunately, even if your cupcake decorating skills aren't top-notch, you can prepare adorable cupcakes for any occasion simply by adding cupcake toppers!
Here's how:
Cut out two circles and glue them together with the end of a toothpick in the middle.
After you add frosting to your cupcake along with any colored sugar or sprinkles for a little flair, insert your cupcake topper into the top of your cupcake. Done!
Note: I used lime green crepe paper and a little bit of twine to wrap the cupcake in the photo.
For more cupcake topper inspiration, check out my DIY Pumpkin Cupcake Toppers and Frankenstein Cupcake Topper!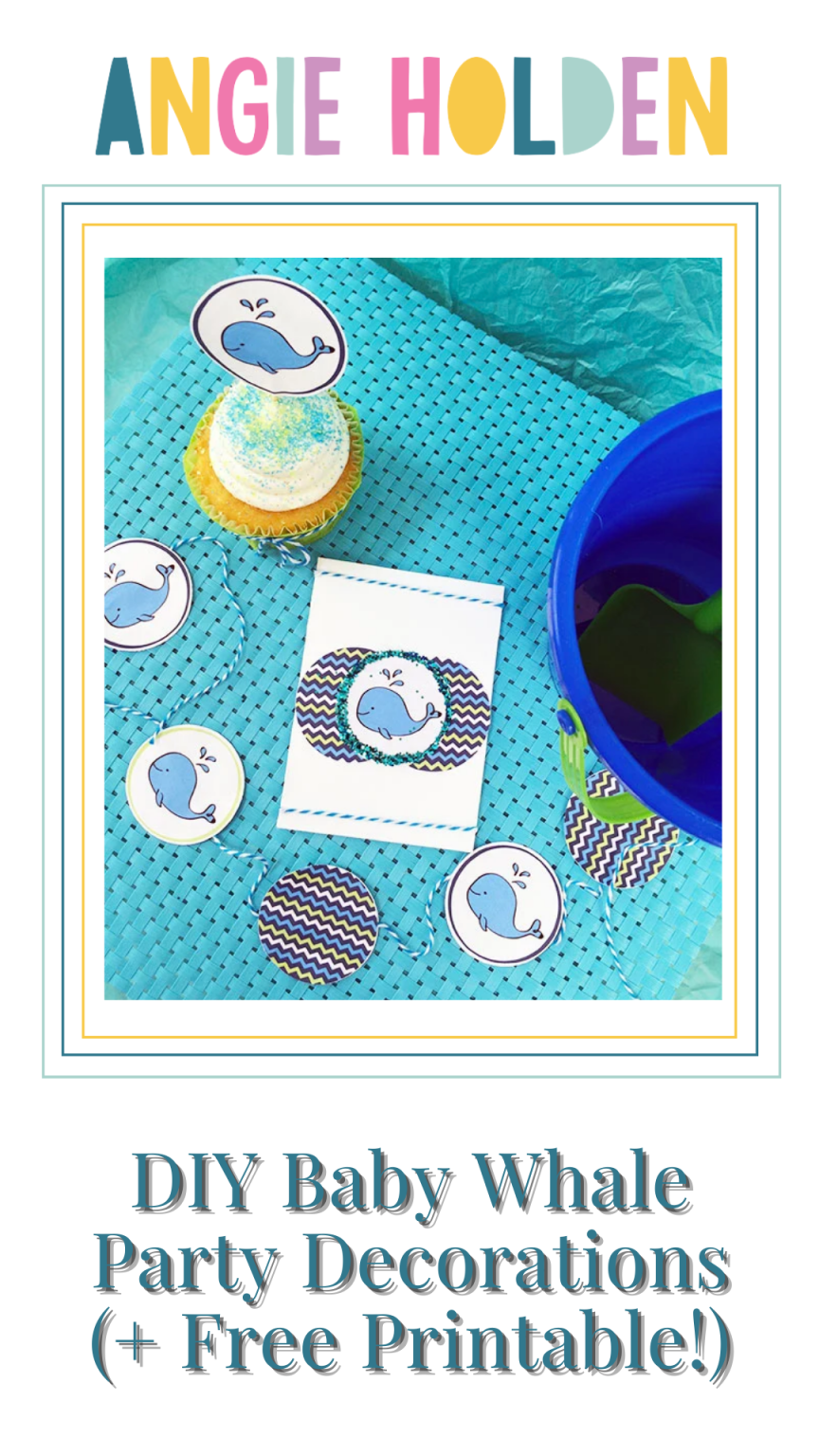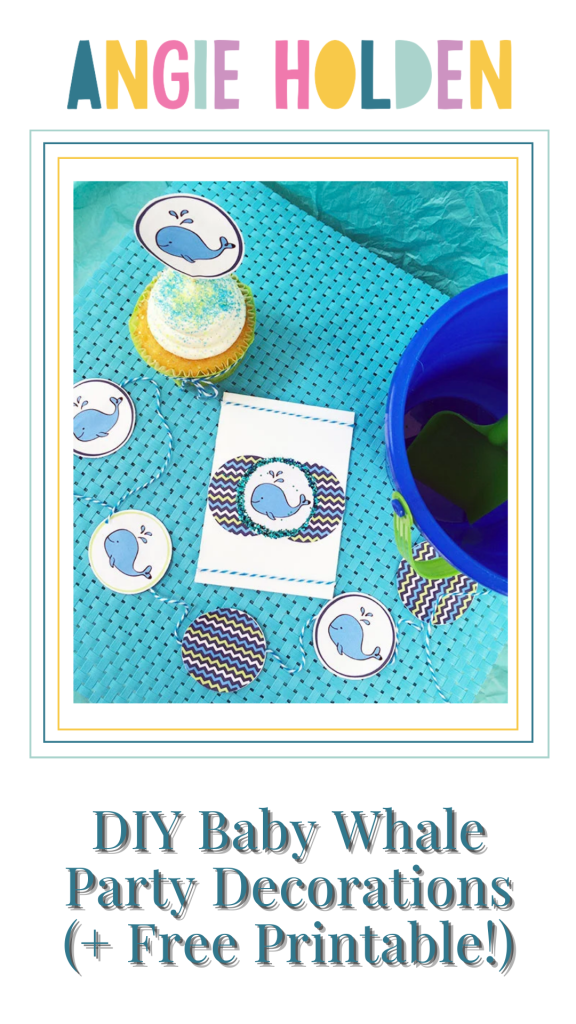 Baby Whale-Themed Party Invites And Thank You Cards
It may be tempting to only think of whale party decorations as items you display around the house and food during the party. But, I would argue that your decorations can extend beyond the party with your invitations and thank you notes.
And, lucky for you, this cute and handy cutout provides a way to deliver both with very little effort!
Here's how to use the whale art and coordinating chevron circles to decorate plain white greeting cards:
Glue two chevron circles side by side on the card.
Next, glue a whale circle in the middle on top of the chevron circles.
Glue a strip of twine across the top and bottom of the card.
Feel free to add a little aqua colored glitter to accent your hand made cards!
If you love cards for all occasions, try our DIY Birthday Card from a Coloring Page and Printable Greeting Cards!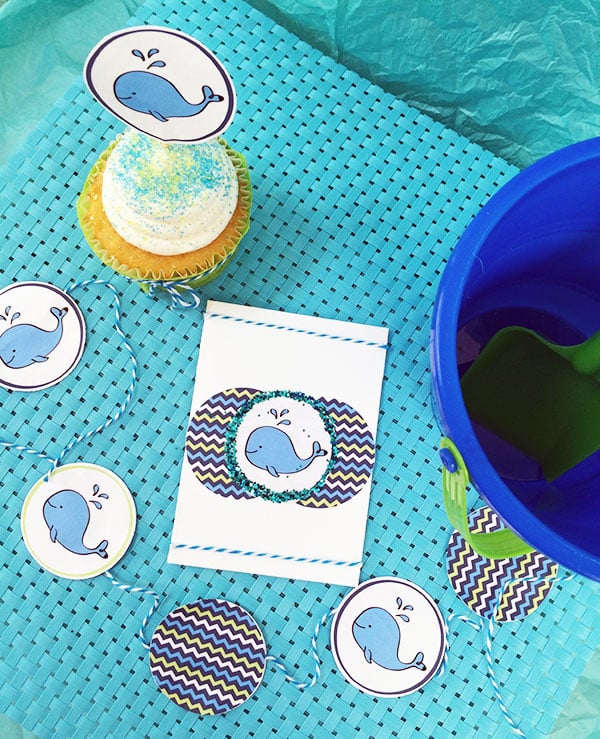 FAQs
Here are a couple of questions that I see readers ask about DIY whale party decorations. If you have a question, please check to see if it's already answered below. Don't see it down below? Leave it for me in the comments!
How do you decorate for a party?
Basically, I like to center my party and decorations around a theme (in this case, whales) because it makes coordinating everything SO much easier! From there, I add in color and theme anywhere it feels right.
As a general rule, I like to include these things in my party decor:
Flowers
Garland/banner
Food & drinks decorated with theme items or colors
Themed table or wall decor
Balloons
Anything else that feels appropriate for the occasion
What else can I use these printables for?
I gave ideas for a banner, cupcake toppers, and notes. But you can do so much more with these whale circles! Use them to make:
Party favor tags
Food labels
Guest name tags or seat cards
Gift Tags
Stickers
I hope you love this whale-themed party idea! Making whale party decorations is much easier than you may have thought, and I hope this printable helps make the process quick and easy.
Download: You can download this free baby whale printable and find more fun whale party ideas over on my blog.
If you don't have any baby festivities coming up, you can still use this printable set for other celebrations. Maybe a cute whale birthday party?
More Cute Party Ideas You'll Love