Announcing the impending arrival of a new baby is one of life's most enjoyable and exciting activities! Pregnancy announcement shirts are so much fun, and they can double as gender reveal shirts Use this tutorial to make adorable gender reveal shirt ideas for your next big announcement!
There are so many clever and creative ways to announce a pregnancy, but one of my favorite ways is to make pregnancy announcement shirts. Sometimes those shirts are generic and don't indicate gender at all.
And at other times, they are adorable gender reveal shirts.
I thought I would share a few gender reveal shirt ideas for the entire family. My daughter is having another baby, and the gender reveal party is fast approaching. So, I've had the opportunity to make a batch of gender reveal shirts for everyone to wear!
Since I made shirts for the entire family for the occasion, I have several designs to share with you. And they're different from these Big Brother Little Brother Shirts that I made in the past.
Previously, I made some pregnancy announcement shirt like these DIY Funny Maternity Shirts. But for this event I wanted to make something a little different.
Note: If you want more pregnancy and baby-related project ideas, check out our DIY Baby Booties, Baby Tag Blanket, and Funny Pregnancy Shirts.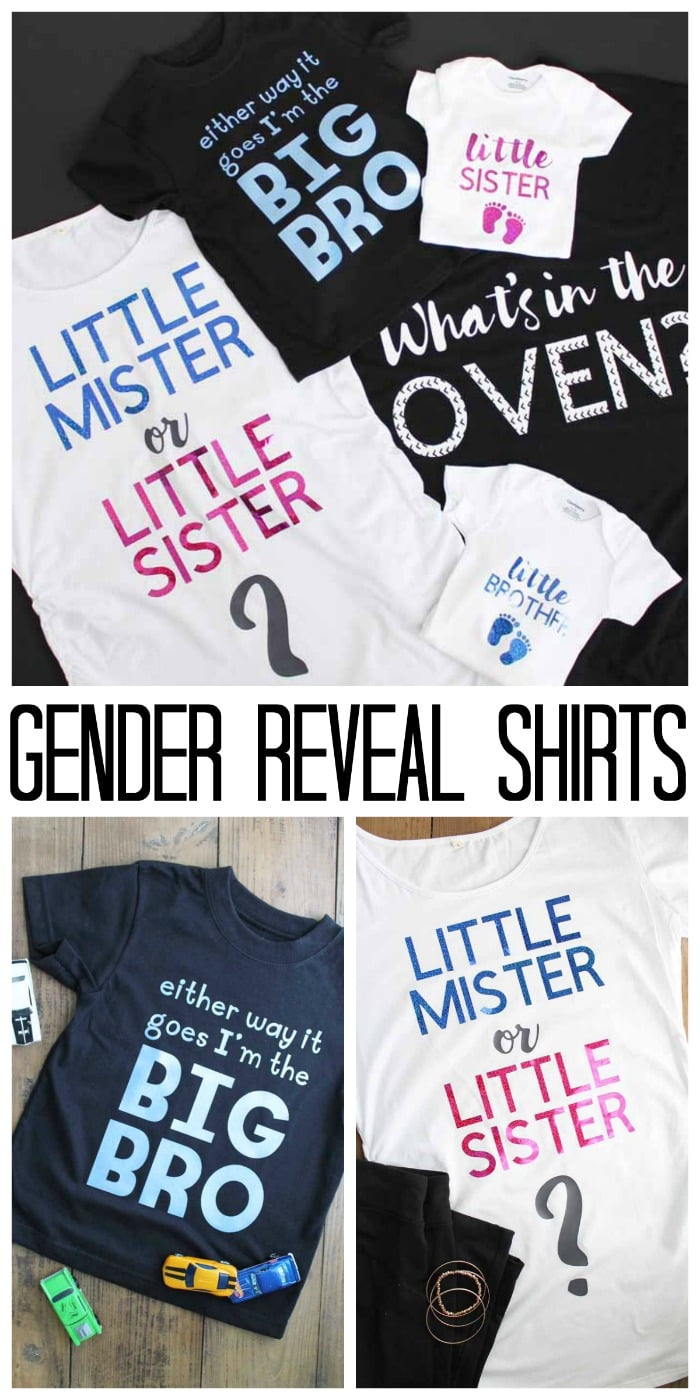 How To Make DIY Gender Reveal Shirts
Using your Cricut machine for this project makes it a quick, easy, and super fun project to make! Here's everything you need to know about making gender reveal shirt ideas with your cutting machine.
Supplies Needed
Here's everything you need to gather for this project.
Iron-on vinyl (in the colors and types of your choice)
Weeding tools (optional)
Shirts and onesies
Oven shirt cut file
Big bro shirt cut file
Little sister/brother cut file
Little mister or sister cut file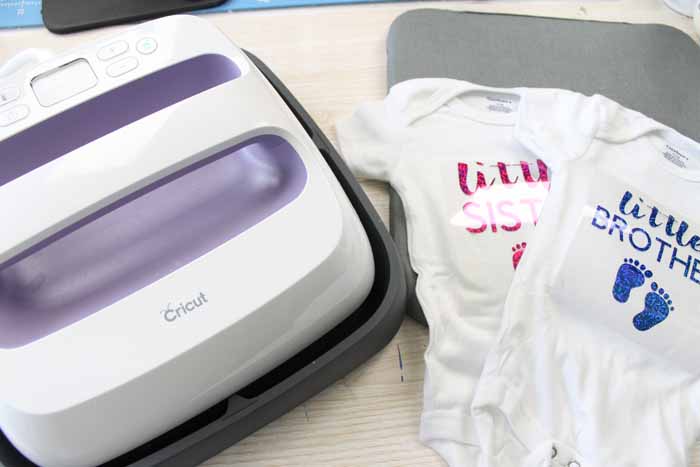 How To Make Gender Reveal Shirts Using Your Cricut Machine
Just follow the instructions below to create any of these designs!
Step 1
Open up the appropriate cut file in Cricut Design Space and size it to fit your shirt.
Step 2
Next, cut the design from the iron-on of your choice. Be sure to mirror the design before cutting, and don't forget to cut with the shiny side down.
Step 3
Weed away any excess from around the design as well as the centers of letters. Weeding tools make this part a little easier, but you can accomplish the task without them.
Step 4
Press the design onto the garment according to the package directions. You can also look up the EasyPress settings on the Cricut website. Follow their recommendations regarding time and temperature.
Step 5
Remove the carrier sheet and have fun at your gender reveal party!
Gender Reveal Shirt Ideas And Designs
Now that you know how to make the shirts, here is the collection of designs that I created for our gender reveal party.
Little Mister or Little Sister Pregnancy Announcement Shirt
The first one is a pregnancy announcement shirt that is perfect for the mom-to-be. You might consider using SportFlex Iron-on for this one since pregnant bellies might need a little extra stretch.
If you only make one of these shirt designs, this should definitely be the one! When searching for gender reveal ideas for family, this should be at the top of the list!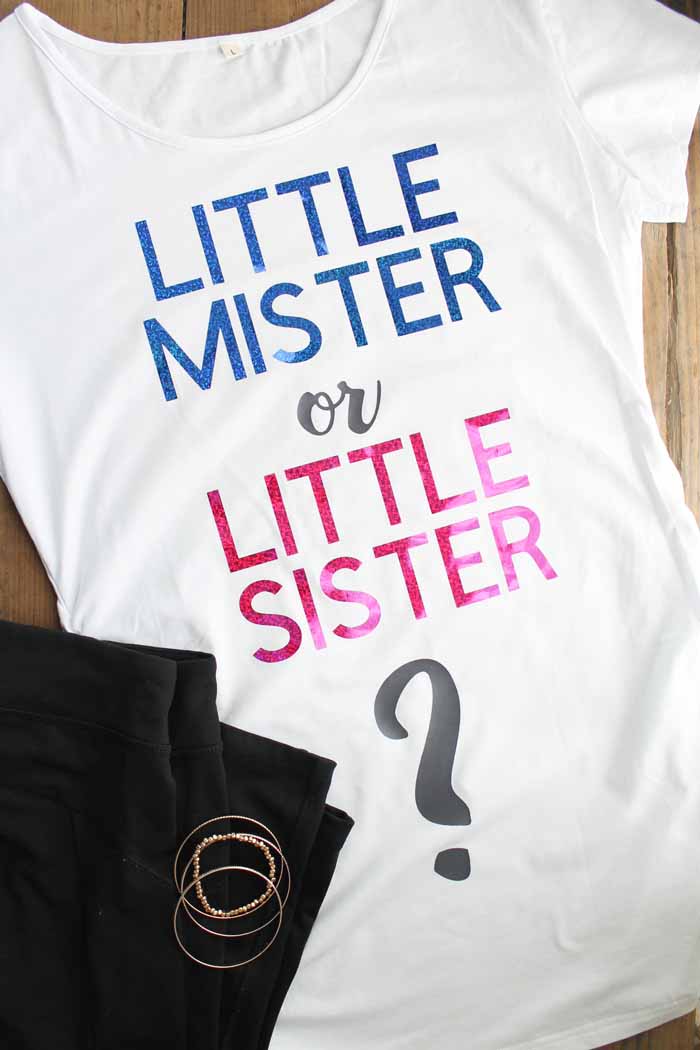 Isn't this design adorable? It's perfect for a toddler and ideal for a gender reveal party where all the guests are waiting for a gender announcement! Cake cutting, anyone?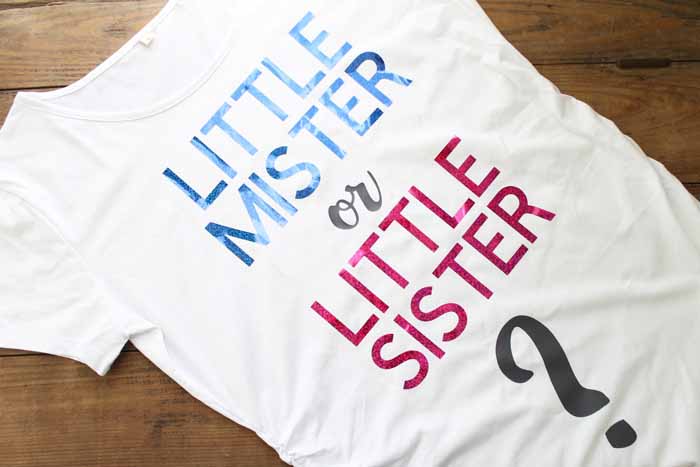 What's In The Oven? Father-To-Be Gender Reveal Shirt Idea
Next up is a design perfect for the father-to-be. I wanted a little something special but didn't want to go overboard for this one. This design seemed perfect!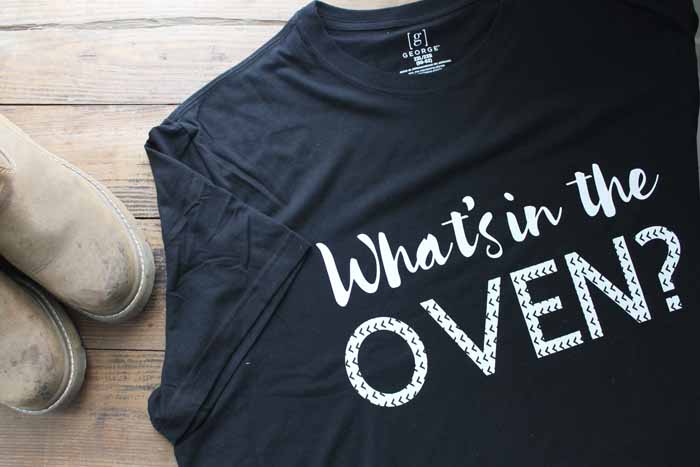 "Big Bro" Gender Reveal Shirt For the Big Brother
Got a big bro in the mix? Be sure to whip up this design! After all, you don't want to leave them out!
A big brother shirt is a great way to include any older siblings in the gender reveal party. And I absolutely love this idea from DIY Danielle!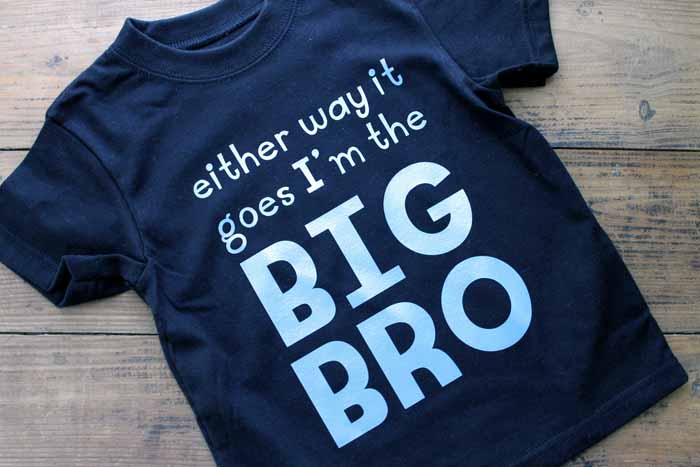 Little Sister And Little Brother Onesie Designs
You can't leave out the new little one when making gender-reveal shirts for the family! If you don't know the gender of the baby, make both versions of this design so you will have the right one on hand once the reveal has been made.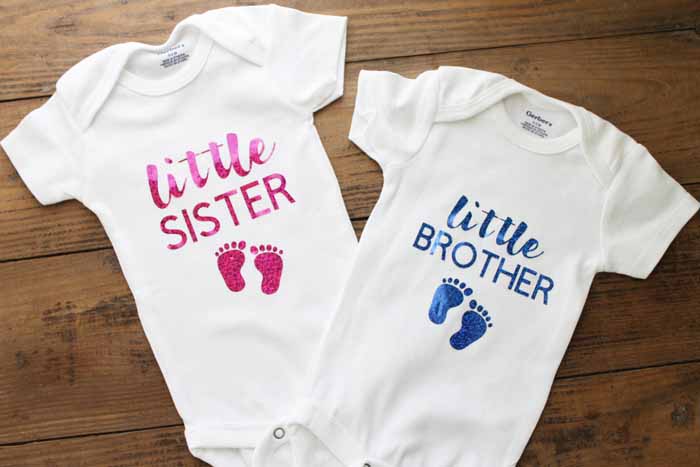 Use these onesies as party decorations, or wrap the right one up and let the older sibling unwrap the surprise in front of the guests.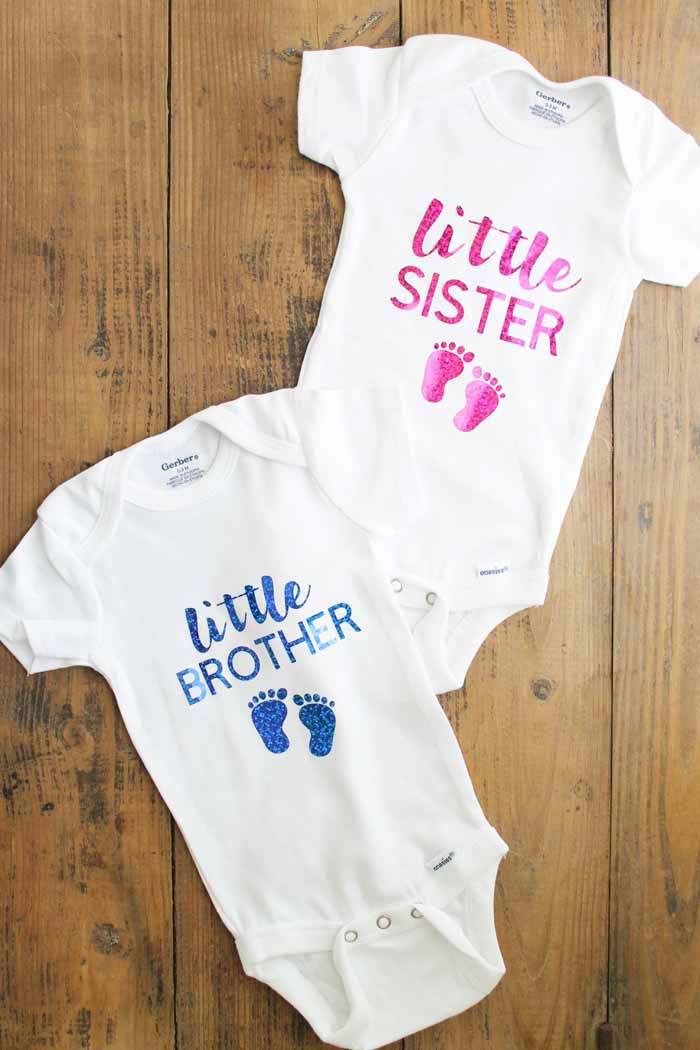 So, do you have a gender reveal party coming up? Be sure to make some of these shirts!
FAQs
Here are a couple of questions that I see readers ask about making DIY gender reveal shirts. If you have a question, please check to see if I've already answered it below. Don't see your question? Leave it for me in the comments!
Would this project work for older kids?
Although I made shirts for a toddler, you could definitely adjust this project to work for older kids. Just make sure to size the design to fit the shirts you plan to use.
Could I use different colored shirts for this project?
Absolutely! I chose to use black and white shirts, but you could easily use gray, green, orange, or any other color of your choice. I would recommend avoiding pink or blue since part of the design will blend in.
Can I use my iron instead of an EasyPress?
Yes! An iron works well with iron-on vinyl. However, it's important to make sure that you use appropriate heat settings to prevent scorching or ruining your project. I find that using the EasyPress makes this a little easier.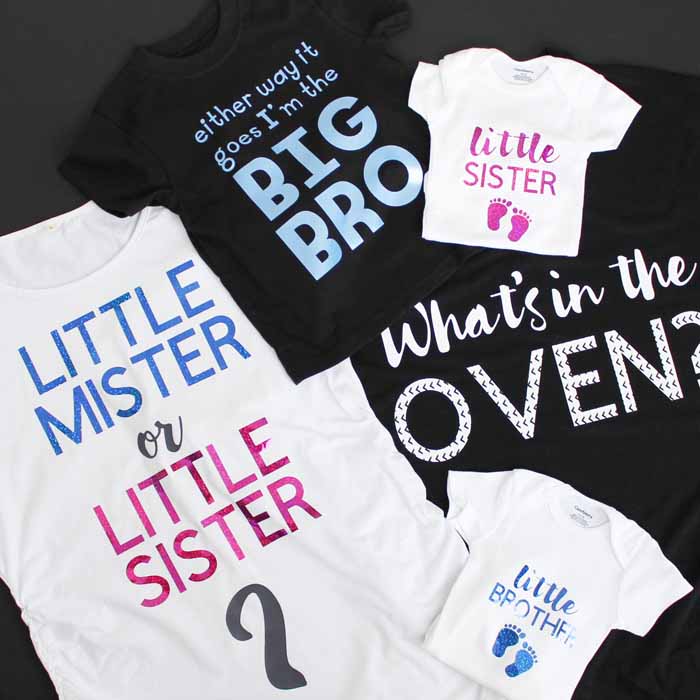 More Baby Inspiration
Love these gender-reveal ideas for the entire family and want more baby-related inspiration? Try the ideas below!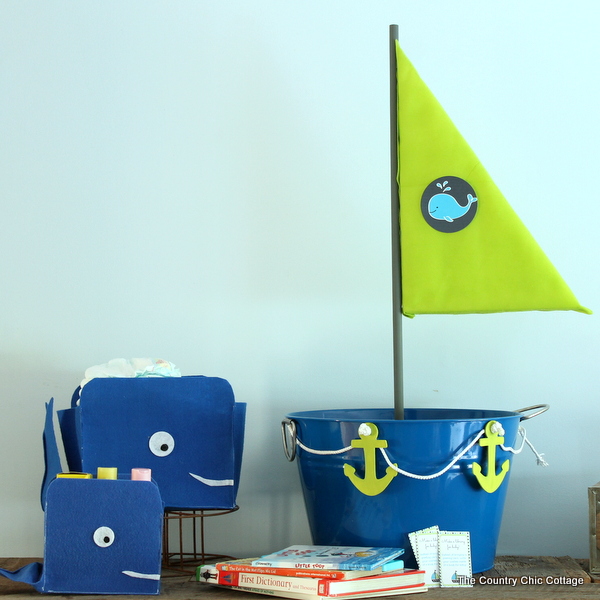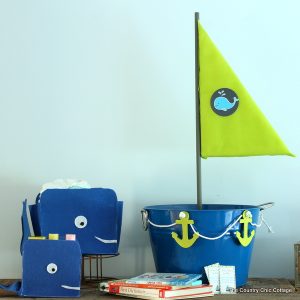 Nautical Baby Shower Card or Book Boat
Collect books and cards from a baby shower with this nautical-themed book boat! This fun craft is easy to make in just minutes. This is perfect for a baby boy shower with a nautical or fishing theme. There's a little bit of prep work with this project, but all of it is very easy! Before you begin, paint the small wooden anchors and the
dowel rod
. Set them aside to completely dry before glueing.
Read More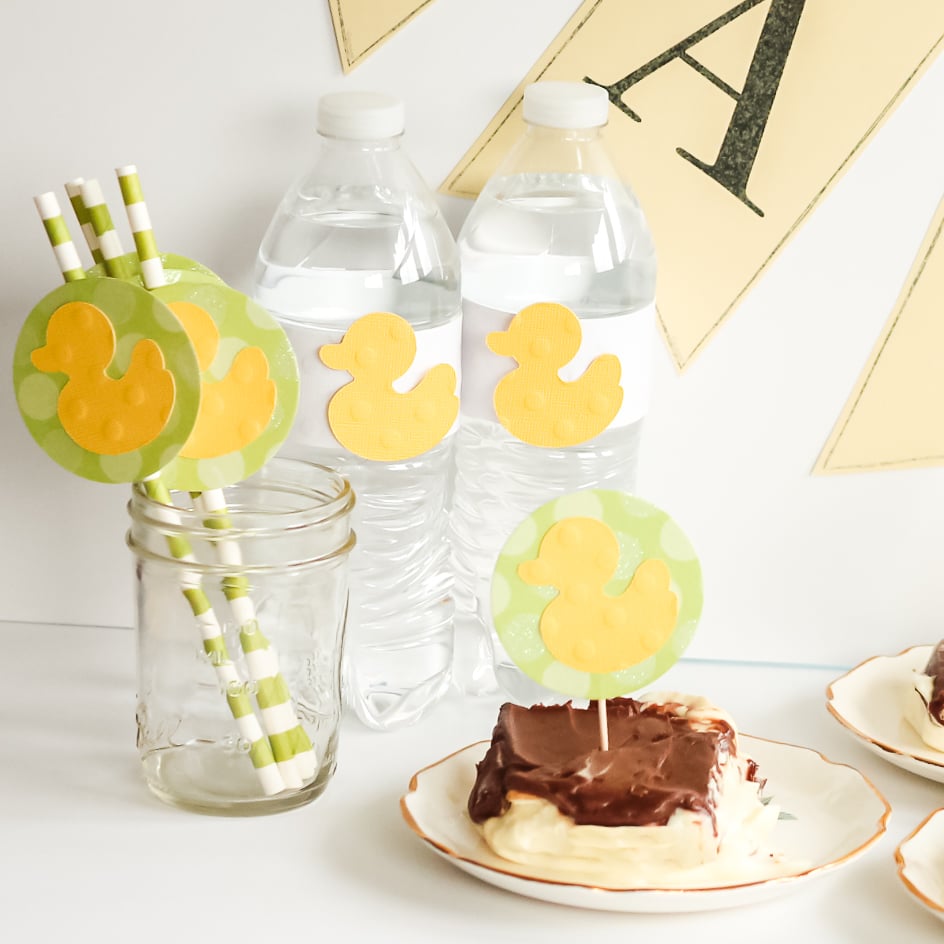 Duck Baby Shower Crafts
Ideas for your next baby shower with a duck theme!
Read More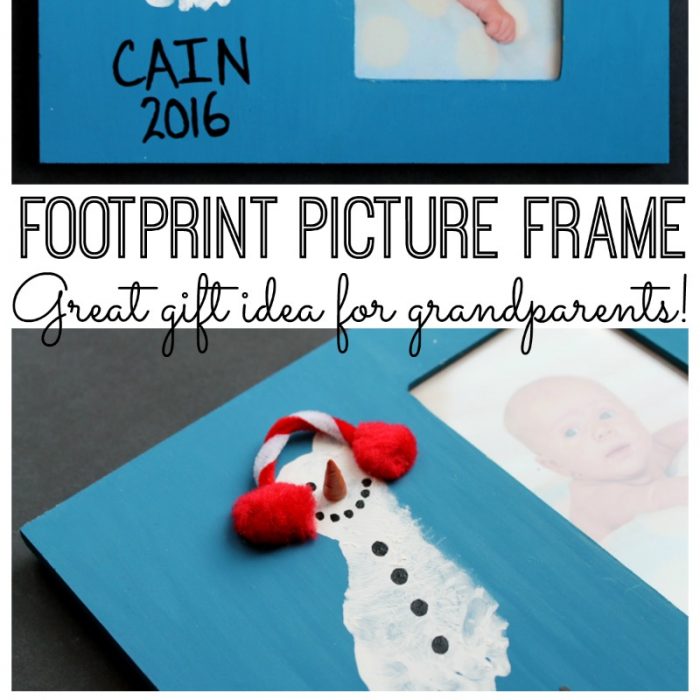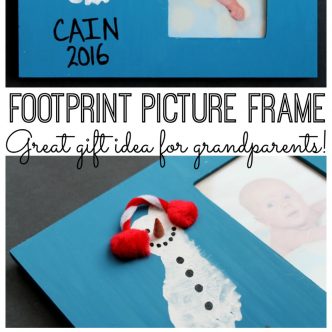 DIY Baby Footprint Art Photo Frame
DIY baby photo frames can be something to treasure for years throughout the entire family–especially when you add a little baby's footprint. This homemade photo frame is perfect for a Christmas gift, baby shower gift, birthday, and much more. Make this baby footprint art in minutes and gift it to grandparents or anyone else who wants a DIY sentimental gift!
Read More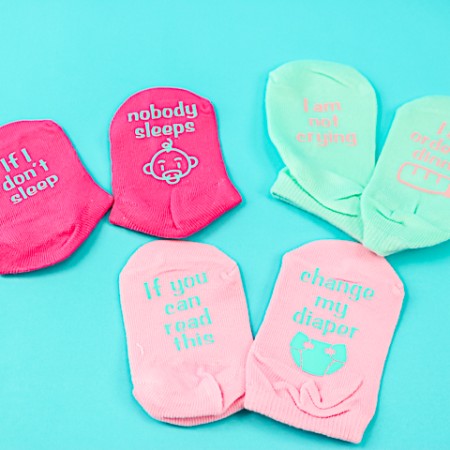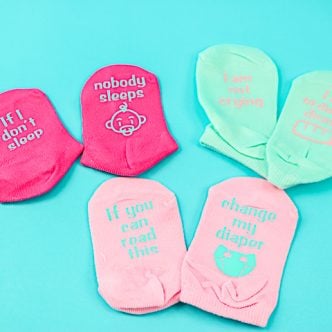 How to Add Iron-on to Baby Socks
Make these funny baby socks in minutes with this quick and easy idea for personalizing.
Read More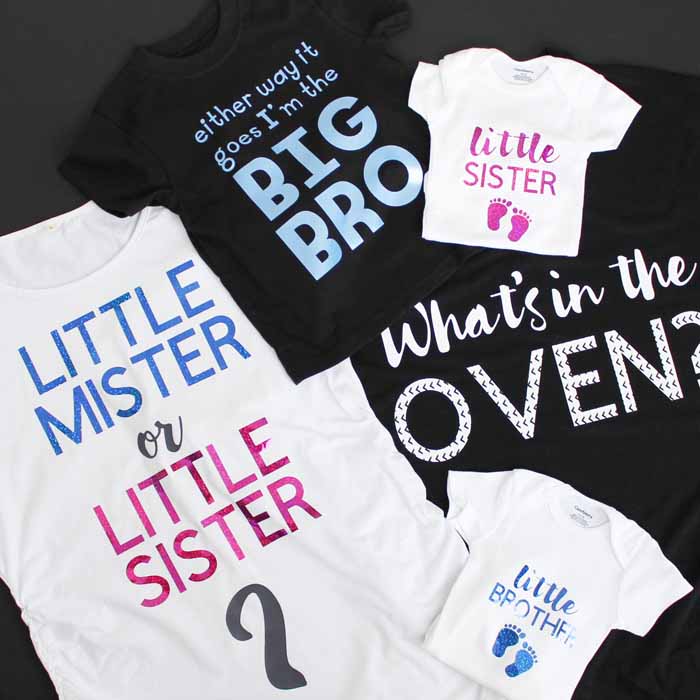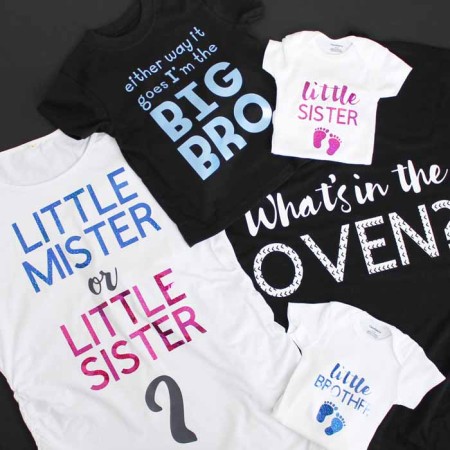 Gender Reveal Shirts For The Entire Family
Use this tutorial to make adorable gender reveal shirt ideas for your next big announcement!
Supplies
Iron On Vinyl

Shirts and onesies

Cut files
Instructions
Download and open the cut file you want to use in Cricut Design Space. Size it to fit your shirt.

Now cut the design into your iron-on vinyl (with the shiny side down). Be sure to mirror the design before you begin cutting.

Remove any excess pieces of vinyl from the design (including the centers of letters).

Using an iron or your EasyPress, press the design onto the garment according to the package directions.

Finish the shirt by removing the carrier sheet!
Tried this project?
tag us to show off your work!
New to Cricut?
Sign up for our email list to download the Beginner's Guide to Cricut Design Space for FREE today!
Sign up to get the guide emailed to you!