Add some sparkle to your Halloween decorations with sequin pumpkins! Learn how to make this easy DIY bedazzled pumpkin project to add that perfect glittery glam to your pumpkin decorations!
When it comes to fall and Halloween decorating, I throw in a few pumpkins and gourds anywhere I can. They come in so many colors, shapes, and patterns that it's easy to add them to your decorations, no matter what your decorating style is!
And that doesn't even include making your own sweater pumpkins, burlap pumpkins, or painted pumpkins. 😉
This time of year, pumpkins tend to take over everything (including our soap and wreaths!), and I couldn't be happier about it!
But, what do you do when you want to add a little more glitter and glam to spice up your decorations a bit? Well, if you're anything like me, you add some sparkly sequins to your pumpkins and then display them proudly.
Note: If you love fall decor ideas, be sure to also check out my Fall Mason Jars, DIY Fall Wreath with Yarn, and Easy Outdoor Fall Decor Inspiration!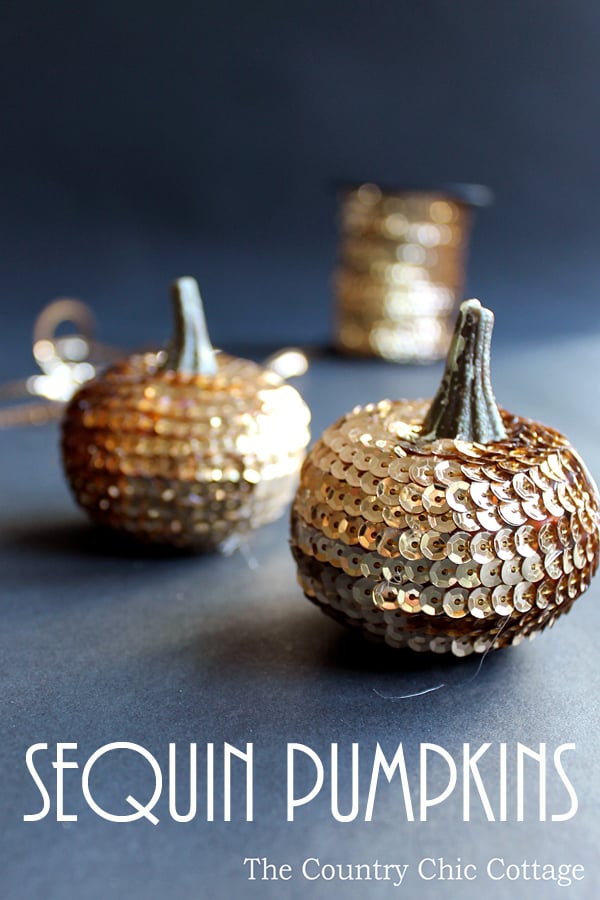 Supplies Needed To Make Sequin Pumpkins
These sequin pumpkins make the perfect fall decor to add around your home or to your thanksgiving tablescape. Thanks to the gold sequins, it also has a unique shine that I love!
I've included a list of everything you'll need for this project and even added links for some items to make finding them easier.
Note: Some links below are affiliate links, which means that you do not pay any extra but a portion of any purchase will go toward this site.
Can't watch the video or missed a bit of the process? Just follow along with the written instructions below (and feel free to grab our handy printable recipe card at the bottom of the post).
How To Make Gold Sequin Pumpkins For Fall
You can easily make your own glam pumpkin in just two simple steps!
Start with some faux pumpkins and sequins on a roll.
Then, add glue in small strips and attach your sequins as you wrap your way around the pumpkin.
Simple, right? With a hot glue gun, you can make this fun craft very quickly and easily!
Helpful Project Tips And Tricks
One tip I have for you is to remove the stem when adding your sequins and pop it back on after your pumpkin is complete. That will give you a more finished look.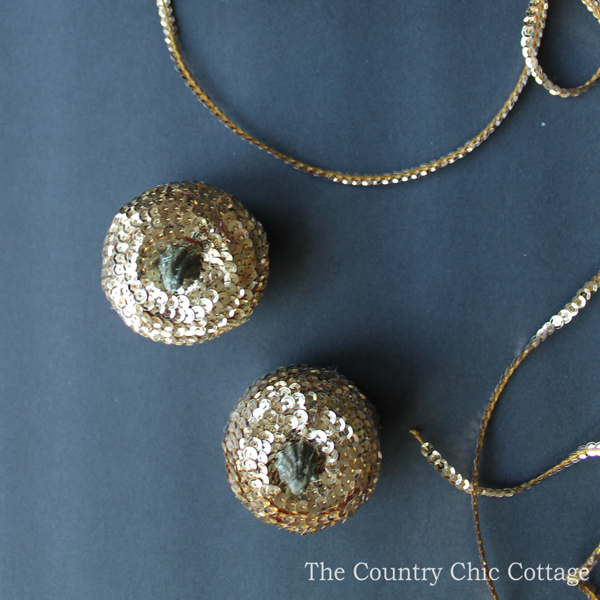 Now let's go make some sequin pumpkins!
Sequin Decorated Pumpkins FAQs
Here are a couple of common questions I see about this project from readers. If you have a question but don't see yours down below, please leave it in the comments so I can answer it for you.
Can I use different glue?
I personally find hot glue to be the easiest and most effective adhesive for most craft projects. It dries a lot faster (and is a LOT cleaner) than other types of glue, but it holds just as well.
If you don't have your own hot glue gun yet, they're very affordable ($15-$20) and will last for years. I highly recommend going ahead and buying one!
Can I use ribbon sequins?
Ok, so here's the thing. Ribbon sequins are a wider version of sequin rolls. Basically, instead of a single strand of sequins, they're 2-5 strands attached side by side.
If you're working with large, tall pumpkins, ribbon sequins can be a good choice. The limitation that ribbons present is that they can bunch and lay funny on your pumpkin, creating an unwanted appearance.
If you're working with very round (as opposed to tall, almost straight) pumpkins or small pumpkins, I recommend using the sequin rolls that have a single strand.
More Fall Decor Inspiration
If you love this simple pumpkin decorating project, be sure to check out these other ideas too!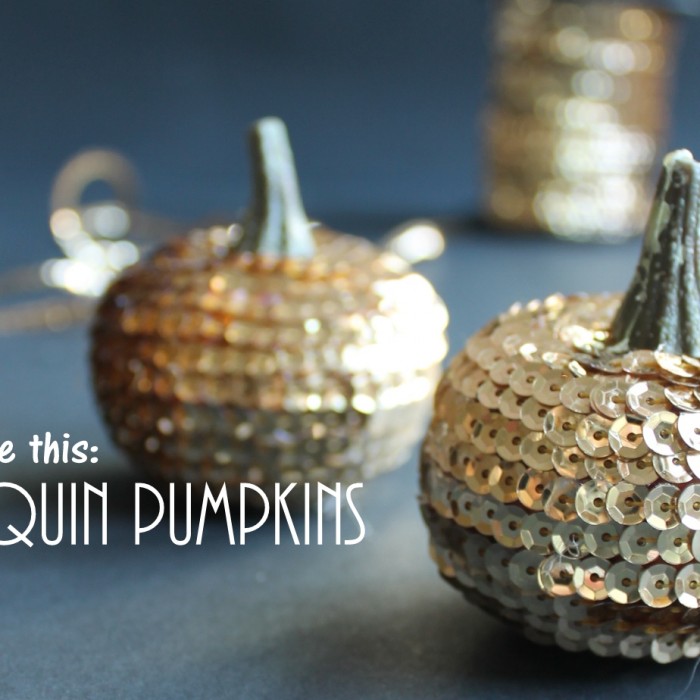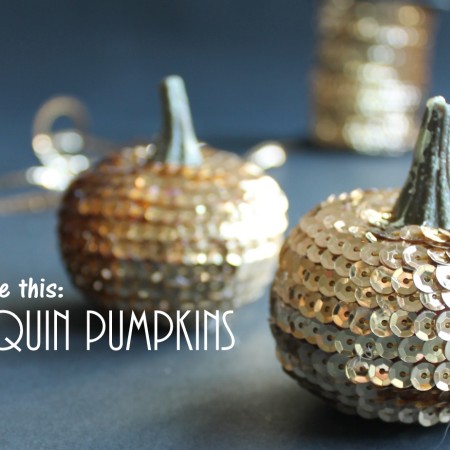 How To Make Sequin Pumpkins
Use this short and easy tutorial to make sequin pumpkins when you want to add a little glam to your fall decor!
Supplies
Decorative faux pumpkins

Sequin roll

Hot glue and a glue gun
Instructions
Then add small strips of hot glue to your pumpkin, working your way around the pumpkin. Attach the sequins to the glue before it dries.
Notes
Tip: to get a more professional look, I recommend removing the stem before you begin and reattaching it (using hot glue) after you have completely wrapped your pumpkin in sequins.
Tried this project?
tag us to show off your work!