Looking for reasons you need the Cricut Explore? Well, today I have 10 of them! Trust me, you are going to love this machine and everything that it can do. Think you might want one of the other Cricut machines instead? Check out our Cricut machine comparison to decide between all three machines!
Why You Need a Cricut Explore
I am going to do my 10 reasons countdown style. So we are starting with reason number 10 and working backward.
Reason #10: Machine Storage
The Cricut Explore comes with in-machine storage for your extra blades, pens, etc. No need to worry about where you are going to put those things or extra purchases. You can check out the image below as that flap opens up for tons of extra storage and there is also a cup on the left where you can add even more pens and accessories.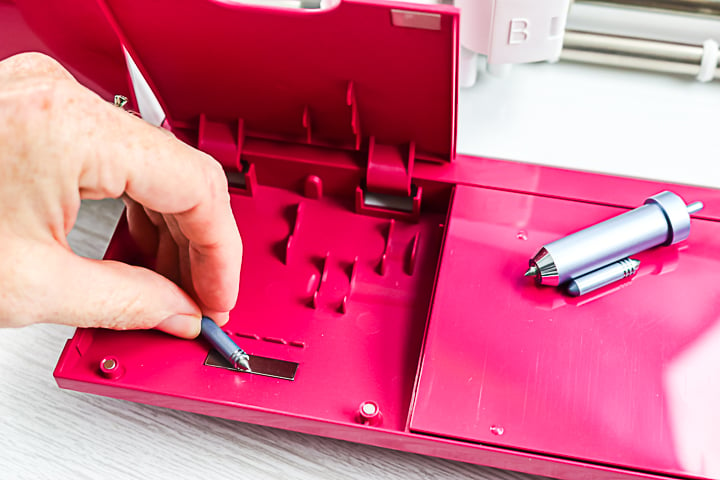 Reason #9: Using with Mobile Devices
The machine comes Bluetooth ready so you can start creating right away with just your mobile device. There is an app for iOS as well as Android so you are covered with whatever type of device that you use.
Reason #8: Cuts a Wide Variety of Materials
There are over 60 materials listed on the Cricut website that can be cut with the Cricut Explore. That is one heck of a lot of materials y'all! Click here to see the entire list. If you want to see what I personally have used the machine on, click a material below to be taken to the post:
Reason #7: Variety of Cutting Mats
There are a ton of mat options that are perfect for your machine. My personal favorite? The extra-long 24-inch cutting mat! What can I say, I can't be restricted to a 12 by 12-inch surface! Click here to see that large mat in action on my wreath project. The mats include:
Reason #6: Using Your Computer's Fonts
You can use the fonts already on your computer or those you can download for free with your Cricut Explore. This is what makes things like my Cross Stitch Sign so easy to make with an Explore. Click here to read more and see screenshots of when I used my Cricut to cut a downloaded font.
Reason #5: Editing in Design Space
My number 5 reason? You can edit things right in Design Space. There are images already there to pick from and you can combine them, add fonts, and so much more. Want to see more? You can see more about how to do this on my post about making a glittered Christmas wreath.
Reason #4: Writing and Scoring
Yes, you can cut with your Cricut Explore but you can also write and score. That brings us to reason number 4. Grab the pens and scoring tools to make your project extra special. The best part? It does this all at ONE TIME!
Tell the machine which lines to cut, write, and score. There are two holders so you can load up multiple tools. If you are doing all three, the machine will even stop and let you know when to change tools. You are left with a finished project after just one time through the machine. You can see this in action by checking out my post on how to make paper feathers.
Reason #3: Print Then Cut
Pens are great but printing would be better right? Yes, you can send files to your printer then cut around them with your Cricut Explore! You can see more of the print and cut in action by clicking here. Now you see why I am so excited about this feature.
Reason #2: Importing Your Own Images
We are down to the last two reasons y'all! These are close but I am going to call number 2 the ability to import your own images. You can draw something, scan it to your computer, and upload it. You can surf the net and find a free image you love. Anything is possible! Just get them into your Cricut and start cutting! Click here to see how to upload your own images.
Reason #1: Custom Material Settings
Drum roll please……my number one reason for loving the Cricut Explore….customizing material settings has NEVER been easier!! The custom set dial has some typically used settings on it already but then…then y'all….you can open up a whole list of custom materials and even adjust from there…..WITHOUT PULLING YOUR BLADE OUT!!! The Cricut does all the blade adjustments for you! Yea. I am a bit in love with this feature! You can see a bit more about cutting crazy materials and adjusting manually by clicking here.
Now with all of those reasons you need the Cricut Explore, what are you waiting for? Still not convinced? You can head here and see a comparison with the Maker. That just might help you decide which machine you need!
Where to Buy Your Cricut Machine
Perhaps you have just decided that a Cricut Explore is for you, where you purchase one? Consider using our links below!
I know you will love it as soon as you get that machine in your hands!