These mason jar storage containers are the perfect button storage solutions for organizing all of your collections of buttons! This easy mason jar storage idea is the perfect button organizer for all of your crafts and sewing needs. Use colored mason jars for extra fun!
If you're in need of more mason jar or organization crafts to do at home with your bulk mason jars or materials, I have plenty for you! Be sure to visit The Shabby Creek Cottage and Always Expect Moore for simple ideas!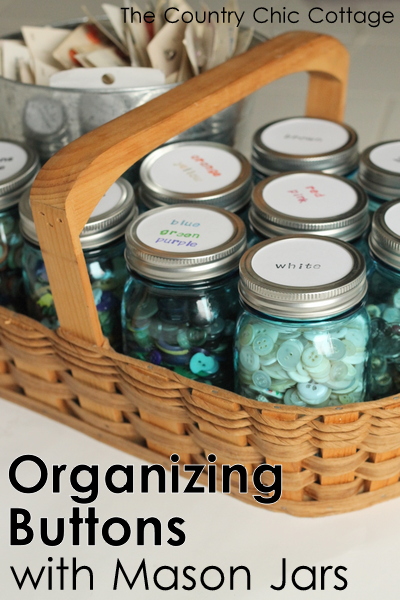 Make Your Own Button Storage Containers and Organizers
Learning how to use bulk mason jars for all types of crafts is so much fun–and cheap! Mason jars are great for so many things around the house including your colorful button collection. Who knew mason jars could be used for button storage ideas?
I like to use different colored mason jars like blue, orange, lilac, and much more! You can never go wrong with regular glass jars, though, especially when it comes to button storage!
These mason jar storage containers are so easy to craft with materials you may already have at home. If you're to add a little more organization to your life, then you will love this button organizer craft! Be sure to add it to your list of DIY mason jar crafts.
Supplies Needed
Some links below may be affiliate links which means you don't pay anymore.
White Cardstock: Thick white cardstock is great for these button storage containers because it holds up and is stronger than regular paper. I usually always have cardstock in my house because you never know when you. may need cut it to craft some things! You can find white cardstock in almost all craft stores if you cannot get it online.
Buttons: Use all and any of your buttons! I reserved a couple of the mason jars for my buttons from Buttons Galore and More because they are so special to me.
Stamps or Marker: You will need either a stamp or marker to label your jars! You can organize the buttons by color, style, age, etc., but you will need something to mark the the cardstock with! I stamped each color of the lid with the matching color of the buttons in the jars to be able to easily identify the colors.
Hot Glue: Use hot glue or another strong adhesive to hold the cardstock in place on the mason jar lids.
Container or Basket: A basket or similar container is the perfect vessel for storing these button containers. Storing the jars in a basket or containers makes everything look even more organized and neatly!
Note: Get creative and decorate the mason jars with different colors, materials, and patterns. Another one of my favorite things to do is make vinyl labels for my mason jars with my Cricut Machine! There are so many different patterns and templates to use.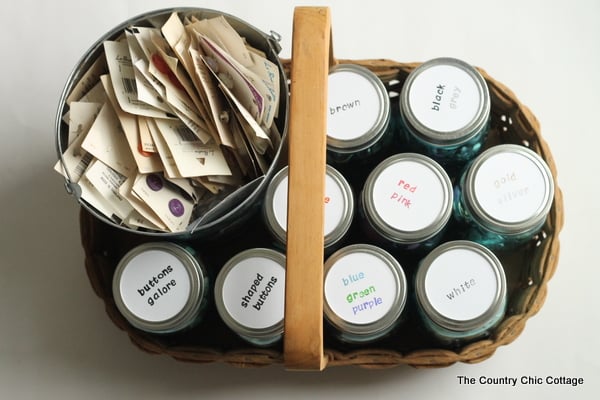 How to Organize Buttons with Colored and Bulk Mason Jars
Once the buttons were sorted by color, I already felt better about my button "collection". Okay, I might just be a button hoarder. You be the judge.
Either way, this button organizer craft has changed my life! I can easily find all of my favorite buttons when I am sewing or doing any other craft that calls for buttons.
Step One
I started with a pile of buttons in a huge plastic tub. I could never find anything when looking. So I grabbed my jars and started sorting the buttons by color. I also have a ton of vintage buttons still on cards so I threw those in a large galvanized bucket.
Next, I cut out white card stock to the size of the mason jar lids. Glue or adhere the cardstock to the tops of the mason jar lids.
After that, I stamped the colors of each jar on the tops of the lids to be able to easily identify the buttons.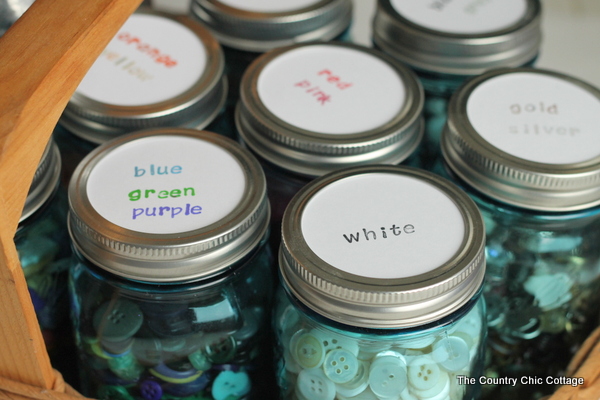 Step Two
Fill each jar with your colored buttons and organize them how you would like. I like to organize my buttons and jars by color.
Place the lids on the jars with the buttons and stamp the cardstock on the lids with the names of colors. You can already draw the names of the colors on the cardstock, too.
Step Three
Place the filled jars in your preferred storage container, basket, or tote to keep all of your button crafting materials in one place.
How to Use Button Storage
Use these button storage mason jar containers for your sewing room to keep all of your buttons separated and neatly organized. Being able to find your materials makes a huge difference in the craft!
These button organizers also make great gifts to relatives, friends, teachers, etc. Teachers can place these mason jars in their classrooms to keep their small objects and buttons tidy.
Don't want to use these mason jars for buttons? You can use these containers for any small craft materials like yarn, glue sticks, ribbon, glitter, beads, and much more!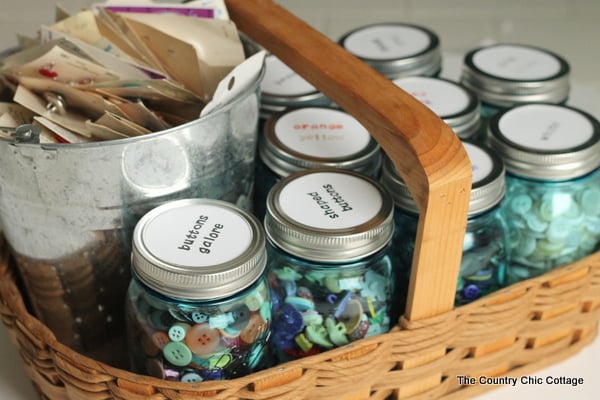 Like This Idea for Mason Jar Button Storage and Want More?
You will love the craft ideas below!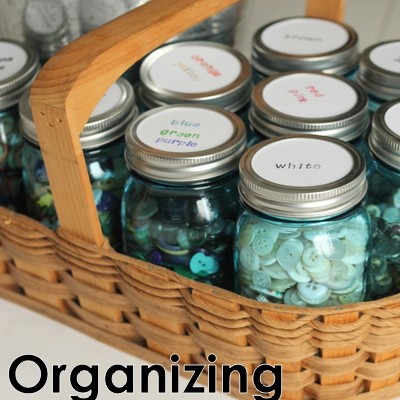 Organizing Collections of Buttons with Mason Jars | Button Organizer
Supplies
2

papers

Cardstock

9

mason jars

stamp

or marker
Instructions
Organize the buttons with your preference. Transfer the buttons to the jars.

Cut the cardstock with scissors in the same shapes as the mason jar lids. Glue the cardstock onto the lids and allow them to dry.

Stamp the cardstock with colored ink or use markers to label each button jar.

Place the lids back on the jars and place in a basket or container.
Tried this project?
tag us to show off your work!
Declutter Your Home in 31 Days!
Clear the clutter and organize your home with our daily emails! Every day for a month we will send you a prompt to declutter! Sign up for our email list below to get started.