This painted rocks tic tac toe game is perfect for your Thanksgiving kids' table. I painted rocks to look like turkeys and pumpkins just for a fun game that will keep the kids entertained. You can make your own version with a few supplies. Get the kids involved in the painting as well. They will love helping to create this fun fall themed game board. This post is sponsored by DecoArt however all projects and opinions are my own.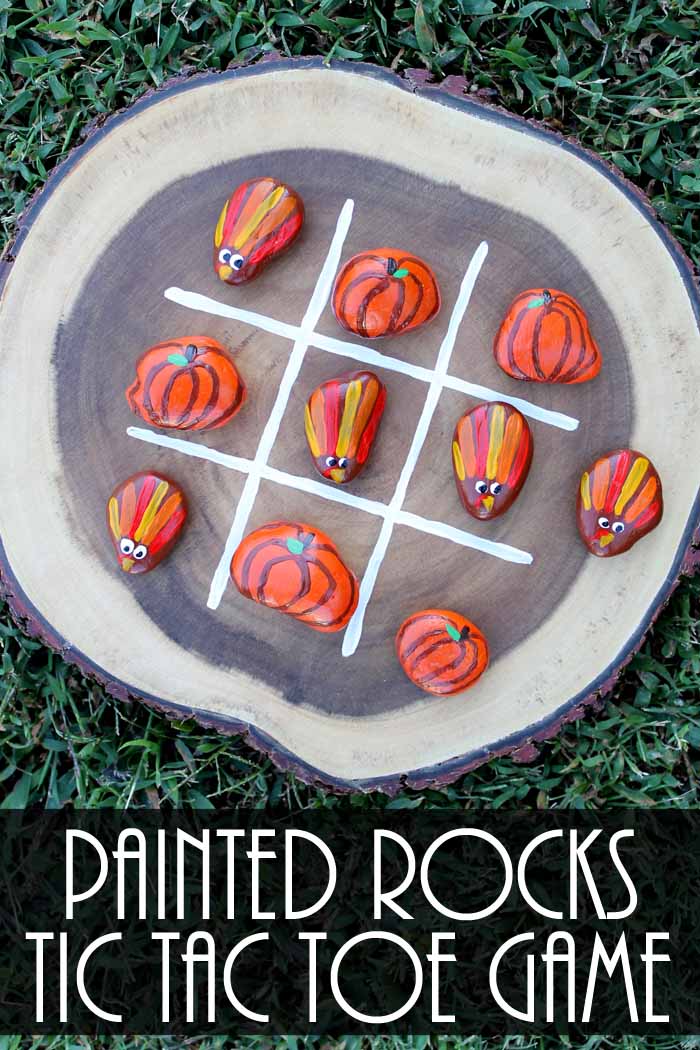 Supplies needed to make your own painted rocks tic tac toe game:
Some links below may be affiliate links which means that you will not pay anymore however a portion of your purchase will go to support this site.
Americana Premium Paints in a variety of colors (for specific colors used keep reading below) (you can purchase at Michaels or Joann)
Smooth rocks (find them around your home or purchase)
Wood slice
Pencil
Ruler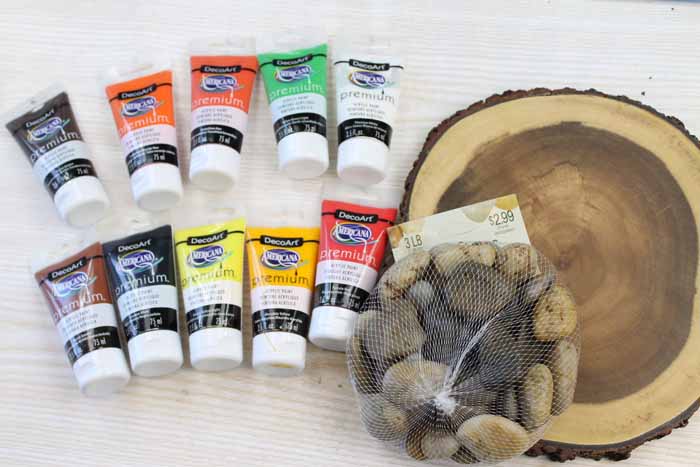 I thought I would pull together a quick video showing just how to make this painted rocks tic tac toe game. Follow along below!
Can't watch the video or missed some of the steps? Try our step by step instructions below.
Instructions
Start by painting the rocks on both sides with a couple of coats of paint. I used Burnt Sienna and Vermillion Hue for my base.
Allow your base coat to dry completely before adding your other colors. For the turkeys, add on "feathers" in three different colors. I used Pyrrole Red, Cadmium Orange Hue, and Diarylide Yellow. Then use the wrong end of your paint brush to add on eyes with Titanium White and Carbon Black. The beak and red snood were added with Diarylide Yellow and Pyrrole Red.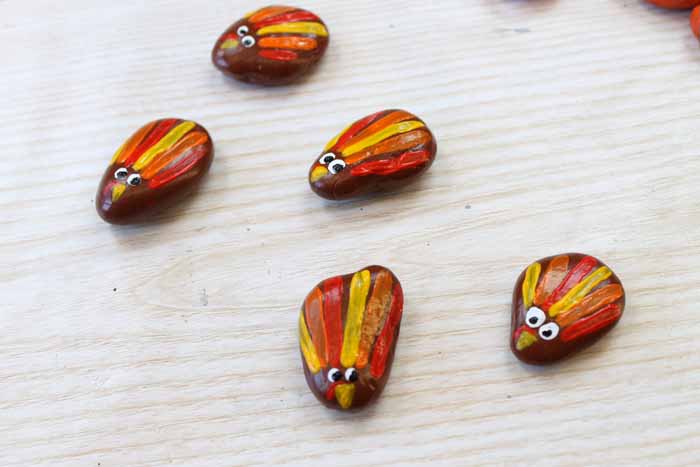 For the pumpkins, add on the "segments" with Burnt Sienna and also some highlights to the top using Cadmium Orange Hue. Paint on a stem and leaf with Burnt Umber and Yellow Green Light.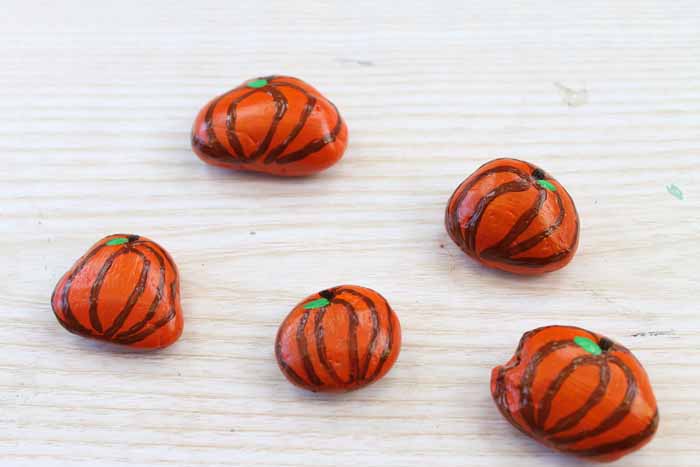 Set your rocks aside to dry completely and work on your tic tac toe board in the meantime. Use a ruler to draw on your grid then use the Titanium White to paint on your lines. Allow everything to dry before continuing.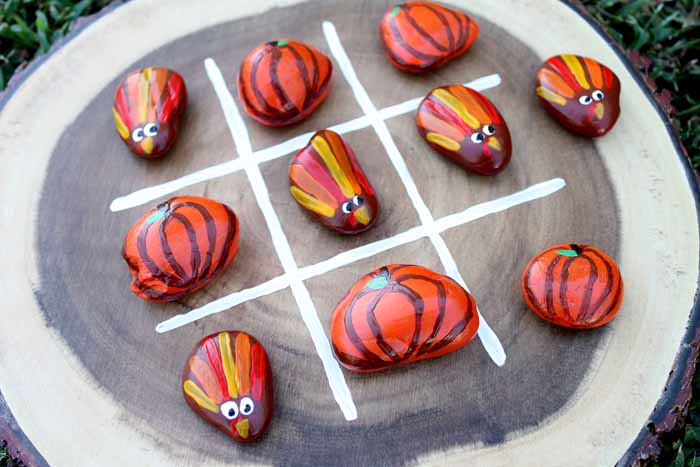 Add the painted rocks to your tic tac toe game and let the fun begin.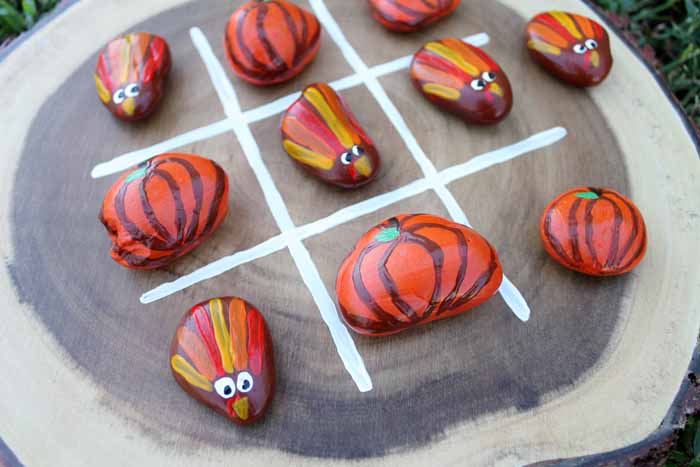 The kids at the Thanksgiving table will love a challenging tournament of tic tac toe. Plus who could resist these cute turkeys and pumpkins??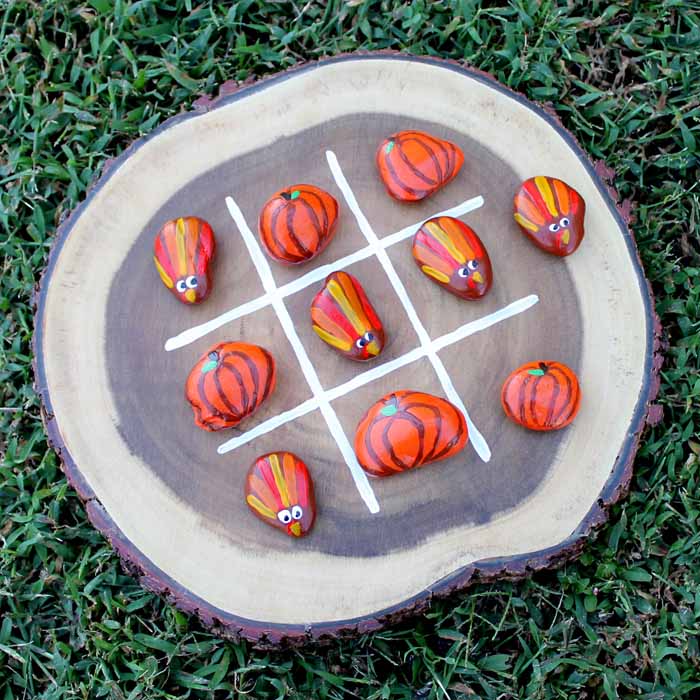 Grab your supplies and make your own painted rocks tic tac toe game today.
Love this and want more? Try the links below as well!