I am kicking off a series of posts sponsored by Krylon today. This painted wicker table is my first project. I took a tired table that was on my front porch and gave it new life with just Krylon, tape and paper! See the detailed steps below and try your hand at making this same pattern on any furniture that you would like to redo — indoors or out.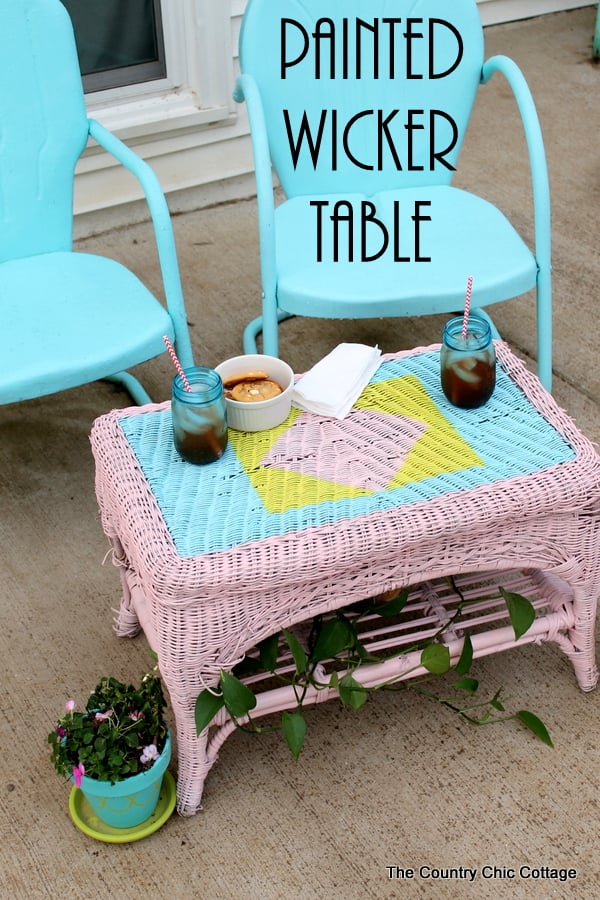 Start with your piece of furniture. I have had this sad little table covered with a table cloth on my porch for years. It was time to let the magic of Krylon make this piece shine.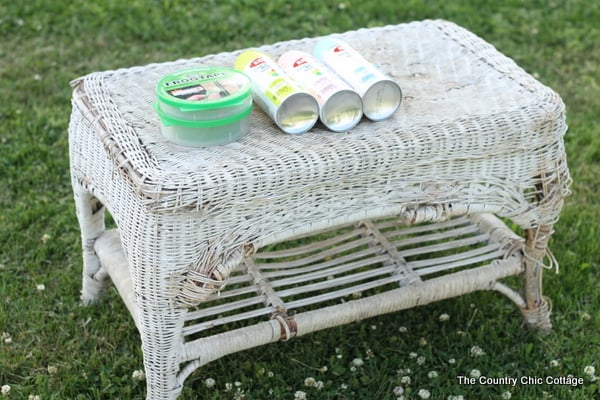 You will also need some paper, painter's tape, and any shades of Krylon spray paint that you would like. I used ballet slipper, blue ocean breeze, and citrus green. You can click here to see more about Color Master and the full color line up over on the Krylon site. Ballet slipper pink is actually the color of the month that I was challenged to use in this post. Y'all can let me know if you think I succeeded in using this fun color!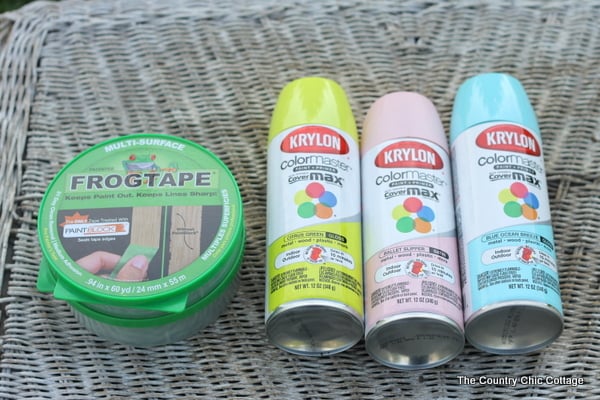 The Color Master line is a paint and primer in one so I dove right into my little table. I gave it a few coats of ballet slipper to start the transformation. One tip when painting wicker is to do one coat from all sides. This helps get the paint in all of those cracks and crevices. Always be sure to spray paint objects outside in a well ventilated area. I usually do it in the grass so I don't have to protect the ground. However if your hubby does not like pink grass or if you are doing this on another surface, be sure to lay down a drop cloth or other protection.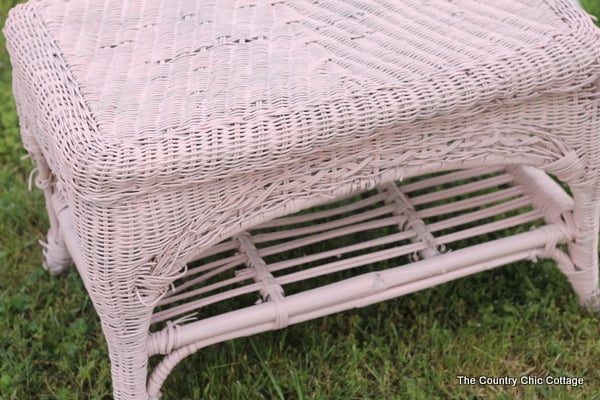 Then mask off the top of your table. To avoid any over spray, I used old newspapers at the bottom and taped those on as well.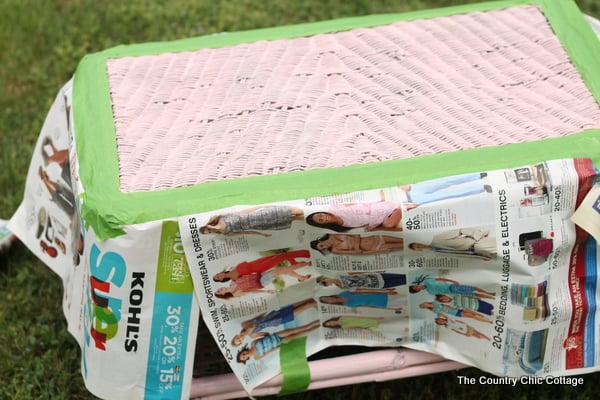 I then put a standard 8 1/2 x 11 piece of paper right in the center of my project again securing with painter's tape.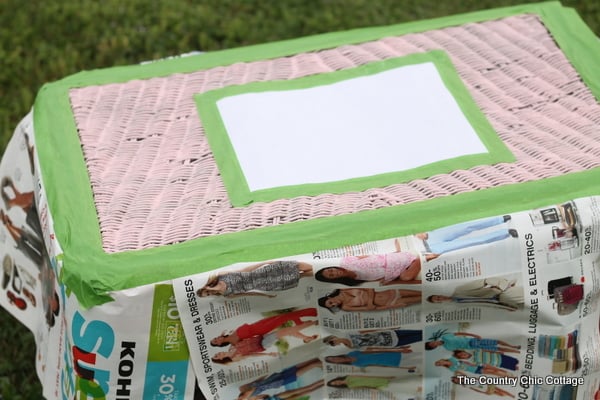 Give that area a few coats of blue ocean breeze. Again be sure to do a coat from each direction to get full coverage. When you remove the center piece of paper you will still have a pink area.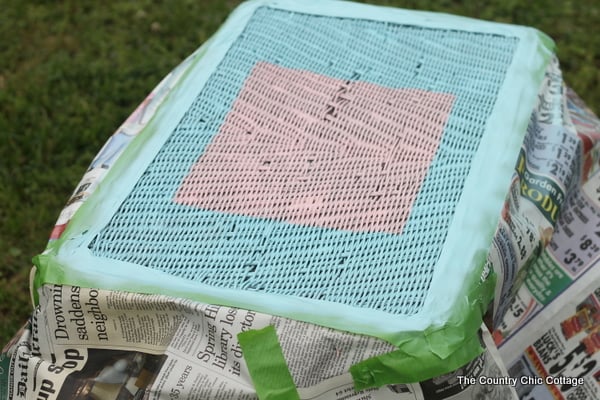 Cut a 6 inch square from another piece of paper and lay it in the center as shown below. Tape around square and pink rectangle as shown. Use additional newspapers to protect from over spray.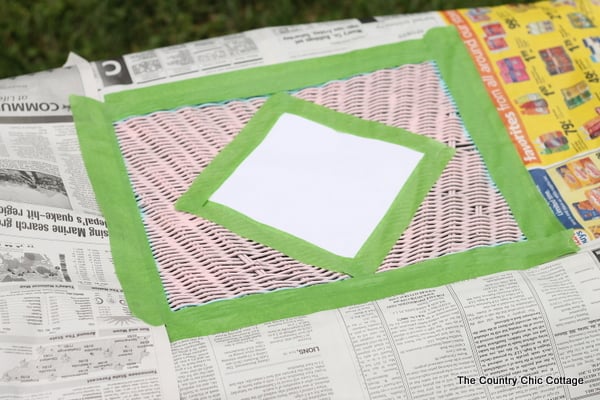 Spray with citrus green once again spraying from all directions. Remove tape and masking to reveal your completed design.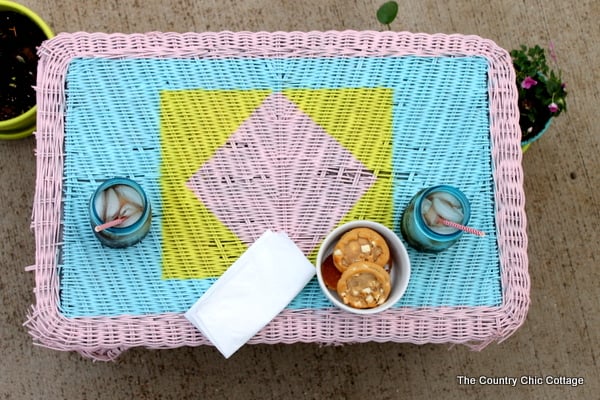 This little table now has a new life and has a home on my porch for the season.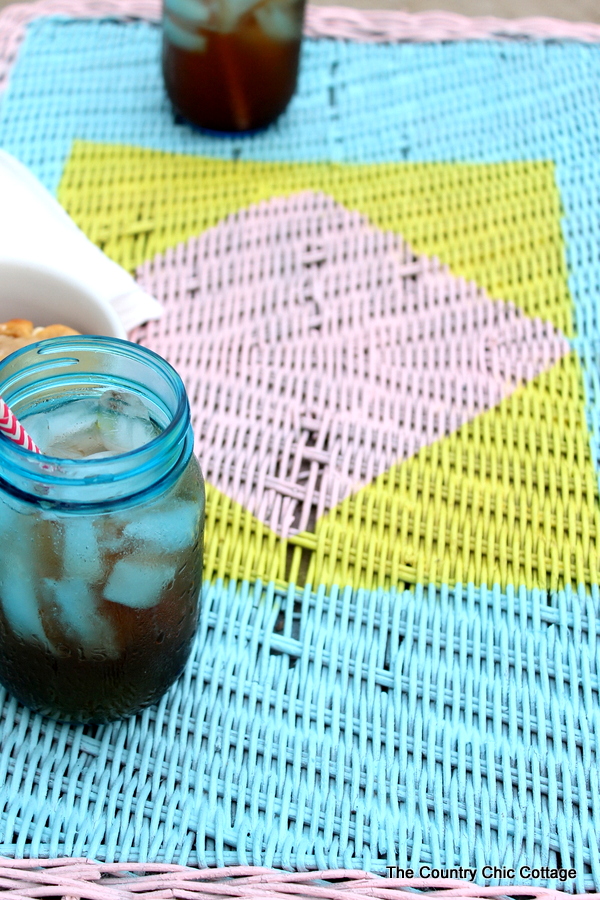 Do you have any outdoor furniture that could use a face lift this season? Grab some Krylon Color Master and transform even the worst of them into something you can be proud of. Don't love the ballet slipper pink? Click here to choose from the line up of over 60 colors. For even more project ideas with the Color of the Month, be sure to head over and like Krylon on Facebook.