So which is better for mugs – vinyl or heat transfer vinyl? I thought I would do some experiments applying both to glass and give you my opinion on this debate. Then you can use my information to decide which to buy when adding vinyl on mugs. After all, you don't want your gift to a friend to end up being in the trash after it has been washed a few times! Read on to see how to keep vinyl from peeling off mugs.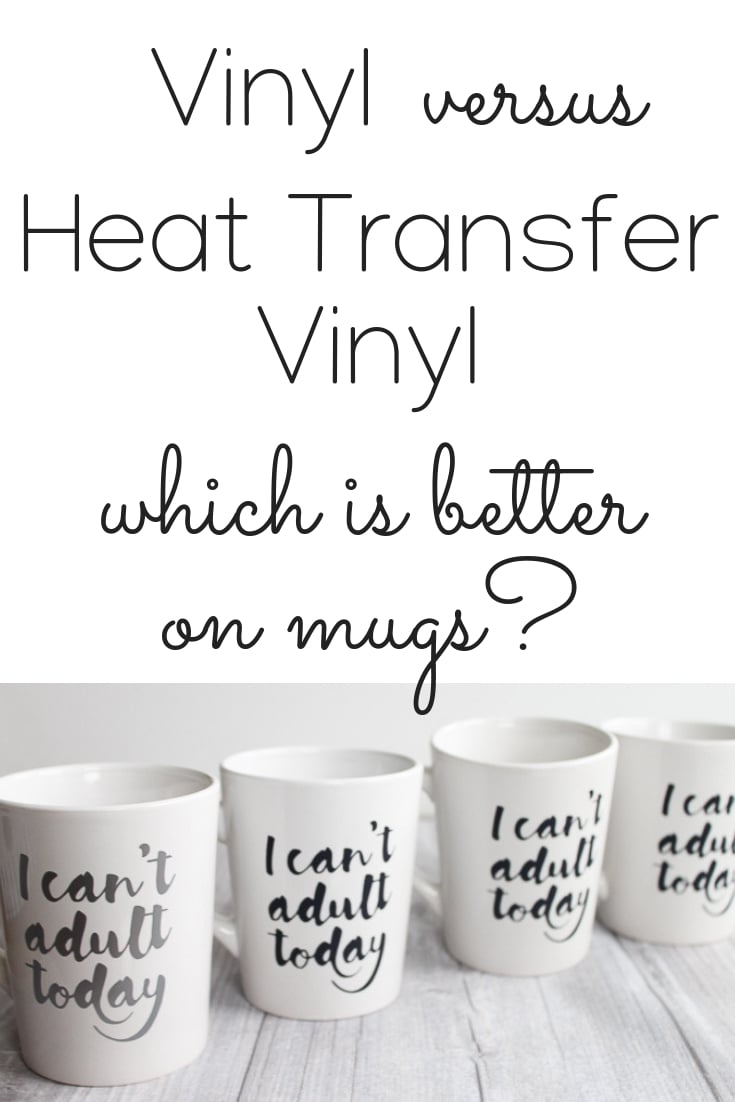 Types of Vinyl
First, what type of vinyl do you use on a mug? There are different types depending on the application. For instance, you want a vinyl design on your wall to come off when you are tired of it so you would need a removable vinyl. For vinyl on mugs, however, you want one that will last a really long time. The type I used for my experiments is the Premium Permanent Vinyl from Cricut. There are other brands but you want to look for something that is rated for outdoor or permanent use.
Types of Heat Transfer Vinyl
You may not even realize that you can add heat transfer vinyl to glass but you can! Most types will work you may just need a little patience. I like to do a lower heat and time and then like to do multiple passes over the mug. The glass does have a higher chance of breaking when heated so you want to use caution. Protect your hand from the heat and also from any potential breakage. This means that heat transfer vinyl products that require a higher temperature are not ideal. I am using Everyday Iron-on from Cricut for all of my experiments.
How to Put Vinyl on a Mug
Now we have to get both of these onto our mug. Adding the vinyl is easy as you just need to cut and then add to your mug with some transfer paper. You can see more about using vinyl here.
What about that heat transfer vinyl? You can use a heat press, EasyPress, or even a mini iron. You can watch me use all three in the video below. For the mini iron, click here to purchase the version I am using. You can also see more about iron-on here.
Vinyl or Heat Transfer Vinyl for Mugs?
When it comes to how to keep vinyl from peeling off mugs, which one is better? Which works best when adding vinyl on mugs? I found that if you are going to wash your mugs in the dishwasher, the adhesive permanent vinyl is best hands down. It was the only one that I found would last with the heat and power of automatic washing.
Now, if you are going to hand wash your mugs, you can probably use either adhesive vinyl or heat transfer vinyl and any of the application methods mentioned. I will say my favorite application method for the heat transfer vinyl on a mug was the mini iron.
NEW: Now there is also the EasyPress Mini that will work great for projects like these.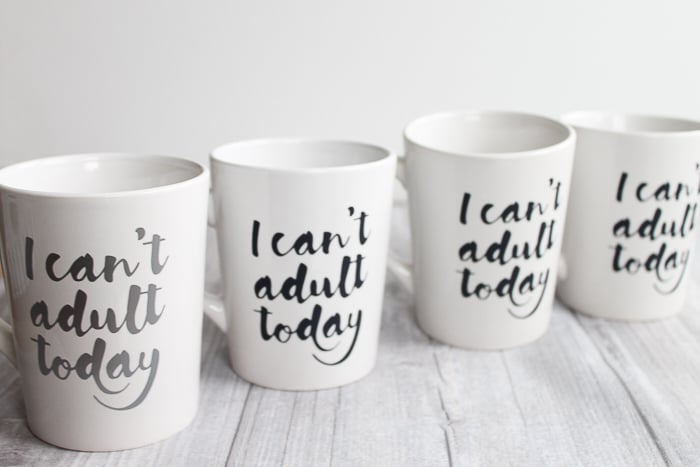 So, will you be making some mugs for giving as gifts? I would say use premium adhesive vinyl as you will not know if your recipient will hand wash or throw in the dishwasher. You can buy the brand that I used here. Just be sure to pick up the PERMANENT version and NOT the removable version.
For your own needs, you can decide which will work for you with the information above. I will say that this was my experience only. You might run some tests for yourself especially if you are going to make a ton of these for gifts or to sell.
So, will you use vinyl or heat transfer vinyl on mugs? We would love to hear about which you use and which works best for you! Want to make these mugs? Click here for the Cricut cut file!
Love this project and want more ideas? Try the links below!
New to Cricut?
Sign up for our email list here to download the Beginner's Guide to Cricut Design Space for FREE today!
Sign up to get the guide emailed to you!