We are continuing our series today and tackling the question of what Cricut vinyl to use on glass. A few weeks ago we started the series with will Cricut vinyl stick to wood. Now we are moving onto glass and using Cricut vinyl on it. So, should you use regular or heat transfer vinyl on glass? Which will last longer? Will Cricut vinyl stick to glass? Can Cricut vinyl go in the dishwasher? Which Cricut vinyl is good for car decals? We will answer these questions and so much more!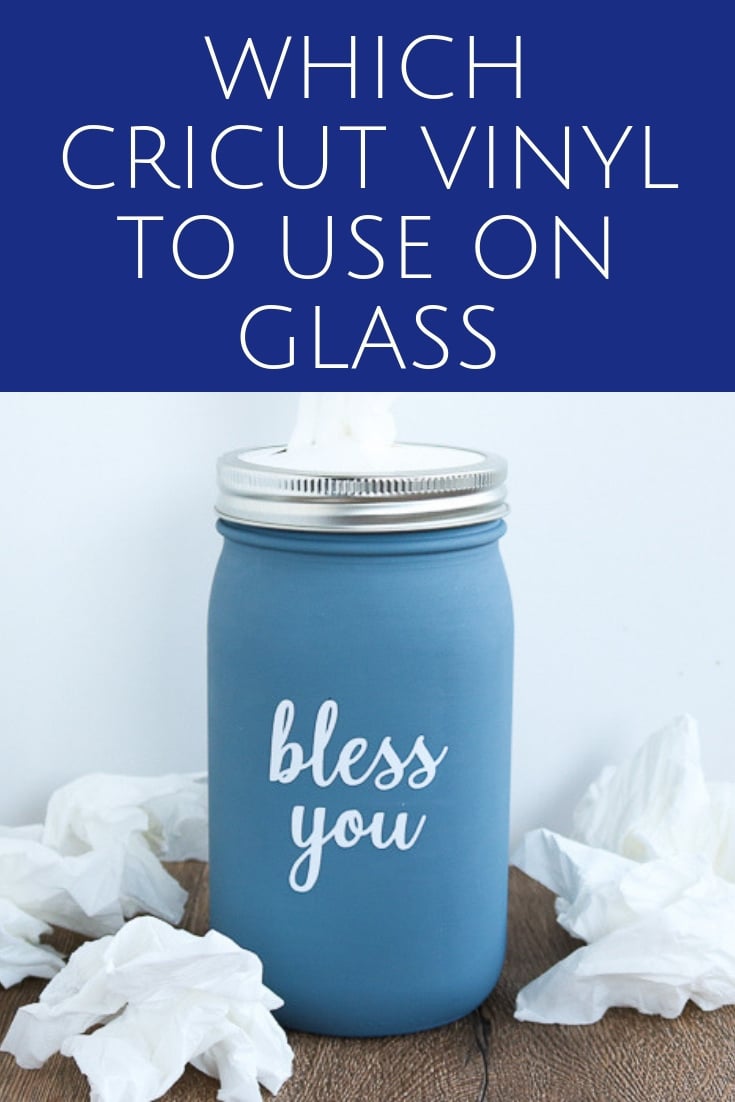 Some links below may be affiliate links which means that you do not pay anymore, however, a small commission will go to this site.
What are the types of vinyl?
So, what Cricut vinyl to use on glass? You can actually use two different types of vinyl on your glass projects. Sticky vinyl and iron-on both work. There are pros and cons to both of these varieties, however.
Sticky vinyl: Be sure to use permanent vinyl when adding to glass instead of the removable version. Unless, of course, you are doing something for say a party where you want to remove it later. Permanent vinyl has the best results for lasting as long as possible.
Iron-on vinyl: Yes you can use heat transfer vinyl on glass! It is permanent but does require some knowledge that I will go over below. You do need to be cautious when heating glass to make sure it doesn't break. I will also share a few resources for what to use to add your iron-on to glass below. But which of the iron-on products should you try? I have the best luck with EveryDay iron-on for glass.
What type of transfer tape should I use?
First, what is transfer tape? For sticky vinyl, transfer tape is what makes it easier to get from the backing paper to the glass surface with your design intact. And yes, there are different types of transfer tape! You want to use the regular transfer tape in most cases as the strong grip version will definitely make your transition harder. The strong grip should be used if you are using glitter vinyl.
Will Cricut vinyl stick to glass?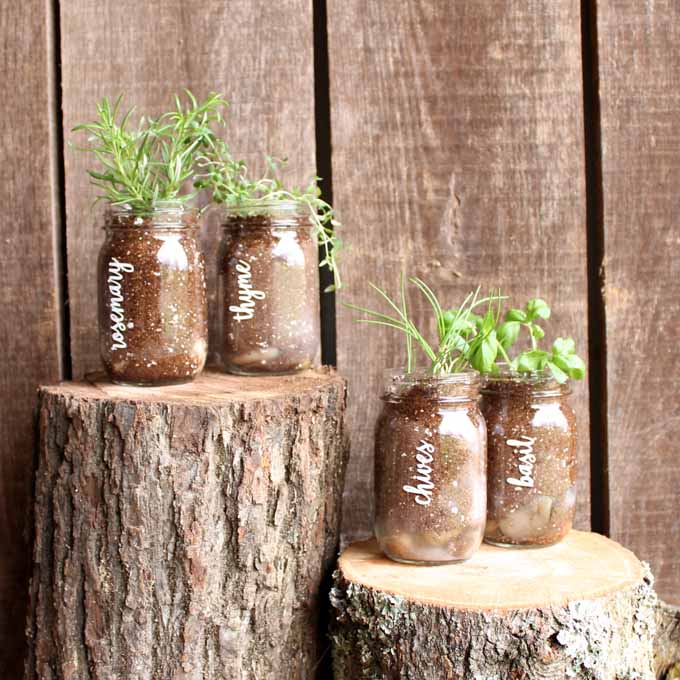 Want to make these garden mason jars? Click here to see the project!
The answer is definitely yes! First, let's talk about adding regular sticky vinyl to plain glass without any finish. Again, I would definitely use permanent vinyl for projects like these unless you want to be able to remove it easily later. Use transfer paper to remove your vinyl from the backing and put it on your glass. You can tape a piece of graph paper or grid to the inside of your glass to help with alignment. You will also want to be sure to burnish well after application to ensure good adhesion. Keep reading below to see if this method will make your projects dishwasher safe.
Will Cricut vinyl stick to glass? Give it a try for yourself with these projects.
Will Cricut vinyl stick to painted glass?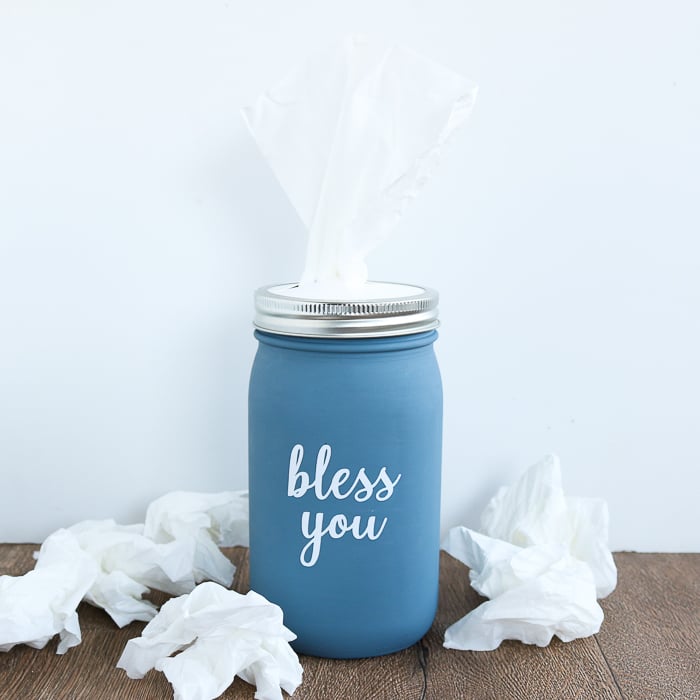 Want to make that mason jar tissue holder? Click here for the project!
What about painted glass? The same rules apply as far as type and use of transfer paper but I do have a few tips:
Use a good quality paint that is recommended for glass and follow all instructions. You may need to bake the project after painting but before vinyl application.
Clean your glass well before painting. I like to use rubbing alcohol. Then allow to dry and be sure not to touch the surface with your hands before painting. The oils from your hands can prevent the paint from sticking.
Allow the paint to cure completely before adding the vinyl. Yes, it may be dry to the touch in less time but cure time is completely different. I would allow it to cure at least 24 hours before application.
Make sure you have the position correct before putting the vinyl down on the glass. You don't want to pick up the vinyl and reposition as this could damage your paint.
If you use these tips, applying vinyl to painted glass should be easy! Find out what Cricut vinyl to use on glass with these project ideas.
Will heat transfer vinyl work on glass?
Love this flamingo mug? Click here to see how to make it!
Yes, it will! Plus it is easier to weed and transfer to a glass surface. It is really great for use in the kitchen for things like trivets and mugs that will see heat over time. But how do you use heat transfer vinyl with glass? Here are a few of our best tips and tricks:
Lower heat and time with multiple passes over the glass usually work best.
The glass does have a higher chance of breaking when heated so you want to use caution.
Protect your hand from the heat and also from any potential breakage.
Be sure to check the product you are using for time and temperature recommendations.
Look for a mini-iron at your craft store to help you apply to curved surfaces but you can also try a heat gun.
Want a few projects to try this method out on? Head to the links below!
Can Cricut vinyl go in the dishwasher?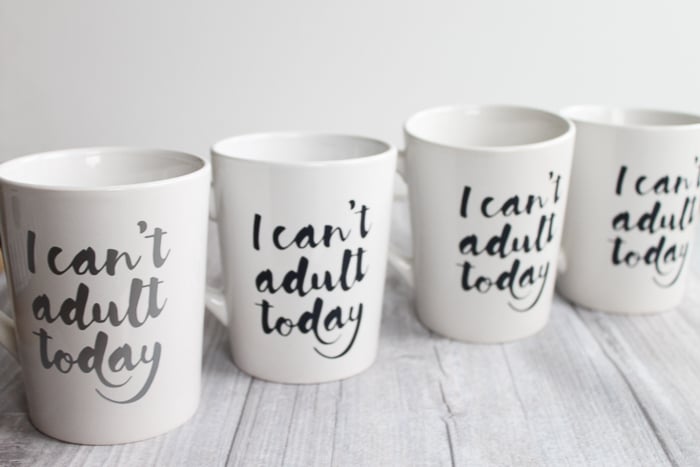 So, now the real question is, which of these methods will be dishwasher safe? What Cricut vinyl to use on glass to get the maximum life? I actually tested it on mugs here and you can read all about my tests and results. You can also add dishwasher safe decoupage over the top. See this post for instructions on how to do so. Either way, you should be able to find a dishwasher safe method for application on the glass but it may shorten the life of your project.
Which Cricut vinyl is good for car decals?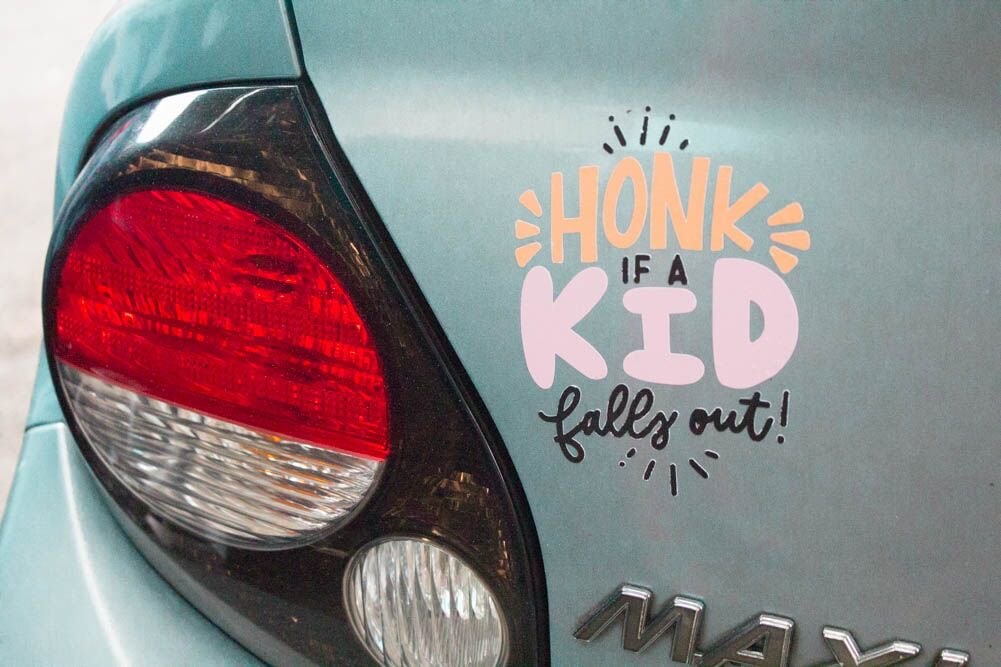 Love the project above? Click here to see how to make it!
So, you can make it dishwasher safe but what about adding it to the outdoor elements! You can do that as well! Be sure to use a vinyl marked for outdoor use and go crazy! Here are a few project ideas to get you started.
What Cricut vinyl to use on glass?
I think the answer depends on your application. Give our ideas above a try and you may just find that glass is your new favorite surface when working with your Cricut machine. We would love to hear your results in our comment section below as well. Have you used Cricut vinyl on glass? Which do you find lasts the longest?
New to Cricut?
Sign up for our email list to download the Beginner's Guide to Cricut Design Space for FREE today!
Sign up to get the guide emailed to you!