This post and photos may contain Amazon or other affiliate links. If you purchase something through any link, I may receive a small commission at no extra charge to you. Any supplies used may be given to me free of charge, however, all projects and opinions are my own.
Today we are going to tackle the age-old question of "will Cricut vinyl stick to wood?" You may have had issues in the past or maybe you are planning a project and want to know if it will work or not. I have tips and tricks for you that will get you that perfect project every single time! We will talk also answer "will Cricut vinyl stick to painted wood?" as well as "will Cricut vinyl stick to stained wood?" Y'all enjoy and be sure to leave us any questions we don't answer in the comment section below!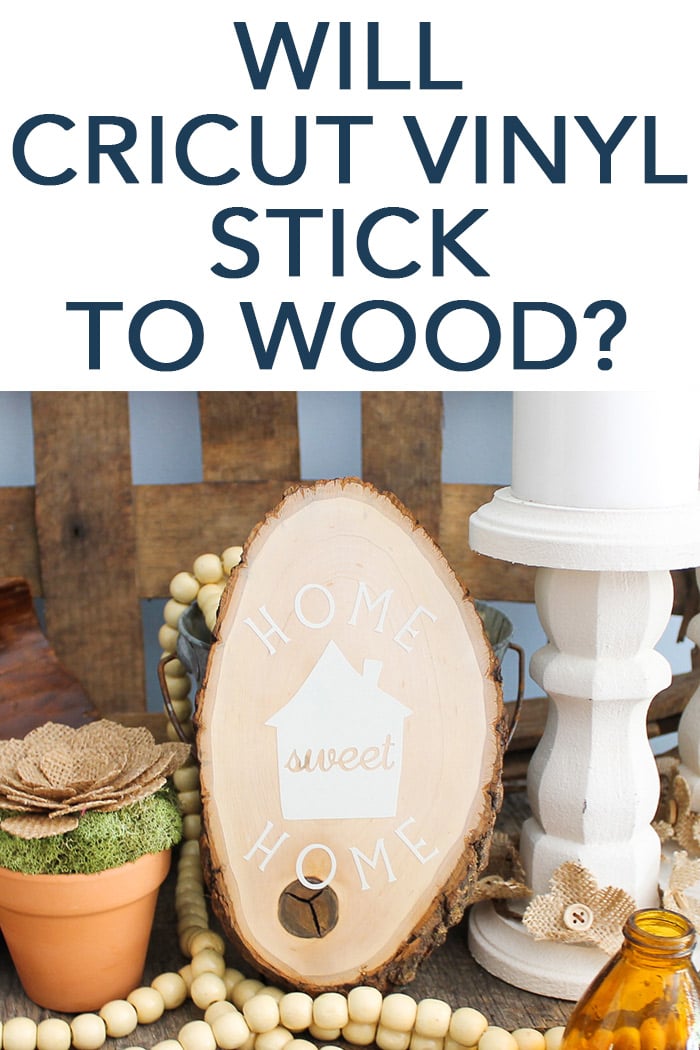 Some links below may be affiliate links which means that you do not pay anymore, however, a small commission will go to this site.
What type of vinyl should I use?
First, you need to pick the type of vinyl to use for your project. You can use either sticky vinyl or iron-on to add to wood and both have their pros and cons. We will go over adding both to the wood below but here is a rundown of the types:
Sticky vinyl: Be sure to use permanent vinyl when adding to wood instead of the removable version. This means that you will have more luck with getting it to stick once you start to peel back your transfer paper. This does also mean that your project will be permanent. If you are wanting to do something like a stencil, just be aware that the removable vinyl may not stick as well and you may have more issues removing your transfer tape.
Iron-on vinyl: Yes you can use heat transfer vinyl on wood! It is permanent and does require some knowledge that I will go over below. But really it works like a dream and almost feels like it is painted on the surface once complete. But which of the iron-on products should you try? I have the best luck with EveryDay iron-on for wood.
What type of transfer tape should I use?
Yes, there are different types of transfer tape and it does make a difference! I think that for so many people that think the answer to will Cricut vinyl stick to wood is no, the problem may be the transfer tape. What is transfer tape? For sticky vinyl, transfer tape is what makes it easier to get from the backing paper to the wood surface with your design intact. You want to use the regular transfer tape as the strong grip version will definitely make your transition harder. Please note that the strong grip is really only for glitter vinyl.
Will Cricut vinyl stick to painted wood?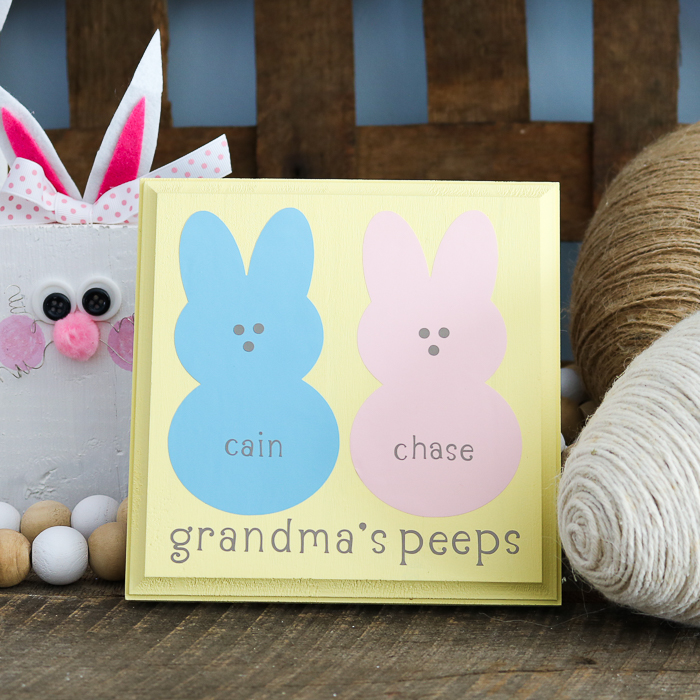 Want to make that grandma's peeps project? Click here for the instructions!
The short answer is yes but you may want a longer explanation. First, how about some tips and tricks for getting vinyl to stick to painted wood.
It will be more difficult for vinyl to stick to rough wood so sand your surface before beginning.
Painting your wood is a great way to seal it and help the vinyl really stick. A standard acrylic paint works great.
Wait 24 hours after you have painted the wood to stick on your design. This will ensure that the paint is cured.
Get a squeegee! It will make your life easier as you can press the vinyl down before removing your transfer tape.
Then just start creating! I think you will find the permanent vinyl sticks great to painted wood surfaces of all types. You will be making all sorts of projects before you know it!
Want more projects on painted wood? Try the links below!
Will Cricut vinyl stick to stained wood?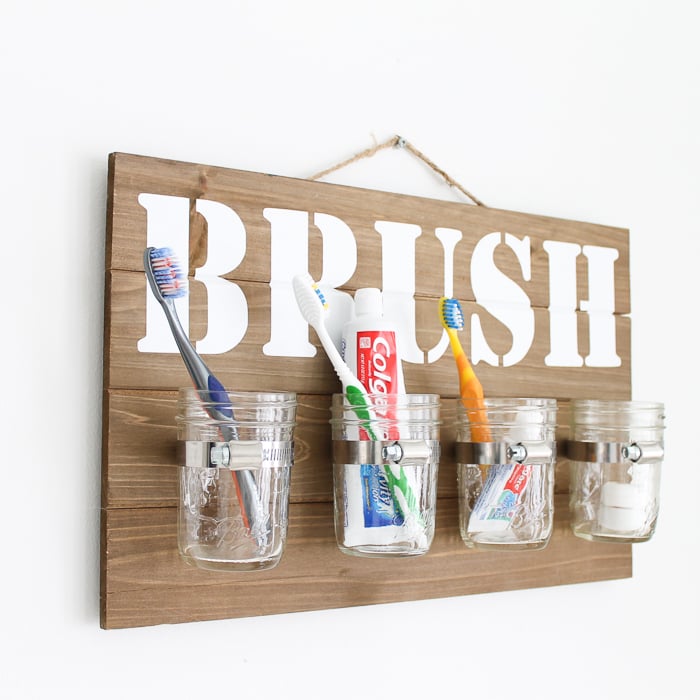 Want to make that mason jar bathroom organizer? Click here for the instructions.
Next, we need to tackle stained wood! Yes, Cricut vinyl will stick to stained wood but there is one tip that may make your project a bit easier. SEALING! Stain can leave an oily residue that will make your vinyl lift from the surface. Seal with a waterbased Polycrylic then wait 24 hours. Your vinyl will stick better and stay on longer! This one tip may save you a ton of future frustration on those stained wood projects. I have also used a waterbased stain/sealer in one and that works great as well.
Want more projects on stained wood? Try the links below!
Will Cricut vinyl stick to raw wood?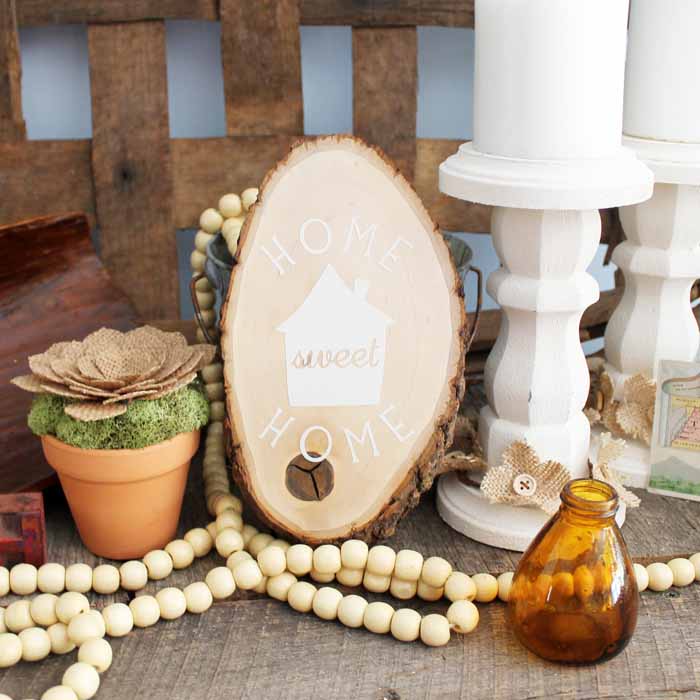 Want to make that rustic wood slice? Click here for the instructions.
The same tips apply for sticking to a raw wood surface as the painted and stained above. Be sure to sand well and you might even seal the wood for additional success. The project above I just made sure the surface was smooth and stuck the vinyl right to the raw wood. It is still on there several months later with no issues at all.
Want more projects on raw wood? Try the links below!
Will Cricut iron-on vinyl work on wood?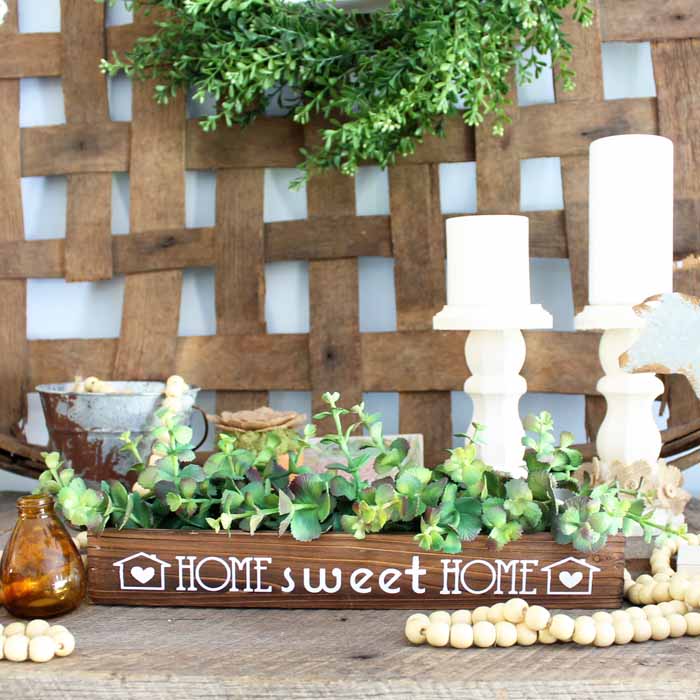 Want to make that wooden box centerpiece? Click here to get the instructions.
So far we have really talked about adding sticky vinyl to wood but there is another option you may never have considered. You can add iron-on to wood and get great results! The product actually conforms to the uneven surface better and almost looks like a perfectly painted piece of art. Here are a few tips and tricks for adding heat transfer vinyl to wood:
As always, you will want to mirror your design and cut with the good (or shiny) side down on the mat.
Use a pressing cloth or teflon sheet to help protect the wood around your design.
Use the time and temperature for the brand of iron-on you are using.
I must say that this is fast becoming one of my favorite ways to add vinyl to wood! So, will Cricut vinyl stick to wood? Yes, and the iron-on version may be even better!
Want more projects with iron-on applied to wood? Try the links below!
Which is better? Sticky or iron-on vinyl?
So, now the only question is which is better? We have answered the question of will Cricut vinyl stick to wood, but should you use their sticky vinyl or iron-on version? The answer really is up to you. Here are a few key factors to consider:
Cutting: Both are equally easy to cut but you do have to remember to mirror the iron-on before cutting.
Weeding: Iron-on is way easier to weed for me then sticky vinyl but you can try both and see which you find to be easier.
Transfer: This is where the iron-on really shines. The backing paper is attached so you can easily move your design to the wood with no other product required. With the sticky vinyl, you will need transfer tape as indicated above.
Application: You may be scared to use an iron or heat press on wood but I am telling you that it is easy! Try it once with one of the projects above and I think you will be hooked. You can use a small mini iron for those small or tight places as well.
Longevity: Have you ever had one of your kids pick the sticky vinyl right off of one of your projects? I can't be the only one! Iron-on is actually almost impossible to pick off so it may help extend the longevity of your wood projects.
I hope this comparison helps you decide which material to use on all of your wood projects. So, will Cricut vinyl stick to wood? Yep. Will Cricut vinyl stick to painted wood? Yep. Will Cricut vinyl stick to stained wood? Yep. But you might just want to try iron-on instead of standard vinyl. Heat transfer vinyl might just open up a whole new world of wood crafts for you!
New to Cricut?
Sign up for our email list here to download the Beginner's Guide to Cricut Design Space for FREE today!
Sign up to get the guide emailed to you!