Cardstock is a crafting staple, you've probably been using it for years. Today I'm going to talk to you about 5 Cricut cardstock options that you may not have heard of before. I have a favorite material on this list that you might not have tried and I can't wait to tell you all about it.
If you're brand new to Cricut, I recommend reading my one-hour Cricut crash course. This is a great place to start and will help you really get to know your Cricut machine.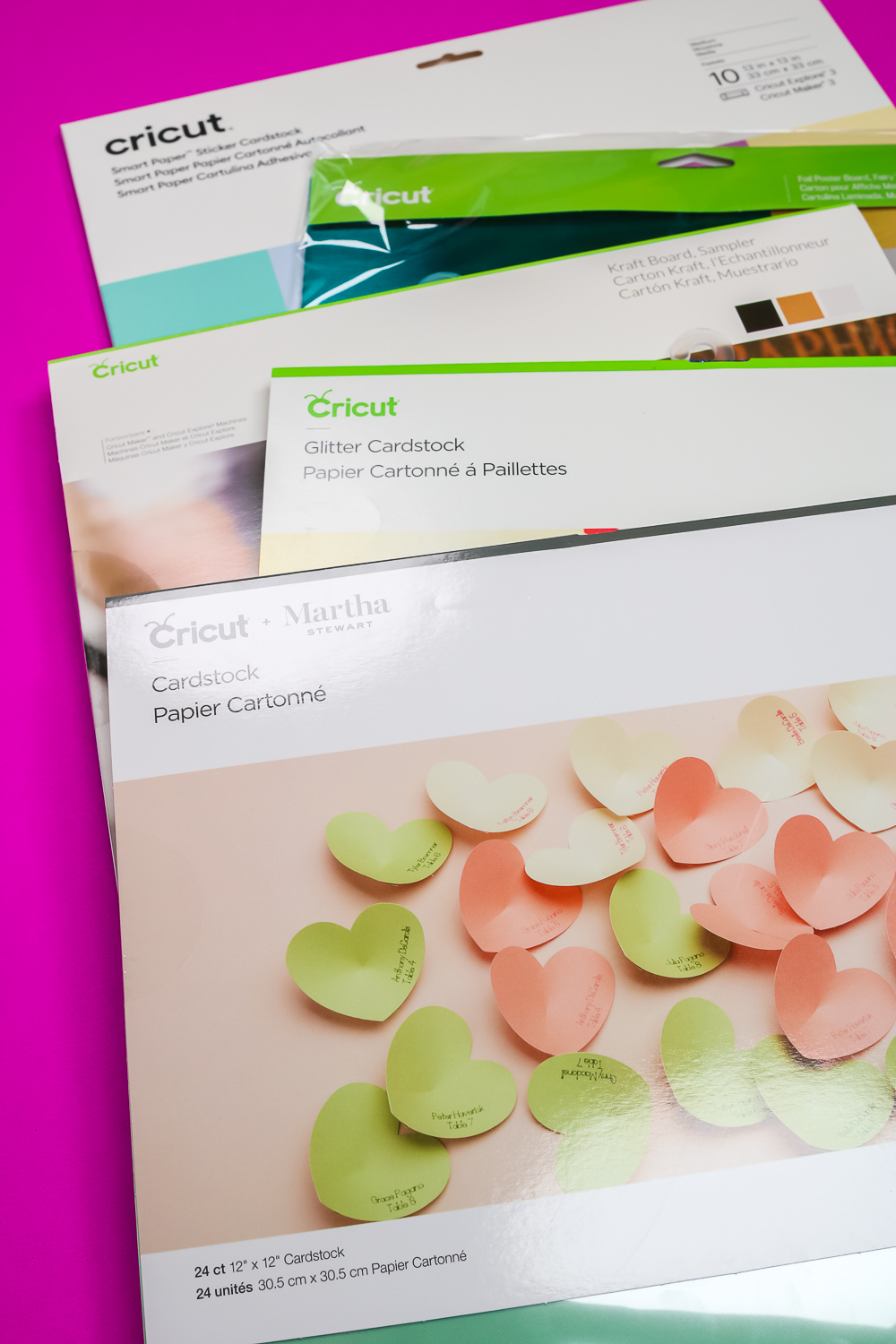 Today I am going to be talking specifically about different Cricut brand cardstock materials. I enjoy using them and find they work really well for the projects I make.
You can watch me walk through all of these different materials and the projects you can make with them by pressing play on the video below.
Cricut Cardstock
Did you know that Cricut makes a regular cardstock material that can be used for a variety of different projects? Cricut cardstock comes in a wide variety of colors, patterns, and even licensed images. You can find cardstock with Disney Characters, Marvel Characters, Hello Kitty, and more.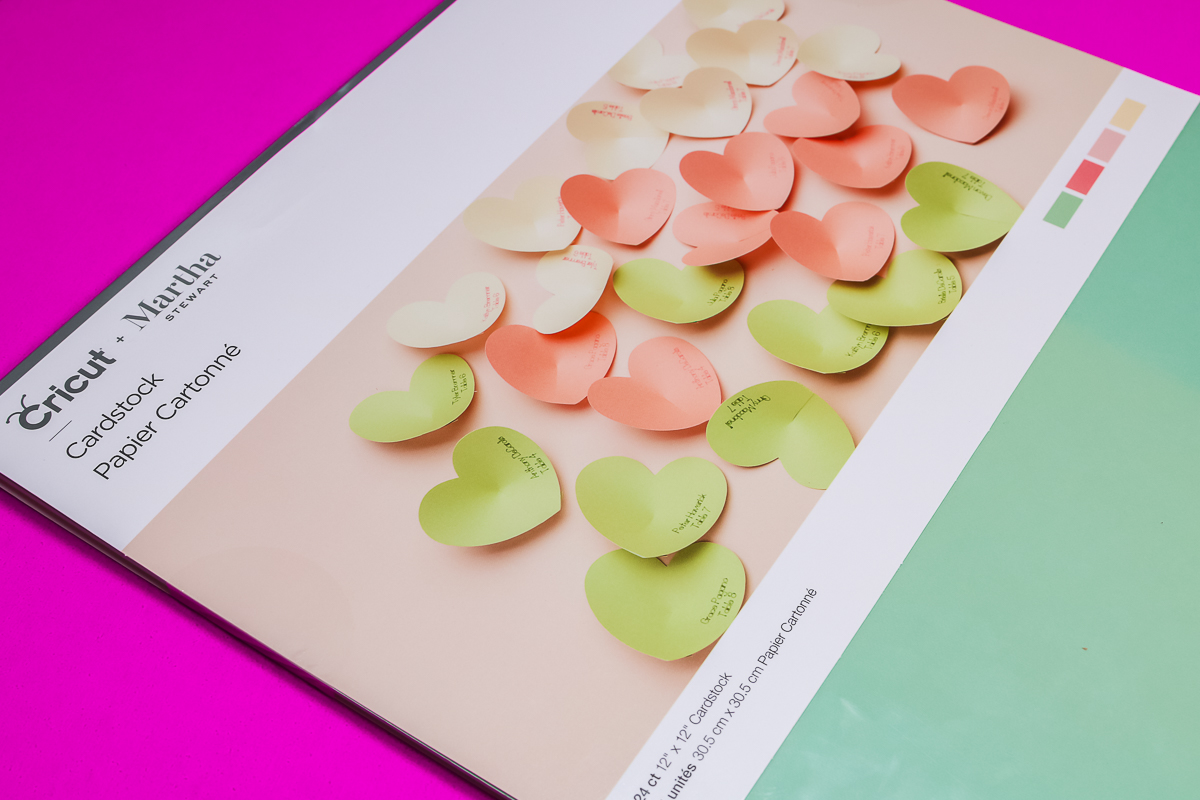 Many of the cardstock colors also come in large sizes. You can get solid colors of Cricut cardstock in 12″ x 24″ sheets of paper which means you can make large projects with those materials.
What Projects Can You Make with Cricut Cardstock?
There are so many projects you can make using cardstock. Let's look talk about some of those options.
Cards and Envelopes
If you're just starting with cardstock projects, customized cards are a great place to start. You can use your Cricut machine to cut out card designs and even envelopes.
Cricut has released card mats that work with all Cricut machines from the Cricut Joy to the Maker and every machine in between. You do not have to have a card mat to make cards with your Cricut but they do make card-making even easier.
I love that by making my own cards and envelopes I can choose the colors and styles I want and I'm not limited to what I can find in stores.
Paper Flowers
Another project that Cricut cardstock is great for is making paper flowers.
I love making paper flowers of all shapes and sizes. From small rolled paper flowers to flowers that are larger than my head. I know you will enjoy making flowers with your Cricut machine.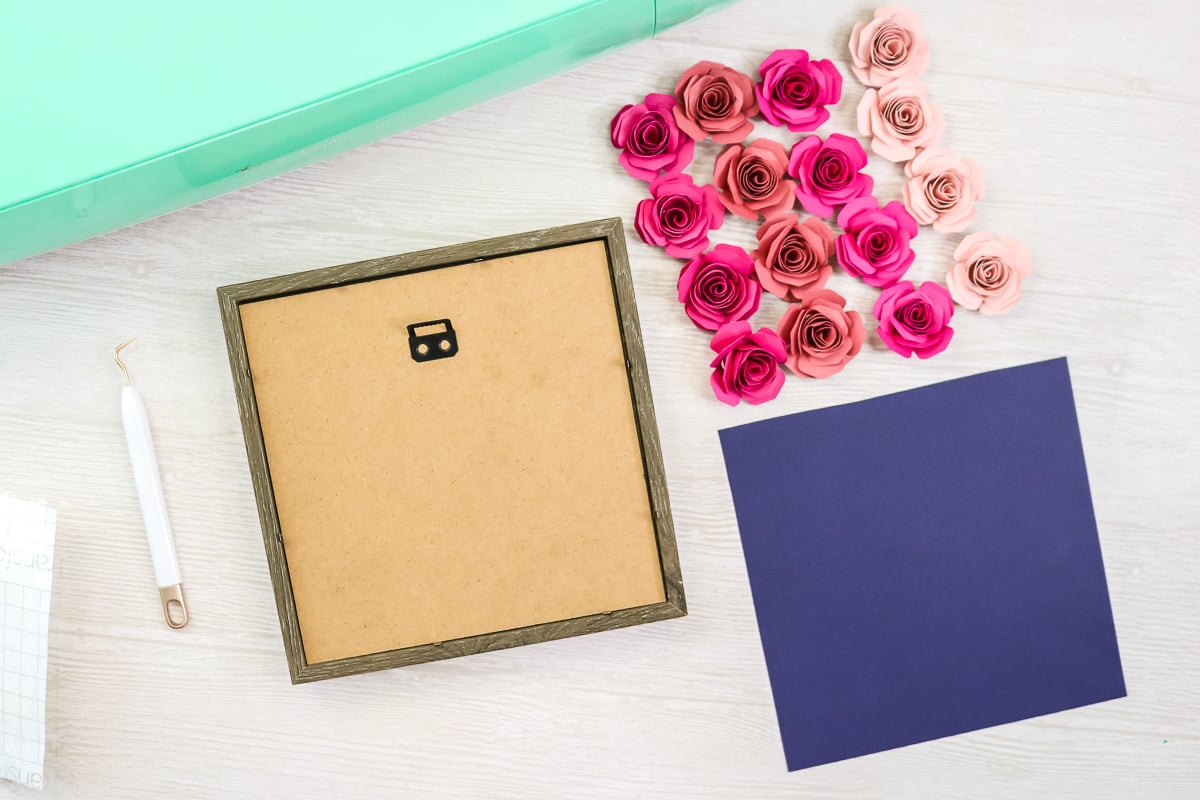 Because Cricut cardstock comes in so many different colors you're not limited in the flowers you can make.
I also really like that you can purchase Cricut cardstock in color packs. These are great for projects like paper flower shadow boxes. You can create a beautiful ombre effect and the colors will coordinate beautifully.
I've also used my Cricut to create very large paper flowers. These are so fun and are perfect to use in home or party decor. They're also a great option for photo backdrops.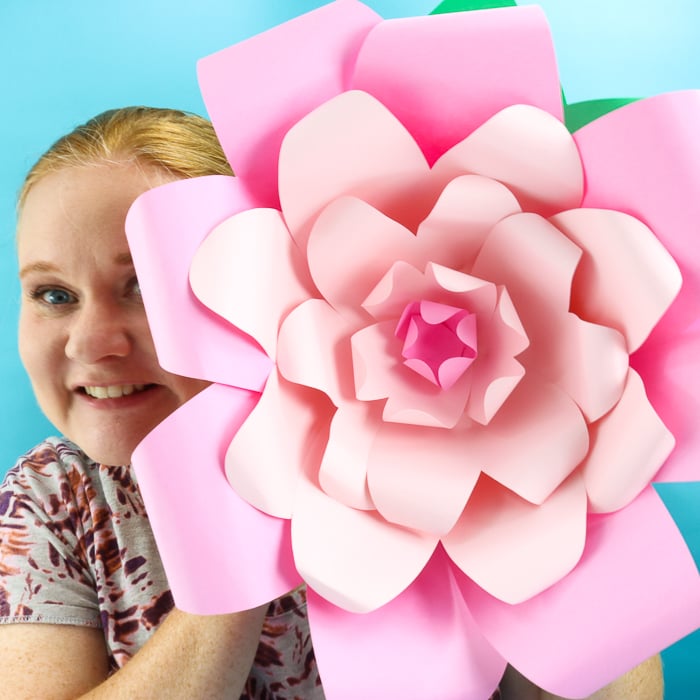 Adding HTV to Cardstock
Now that you've learned more about cardstock, let's look at a few projects that take cardstock to the next level.
Did you know you can add HTV to cardstock? I find it's often easier than using glue or adhesive vinyl. It's perfect when your design has small or intricate pieces. No more messing with sticky transfer tape or stringy adhesives.
I've used iron-on to make paper banners, cards, tags, and more. Using HTV in place of small paper pieces can be a real time saver. If you haven't already, you should try it today.
Using the Foil Transfer Tool
Are you ready to learn about my favorite use for Cricut cardstock? When it comes to using the Cricut Foil Transfer Tool, there is no substitute. Cricut cardstock is the best cardstock to use with the Foil Transfer Tool.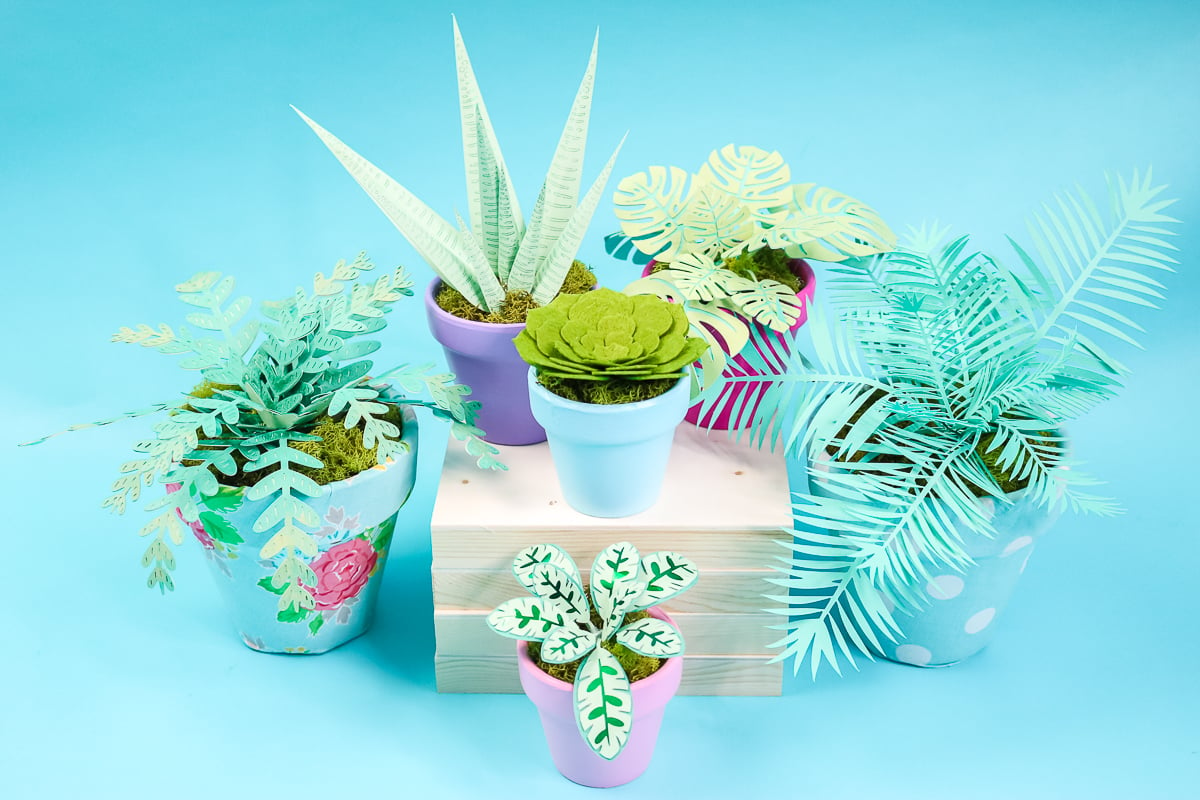 I've used Cricut cardstock and the Foil Transfer Tool to create cards, tags, and to add foil accents on paper plants. I love how this project turned out, the foil really makes the details pop.
Print Then Cut on Colored Paper
And finally, did you know you can create Print Then Cut projects on colored paper? This includes colored cardstock!
If your printer won't print on 12″ x 12″ cardstock, you can cut your paper down to 8.5″ x 11″ and then print on the cardstock.
To do Print Then Cut on colored paper, you will need a Cricut Explore 3, Cricut Maker, or Cricut Maker 3 machine. All of these machines have an upgraded sensor for Print Then Cut that allows it to read the registration marks on paper that is not white.
Being able to do Print Then Cut on colored paper allows you to make a variety of projects including games like the one I made here.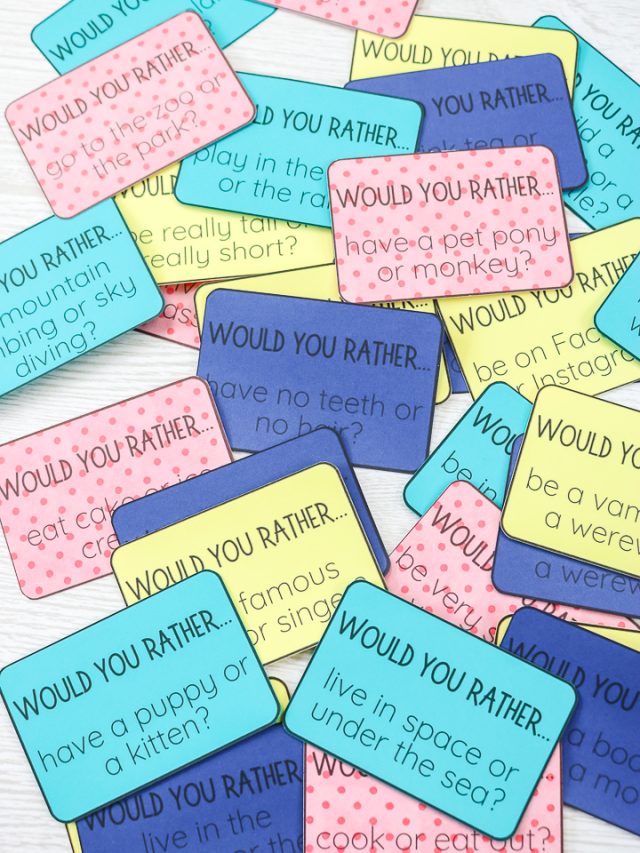 Now that we've talked about all the projects that can be made with regular Cricut cardstock let's look at some other varieties you can try.
Glitter Cardstock
If you're looking to add a little something extra to your next project try glitter cardstock.
One of the things I really like about Cricut's glitter cardstock is that when you run your fingers over it you'll notice it does not shed. A lot of other glitter cardstock brands I've tried leave glitter all over the place and I hate it. This is not a problem I've had with Cricut brand glitter cardstock.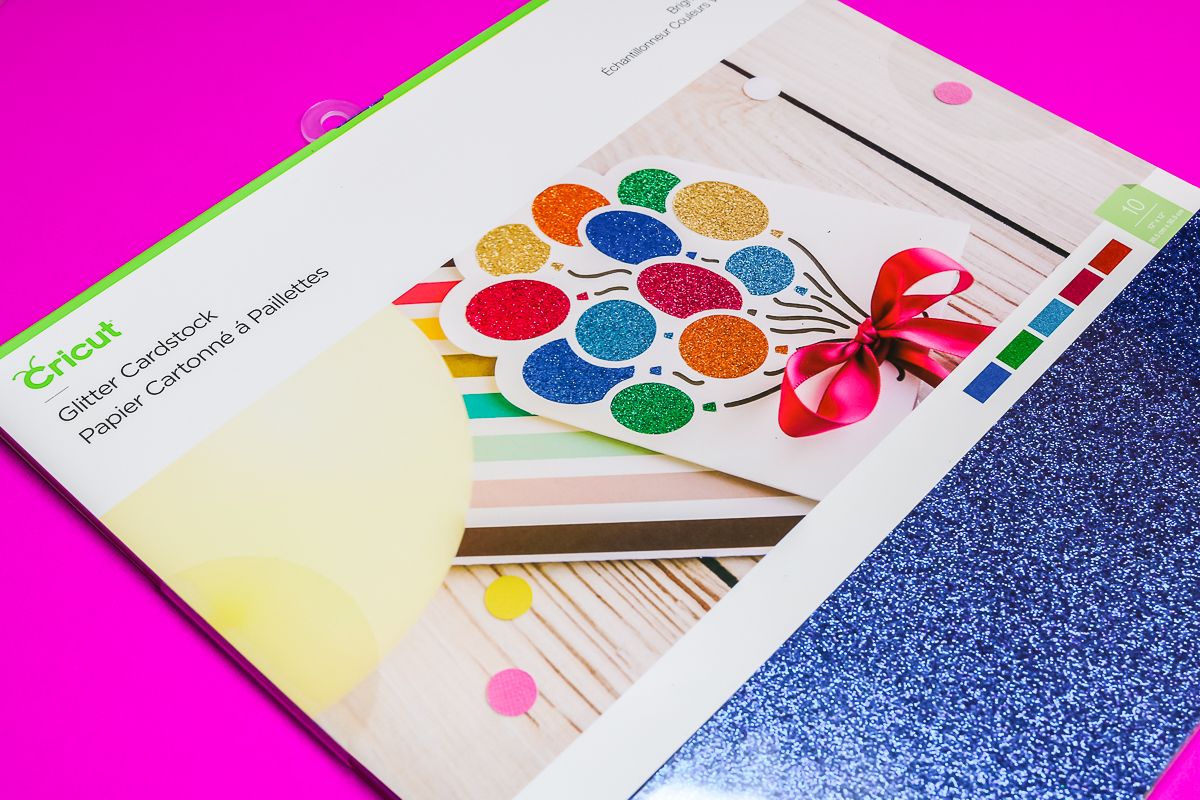 If you're wondering when you would use glitter cardstock, I'm happy to help.
First of all, you can use glitter cardstock almost anywhere you would use regular cardstock. It does work best as a top layer unless you use a strong adhesive like hot glue.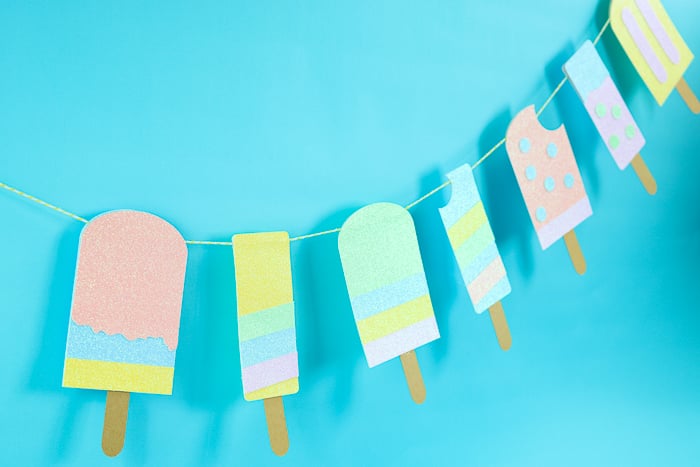 I've used glitter cardstock to add accents to cards, cake toppers, banners, party fans, confetti, and more.
I really like using glitter cardstock for party crafts because it adds that extra sparkle to make your party decor even better.
Kraft Board
Are you ready for the star of the show? My favorite Cricut cardstock product is their Kraft Board. If you haven't used Kraft Board it is a thicker cardstock material, almost like a cereal box. It comes in a few different colors and is perfect for projects that you need to stand up.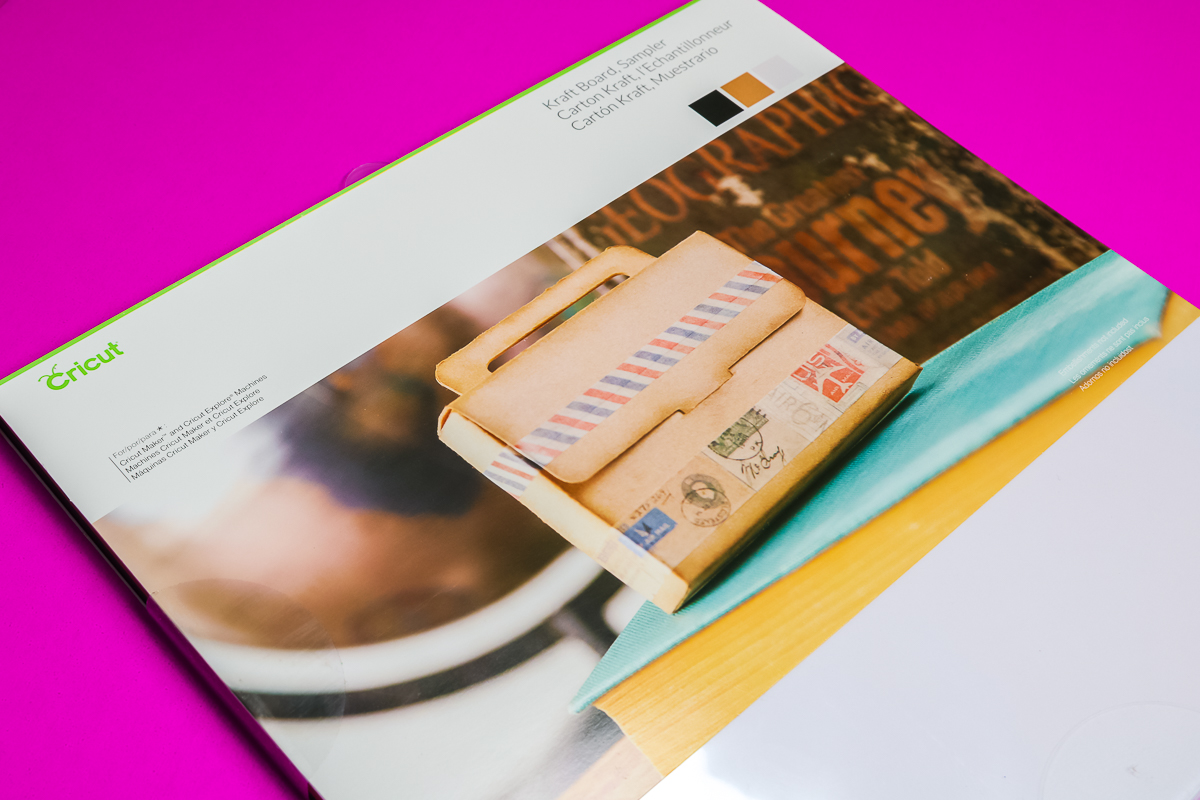 If you're creating boxes, or cards for adding jewelry, like earrings, layered cake toppers, or even home decor, you're going to love this product. While it is thicker than regular and glitter cardstock, it can still be cut with the fine point blade so it can be cut with any Cricut machine.
Kraft Board is also great for layering. You can cut out the same design multiple times and then glue them together to create a material that is like a thick chipboard.
Since chipboard needs to be cut with the Knife blade in a Maker machine this gives you the option to get that same look with other machines.
Cake and cupcake toppers are great projects for Kraft Board, no more worrying about droopy toppers that don't stand up over time.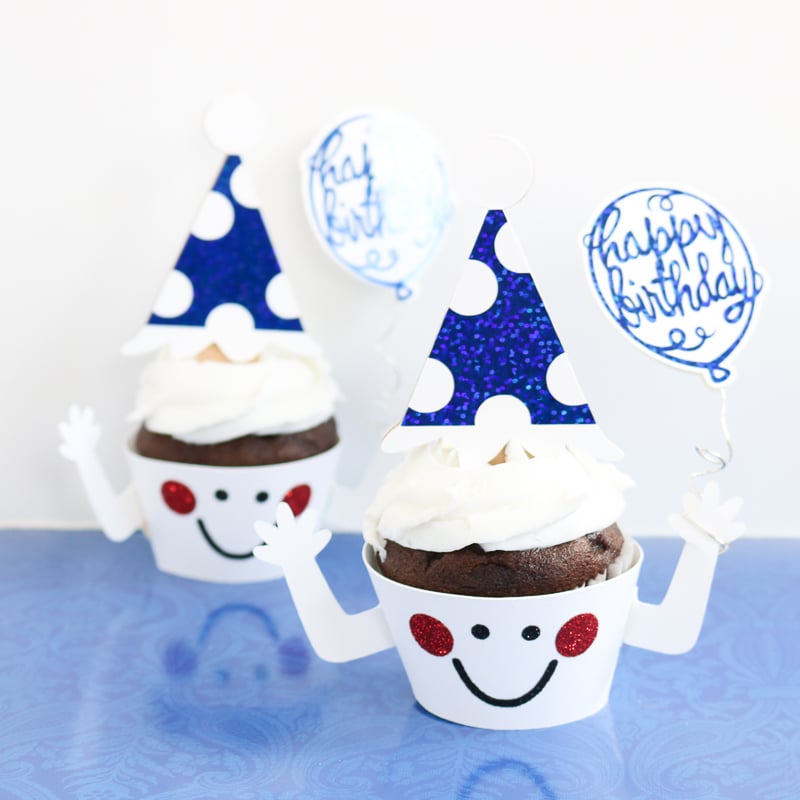 If you have a Cricut machine, I highly recommend keeping Cricut Kraft Board on hand at all times. I always keep it in my craft room because I find it useful on so many projects. Kraft Board is a high-quality, thick cardstock that can really stand up which makes it perfect for a lot of these projects.
Foil Poster Board
Cricut has another great cardstock product that is similar to Kraft Board but not quite as thick. Foil Poster Board comes in more colors than Kraft Board. It has poster board thickness and a great shimmery foil look.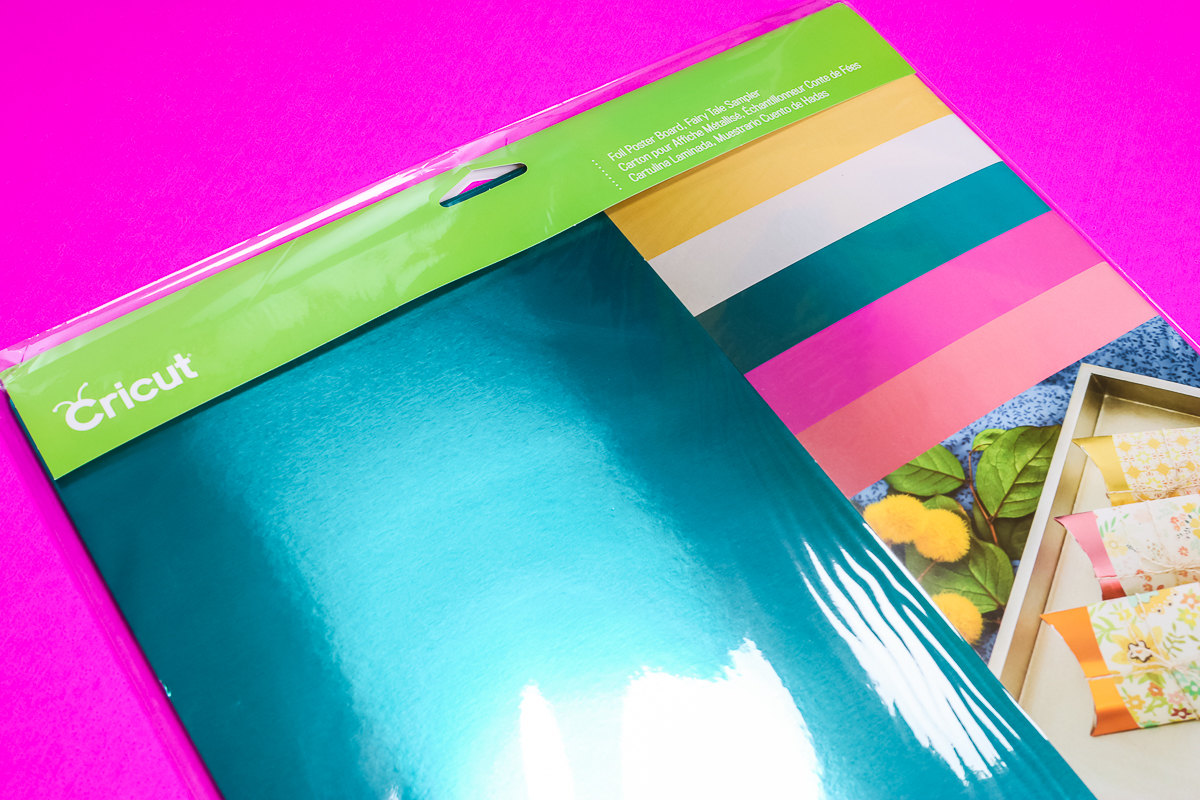 Like glitter cardstock, this is a great option for party crafts like banners, cake toppers, and even gift tags. Because of the way the foil poster board shimmers and shines in the light, it's a really fun product that you're going to love using.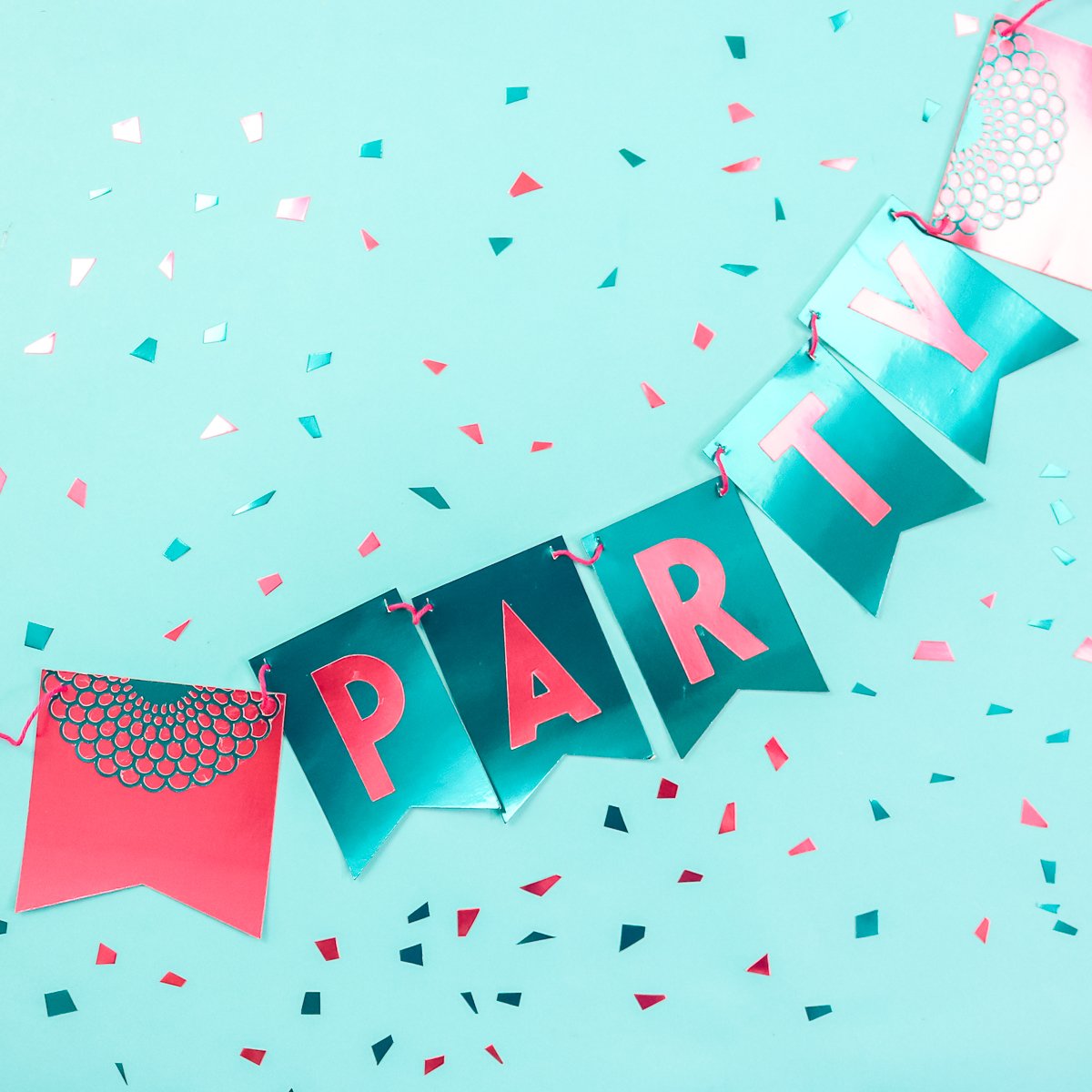 Smart Paper Sticker Cardstock
Recently Cricut released a Smart Paper Sticker Cardstock. It hasn't been around for too long and it may be a product you aren't familiar with.
Smart Paper Sticker Cardstock was initially released with the Cricut Joy. Now they have a 12″ x 12″ version that can be used in Explore and Maker machines.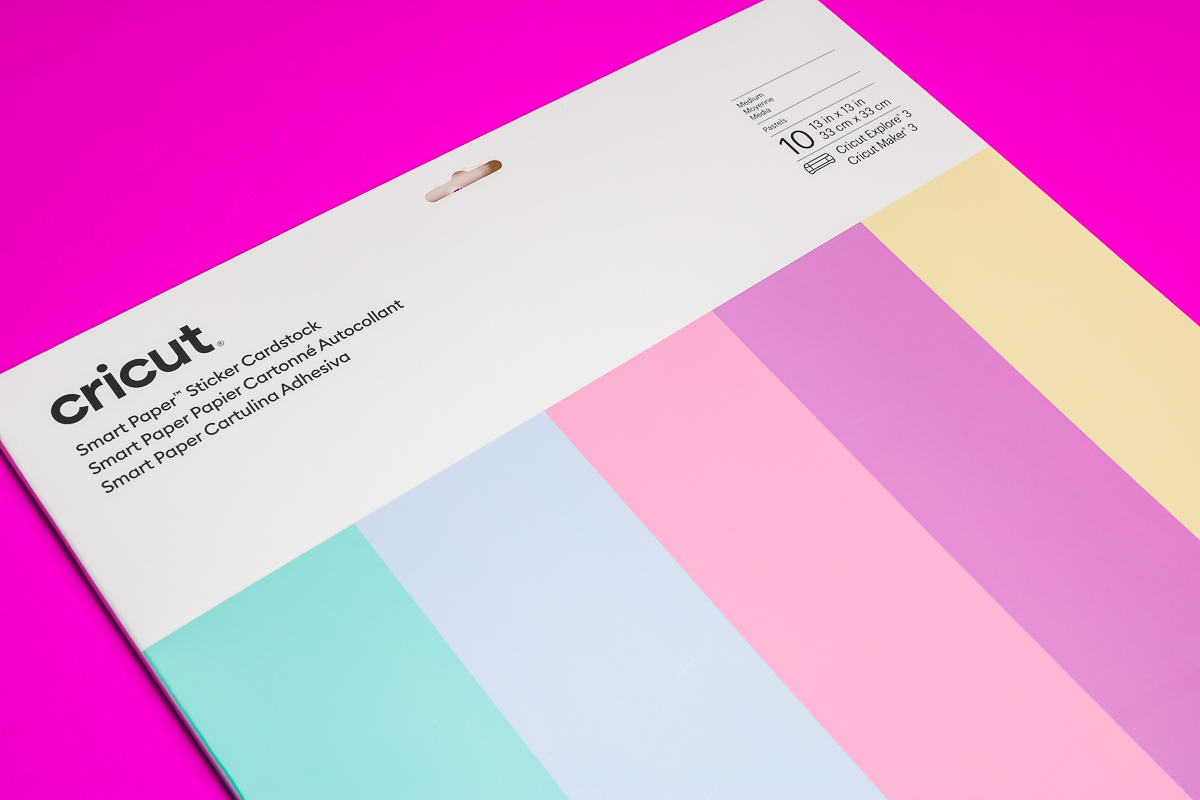 With the Joy, Maker 3, and Explore 3 machines, you can cut this material without a mat. If you have a different machine, you can add this material to a mat and cut it that way. You will need to trim the material to fit on the mat, it won't give you any problems at all.
This material is sticky on the back just like a self-adhesive paper. You can use this material any place you have a project that needs glue because the glue is already on the paper.
This is a great product for making quick and easy cards. You can easily cut out designs and stick them onto a ready-made card to create a card instantly. I adore quick and easy card projects no matter what time of year it is.
Self Stick Labels
Another great use for sticker cardstock is to use it to create labels. Sticker cardstock comes in a wide variety of patterns and in plain colors. You can draw on it with Cricut pens and cut out labels.
Peel the label back and then stick it to your surface. You can have labels literally in seconds.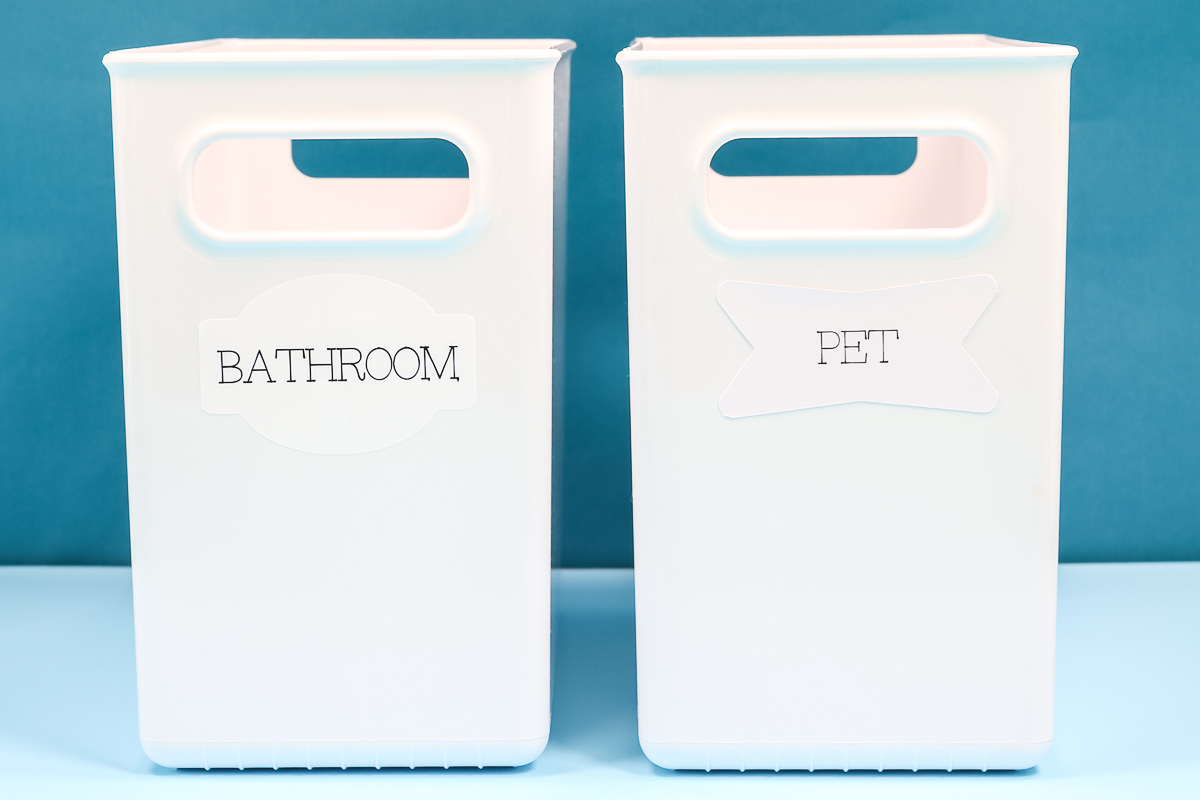 I do want to note that these labels will not be waterproof. I do have some options if you need a waterproof label. These labels would be perfect for toy bins, the craft room, and classrooms. These are great for anywhere they won't be exposed to moisture.
Where to Purchase Cricut Cardstock
I've now shown you five different options for Cricut cardstock. I hope you've learned something new to try. Here is where to purchase each of the things I have mentioned above:
Cardstock Types
Other Supplies That May Be Needed
Smart Paper Sticker Cardstock is a fairly new product that is really fun to use. Foil Poster Board and Glitter cardstock are both great for creating projects for parties or anytime you want to add a little something extra to your project.
Regular Cricut cardstock is so versatile. It comes in so many different colors and even a few different sizes. You can use it alone or along with other Cricut products to create so many different projects.
And then we have the Cricut Kraft Board. I always have a stock of this on hand because I love it so much. I hope I've inspired you to do some paper crafting and maybe try something new.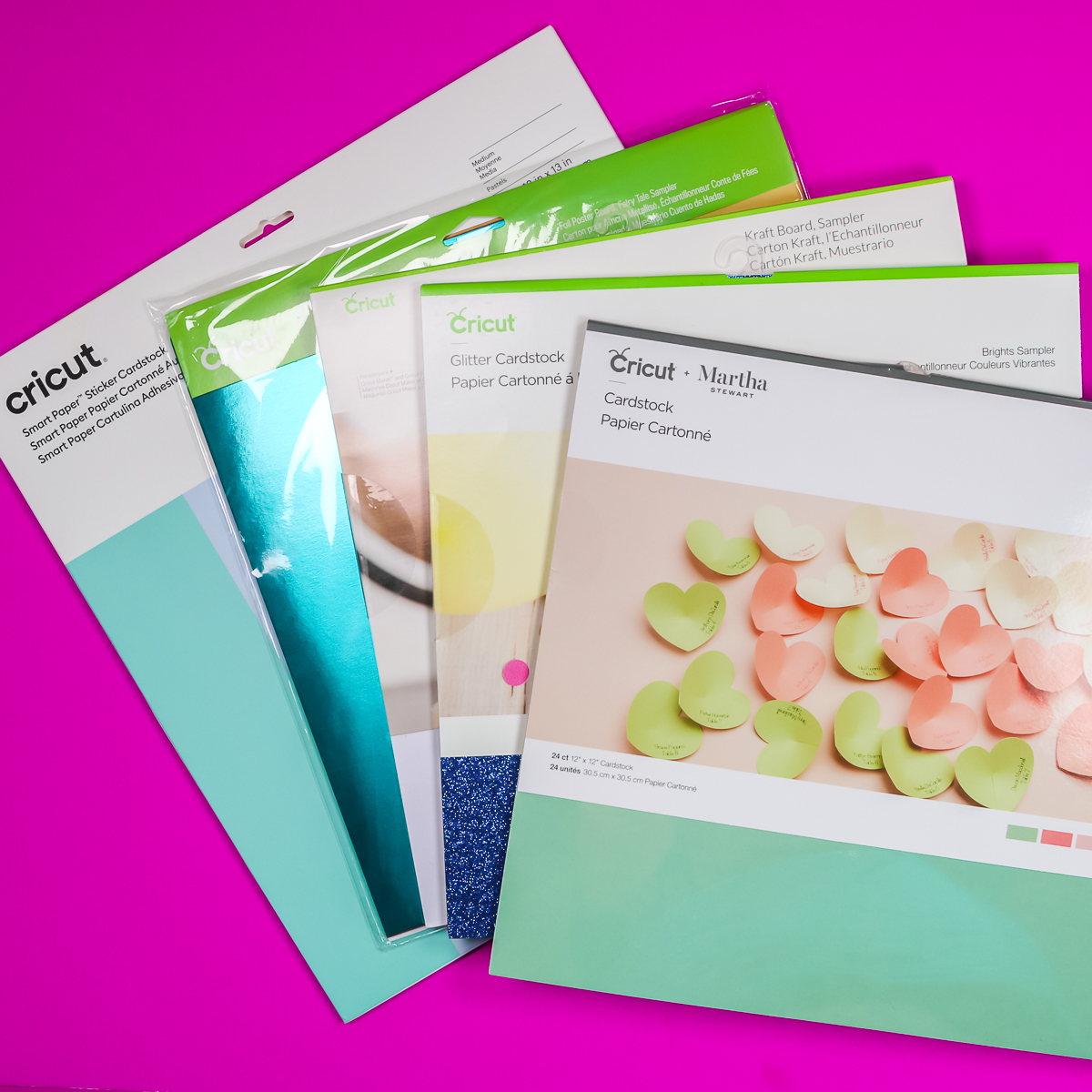 If you have any questions about any of these materials feel free to leave them in the comments and I'd be happy to answer them for you.