Add a perfect rustic DIY barnwood sign to your fall decor this year. Use this tutorial to learn how to paint barnwood style so that you can easily create your own signs and beautiful projects!
Barnwood signs are wonderfully simple and rustic. They really make a perfect addition to your home any time of the year, but my favorite time is during the fall.
Want a barnwood sign for your home? It can be time-consuming to collect one yourself. That's why I'm going to show you how to make your own sign for your fall decor with a painting technique you need to see to believe!
It's a quick and easy method that will have you making a new barnwood sign for every season of the year and every area of your home!
Case in point: this Garden Barnwood Sign, my Farmall Barnwood Sign, or go even bigger with a project like My Barnwood Christmas Mantel.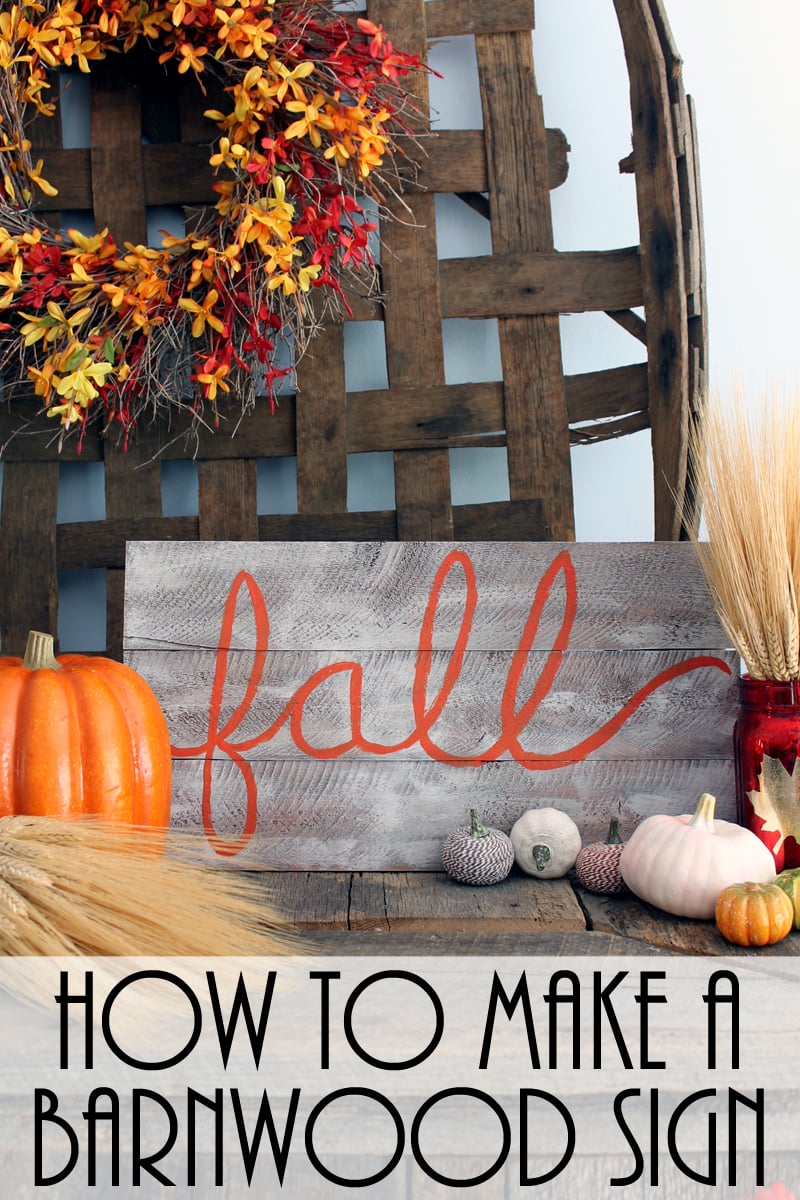 Barnwood Sign Supplies Needed
You only need 4 supplies to create this barnwood paint technique! Here's what you need:
Wood Stain (in a dark color)
Craft Paint (in white, light grey, orange, and dark grey)
Blank Wood Pallet Sign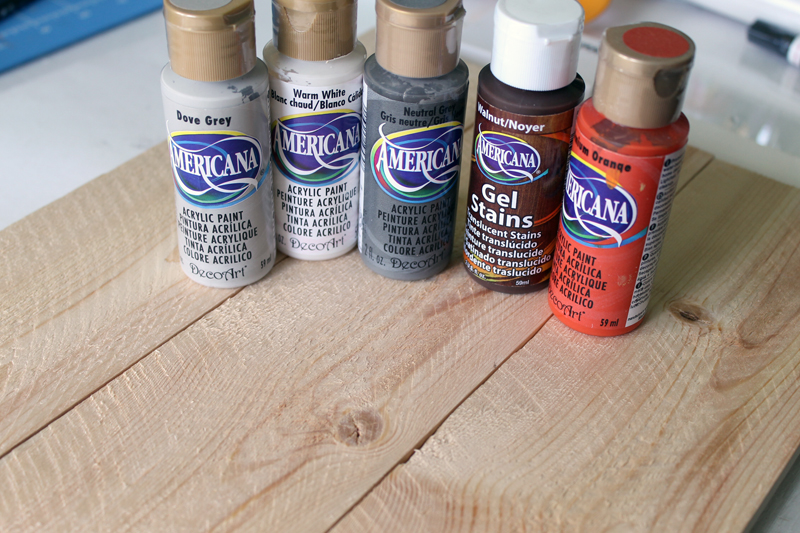 How To Paint Barnwood-Style
Before we dive into this project here's a very brief overview of the barnwood painting technique. This technique uses a dry paintbrush and you put very little paint onto it. Then, dab most of it off on a piece of paper.
Next, you run the dry paintbrush over your surface quickly so that it leaves both dark and light spots as well as spots that are not even covered in paint. Now that you know the basics, here's how to make this fun fall barnwood sign.
Step 1
Start by using this technique on your pallet sign with the dark grey paint as shown in the image below.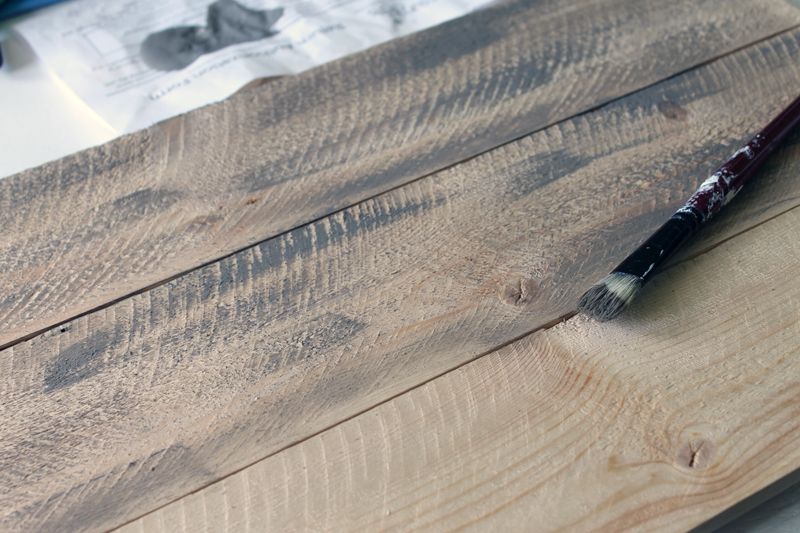 Step 2
Then, add the light grey paint on top of that using that same dry brush technique.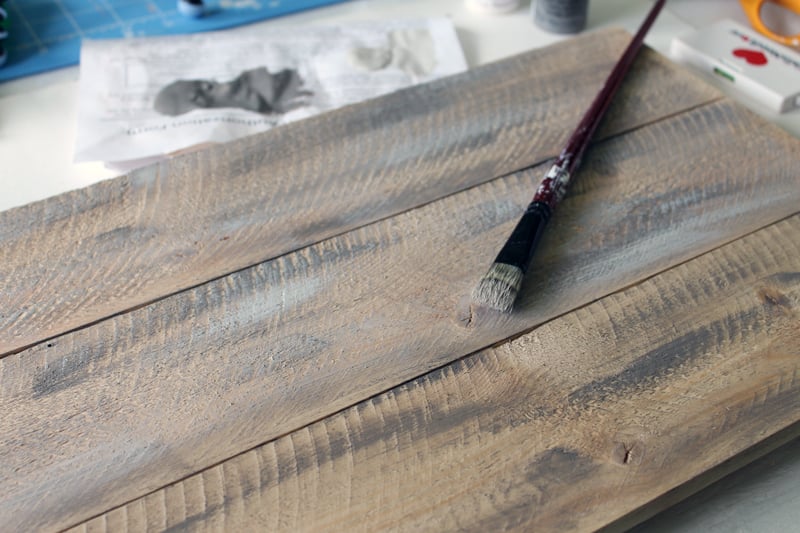 Step 3
Finally, use the same technique one more time with the white paint. You should still have some raw wood showing through at this stage. Each layer is a very, very thin coat of paint.
Also, because you are using such a small amount of paint, the layers dry almost instantly. You can therefore add all of these layers within a few minutes!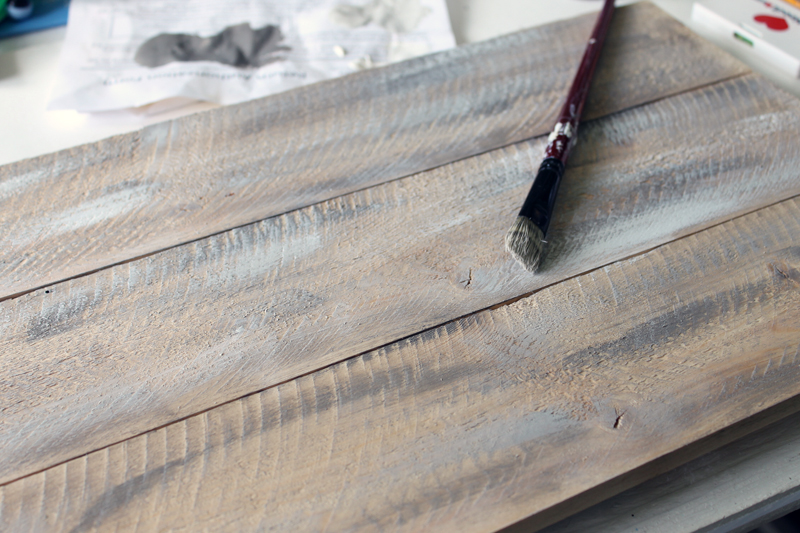 Step 4
You can now use your dark stain. Add it to the entire surface with a brush, allow to sit a few seconds, then wipe off with a rag.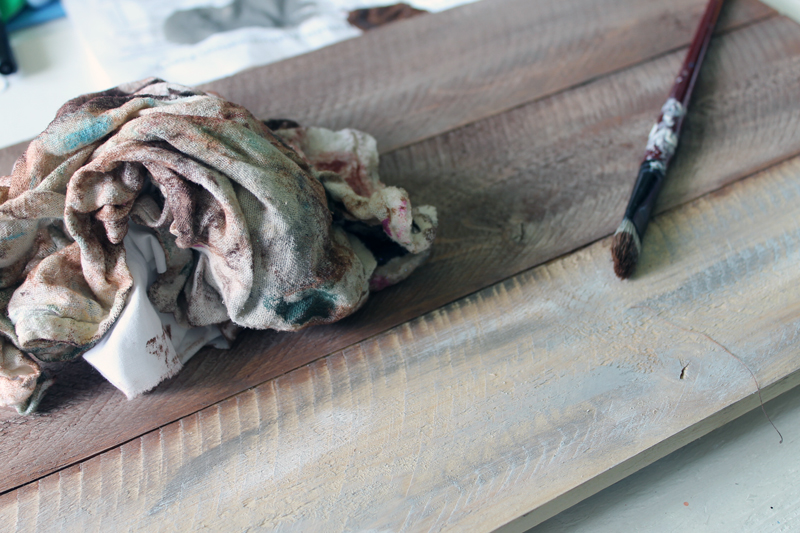 Step 5
I then repeated the dry brush technique that I did above with all three paints over the surface. This gives you a rustic rough appearance that is worn and layered. But, the great part is that this only takes a few minutes to do on any surface!
One note: Don't forget those edges when you're painting! You want to get those covered while at the same time not ruin the look of your barnwood sign.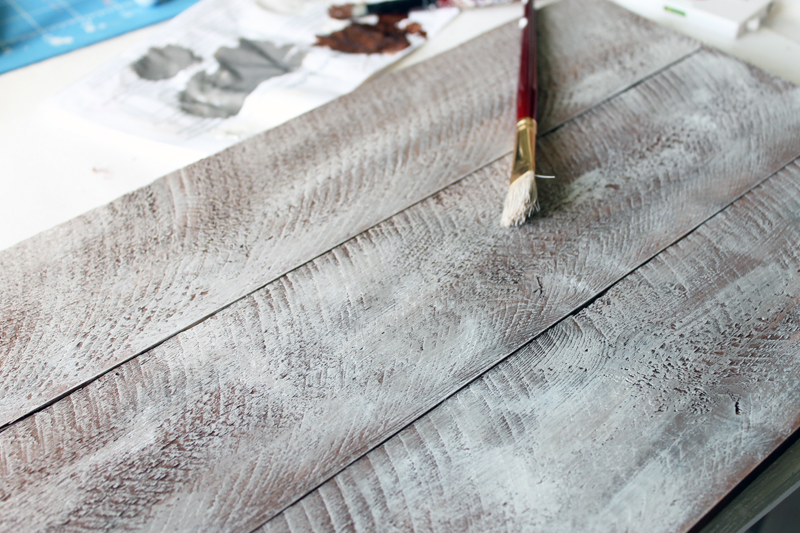 Step 6
You now have a barnwood like surface that is ready to add any design on the top. I free-handed the word "fall" but you can add anything that you like.
If you want to get better at hand lettering, be sure to check out this post for a course you do NOT want to miss!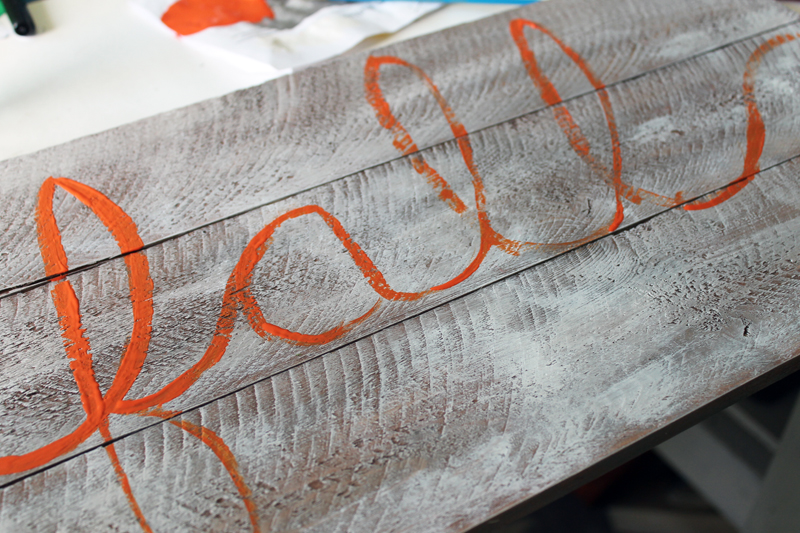 DIY Barnwood Sign Comparison With Authentic Barnwood
Ready to see how this barnwood paint technique compares with real barnwood? The sign is sitting on the real thing in the image below. You can see that mine turned out a little lighter, but overall it is a good representation!
If it comes to buying an expensive barnwood sign or making my own DIY version, I'll make my own every day of the week.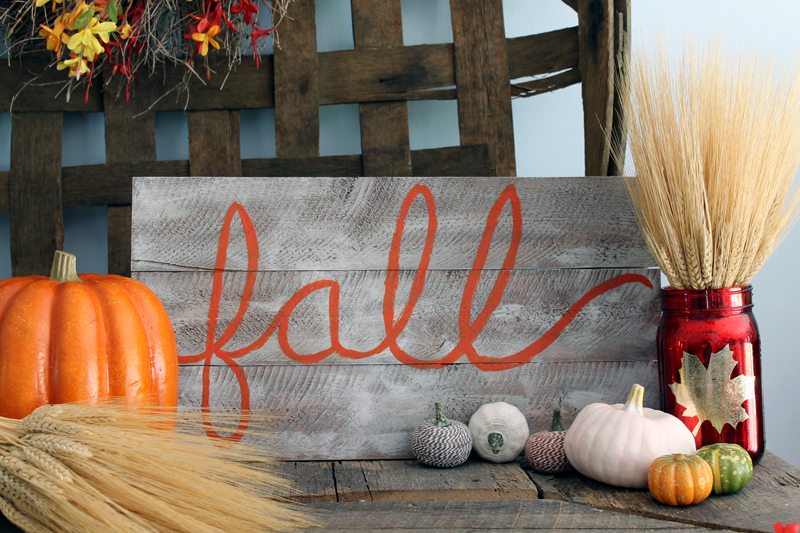 If you want to create a very similar arrangement to this one, make the metallic leaf mason jar that is shown above or the baker's twine pumpkins, too! They'll really complete the look!
I feel confident that you'll be amazed at how quick and easy this project is. It's one of those that techniques that over-delivers!
Grab your craft paints and make your own barnwood sign today. You will love the results, I promise.
Will you put it on your door, your wall, or your mantle?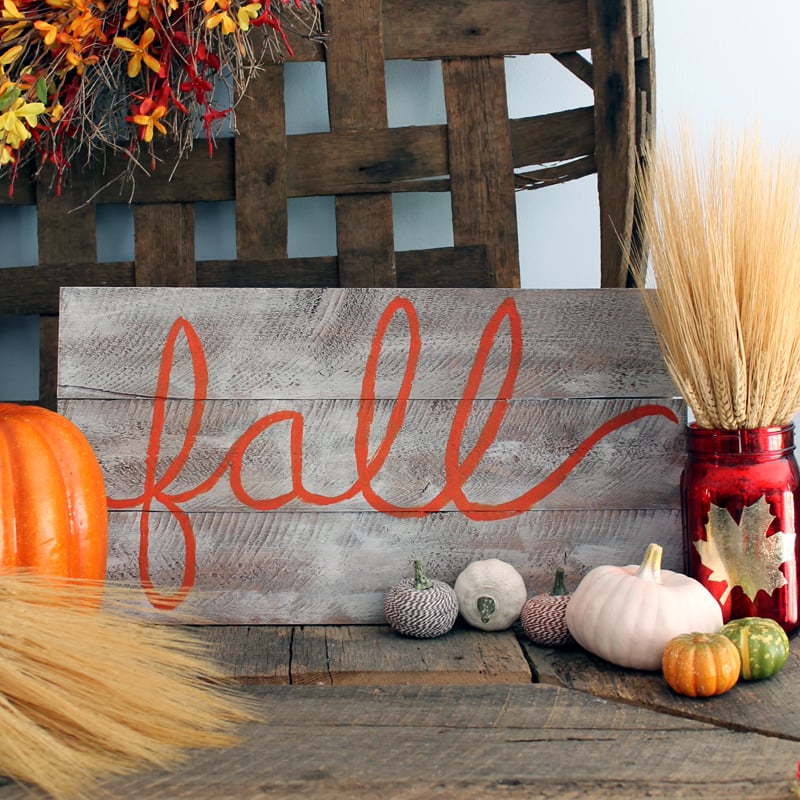 Love This Barnwood Sign? More Fall Crafts You'll Love
Love this barnwood sign idea and want more? Try the links below!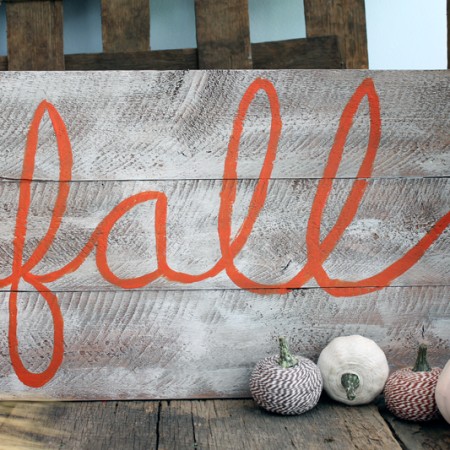 DIY Barnwood Sign Painting Technique
Make your own DIY barnwood sign for any occasion or reason. It's easy, simple, and affordable!
Supplies
Wood Stain

dark color

Craft paint

white, light grey, orange, and dark grey colors

wood pallet sign
Instructions
Put a small amount of dark gray paint on your dry paint brush. Then run the dry paintbrush over your surface quickly so that it leaves dark spots, light spots, and spots not covered in paint.

Repeat the same process with light gray paint.

Repeat the process one more time with white paint.

Brush on the dark stain, let it sit for a couple of minutes, and wipe it off with a rag.

Repeat the dry brush painting technique with the dark gray, light gray, and white paints again.

Use your orange craft paint as you freehand the word "free" on the sign.
Tried this project?
tag us to show off your work!