Making DIY lotion allows you to customize it any way that you want, and it's surprisingly easy to make. This collection of DIY lotion recipes has something for everyone – plus a jar of lotion makes terrific gifts!
Most people buy tubs of lotion from the store, but DIY lotion is actually really easy to make. Plus, it contains only natural ingredients rather than a bunch of manufactured chemicals you can't pronounce.
You will love the results it has on your skin and the fact that you are eliminating chemicals from your home! That, my friends, is a win-win….don't you think? Plus, remember that items like homemade lotions will also make great DIY gift ideas for friends, holidays, housewarmings, and Mother's Day too.
Note: If you love making homemade bath and body products, be sure to also check out our Bath Salt Recipe, Essential Oil Bug Spray, and Simple Eye Makeup Remover.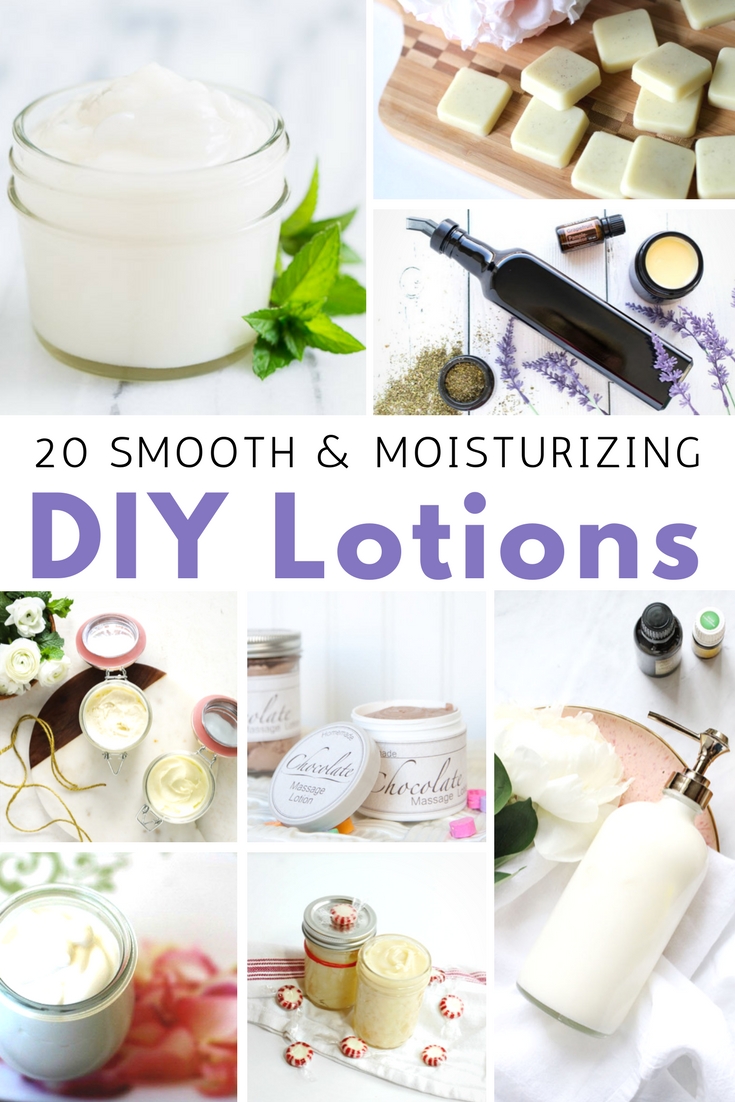 20 DIY Lotion Ideas To Make Skin Feel Luxurious
Today we have over 20 DIY lotion recipes to make right at home. Grab your supplies and get started making your own all-natural beauty products. Enjoy!
This easy homemade lotion absorbs into the skin and hydrates continuously thanks to aloe vera gel combined with coconut oil. It's a simple DIY that you can personalize by changing up the essential oil to keep skin nice and smooth.
These are so much fun and perfect for the mermaid-lover in your life. Since they're colored and filled with pearls, they make for great mermaid-themed decor. But they're also super hydrating and fun to use.
Whip up this silky smooth DIY homemade lotion in just minutes using all-natural ingredients like coconut oil, shea butter, and essential oils to make it whatever scent you like. It's super soothing for even the driest skin and includes options for thinner lotion texture or thicker hand cream.
Learn this small batch technique, so your DIY lotion is always fresh. All you need are a few simple ingredients and quick use of an immersion blender.
Thick and creamy like body butter, this simple DIY shea butter lotion recipe uses just three ingredients to make a non-greasy, 100% natural moisturizer for ultra-smooth skin.
Skin that's moisturized heals faster (and better) than dry skin does. But, most lotions just moisturize. This DIY lotion helps diminish scars and fade blemished skin because it has powerhouse ingredients like wheat germ, vitamin E, and aloe vera.
This DIY lotion recipe includes peppermint and rosemary for a stress-relieving lotion that makes all the tension from the day float away.
Peppermint essential oil holds many beneficial properties, including being soothing, helping skin repair, and smelling terrific. Made with all-natural and inexpensive ingredients, this recipe is great all year-round, but it's particularly helpful during the cold, dry winter months.
Coconut oil and Vitamin E come together in this recipe to create a powerfully soothing combination. Two ingredients are all you need!
Shea butter effortlessly soothes dry skin without the greasy feeling. While most store-bought lotion products contain a tiny amount, this DIY lotion puts it front and center for maximum results.
Like all the options on this list, this one is so simple and pure that it's perfect for a baby's skin to make it soft and silky smooth.
Here is an easy homemade hand lotion that will cure that dry skin problem so your skin thanks you later! It's perfect for rough hands that spend a lot of time cleaning. Remember that you can add your favorite essential oils to create scents you love.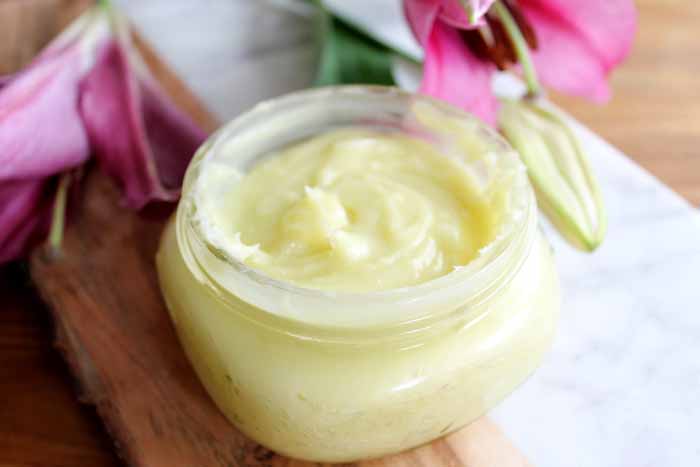 Since there are no harsh chemicals in this recipe, you can use this homemade coconut oil lotion anywhere, including your legs, feet, face, or preggo belly! It's a breeze to make, smells terrific, and makes a great gift idea.
Lotion bars will transform your skin moisturizing experience! After finishing your shower, simply take the solid lotion bar and smooth it over the areas needing moisture. The lotion glides on, absorbs quickly, and seals in moisture all day for soft skin you'll love.
This DIY lotion recipe uses whipped coconut oil to eliminate unwanted clumps and create a lotion that's silky smooth and absorbs right into your skin.
This DIY lotion is a treat for the skin and the nose! It smells just like your favorite chocolate treat, which makes it great for Valentine's Day or any day.
This one is perfect for poison ivy and bug bite season! Calamine lotion is one of those topical skin treatments that act as an itch reliever and helps make rashes and hives heal faster. This natural version is easy to make.
This DIY lotion recipe takes only 10 minutes to make. Plus, it's so nourishing that you only need to use it a little at a time, so one batch lasts a long time.
This naturally ultra-moisturizing recipe uses simple organic ingredients to make a DIY lotion you won't want to live without.
If you have dry skin that nothing else seems to help, this DIY lotion recipe contains nourishing ingredients, including essential oils to help trap moisture and revitalize even the driest winter skin.
These little lotion bars are convenient enough to take with you when you leave home and need a boost of moisture.
More DIY Inspiration
These are great, right? The homemade lotion has never been easier to make! If you love these recipes, you might also like our collection of handmade beauty products. Between the two collections, you will have gift-making covered!
Also, be sure to check out: