Iron-on vinyl is one of my project go-to's because it is so easy to work with and makes quick work of creating fun designs. Today's tutorial will show you how to use iron-on vinyl to make an easy DIY 'Kiss the Cook' apron!
Wearing an apron while cooking was made popular decades ago. Although we don't seem to hear about it as often as we once did, I still love wearing an apron to keep those inevitable splatters off my clothes.
Today, my friend Jen Goode is back with an awesome apron project. She uses iron-on vinyl to create a Kiss the Cook apron that you'll love to wear yourself or gift to your favorite chef as a DIY gift.
Always kiss the cook because they work hard to cook the food you'll enjoy! I'll show you how to make this easy iron-on vinyl apron design in just a few steps.
Note: If you want even more iron-on vinyl inspiration, I've got you covered! I love using this crafting material in all types of projects, including our Iron On Shirts, Custom Notebook Gift Idea, and Make a Farmhouse Wreath with Iron-on project ideas.
Let's get started on today's craft.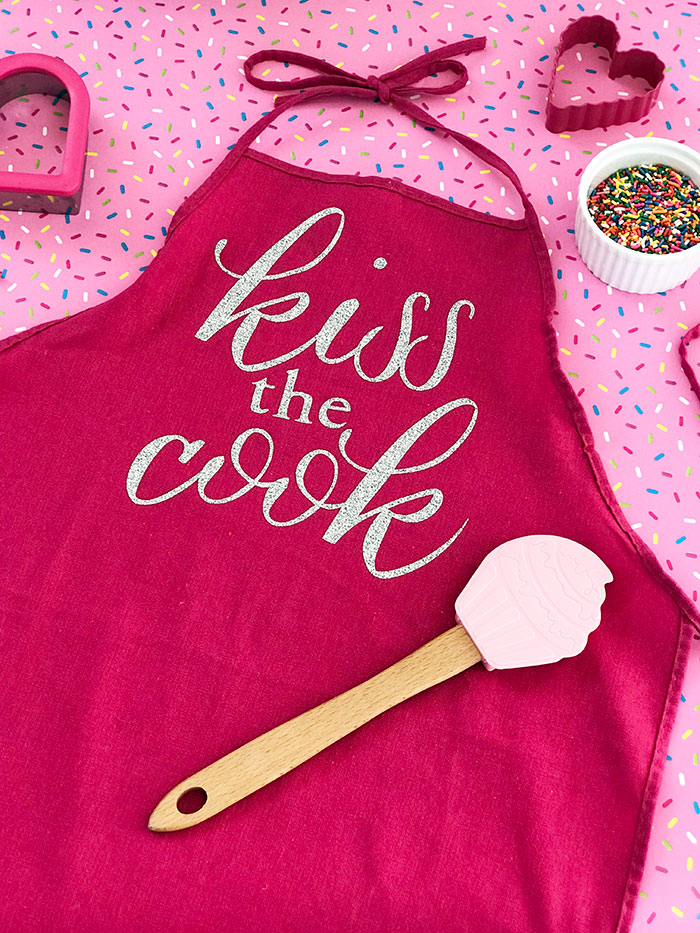 Easy DIY Kiss the Cook Apron
You can make this Kiss the Cook apron in minutes, seriously, maybe 10 minutes (at the most)! I've already set up a Cricut Design Space canvas to help you get started. Grab your favorite iron-on vinyl and a blank apron. Then let's make this fun project together.
Supplies Needed
Here's everything you'll need to make this DIY apron project! I've included some handy links to make finding certain items a little easier and faster.
Blank cotton apron
Cricut Design Space
Kiss the Cook text layout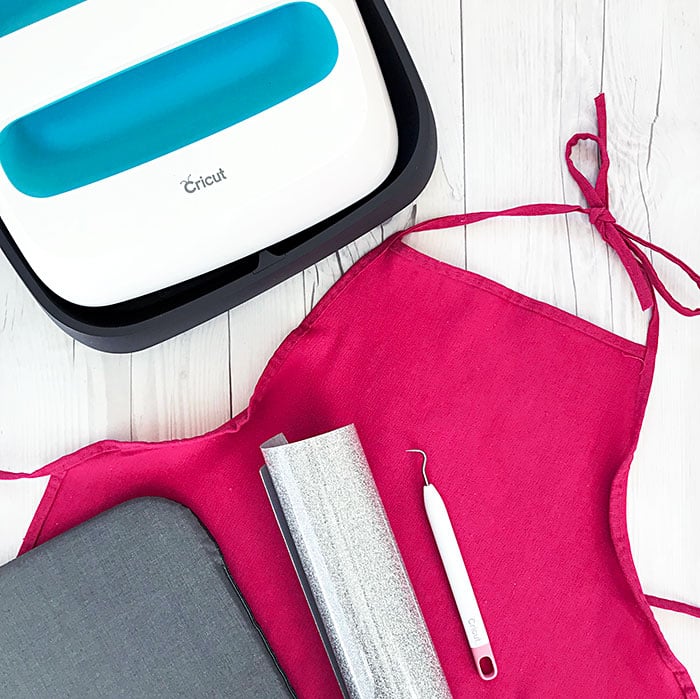 Instructions
This apron project is super simple. In just a few steps, you'll create an apron of your own! Here's how to do it.
Step 1
Using your Cricut machine and Cricut Design Space, follow on-screen instructions to cut the text design from the vinyl.
Note: Don't forget to set the cutting mat to "mirror" before you cut the vinyl. This will reverse the letters so they iron on correctly.
Step 2
Use your weeding tool to remove the vinyl from the loops and closed insides of letters.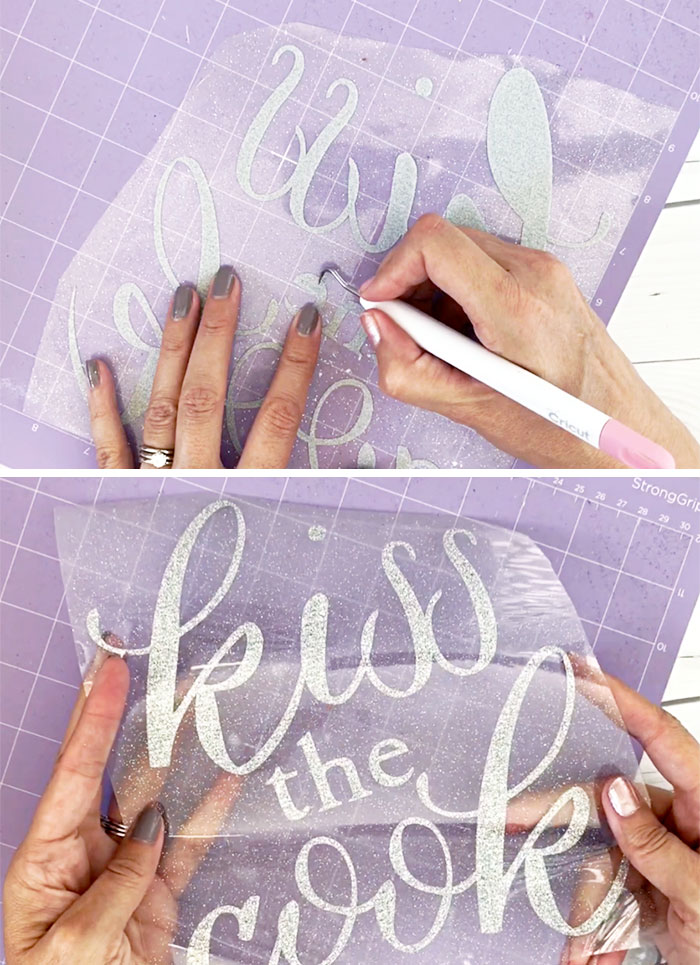 Step 3
Using your iron or EasyPress, iron the text design to the apron.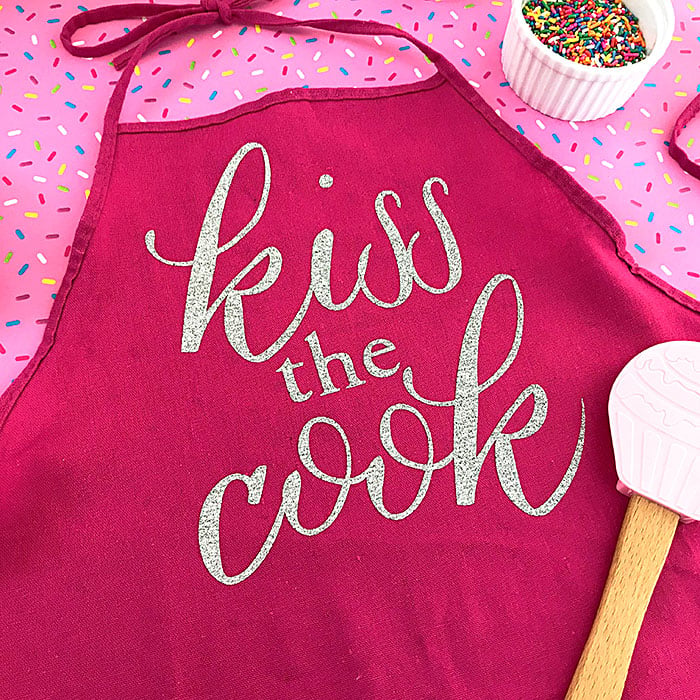 That's it. It doesn't get much more simple than two little steps, right?
This silver iron-on glitter is fantastic. It's thick enough to make it really easy to work with and displays a ton of sparkly glitter. Look at how pretty this is!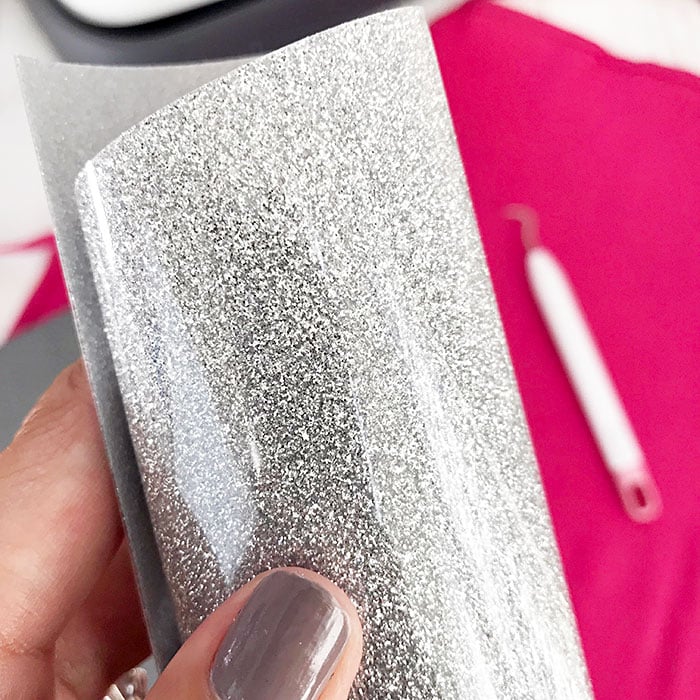 FAQs
Here are a couple of questions that I see readers ask about making this kitchen apron project. If you have a question, please check to see if I've already answered it below. Don't see your question? Leave it for me in the comments!
How can I personalize this design for my cook?
I used this amazing super sparkly glitter iron-on vinyl. You can do the same or pick a different favorite color.
Have fun playing around with colors – including colors for the apron!
You can also use this design to create a cute, personalized t-shirt.
If you want to get fancier with your apron design, you can "detach" all the words from each other in Cricut Design Space and set them to different materials or colors. Or, position them with different spacing. You can also add extra embellishments to the apron for a fun, personalized look!
Can I use an iron if I don't have an EasyPress?
Yep, you sure can. It is worth noting that I've worked with both products for many years and have found that at some point irons stop heating evenly.
The thing that I love the most about the EasyPress is that it combines the speed of a heat press with the convenience of an iron.
Once you set your time and temperature on the EasyPress, all you have to do is apply light pressure while the machine does its countdown. Then sit back and enjoy the professional results you receive every time!
A Fun Gift Idea For Your Favorite Cook
You can make this customized apron for your favorite chef and include a few other goodies to make the perfect gift idea.
It would also make a great addition to a gift basket! Think about adding a selection of gourmet spices or fancy baking supplies. Add in a couple of mixing spoons or a spatula, and then wrap it all up with baker's twine and a bow. Your kitchen guru will love it!
Check out these other cute Cricut crafts for the cook or the kitchen:
I hope you have fun making this Kiss the Cook apron. It's such a cute gift idea, you'll want to make one for yourself! Plus, it makes a great gift for your favorite cook or a special treat for yourself.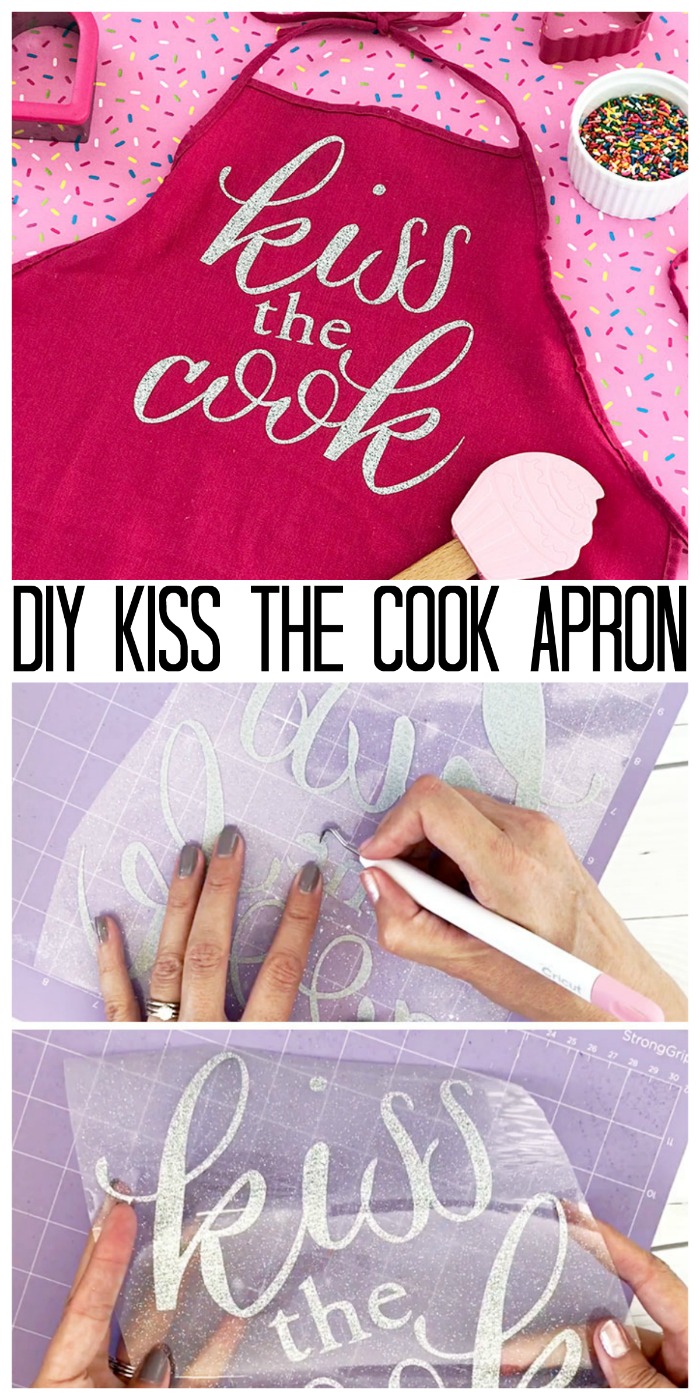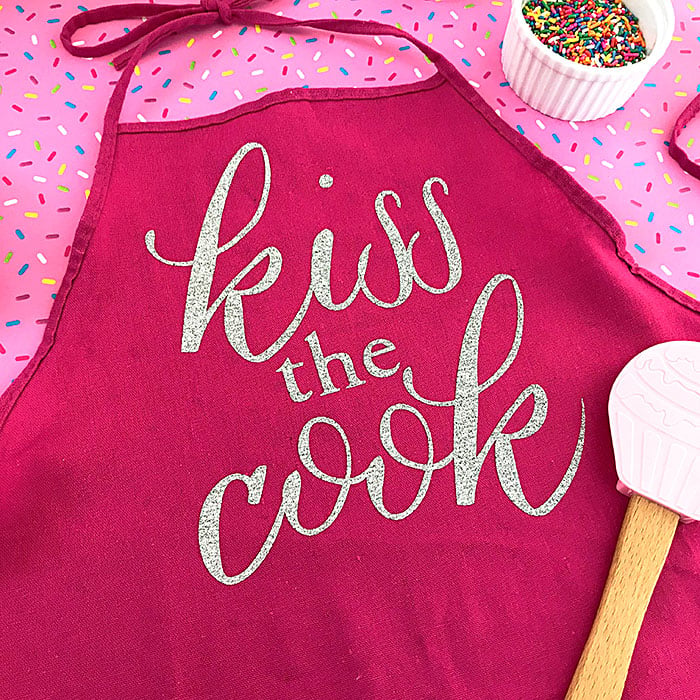 DIY Kiss The Cook Apron
Make this quick and easy project as a gift for your favorite chef or as a treat for yourself. It also makes a great addition to a themed gift basket!
Supplies
Blank cotton apron

Cricut Design Space

Kiss the Cook text layout

EasyPress

or iron
Instructions
Follow the instructions within Cricut Design Space to cut the design from your vinyl with your Cricut machine.

Make sure to set the cutting mat to "mirror" before you cut the vinyl.

Remove the vinyl from the closed sections of the design with your weeding tool.

Press the text design to the apron with your EasyPress or iron.
Tried this project?
tag us to show off your work!
New to Cricut?
Sign up for our email list to download the Beginner's Guide to Cricut Design Space for FREE today!
Sign up to get the guide emailed to you!