If you're planning to decorate for Halloween this year, you need a trusty go-to Halloween banner for your home! Learn how to make this easy cute DIY Halloween banner that has just the right amount of spooky.
I wait all year to decorate for fall and then Halloween. Although one of my favorite places to decorate is my mantle, I'll take shelves as a close second. There's just so much you can do with flat surfaces like that!
Spiderwebs are always fun. Wood signs, ghosts, and candles or luminaries add a special Halloween vibe. But garlands and banners…now, they're my secret decorating weapons. They're a cinch to make and add that final must-have touch to your decorating efforts.
Today, I have a Halloween banner for you that you'll love. It's a quick and easy craft that is just too cute!
Note: If you love quick and easy Halloween decor, try making my DIY Halloween Spiderweb Wreath, Halloween Potion Labels, and DIY Halloween Vase with a Skeleton Hand!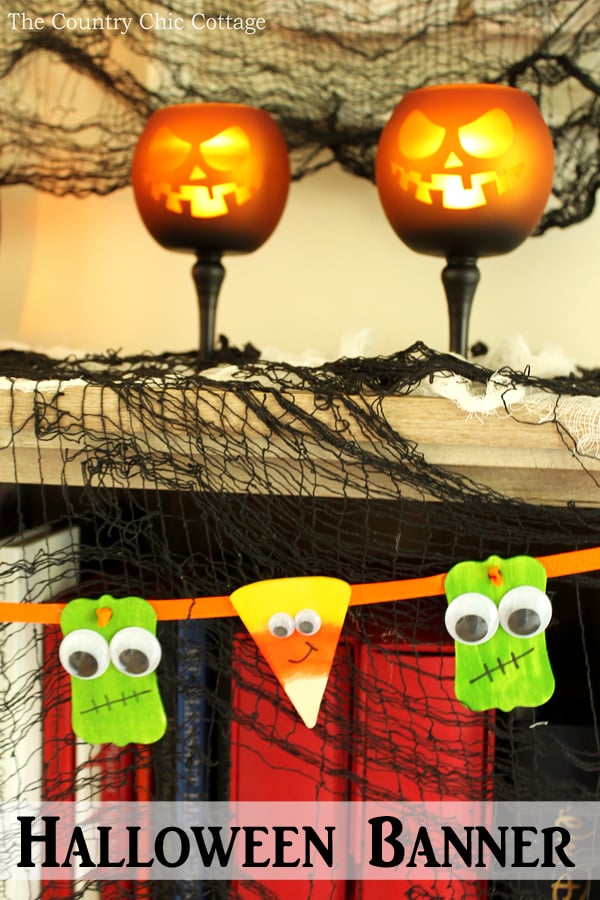 Supplies Needed To Make A Halloween Banner
This Halloween banner project is super easy to make and a great kid-friendly craft to make. I've included a list of everything you'll need for this Halloween banner project and even added links for some items to make finding them easier.
Note: Some links below are affiliate links, which means that you do not pay any extra but a portion of any purchase will go to this site.
Now let's make this quick and easy Halloween banner!
Supplies Needed For The Frankenstein Characters:
Wood tags (I got mine from Pick Your Plum a while ago)
Green Marker
Black Marker
Hot glue and glue gun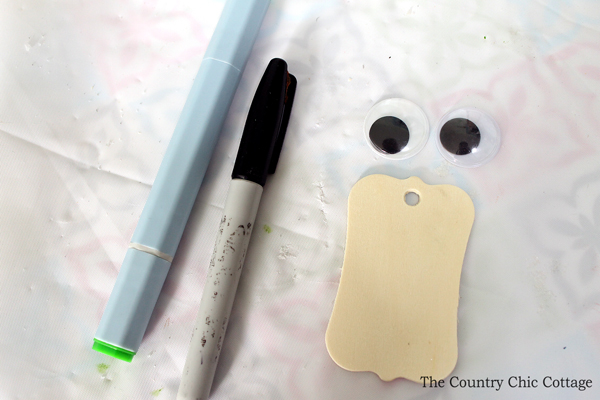 Supplies Needed For The Candy Corn Pieces:
Yellow and orange markers (mine are watercolor markers)
Black marker
Water (optional)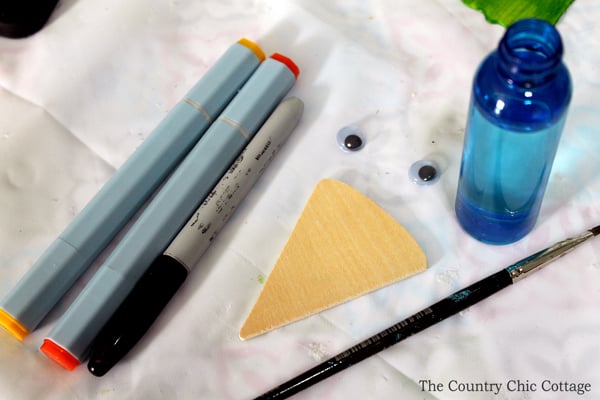 How To Make This DIY Halloween Banner
Now it's time to have some fun! This banner comes together quickly and easily, but we do it in stages. First, we'll make the Frankenstein characters. Then we'll make the candy corn pieces, and finally, we'll put them all together to form a banner.
How To Make The Halloween Banner Frankenstein Characters
Color the tag with a green marker.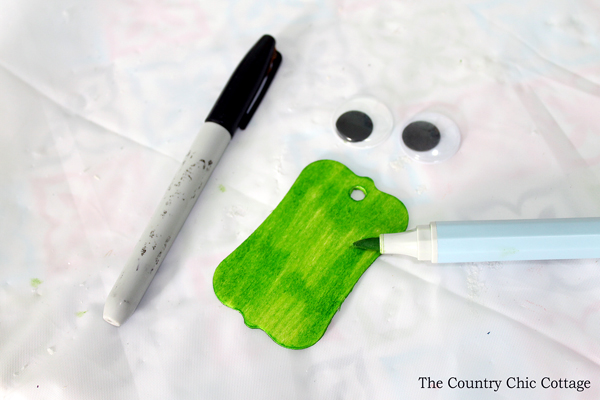 Glue on google eyes and draw on a mouth with black marker.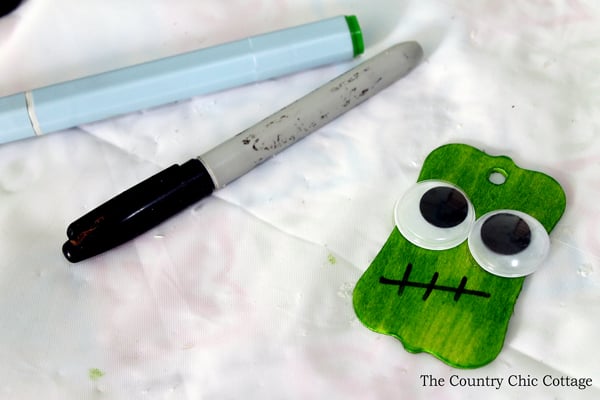 How To Make The Halloween Banner Candy Corn Pieces
Color the orange and yellow areas of the candy corn with the markers. You can use water to blend between the areas if you have used watercolor markers.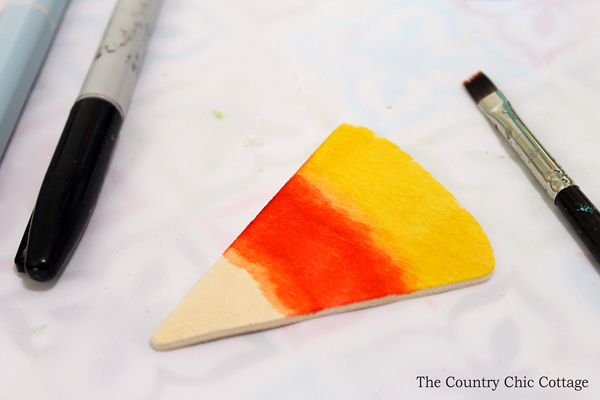 Glue on google eyes and draw on a mouth with the black marker.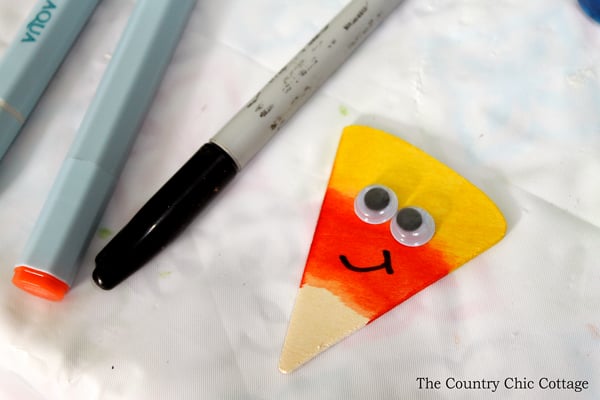 Assembling Your Halloween Banner
Now string the entire thing on a piece of ribbon. Use the hot glue to secure the pieces to the ribbon.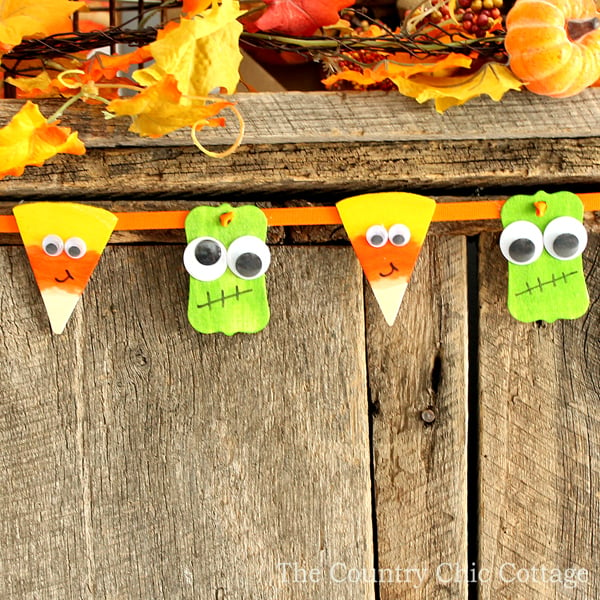 That's it! Doesn't it look great? You can make each piece like the others of a similar design, or you can take some creative license and make them all slightly different.
Grab your supplies and make your own today!
FAQs
Here are a couple of common questions I get from readers about this Halloween banner project. If you have a question but don't see it down below, please leave it in the comments so I can answer it for you.
Can I use something other than hot glue to assemble my banner?
Yep. I used hot glue because I have tons of it, it's easy to use, and effective. If you don't have hot glue, you could use a staple gun to attach the wooden pieces to the ribbon (on the back of the wooden pieces). Or, alternatively, you could also use super glue.
Can I paint my wood pieces?
Yes, definitely! I like coloring my pieces with markers because they dry faster. Plus, the coloring method adds a cool variated appearance. If you would prefer for the pieces to look more uniform or you just prefer painting, feel free to use that method instead.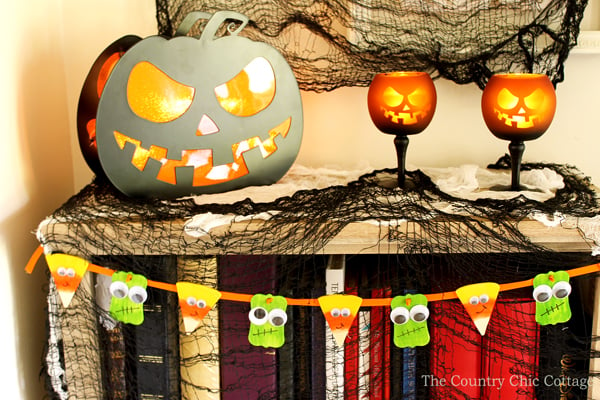 More Halloween Inspiration
If you love this simple Halloween banner idea, be sure to check out these other ideas too!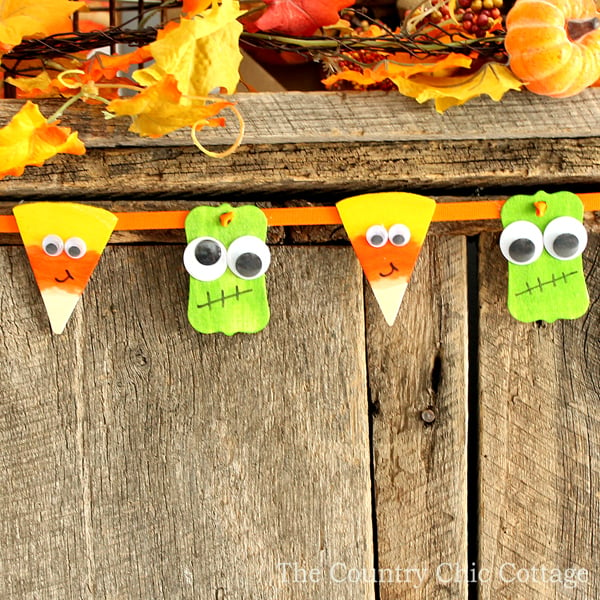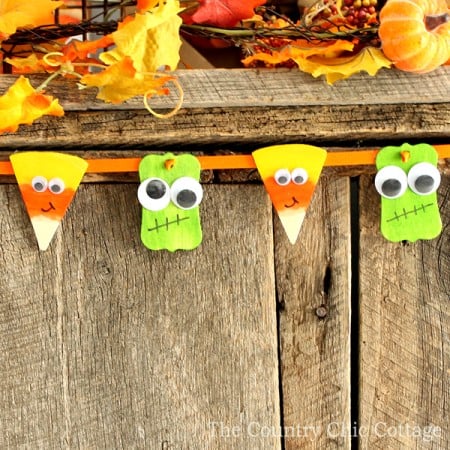 Easy DIY Halloween Banner
Make this easy Halloween banner that features adorable Frankenstein characters and candy corn pieces. This project takes less than 15 minutes!
Supplies
Wood tags

Google eyes

Green marker

Black marker
Candy Corn Pieces
Wood candy corn pieces

Yellow marker

Orange marker

Black marker

Google eyes

Water (optional)

Hot glue and a glue gun
Instructions
Make The Frankenstein Characters
Add the google eyes with glue. Use the black marker to draw on the mouth.
Make The Candy Corn Pieces
Use the yellow and orange markers to color the orange and yellow areas of the candy corn. If you want to, you can use a dab of water to blend the areas between the colors (this only works with watercolor markers).

Use glue to attach the google eyes. Draw the mouth with the black marker.
Assemble The Banner
Cut a piece of ribbon to the size you want. Secure the pieces to the ribbon with hot glue.
Tried this project?
tag us to show off your work!