This post and photos may contain Amazon or other affiliate links. If you purchase something through any link, I may receive a small commission at no extra charge to you. Any supplies used may be given to me free of charge, however, all projects and opinions are my own.
A DIY burlap table runner is a perfect thing for me. I really love burlap! Actually, I have had a thought of a subway art table runner for a while. I love subway art but have never found a way to work it into my home. A table runner seemed like the perfect opportunity. So, I combined that idea with burlap and came up with something fabulous. Ready to make your own? Just follow along below and then pick up your supplies!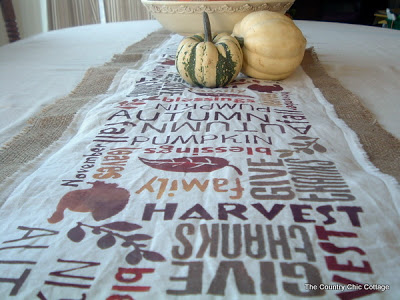 Supplies to make this DIY Burlap Table Runner:
muslin (12 inches wide)
craft paints
burlap (16 inches wide)
paintbrushes
white cardstock
tape
sewing machine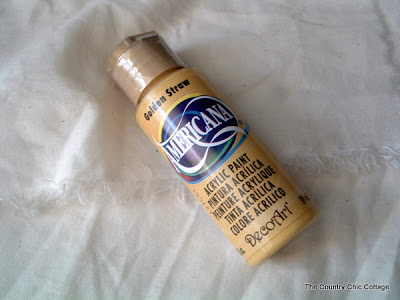 Making a Stencil with Your Cricut
For this project, I broke out one of my other fave products — my Cricut. I made my subway art using different fonts, sizes, and directions plus stock images in Cricut Design Space. I made the stencil about 8 inches square. If you make your stencil square that allows for you to turn it as you work your way down the table runner. It looks a little less like you just used the same stencil all the way (even though you do). Paint it this way then turn it 1/4 turn. Paint it again. Then turn it 1/4 turn. Make sense?
My secret for stencils — I take the middles of the letters and tape them in with scotch tape. After I paint in this area, I would remove the stencil and go back by hand and paint in the areas masked by the tape. Want more details on that method? Check out this post for all the details. You can also see more about making stencils with your Cricut here.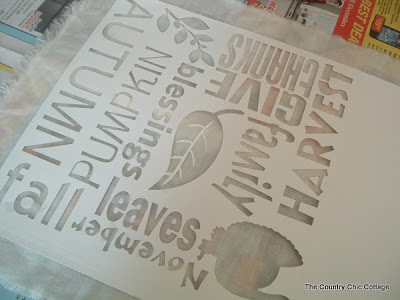 How to Paint a Thanksgiving Table Runner
I custom mixed my own paints. I did them in small amounts on a paper plate. So as you go down the runner, the orange may look different as I had to mix a new batch. I wanted this look. I did not want the runner to be exactly the same all the way. For me, the slight differences in color add interest.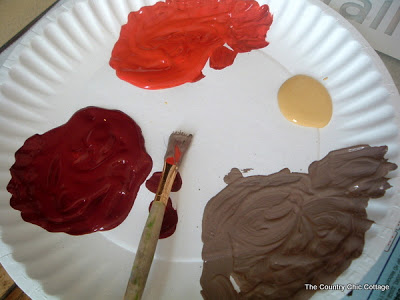 Plus when I painted I used different colors. Let's take the "give thanks" in the picture below on the right for example. The "give" part looks like a slightly different shade than the "thanks". But the "give thanks" on the left-hand side looks a little different yet. Just dip your brush in say a little red before dipping it into the brown. You will be amazed at the effects you can create.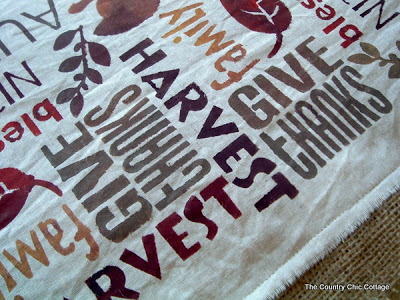 See my turkey below. Isn't he pretty? Shades of red, orange, and yellow all used to make him stand out! When I got to the next turkey, I would try a different mix of colors.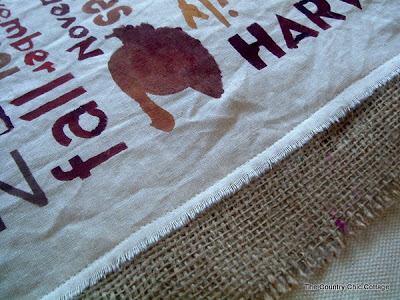 I stretched my runner out on the floor with newspaper underneath it. Then I painted all of my subway art all the way down. I did it in two sessions cause it totally hurt my back! But I finished it…then I let that dry.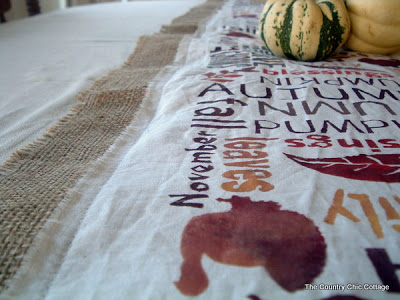 Sewing this Autumn Table Runner
I took my burlap and cut it to be about 4 inches wider than my runner (2 inches on both sides). I then sewed the muslin to the burlap on both sides and on the ends. You do want to leave about 2 inches all the way around of the burlap. I left all of my edges raw cause I heart frayed edges. You can run some fray checker on the edges to make sure it does not fray more than you want it to.
I frayed my edges some on purpose. Again cause I love that look. How much or how little is totally up to you.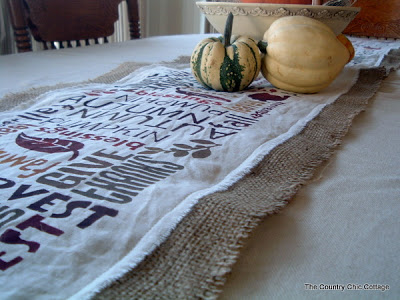 Then I set the table for a little photoshoot. Any guesses on what my table cloth is? It is a drop cloth. Yes, a canvas painter's drop cloth. Impress your guests this Thanksgiving with a gorgeous table cloth…don't tell 'em where you got it.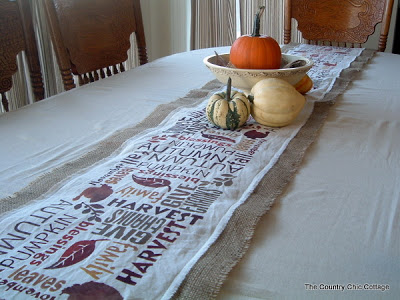 In the center of the table, I just added a footed wood bowl and some pumpkins and gourds. A little scrap of burlap was placed in the bottom of the bowl.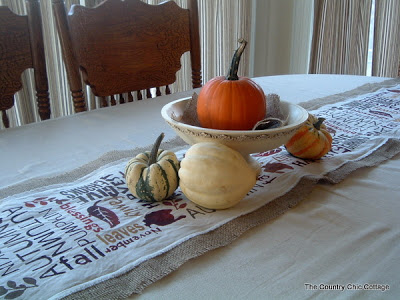 All that is missing is my Thanksgiving guests. I love the idea that no matter where you are sitting at the table you can read seasonal saying and words.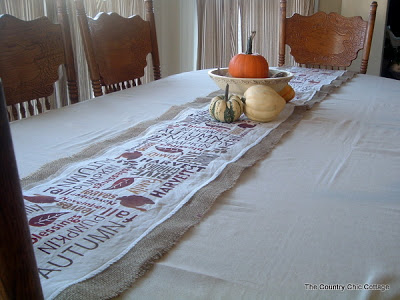 Here is a shot from above so you can see that I did indeed paint all 108 inches of table runner…no cheating allowed.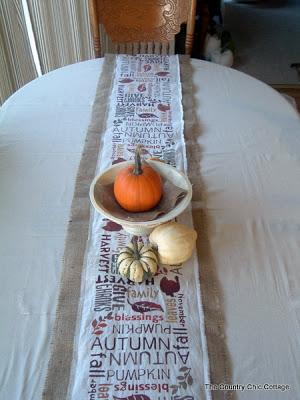 I am so in love with this table runner, I am thinking of doing one for every season! The subway art table runner could very quickly become a "thing" for me.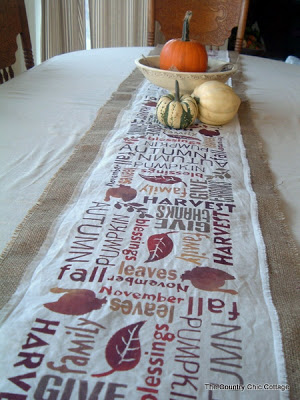 For now, I will just enjoy all the autumn colors on my Thanksgiving table. Oh if you are wondering — this one will be spot clean only. Sorry y'all, I don't think burlap washes well.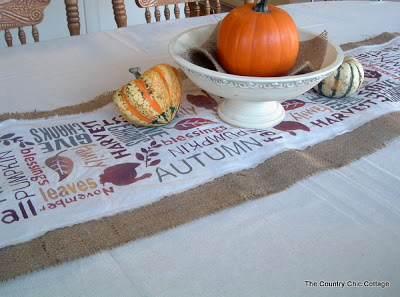 So, fire up your Cricut, make your stencil, and start painting! I would love to see your take on the subway art table runner this holiday season!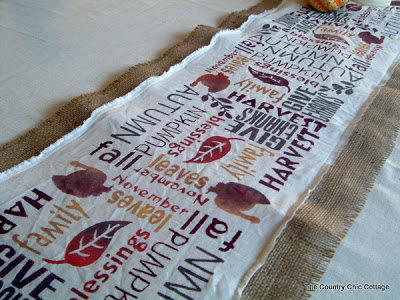 So, will you be making your own DIY burlap table runner this holiday season? I know I love mine and I am sure you will love yours!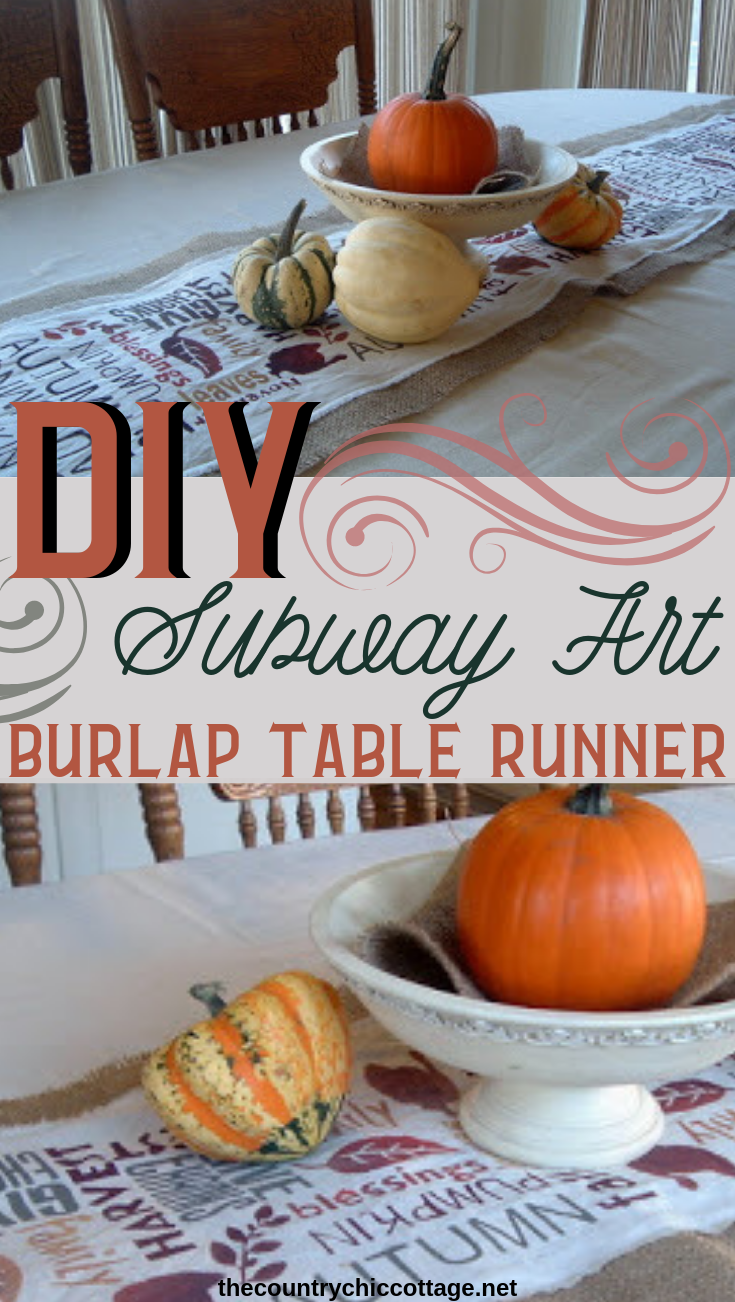 So, do you love this fall table runner and want more ideas? Try the links below!
New to Cricut?
Sign up for our email list here to download the Beginner's Guide to Cricut Design Space for FREE today!
Sign up to get the guide emailed to you!