I get the question of what Cricut accessories do I need all the time. If you are confused about what comes with the machine and what else you need to buy, this is the post for you. You might just be getting started with your machine or are looking to buy one. However, even if you have had your machine a while, you might see something on this list that you didn't even know existed! Do you really need a Cricut EasyPress? What mats are right for you? We are answering that and so much more!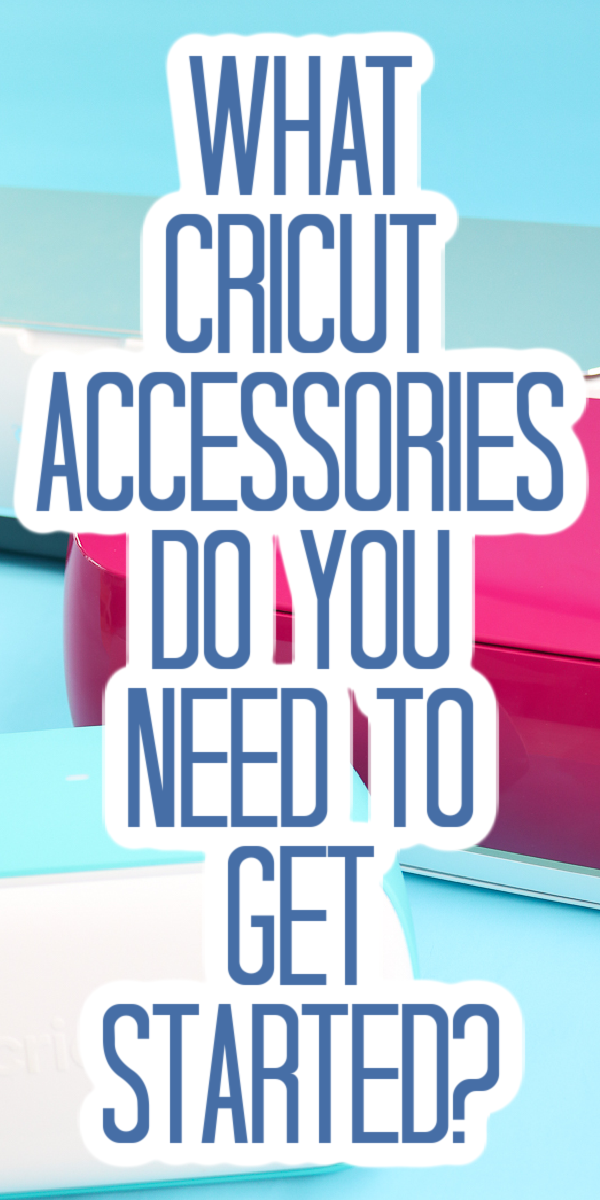 What Cricut accessories come with the machine?
First of all, what do you get in the package? It varies depending on the machine you buy so I have outlined those below. This is what comes in a standard package if you just buy the machine. If you buy yours as part of a bundle deal, you will obviously receive more.
Want to compare machines? Be sure to click here for our comparison!
What Cricut accessories should I purchase to get started?
So, now that you know what comes with your machine, what else will you need when starting out with your Cricut? Here is a run down of my recommendations!
NOTE: If you purchase any of these items from the Cricut website, you can use code CCC2021 on orders over $50 to get 10% off and free shipping. The discount does not apply to machines, digital products, or Cricut Access.
What Cricut mats do I need?
There are currently four different types of mats for Cricut machines. Do you need them all? How many do you need? First, lets run down what the mat types are and what they are used for.
Don't see a material listed? Click here to get the specific mat and blade recommended for different types of materials.
From that list, you should be able to determine which mats you need for the types of crafts that you are going to tackle.
Now, how many mats do you need? That really depends on how often you will be using your machine. For me, the mats are the first thing that wears out. I like to keep a few spares of the mats I use most often. They are definitely a must when it comes to Cricut accessories.
Looking for how to clean your mats? Try this link to see how!
Remember that mats for the Maker and Explore Air 2 are in 12 x 12 and also 12 x 24 size. Mats for the Joy are in 4.5 x 6.5 and 4.5 x 12 size. If you want to do larger projects, consider just stocking up on the larger mats and using them all of the time.
PROTIP: The stronger mats will lose their sticky overtime and basically become the lighter grip versions. So, if you can, start with a stronger grip then move it to lighter materials as it wears. This will extend the life overall and save you some money!
What is the difference between the blades?
The following are all of the blades that you can get with any of the machines. See the notes to see what machines they work with and what materials. My recommendation is to change your blade once you notice that your cuts are not as crisp. I would say keep a spare on hand of your most frequently used blades.
The blade and the mat are obviously the most critical Cricut accessories but there are others that you may not know about below!
What types of pens can I use?
Yes, you can also write with your Cricut machine. There are a variety of pens available on the Cricut website here. Pens marked "Cricut Joy" are the only ones that work with the Joy. All the other pens will work with the Maker or Explore Air 2.
You can also look for an adapter that can modify the hole size to fit a wide variety of readily available pens. You can find my experiments with an adapter for the Joy here. I find that the Cricut pens do everything that I need to do but you may find that you need a different type of pen for certain projects. I would keep pens on hand if you really want to use that function for your crafts.
The best thing about the Cricut Maker is that it cuts fabric! No bonding required! To go along with this, Cricut has made a washable fabric pen that fits the Maker. You can pick up one here. These are really a must if you are cutting many patterns on the Maker and want to mark your pieces.
Other Cricut accessories that will make your life easier!
Sometimes you don't really have to have a tool but it sure does make crafting easier. I find this with a ton of the Cricut supplies. I thought I would list some of my favorites below. You can find even more on the Cricut website but these are a few Cricut accessories that I have found really useful.
NOTE: A ton of these are sets which offer the best value if you are going to purchase multiple tools. However, most tools are sold individually. Just see one tool that you want? Click here to see all of the tools offered.
Do I need the Cricut EasyPress?
This is one question that I get asked A LOT! I would say do your research before buying this. You may or may not use this a bunch. Will you be tackling HTV or iron-on projects? Then an EasyPress will make those easier. But do you really NEED it to get started? Perhaps not. Try these posts to help you decide!
Do I need Cricut Access?
Now that you have your accessories on order, do you need Cricut Access to run your machine? Absolutely not. You can use your machine without paying any monthly fee. Some people, however, really like the ease of having free images and fonts right in Design Space. Read this post and decide if Access is for you!
Can I use my cartridges with my Cricut Maker?
Yes you can! The Cricut Maker does not come with a cartridge adapter but you can buy one! Click here to get it on the Cricut website. Remember that you can download your existing cartridges to Cricut Design Space and then use them on any machine, anytime, anywhere!
New to Cricut? Download our free beginner's guide here!
I hope this gives you an overall better understanding of all of the Cricut accessories available. Be sure to pick up a few from their website or on your next trip to the craft store. After all, you want to be prepared for any crafting emergency! Be sure to leave any questions you have below and I will get to them as quickly as I can!