One of the most asked questions I get is "What Cricut accessories do I need?". If you're just getting started with Cricut this is the post for you!
Whether you're a new Cricut owner or looking to buy one keep reading, even if you've had your machine for a while you may find something on this list you need to add to your craft room!
Trying to decide what Cricut machine is right for you? Check out my post here.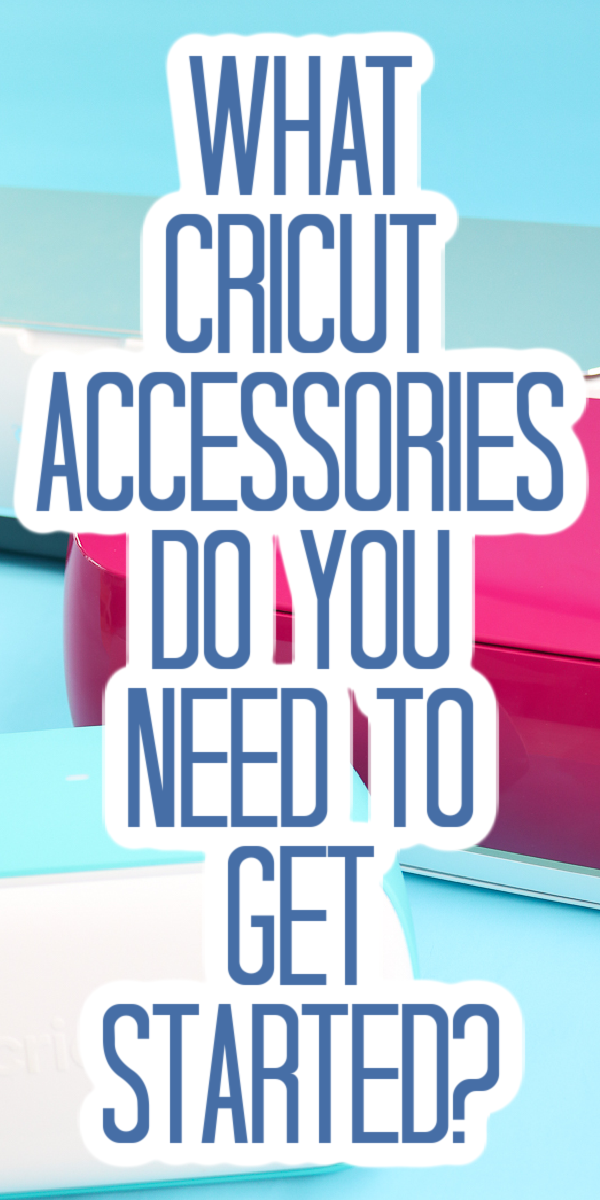 What Cricut Accessories Come with the Machine?
First of all, what do you get in the package? It varies depending on the machine you buy so I have outlined those below. This is what comes in a standard package if you just buy the machine. If you buy yours as part of a bundle deal, you will obviously receive more.
Want to compare machines? Be sure to click here for our comparison!
What Cricut Accessories Should I Purchase to Get Started?
So, now that you know what comes with your machine, what else will you need when starting out with your Cricut? Here is a rundown of my recommendations!
You can actually watch me break down all of my Cricut accessory recommendations in the video below:
Cricut Machine Training
My number one must-have Cricut accessory is something to train you to use your Cricut machine.
When you open your Cricut box you may be surprised to see there is no manual included. This means you will need to look at other places to learn how to actually use your machine. Cricut does have some training you can use but I also recommend you find the right type of training for you.
Since you're here you're in the right place. My site is filled with Cricut tutorials. You can also watch my entire Cricut Basics YouTube playlist here.
I also have a free Cricut class here and a Cricut book that you can purchase if you prefer something you can hold in your hands and reference as needed.
I really cannot stress enough that the most important thing you do when purchasing a Cricut machine is to get training. While you can just dive in and learn as you go, you'll likely not get the most out of your Cricut machine. Take the time to really learn your machine and all it can do.
NOTE: If you purchase any of these items from the Cricut website, you can use code CCCDEAL on orders over $50 to get 10% off and free shipping. The discount does not apply to machines, digital products, or Cricut Access.
What Cricut Mats Do I Need?
My next Cricut accessory must-have is Cricut mats. My personal most used mat is the blue LightGrip mat, I always have extra of those on hand.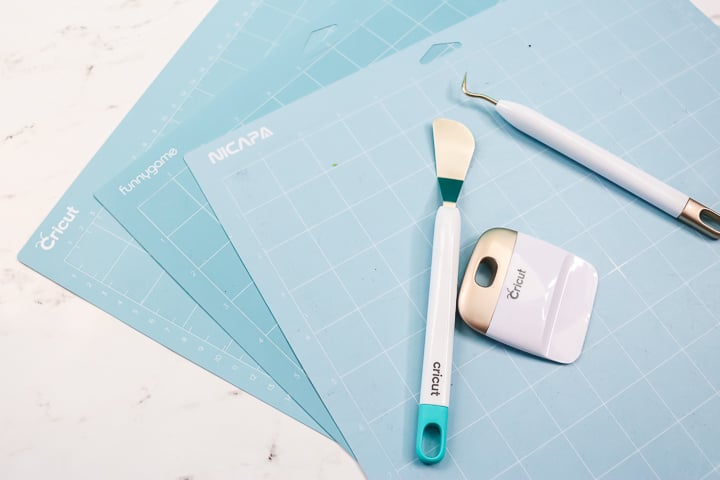 There are currently five different types of mats for Cricut machines. Do you need them all? How many do you need? First, let's run down what the mat types are and what they are used for.
LightGrip: Thin paper and vinyl. (Comes in sizes for the Maker, Explore, and Joy machines.)
StandardGrip: Thicker cardstocks, iron-on, and vinyl. (Comes in sizes for the Maker, Explore, and Joy machines.)
StrongGrip: Chipboard, really thick cardstock, poster board, and wood. (No sizes for Joy.)
FabricGrip: Fabric of all types and crepe paper. (No sizes for Joy.)
Cricut Card Mat: Comes in a single size for Cricut Joy and a 2×2 Card Mat for Maker and Explore machines
How Many Mats Do You Need?
How many mats do you need? That really depends on how often you will be using your machine. For me, the mats are the first thing that wears out. I like to keep a few spares of the mats I use most often. They are definitely a must when it comes to Cricut accessories.
Looking for how to clean your mats? Try this link to see how!
Remember that mats for the Maker and Explore machines are 12 x 12 and also 12 x 24 sizes. Mats for the Joy are in 4.5 x 6.5 and 4.5 x 12 sizes. If you want to do larger projects, consider stocking up on the larger mats and using them all of the time.
PROTIP: The stronger mats will lose their sticky over time and basically become the lighter grip versions. So, if you can, start with a stronger grip then move it to lighter materials as it wears. This will extend the overall life and save you some money!
What is the Difference Between the Blades?
Blades come in at number three for my must-have Cricut accessory. There is nothing worse than being in the middle of a project and getting rough cuts that require you to stop and go to the store to get new blades.
The following are all the blades you can get with any of the machines. See the notes to see what machines they work with and what materials. My recommendation is to change your blade once you notice that your cuts are not as crisp. I would say keep a spare on hand for your most frequently used blades.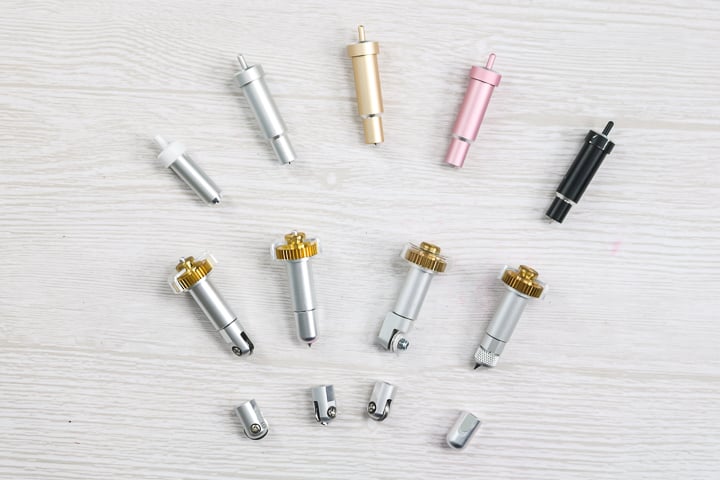 Different Cricut Blades
The blades and mats are obviously the most critical Cricut accessories but there are others that you may not know about below!
Computer/Tablet/Phone
Maybe this should be listed above mats and blades but coming in at number four is some type of computer, tablet, or phone to run Design Space and your Cricut machine.
You can use a computer, phone, or tablet. Anything that has the ability to connect to the internet. I do want to note that anything that uses the mobile app will be more limited in features than a computer will. If you want all the features you will need a computer that is not a Chromebook.
For more information on choosing a laptop for your Cricut machine check out my post here.
Designs
Coming in at number five is designs. There are a ton of designs in Cricut Design Space. You can look there and even find free designs in Design Space.
There are also websites that have free files you can use with your Cricut machine. To learn more about Design Space check out my post here.
Cricut Tool Sets and Brayer
Next up we have tools. I highly recommend the Cricut Tool Sets, they have so many tools that are really handy to have in your craft room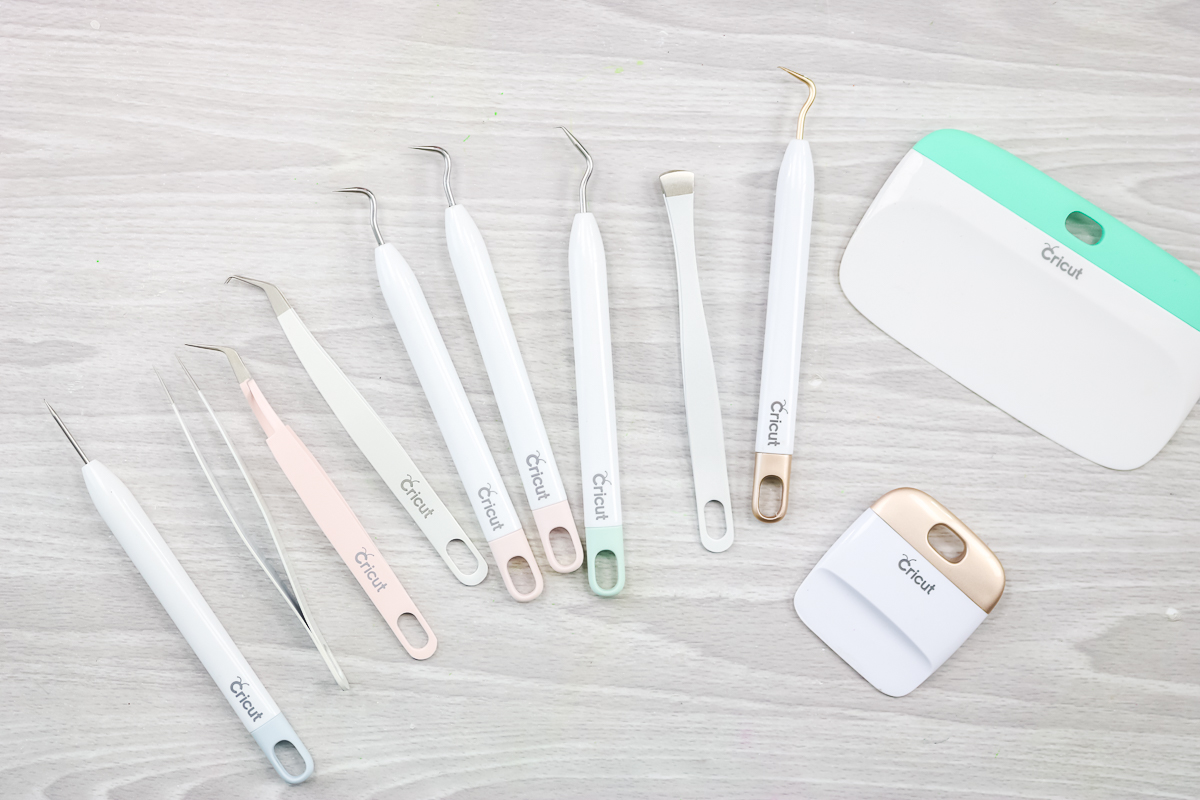 The Essential Tool Set: Comes with a ton of tools and some that I really do love. The tweezers are perfect for lifting things from your mat. Especially critical to keep your mats as clean as possible. The scoring stylus above is included in this package along with a basic weeding tool that is essential for vinyl. The spatula in this set is one of my faves. Lifting things from the mat is easier with this tool. The small scissors and paper cutter are nice but you may already have tools like this that you love.
Basic Tool Set: Basically everything above in the essential toolset minus the paper cutter and scoring stylus. This is also a more affordable option.
Weeding Tool Set: A must for anyone working with vinyl. Seriously these will save your sanity. It includes weeding tools with pointy tips as well as tweezers.
Do I Need a Brayer??
A tool that deserves its own mention is a Brayer. I strongly believe every Cricut user should have a brayer on hand. A brayer allows you to press down your material, sort of like a small rolling pin and really get it stuck onto the adhesive.
NOTE: A ton of these are sets which offer the best value if you are going to purchase multiple tools. However, most tools are sold individually. Just see one tool that you want? Click here to see all of the tools offered.
Materials
Materials are up next on my must-have Cricut accessories list. I recommend starting with simple materials when you're learning how to use your Cricut machine.
Simple materials include vinyl, HTV, and paper. You'll also want a simple design to begin with, a more complicated project to begin with may cause you to get discouraged from the start.
Here is a post with three different beginner projects that are great for starting out with.
Heat Source
Number 8 on my Cricut accessory must-have list is a heat source! This is a requirement if you're going to be using HTV or Infusible Ink with your Cricut machine.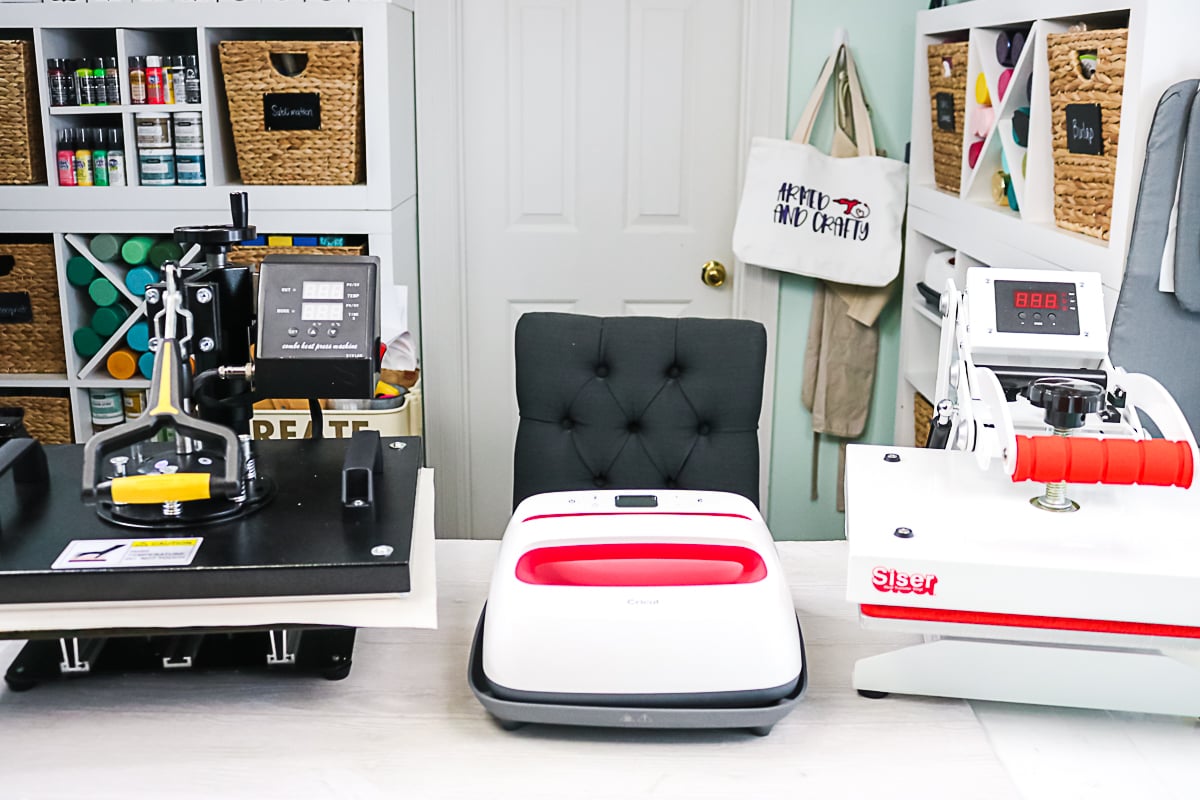 If you're using HTV that heat source could be your household iron, an EasyPress, or a full-size heat press. The options are limitless and you don't have to start at the top.
If you want to use Infusible Ink you'll want a heat source that has a higher temperature like an EasyPress or a heat press.
If you're using an EasyPress you may want to get an EasyPress Mat as well.
These accessories are only needed if you plan to use HTV and/or Infusible Ink. If you want to get started with HTV, your home iron is a great place to start. If you find you want to make more projects easier it may be time to upgrade your heat source.
Printer
Number nine is a printer. Because so many people like to use the Print-then-Cut feature with their Cricut machine. Not everyone will need a printer and not every craft will use one either but there are a lot of fun things you can make with your Cricut machine and a printer.
If you don't have a printer yet you can wait. Start making other projects, learn how to use your machine and then when the time comes that you really want to make a print-then-cut project you can check out the different printable materials and my post here on the best printers to use with your Cricut machine.
Cricut Pens
My number 10 must-have for new Cricut crafters is pens. Your Cricut machine can cut, but it can also write. It's really fun to draw with your Cricut machine. You can draw on paper, they make writeable vinyl, and you can draw onto vinyl and make labels.
There are lots of different options for using pens with your Cricut machine.
This is something that you might not want to get into in the beginning, but I would recommend that you try it. Most machines come with a pen so you can start with that. If you enjoy using that I recommend purchasing a small pack of Cricut pens and seeing how often you use them before going all out and buying all the pens.
There are a variety of pens available on the Cricut website here. Pens marked "Cricut Joy" are the only ones that work with Joy. All the other pens will work with the Maker or Explore machines.
The best thing about the Cricut Maker is that it cuts fabric! No bonding is required! To go along with this, Cricut has made a washable fabric pen that fits the Maker. You can pick up one here. These are really a must if you are cutting patterns on the Maker and want to mark your pieces.
Bonus Cricut Accessory Must-Have
Now that we have covered my 10 must-have Cricut accessories let's look at one more thing you may want to add to your list and that is a Cricut Access subscription.
Design Space is the software that powers your Cricut machine. It's where you'll create your designs and you can use it 100% for free.
There are no monthly fees that are a requirement. You can upload your own images and use the fonts on your computer and never actually use anything in Design Space. There are also free designs, images, shapes, and fonts that are included in Design Space you can also use.
Do I need Cricut Access?
All that being said a lot of people really like the Cricut Access subscription. It's very convenient and easy to use and it includes access to a very large library of designs, images, and fonts that you can use for a monthly fee. Also included with those designs is the Cricut Angel Policy which allows you to use the images for commercial use.
I highly recommend a Cricut beginner give it a try. You usually get a free trial of Cricut Access when you buy a new Cricut machine, try it out, see how much you use it, and if you find yourself using a lot of the Access subscription files.
Do you use it enough to justify the cost per month? If so continue to use it, you can cancel it at any time.
This post may help you decide if Cricut Access is right for you.
New to Cricut? Download our free beginner's guide here!
I hope this gives you an overall better understanding of all of the Cricut accessories available. Be sure to pick up a few from their website or on your next trip to the craft store. After all, you want to be prepared for any crafting emergency! Leave any questions you have below and I will get to them as quickly as I can!