If you're searching for a perfect small homemade gift idea, you'll love today's craft. Learn how to make this Christmas elf mason jar gift idea – it's the perfect small gift for any Christmas occasion!
Christmas crafts are so much fun! The season is practically bursting with inspiration to make everything from ornaments to holiday cards, decor, food, and more!
I find that we often need a small, simple holiday gift to give to teachers, neighbors, the mailman, etc. Nothing too big, but something that shows our appreciation.
Knowing how much I love using mason jars for just about everything when we need a small gift, I tend to pull out one of my trusty mason jars and fill it up. But, I don't like to just give plain, everyday mason jars as holiday gifts! So I decorate them (and they're so much fun to decorate!)
Today, we're decorating mason jars to look like a Christmas elf. My elf mason jar gift idea for Christmas is perfect for anyone on your gift-giving list! It also makes a great hostess gift for holiday parties.
My favorite part is that it only takes a few minutes to decorate, then you simply fill it with the gift of your choice. Here are some delicious and fun ideas:
Note: If you want more creative ways to use jars this holiday season, try making my Food Gift in a Jar: Christmas Granola, Mason Jar Christmas Craft Snow Globe Toppers, and DIY Nativity Scene Made With Christmas Jars!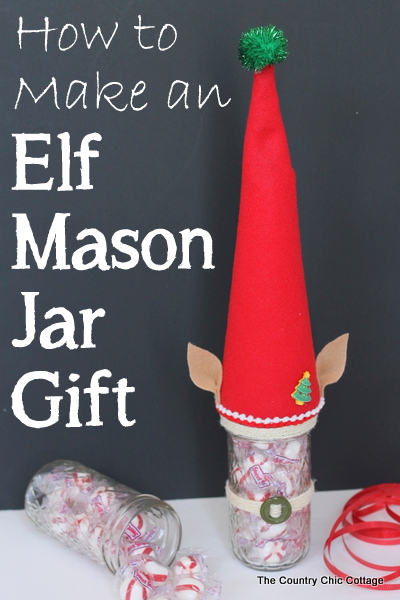 Supplies Needed For Christmas Elf Inspired Mason Jar
Here's a list of everything you'll need for this Christmas project. I even added links for some items to make finding them easier!
Note: Some links below may be affiliate links, which means that you do not pay any extra but a portion of any purchase will go to this site.
Let's get make this super fun elf jar.
How To Make This Elf Mason Jar Gift Idea
This jar only takes a few supplies and is super quick and easy. Here's how to do it!
Step 1
Wrap your cone with red felt. I had to play with the felt for a while to get complete coverage from one sheet but it is possible. Cut off any excess and use hot glue to secure.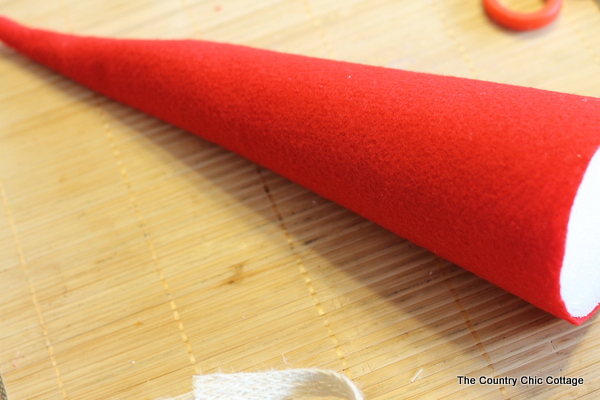 Step 2
Use some hot glue to add the lid to the bottom of the foam cone.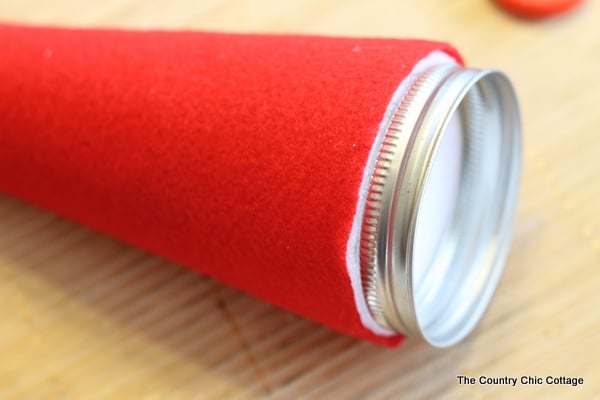 Step 3
Start adding a pom pom trim to the bottom of your felt, covering up where the lid meets the felt.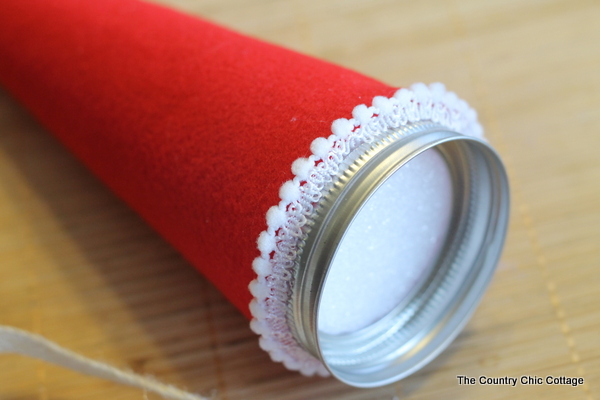 Step 4
I then added a second row of pom pom fringe as well as the woven ribbon around the lid itself.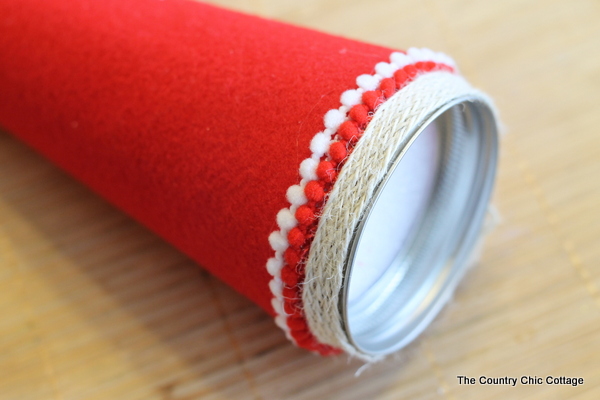 Step 5
Cut tan felt to an "elf ear" like shape.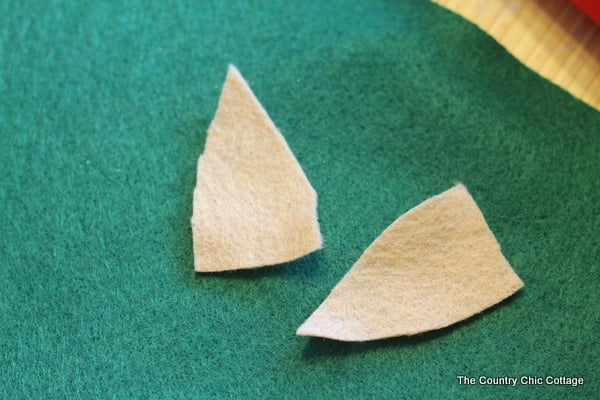 Fold the ear and use hot glue to secure one to both sides of the cone.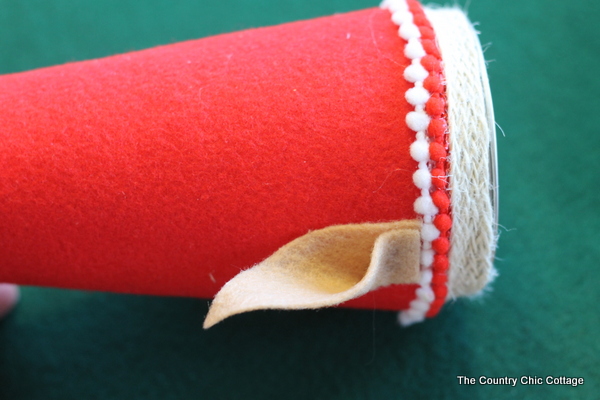 Step 6
Add the finishing touches: a belt with a belt buckle and a decoration to the elf hat.
The variety pack of buttons from Buttons Galore and More has a wide variety of button shapes and sizes. There was a green one in my package that had two large holes. These were just right for threading through the ivory woven ribbon.
Yep. It looks just like a belt buckle!
I wrapped the entire thing around my jar and secured it with hot glue. Then, I added a fun Christmas tree button to my elf's hat. I liked the way just one button looked – sort of like a "pin" in his hat.
Y'all, don't forget to add a sparkly pom pom to the top of your elf hat as well. (Forgot a picture of that one!)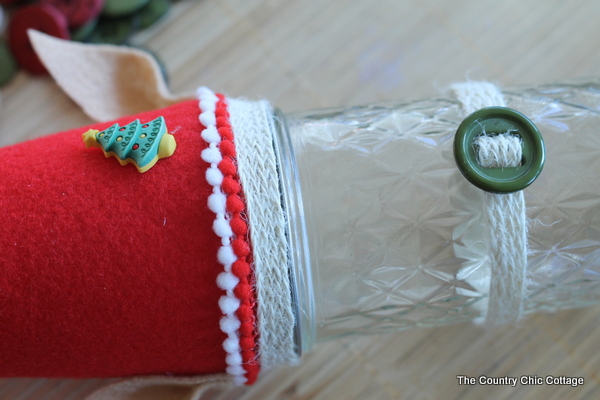 Fill Your Jar With Treats
Add your gift (candy in my case) to your jar and then screw on your lid.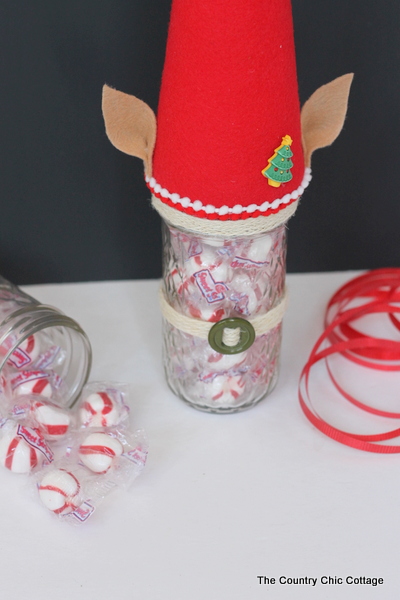 Elf Mason Jar Gift Idea FAQs
Here are a couple of common questions I get from readers about this holiday craft project. If you have a question but don't see it down below, please leave it in the comments so I can answer it for you.
What do you put in a mason jar gift?
You can put almost anything (that will fit) inside! Food gifts are always a fun go-to. But, if you want to stay away from sugary treats or know the recipient has food allergies, you can fill your jars with small toys or useful items such as decorations, chapstick, little soaps, etc.
Can I use a different kind of glue?
I personally find hot glue to be one of the best glues to use for these types of crafts. It's easy to use, less messy than other glues, and it holds really well.
However, if you don't have a hot glue gun, you can use craft or tacky glue for this project. Please be aware that your project will probably take longer to complete due to longer drying times.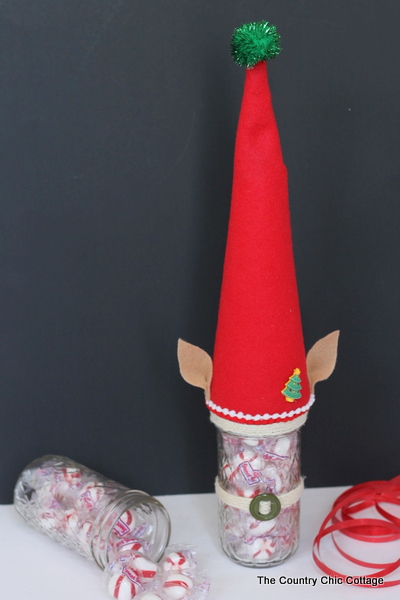 Who will you give your elf mason jar gift to? Make this quick and easy mason jar gift idea for that hard-to-buy-for person on your list. It is sure to put a smile on their face!
Love This Elf Mason Jar Gift Idea? More Christmas Inspiration
If you love this simple holiday craft project, be sure to check out these other ideas too!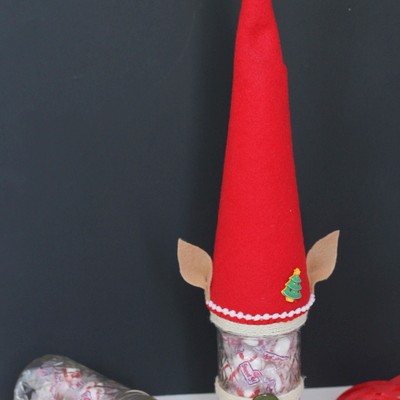 Elf Mason Jar Gift Idea
Make this quick and easy decorated mason jar to hold small gifts for teachers, neighbors, and other people in your life!
Supplies
Green button "buckle"

Tree button for the hat

Pom pom ribbon in red and white plus ivory

Mason jar with lid

styrofoam cone

Sparkle pom pom

Felt

Hot glue and a glue gun
Instructions
Wrap the felt around your cone. It may take a little time to get it just right, but it is possible. Trim off any excess fabric and secure in place with hot glue.

Hot glue the jar lid to the bottom of the cone.

Add pom pom fringe to the bottom of the felt.

Attach another row of pom pom fringe as well as the woven ribbon around the lid.

Cut out ear shapes from the tan felt. Fold them and attach them to either side of the cone with hot glue.

Attach a piece of woven ribbon around the jar like a belt. Use a button as the belt cuckle.

Glue on a festive button to the hat as a "pin" and a pom pom to the tip of the hat.

Fill your jar with gifts!
Tried this project?
tag us to show off your work!
A Year of Jar Crafts
Sign up for our email list to get a FREE book with an entire year of jar crafts! 12 months, 12 crafts, tons of fun!