Halloween brownies are the perfect way to celebrate the season. Not only are they cute but they are also so easy to make. You just need some brownies and a few supplies to make these for a party or a classroom. They are adorable, delicious, and everyone will love them! Making brownies for Halloween is so much easier than you thought. And the kids will devour these ghost brownies in no time at all.
You can serve these alongside our Halloween popcorn party mix for the perfect party snack ideas!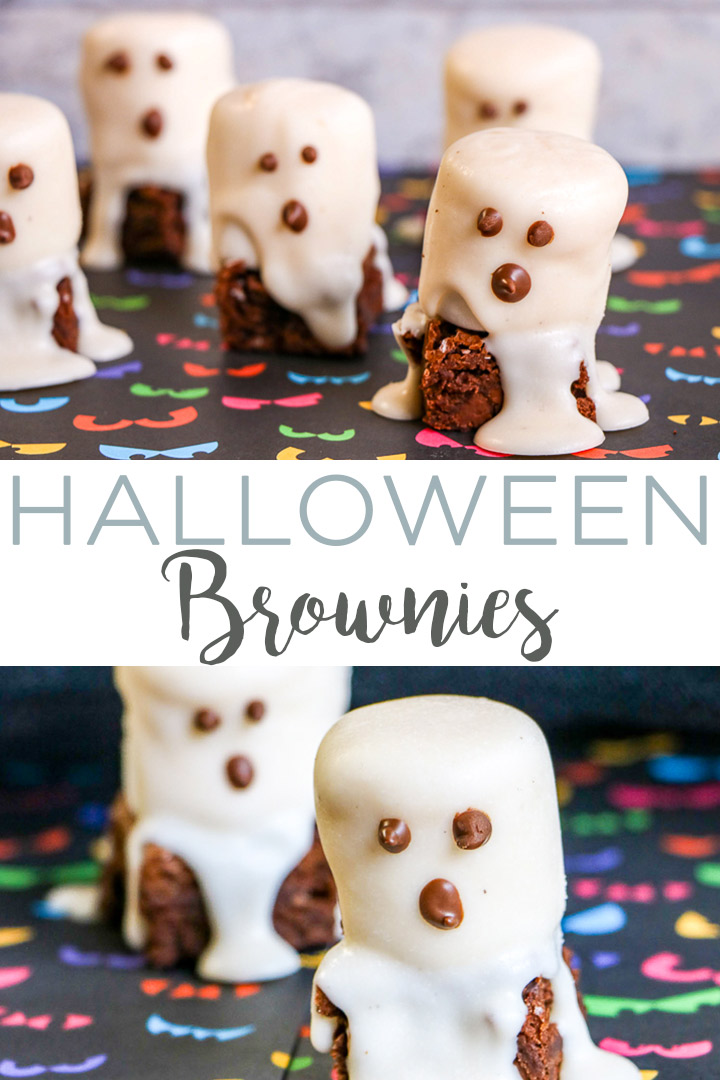 Halloween Brownies
Serves 24
Ingredients:
1 (18.3 ounce) package brownie mix, plus ingredients to make brownies
24 regular-size marshmallows
2 (11 ounce) packages white candy melts
½ cup milk chocolate morsels
Equipment needed:
Instructions:
Bake brownies according to package directions. Cool completely before slicing. Cut into 24 pieces.
Place one marshmallow on top of each brownie.
Melt candy melts according to package directions. If candy overheats or is too thick, add 1 teaspoon of coconut oil or vegetable shortening. Pour melted candy into a zip-top freezer bag. Snip one corner and then drizzle over marshmallows, allowing the candy to drip down the sides of the brownie. Allow candy to set.
Melt milk chocolate in the microwave, stirring vigorously every 15 seconds.
Then, using a toothpick dipped in the chocolate, decorate each ghost face.
Allow to set completely before packaging or serving.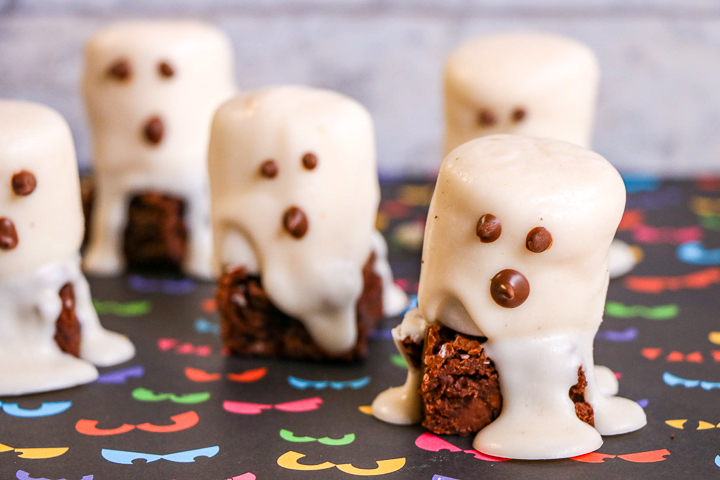 These Halloween brownies are adorable, right? Cute ghosts on top of chocolate goodness that everyone will love. You can also use your own homemade brownie recipe for this one as well. Really any brownies that you love can be turned into ghost brownies in minutes.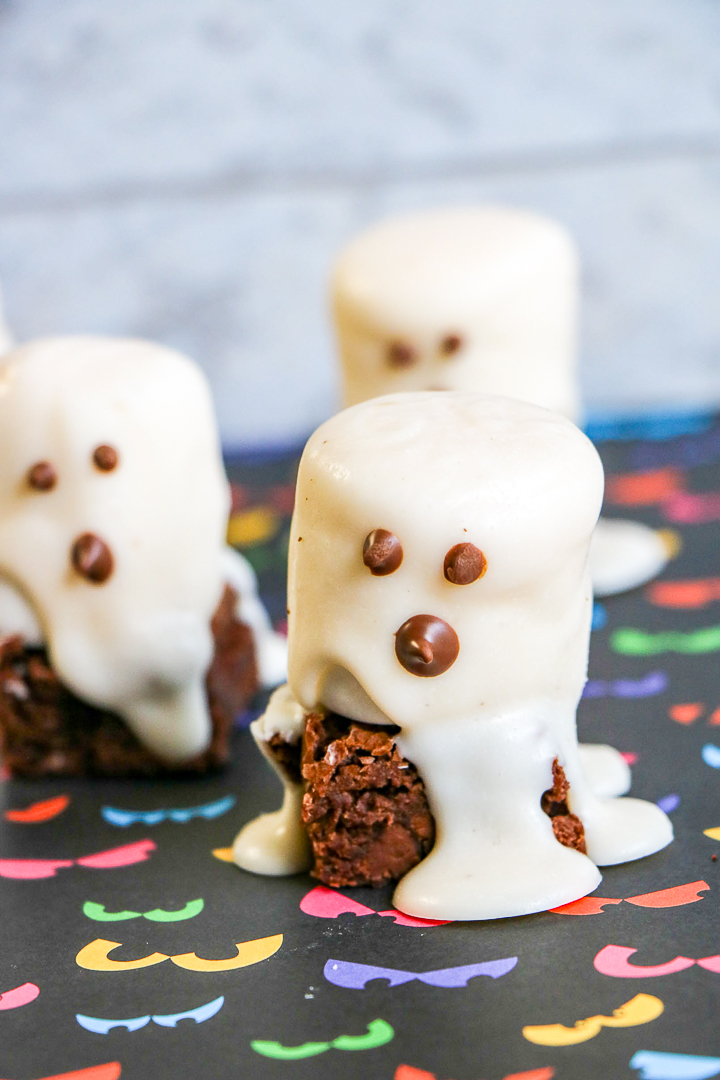 You can even use this same idea on top of any bar recipe. So, make some apple bars or pumpkin magic bars and add ghosts to the top! They will no longer be Halloween brownies but they will be cute bites of goodness perfect for a fall party.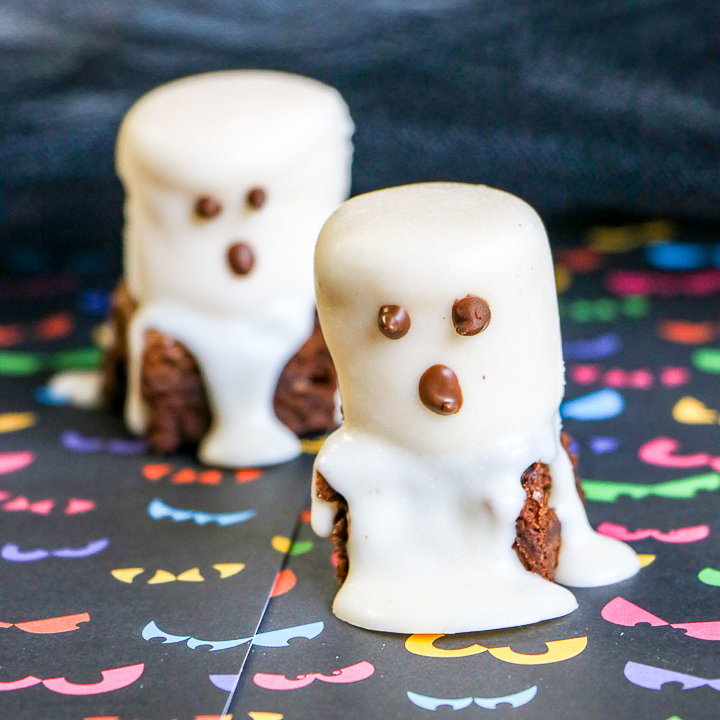 So, if you are hosting a Halloween party, be sure to use this idea to really spice things up. You can also make these to send to the kids' school for their class party. I love these easy Halloween brownies as classroom party treats because you definitely do not want to be up all night baking.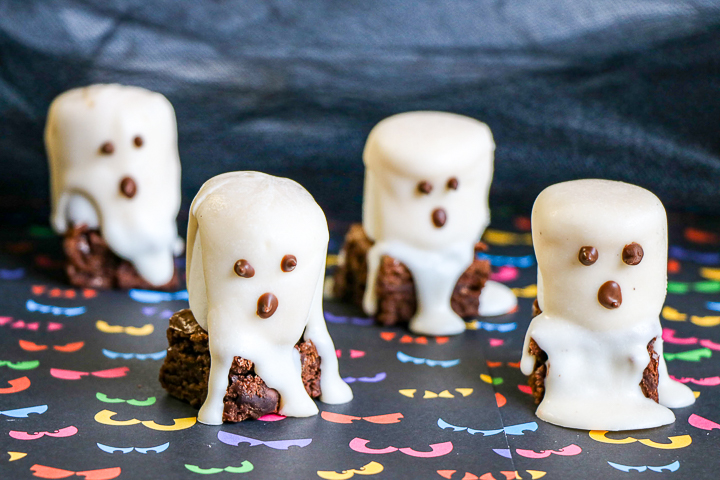 Love these brownies for Halloween and want more ideas? Try the links below!