Have you ever tried using Cricut vinyl on stretchy material? It just doesn't work because it doesn't stretch. Instead, you need a stretchy product when working with stretchy material! Use this tutorial for using SportFlex Iron On vinyl when you work with stretchy fabric.
If you've ever added vinyl to fabric, you probably know that it works better on some fabrics than others. Specifically, stretchy fabrics such as lycra and nylon can be a bit problematic when working with normal, everyday Cricut vinyl.
Well, if this challenge sounds familiar, I have some good news for you! Have you seen the new SportFlex Iron-on from Cricut? If you are looking to add a little stretch to your shirt crafting projects, this is definitely the product for you.
I'm highlighting SportFlex Iron-On today and showing you the differences between this product and everyday vinyl. Plus, I thought I would make this guide even more fun by making a shirt with the product today!
Note: If you want more vinyl crafting inspiration, check out our How to Use Heat Transfer Vinyl (or Iron-on Vinyl) guide and DIY Funny Maternity Shirts and DIY Baby Booties projects!
What is SportFlex?
SportFlex is a new, stretchy vinyl product from Cricut. It's a flexible, stretchable iron-on sheet that is ideal for adhering to stretchy fabrics such as polyester and nylon.
Think about using this product on dry-fit shirts, workout gear, swimsuits, leotards, maternity clothes, and more. Basically, use it anywhere you need some extra stretch in your iron-on design.
Video Tutorial
Enough talk! Let's see it up close and personal! I made a short video to explain the product to you as well as show you the stretch.
How To Use SportFlex Iron On To Make A Toddler Football Shirt
Isn't this product fabulous? I love the stretch that it offers and the crafty possibilities that it provides!
I promised you a project with this material to go along with the demonstration. This fun shirt is perfect for toddlers and comes together in just minutes.
Supplies Needed
Here's what you'll need to make this project. I have included a few handy links to make it faster to find certain products.
Instructions
This project is literally as easy as 1…2…3! Follow along to see for yourself.
Step 1
Start by using the cut file to cut the SportFlex Iron-on vinyl. As with any iron-on product, be sure to mirror the image before cutting and put the material's shiny side down on your mat before cutting.
Step 2
After cutting, remove any excess material from around the outside as well as in the center of the letters. Weeding tools are optional and make this step faster and easier.
Step 3
Use your iron or EasyPress to add the iron-on vinyl to any shirt where you need some extra stretch.
Voila! Your project is done!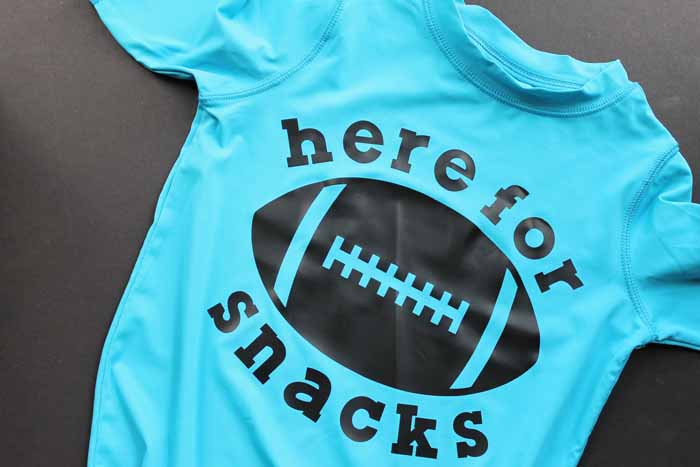 You will love how this product gives and stretches once it's ironed onto the shirt. This is a must for those stretchier fabrics. If you didn't think you could embellish those materials, think again!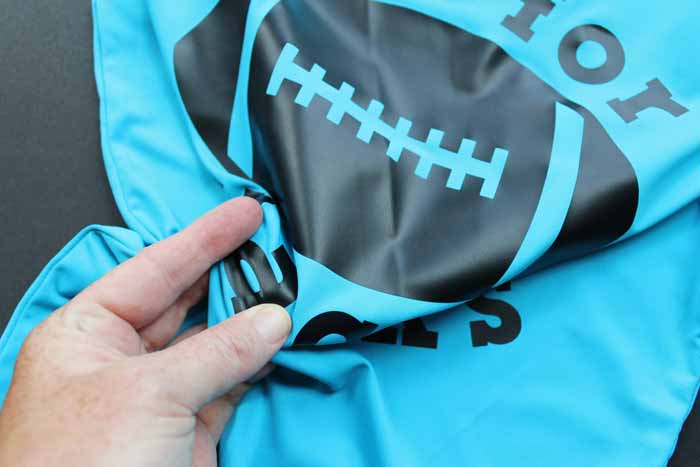 FAQs
Here are a couple of questions that I see readers ask about using SportFlex Iron-On. If you have a question, please check to see if I've already answered it below. Don't see your question? Leave it for me in the comments!
Where can I buy SportFlex Iron-On vinyl?
Look for Sportflex Iron-on at a craft store near you, or you can order it from Amazon.
Can I use SportFlex iron-on on cotton?
No. First, SportFlex is intended for fabrics far stretchier than cotton. More importantly, this special vinyl product is ideal for tech fabrics and won't adhere to natural fabrics like cotton.
What temperature should you set the EasyPress to when working with SportFlex iron-on vinyl?
I highly recommend using the Cricut Heat Guide. You can input the type of vinyl you're using as well as the kind of material you're adhering it to. Then the guide will tell you what heat setting you need on your EasyPress.
Does this product last?
Can you count on this product to actually stay on your projects? First, follow these care instructions:
Allow 24 hours after application before washing.
Wash and tumble dry the garment inside-out.
Do not bleach.
If you need to iron, only iron on the backside of the garment.
Otherwise, if you have applied correctly, Cricut actually has a StrongBond™ Guarantee that lets you know that this product is in it for the long haul! So, make all of the shirts, stretch pants, and more with your SportFlex Iron on, and know that it will be there for a long, long time!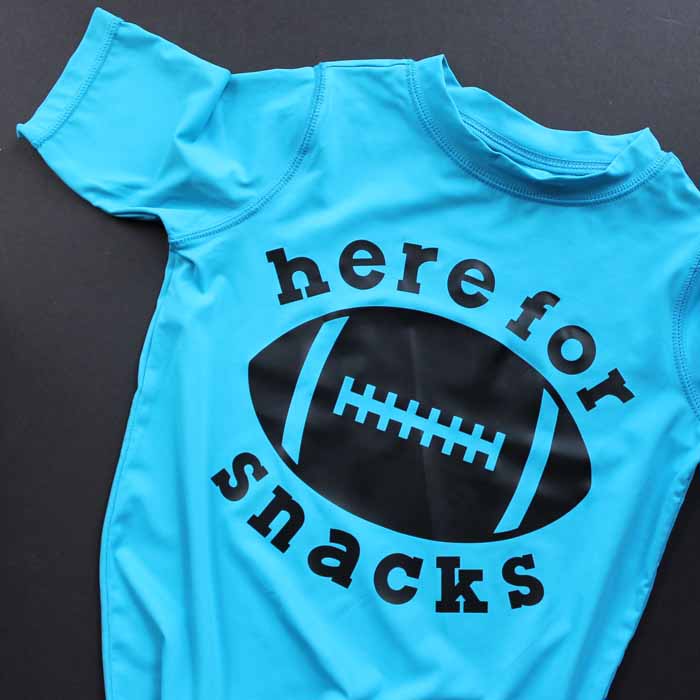 More Cricut Vinyl Crafting Inspiration
If you love this SportFlex Iron-On guide and want to make more iron-on projects, try these ideas!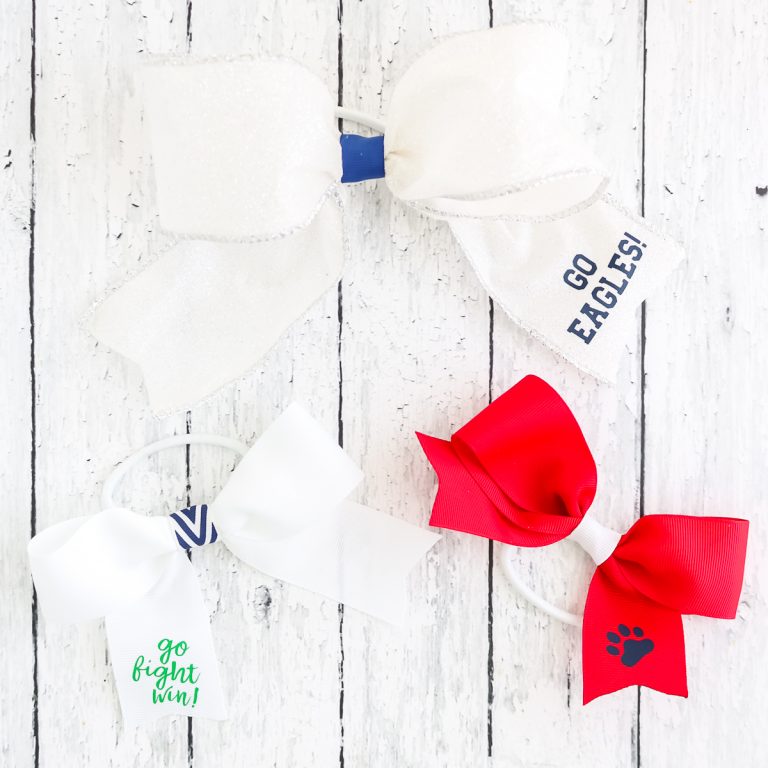 Cheer Bows with Heat Transfer Vinyl
Make cheer bows with your Cricut machine and HTV using these easy to follow instructions.
Read More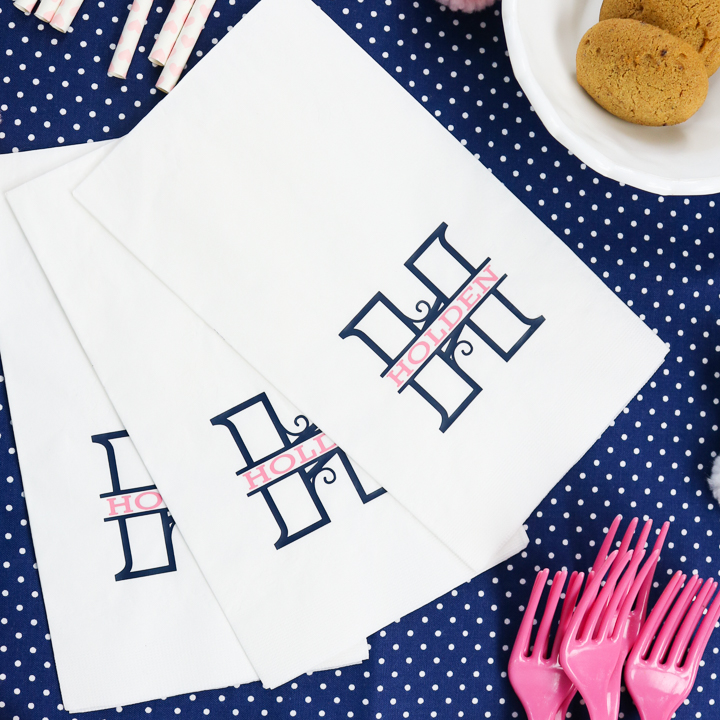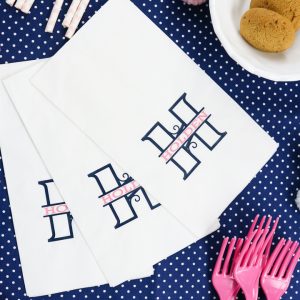 How To Make Custom Napkins Using Heat Transfer Vinyl
Easily make affordable and unique custom napkins using this process with heat transfer vinyl.
Read More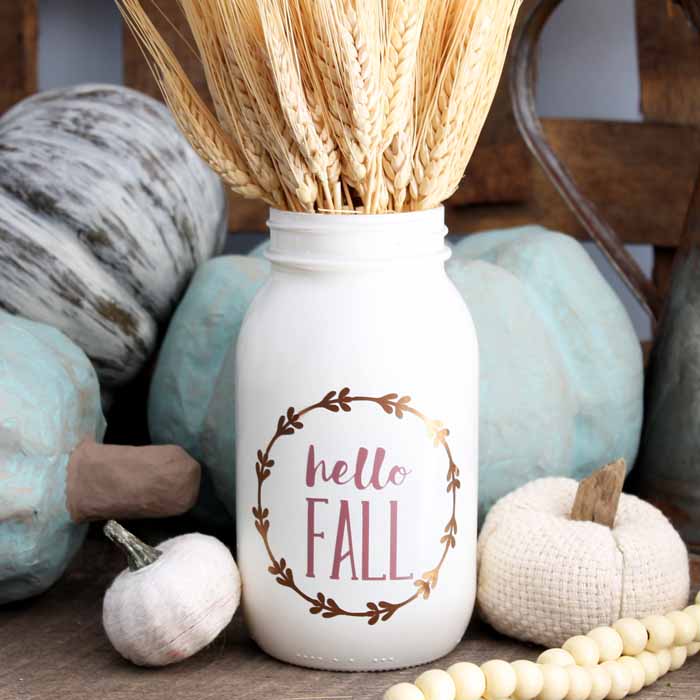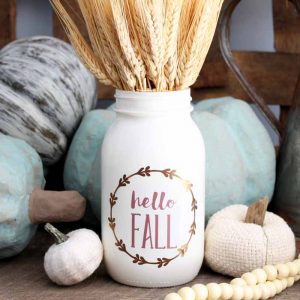 How to Add Vinyl on Mason Jars
Make decorative glass jars for fall with this easy technique and your Cricut machine.
Read More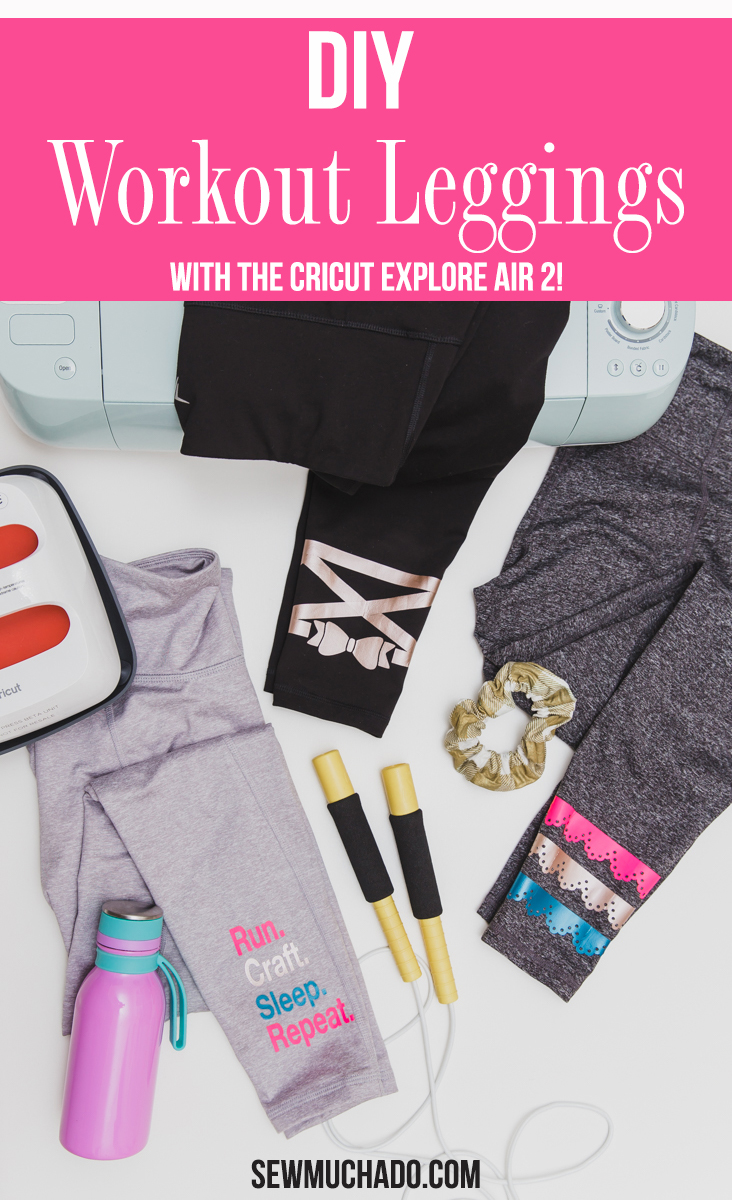 DIY Workout Leggings with the Cricut Explore Air 2 – Sew Much Ado
Make a pair of fun DIY workout leggings with your Cricut Explore Air 2, the Cricut EasyPress Mini, and SportFlex Iron-on!
Read More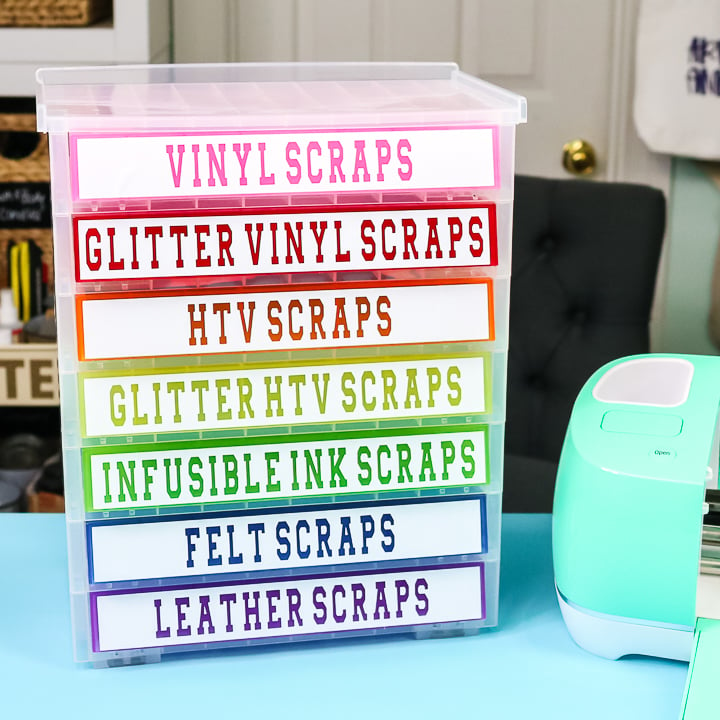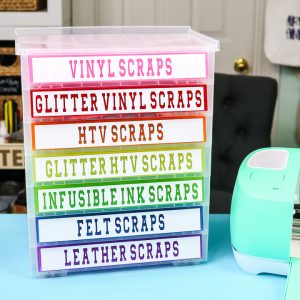 Using Vinyl to Make Labels
Make Cricut labels using adhesive vinyl for any room!
Read More
Funny Workout Shirt: "Will Run for Donuts" with Cricut SportFlex Iron-On
Make this "Will Run for Donuts" funny workout shirt with the all-new Cricut SportFlex Iron-on vinyl – made specifically for stretchy athletic fabrics!
Read More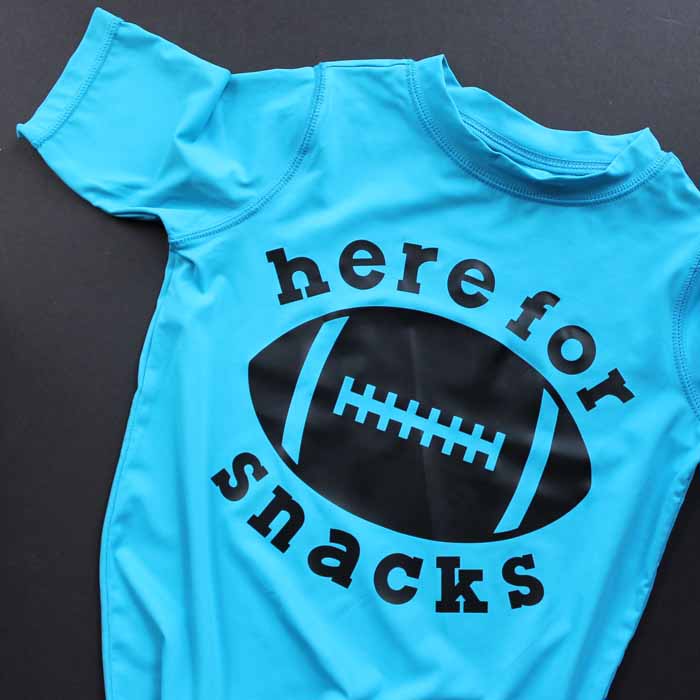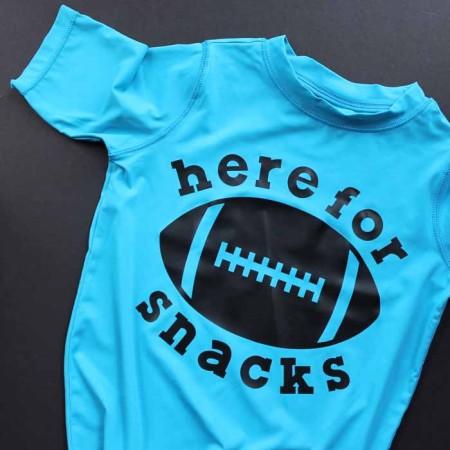 How To Make A Stretchy Garment With SportFlex Iron-On Vinyl
If you're working with stretchy material, you need vinyl that will stretch too.
Supplies
Dry-fit shirt

Football shirt cut file
Instructions
Use the cut file to cut the SportFlex Iron-on vinyl. Remember to put the material's shiny side down and mirror the image before cutting.

Use your weeding tools to remove any excess material from around the outside as well as in the center of the letters.

Adhere the vinyl image to the fabric using your EasyPress or iron.
Tried this project?
tag us to show off your work!
New to Cricut?
Sign up for our email list to download the Beginner's Guide to Cricut Design Space for FREE today!
Sign up to get the guide emailed to you!