The time has come y'all for my teen room reveal. Hang on to your hats as I show you the fun and colorful teen room I put together on a budget. Plus I will share links to tons of DIY ideas that you can make for your own home. Lets get this party started!

I am going to take you on a walking tour of the room sharing links to the DIY projects along the way. The room is odd shaped so there is actually a little hallway that is part of the room and it is the first thing you see through the door. We painted and decorated it as part of the room itself. The walls are all painted gray except for one (hang on for those details). Out in the little hallway is the door to the closet where we hung a scarf hanger (with an
over the door organizer
). The
felt
bunting I made last year for her
zebra themed birthday party
. We reuse party decorations as decor regularly around here.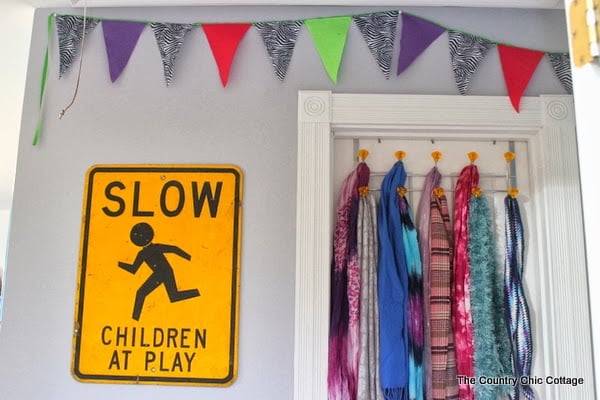 When you turn into the room, you see the wall with the window next. We added tons of color to those gray walls with decor and fun accents.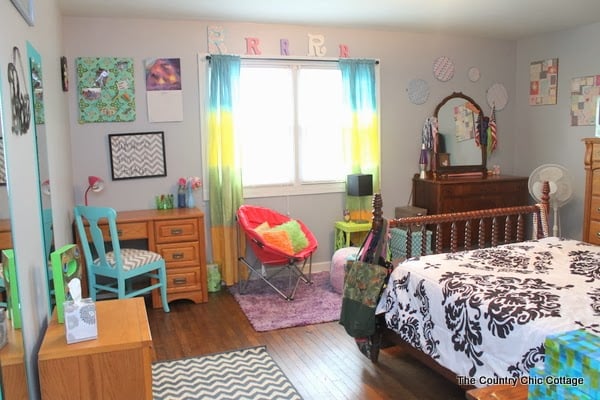 Starting in the study area, we already had the desk and chair but they did not match. So I painted and upholstered the chair so now they don't match on purpose. I also recovered that memo board a while back on my own.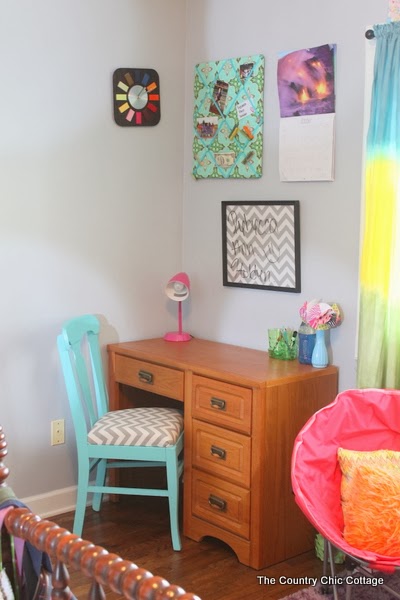 We loved the seat fabric so much that we also added it to a dry erase board. Just pick a frame with plastic instead of glass and add fabric to the inside. So simple yet so cute. We had that pink desk lamp already.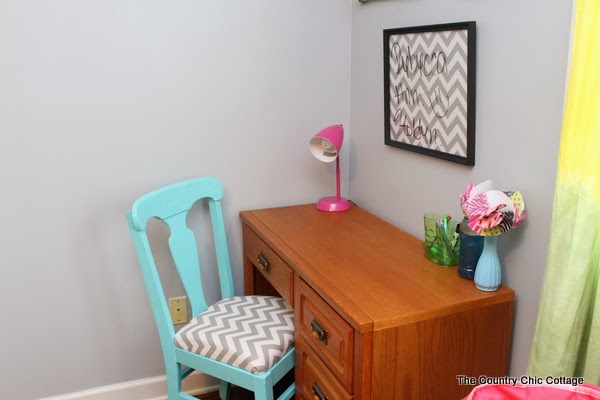 Next up is what I like to call the "hangout" area. Complete with a chair and a DIY pouf ottoman. Plus I took my own advice and added some wicker indoors. That little table was purchased for the room for $15 at a local second-hand store. The purple shag rug was a Target find a few years back. Pick up your own shag pillows here.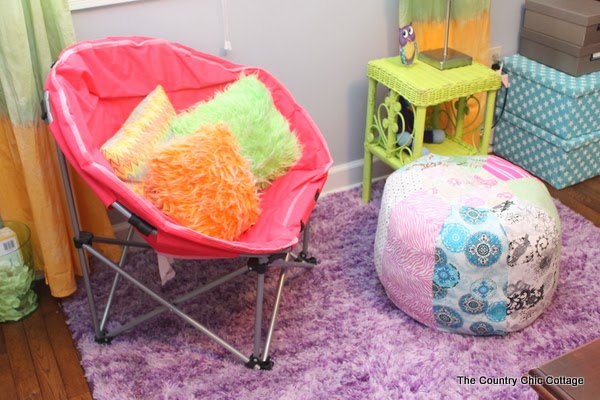 The window contains a collection of initials above it that we have gathered through the years plus my DIY tie dye curtains. The chair houses pillows that were all Goodwill finds.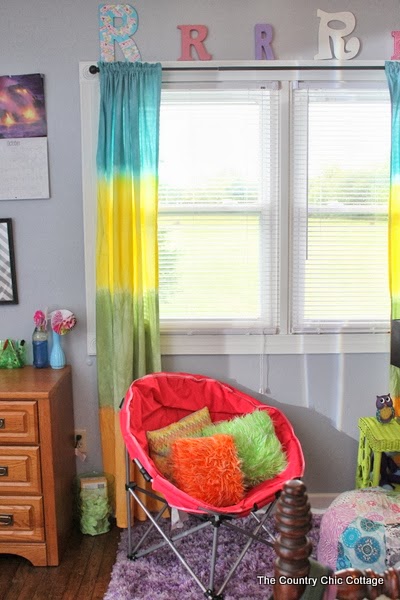 Most of the furniture in the room are antiques that have been given to us by relatives. The only exceptions are the desk, wicker table, chest of drawers and bookshelf. This gorgeous mirrored dresser is no exception. It is perfect for a teen room.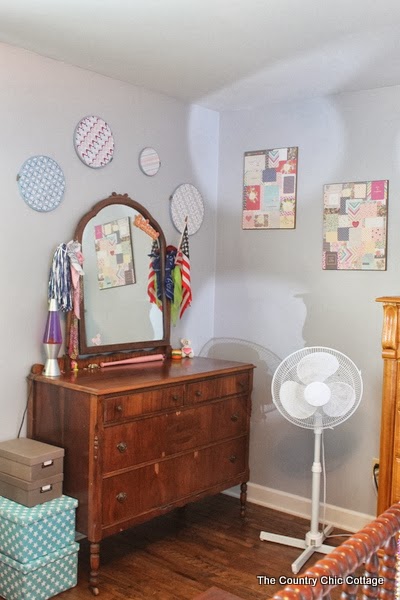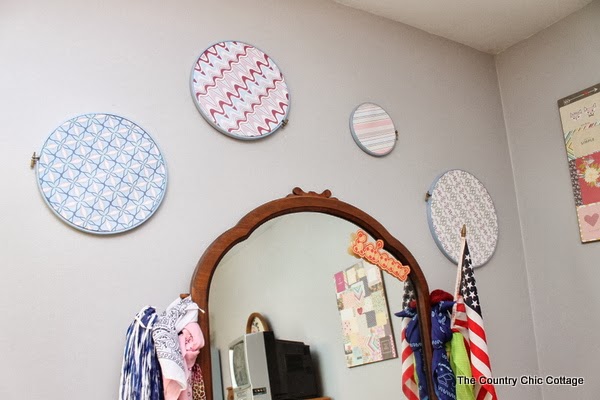 Next to that is the
Project Life collage art
that my teen made herself. It is full of inspirational quotes and fun pictures.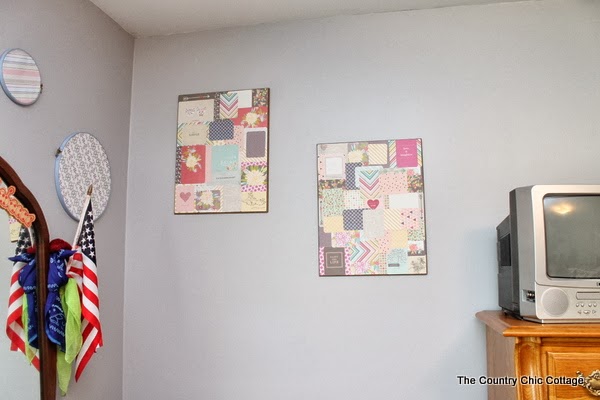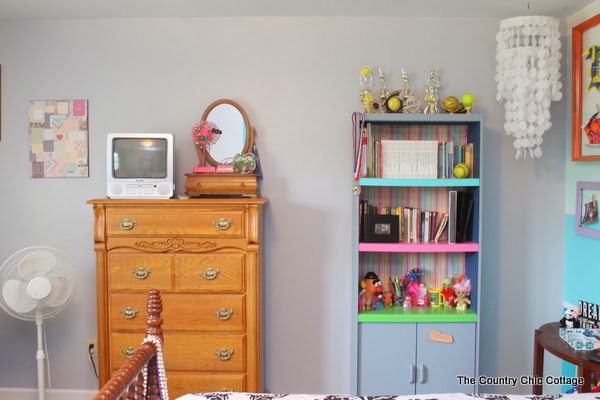 The bookshelf was completed with her trophies, books, and other mementos. Next to it hangs the
rose petal chandy
that I made years ago. She still loves it and it still looks great.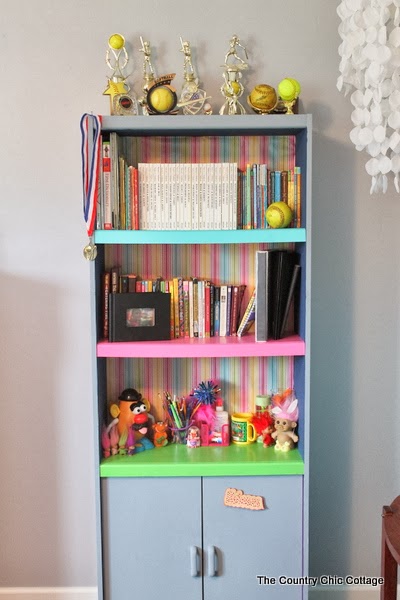 Now for the main focal wall behind her bed. Learn how to get that paint treatment with my
DIY gradient wall
post. We went with a black and white comforter set to ground all of the colors some. The bedding is actually from Walmart. In the center above her bed is the
DIY color block mirror
.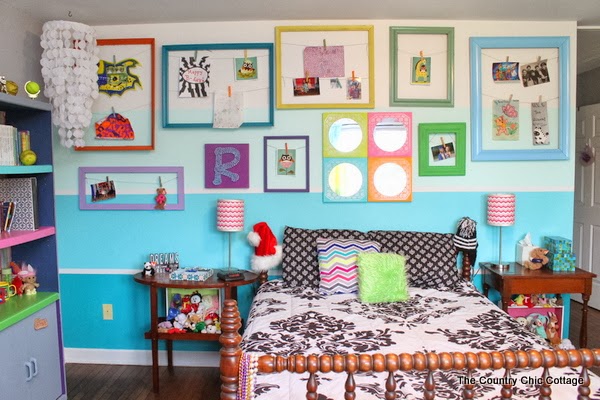 Surrounding the mirror, we added even more colorful frames to our
DIY revolving art wall
. This is a perfect solution for a teen room as they can change up the art and posters on a whim without leaving marks and tape on your walls. Some thrifted frames and paint are all that is required.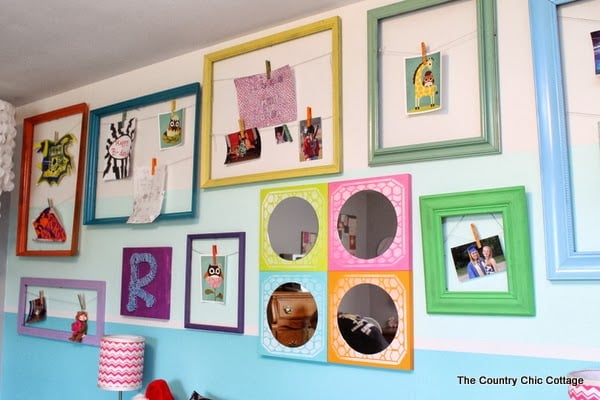 The nightstands on both sides are antiques and house her collection of beanie babies.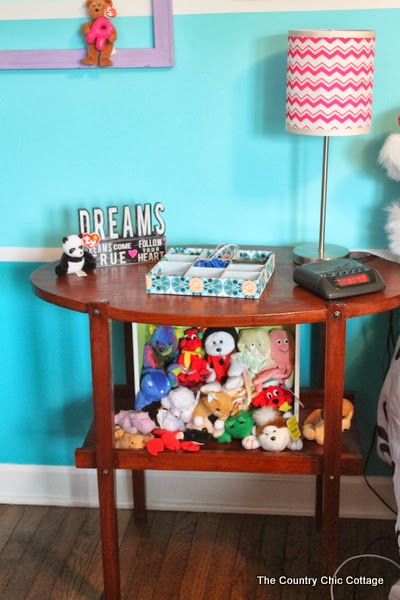 Those pink chevron lamps are actually from the Fred's
Dollar Store
.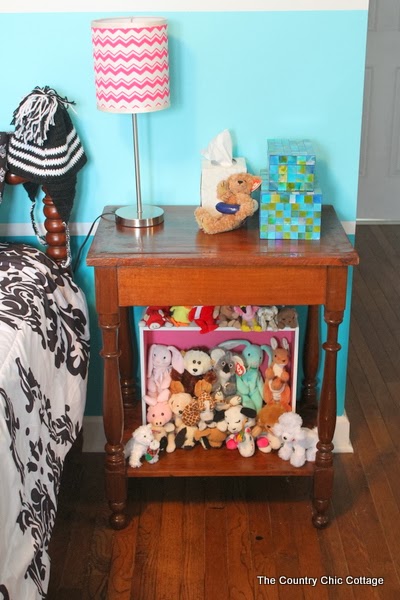 Finally we are back to the wall that leads to the door of the room. The chevron rug was ordered from Rugs . com. I made the
name art above the mirrors
a few years back.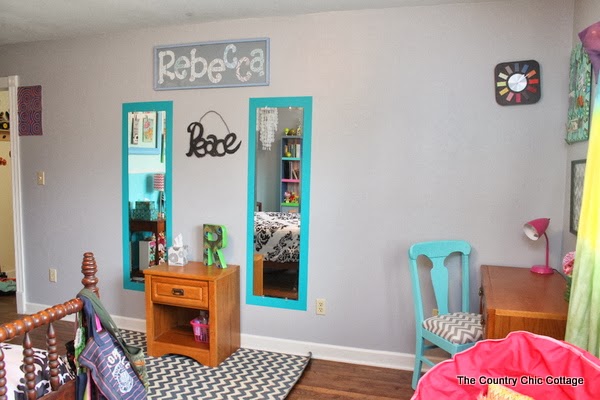 The mirrors are plain build grade frameless mirrors. I painted frames around them in one of the gradient wall colors. The PEACE art is from Hobby Lobby and we spray painted it black. You can check out how to make that still life monogram knock off as well.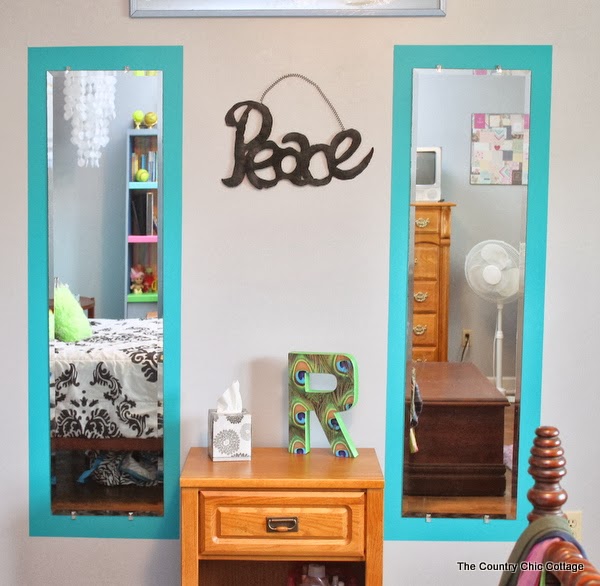 That is all for the tour of our new teen room. If you have any questions about the source of an item you see, please leave it in the comments below. I am in love with how our little room makeover came out. With a combination of DIY and using items we already had on hand, we spent less than $300 on this makeover. I call that budget decorating at its finest! I hope you enjoyed this teen room reveal as much as my teen is enjoying her new fun and colorful room on a budget.