A Cricut machine can be extremely useful for so many different types of crafts. I especially love to use it for specialty holiday items and projects. Here's my mega list of Cricut Valentine ideas that you can make this year sp you can spread some extra love!
I have had a lot of fun collaborating with other bloggers over the years and sharing all our DIY Valentine's ideas. Valentine's Day is a perfect holiday for making irresistibly cute crafts!
Here are dozens of cute ideas that you can make yourself with your Cricut machine. You will find step-by-step instructions for each one at each of the links below.
Go ahead and break out your Cricut so you can get started on some fabulous Valentine's Day projects.
Tip: If you love Valentine's Day crafts, be sure to also check out my Valentine Heart Boxes, Valentine Treats Bag Topper Printable, and Heart Necklace!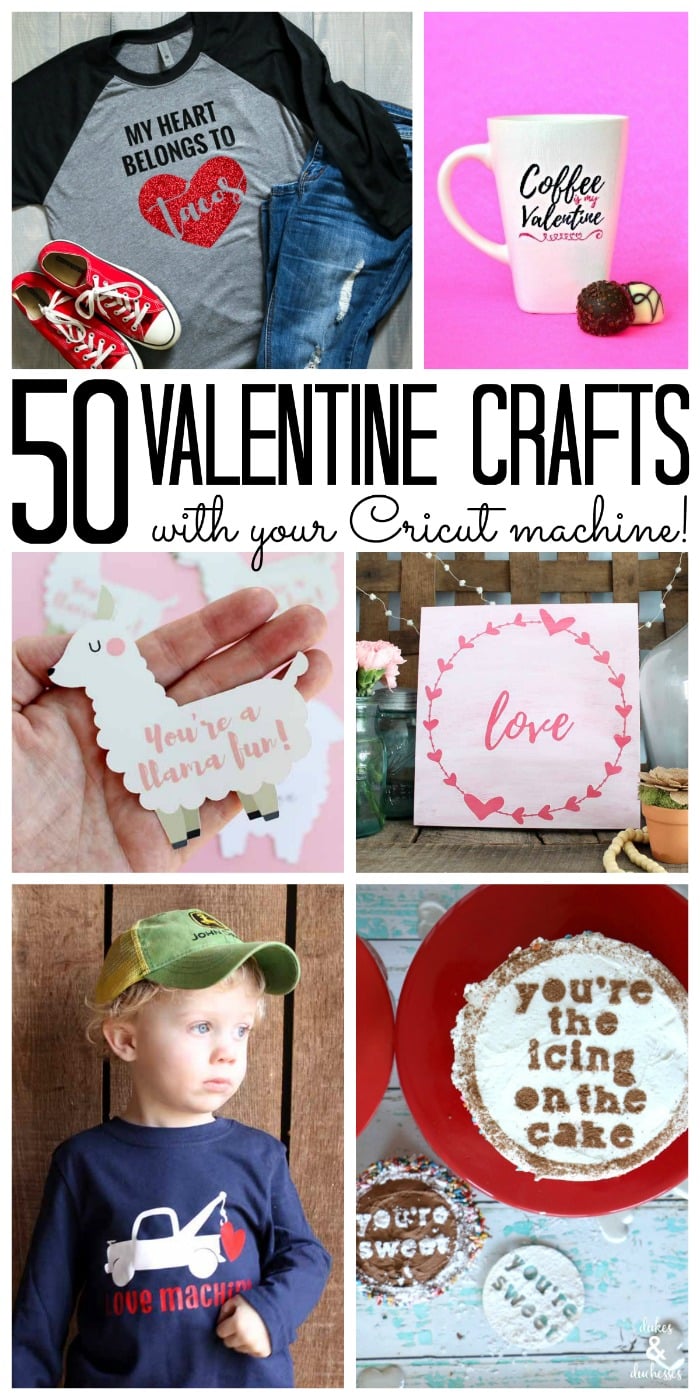 45+ DIY Cricut Projects To Make This Valentine's Day
Get ready for some cuteness overload! You can click on each of the links below to be taken to the instructions for each project.
New to Cricut and Design Space? Be sure to download our free beginner's guide before you get started!
Combine a cheesy valentine with a pun, and I consider that to be a winner! It just doesn't get any better than this can wrapper.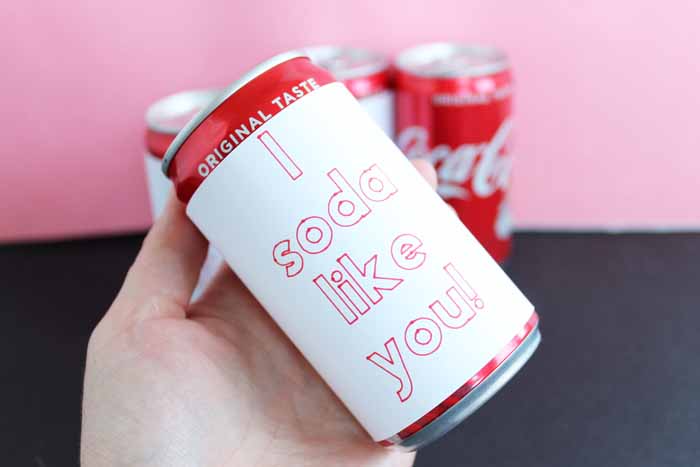 Don't feel like you can decorate a cake so that you get a nice, professional-looking finish? You may not be a professional cake decorator, but don't let that stop you from doing it anyway! Make your own stencils and easily give your homemade cakes the unique finish you want.
These hearts are adorable. Using your Cricut machine to create them makes the process quick so you can easily create multiples!
Celebrate the ladies in your life this year with these Galentine's Day files. Create a bunch of coffee mugs and enjoy brunch together on February 13th!
Banners are great pieces of decor because they are simple yet make a big visual impact. Use your Cricut machine to make your own unique Valentine's Day banner.
This is one of those Cricut Valentine ideas that can be adapted to create a huge variety of personalized tags and other projects. Change the colors, wording, and materials to make your own unique items!
These were made to hold mini chocolates, but Cricut Valentine ideas like these boxes can hold any small trinkets or gifts.
If you want a different type of gift box, look no further. This box is cute and perfect for any small Valentine's Day gift.
Add a vintage piece of decor to your home for the holiday with this beautiful garland.
Grab this SVG file to add a cheeky holiday phrase to your own coffee mug, shirt, hat, tote, etc with your Cricut machine!
You can never have too many beautiful pieces of wall art! Add one for Valentine's Day to your collection with the help of your Cricut.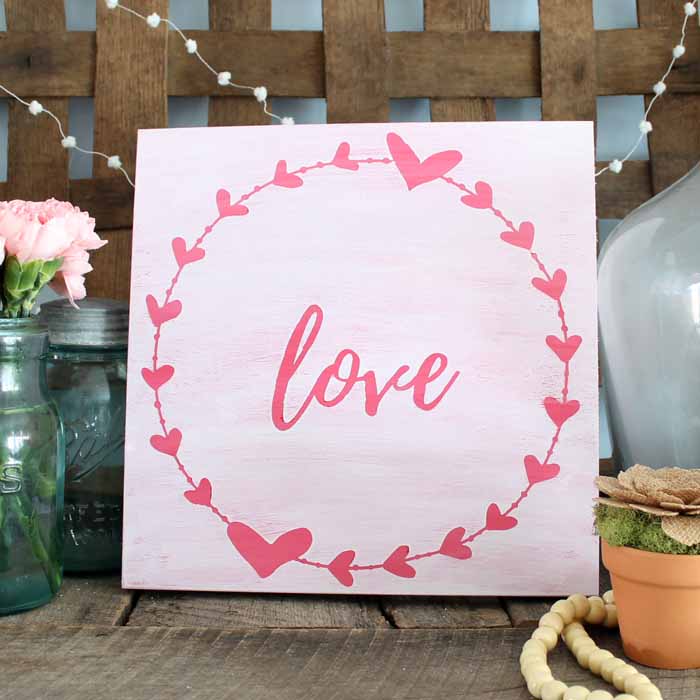 Coffee mugs make great Valentine's Day gifts because they're practical and super easy to make with your Cricut machine. Everyone needs a cup of coffee, tea, or hot chocolate when it's cold outside, right?
Instead of attaching a piece of candy or another sugary treat to your kids' school valentines make these bookmark Cricut Valentine ideas instead! They're quick and easy – and dentist-friendly.
I love this card! Simple Cricut Valentine Ideas like this card are the best because you can take the basic design and use it any way you want to.
Instead of a gift box, how about making a gift basket? There's no limit to the Cricut Valentine ideas you can make!
Use your Cricut to make a card that your kids (or you!) can color. This dinosaur image is adorable.
The abilities of your Cricut aren't limited to t-shirts, coffee mugs, cards, etc. Put your Cricut to use making fun nail decals too.
This locked heart card is such a creative idea. Use your Cricut to make cards reminiscent of a locking journal – you never know what kind of secrets they may hold. 🙂
Here's a simple no-sew heart garland that can be made in only minutes with felt.
These adorable treat boxes are perfect for handing out treats at school or when hosting a gathering!
Make these treat boxes with your Cricut then use them to pass out treats. Don't forget to whip up some of these delicious goodies!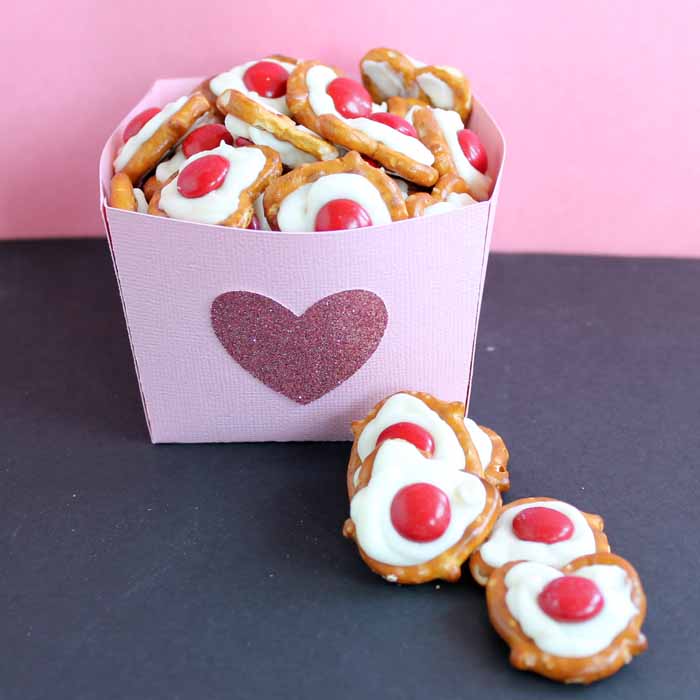 Here's a fun idea! Make 3D wall art with the help of your Cricut. It's terrific for any style of decor.
I love the funny phrases and cute design of these cards. They're perfect for the love in your life or your besties.
This mini banner would be perfect for a child's bedroom or to put around a classroom for a class party.
Turn your hand lettering into a cut file that you can use with your Cricut with this tutorial.
You know I love a good farmhouse sign! Pull out your Cricut and get started.
Everyone needs an XOXO heart garland! No list of Cricut Valentine ideas would be complete without it.
These treat bags are envelope-shaped, so they're perfect for small, loose items such as candy, erasers, or small trinkets.
Pull out your Cricut and print this free design. Then, add it to any color candle that you want for an easy Valentine's Day decor piece you can display anywhere.
These Tic Tac Toe cards are so much fun! I love the creativity of giving out these cards with a couple of different-colored crayons.
No holiday is complete without dressing for the occasion. It's so easy to make that you can make one for all the kids or even the entire family.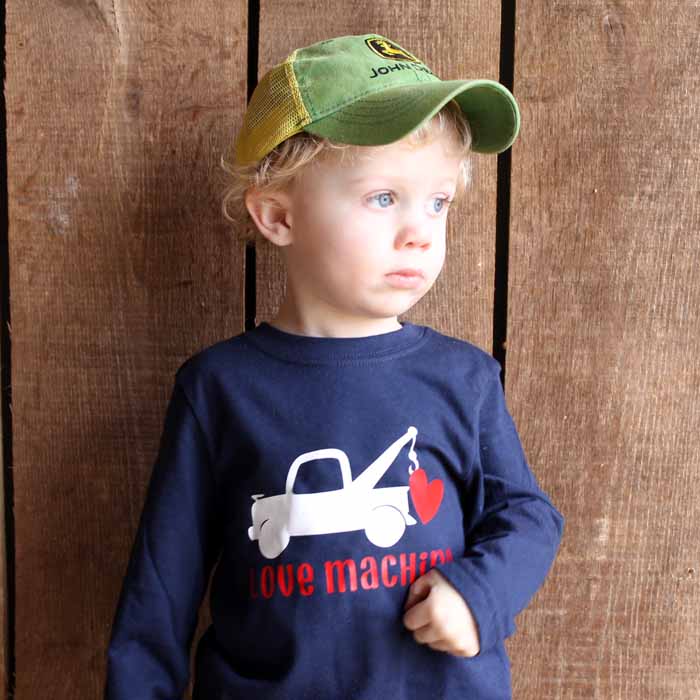 Did you know your Cricut machine could help you make earrings? These mini heart earrings are lovely and very easy to make.
If you normally think of wreaths being made with things other than paper cutouts, this design will open up a whole new world of possibilities. Isn't it beautiful?
Valentine's with an attached lollipop are classic, and these DIY valentines have a cute pun on them!
Make a candle in a mason jar (it's easy), then use your Cricut to make a lacy heart cutout to add to the mason jar.
Here's another fun pun for you! This wooden sign makes this list of Cricut Valentine ideas because it's super simple to make with your Cricut machine.
I love throw pillows because they're a quick way to change up your decor. Make this cute Valentine's Day for your home.
Buffalo plaid is hot, y'all! Use your Cricut machine to create a buffalo plaid heart t-shirt. Everyone will want one. 😉
These milk bottles are one of the cutest Cricut Valentine ideas on this list. Make these bottles, fill them up with sweet treats, and give them to your child's teacher or a friend.
What a creative Cricut Valentine idea! Take a shadow box and add the phrase to the front then fill it up with cut hearts that have messages of love written on them.
If you're looking for a cute AND funny Valentine (or your loved one loves llamas), this one is for you!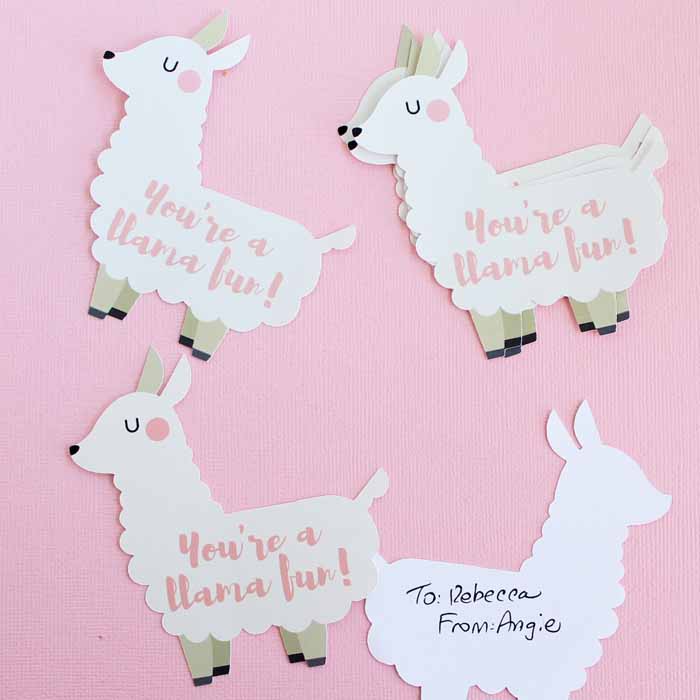 Here's a cute version of a Valentine's Day card that your kiddos can color!
Regular bookmarks are great, but I particularly love page corner bookmarks. This felt heart design is perfect.
Here's another heart earrings design, and they're so much fun. Make a pair (or three!) for yourself.
One mug is great, but a pair is even better. Make this set for your sweetie, your bestie, or your child!
We've listed a couple of different pairs of earrings. Be sure to make this lovely XOXO necklace after you make your earrings.
Use One Of These Cricut Valentine Ideas To Celebrate
In order to make the crafts on this list, you'll need a Cricut machine. Although it's not a small purchase, if you love crafting, it'll take your crafting skills to a whole new level and is totally worth it!
If you are thinking of buying a Cricut machine, check out the difference between the machines and see which one fits your needs the most.
More Valentine's Day Inspiration
I hope you have enjoyed these DIY Cricut Valentine ideas that you can make this year! Here are more Valentine's ideas you won't want to miss:
New to Cricut?
Sign up for our email list here to download the Beginner's Guide to Cricut Design Space for FREE today!
Sign up to get the guide emailed to you!