Commercial air fresheners are filled with artificial fragrances and chemicals. If you're trying to find a simpler, more natural solution to foul odors, try making your own DIY lavender air freshener!
Every time I've tried to use commercial air fresheners, I've been disappointed in the results. That's why a few years ago, I started cleaning up my household cleaning supplies. As part of that effort, I also ditched chemical-laden items such as manufactured air fresheners and replaced them with this natural air freshener recipe.
In the process of trying to come up with the best DIY recipe, I discovered that essential oils make great natural air fresheners! But, if you don't have essential oils on hand, you can also use a real-life lavender plant.
Add a gorgeous lavender air freshener to any room by putting lavender in a mason jar!
The idea for this started when Carolina from 30 Minute Crafts and I made this video with 10 gifts in a jar. She added lavender to a jar in the video for a fun gift, and I thought the idea was brilliant! I had tons of lavender in my flower garden so I was ready to go.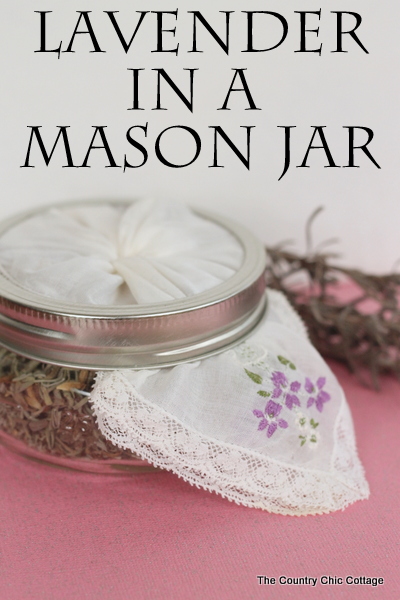 Lavender Air Freshener Supplies Needed
The brilliance of this project comes from its simplicity. All you need are 3 simple supplies:
Fresh cut lavender stems – if you don't grow lavender, you might be able to get some from a friend who does or get a live plant from your local grocery store.
Small mason jar with band
Piece of fabric or handkerchief
How To Make A DIY Lavender Air Freshener
Follow this step-by-step guide to making your own mason jar air freshener!
Step 1
First pull the lavender leaves off the stems and add them to the mason jar.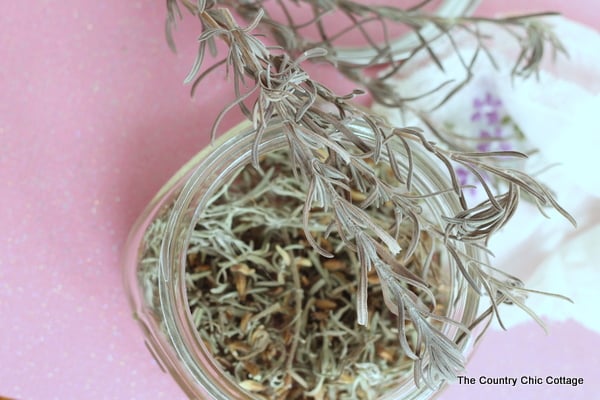 Step 2
Add fabric to the top as a decorative "lid" that allows the fragrance to flow out. The mason jar band will hold the fabric in place, so it doesn't slide off.
Carolina just used a piece of decorative fabric on top of her jar, but I wanted to be a little different. I had a vintage handkerchief in my stash, so I grabbed it. Then, I bundled it up in the middle and secured the bunched fabric with a rubber band to make it the proper size to fit on my jar.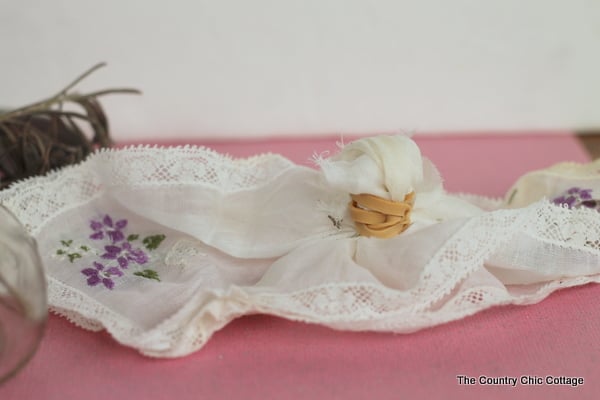 With the rubber band side down so that the bundled part went into the jar, I screwed the band lid onto the jar. I love that puckered look on the top. It really adds a special decorative touch!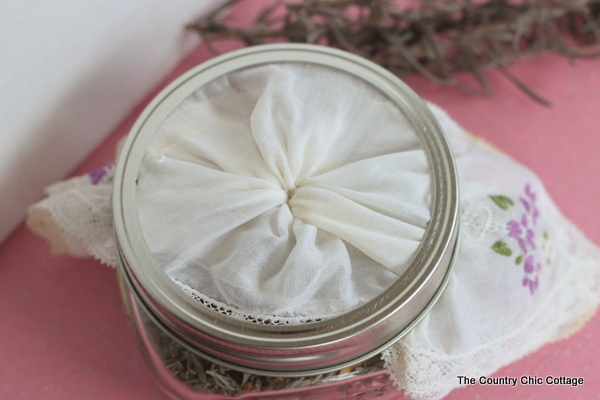 And that's it! It really is that simple to make your own lavender air freshener.
This lavender in a mason jar now resides in my bathroom, where I can appreciate its amazing scent. I just shake the jar occasionally to stir up the smell when it seems to be fading. Another option is to add a few drops of lavender essential oils directly to the lavender leaves if the scent fades too much over time.
Other Ways To Use Lavender
What do you use lavender for in your home? I have a TON more and need a way to use it y'all. So far, I have my Bubbling Lavender Bath Salts Recipe and my Lavender Sugar Scrub, but I need more ideas! Feel free to share yours in the comments.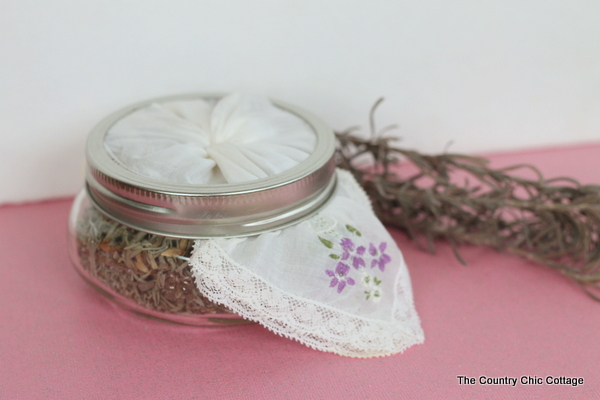 Natural Cleaning Solutions and DIY Beauty Products
Once you "go green" with your cleaning and beauty products, you'll never go back! In addition to this lavender air freshener, here are a few ideas to help.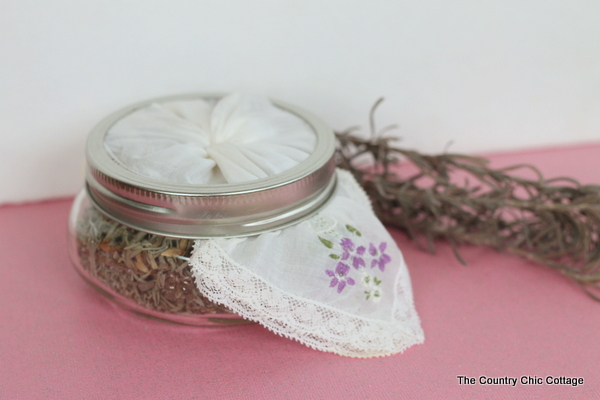 DIY Lavender Air Freshener
Make this simple natural lavender air freshener with fresh lavender in just minutes.
Supplies
fresh lavender stems

Mason jar

with mason jar lid bandoptional

piece of fabric

or a handkerchief

rubberband

optional, for adding the puckered effect
Instructions
Pull the leaves off the stems of lavender and put them inside the mason jar.

Add a piece of fabric to the top oft he jar and secure it in place with the mason jar band.
Notes
NOTE: if you want to add a puckered effect to the fabric, bunch up some of the fabric near the middle and secure it in place with a rubber band. Put the rubber band side down when you place the fabric over the top of the jar and secure it with the jar band as normal.
Tried this project?
tag us to show off your work!
A Year of Jar Crafts
Sign up for our email list to get a FREE book with an entire year of jar crafts! 12 months, 12 crafts, tons of fun!