Do you ever struggle with Cricut materials? Which is right for your project? Will that material cut on your Cricut machine? Well, I am here to answer all of those questions and more today. I am breaking down a wide variety of materials for Cricut machines so you know which is the right choice for your situation.
This post is sponsored by Cricut, however, all projects and opinions are my own.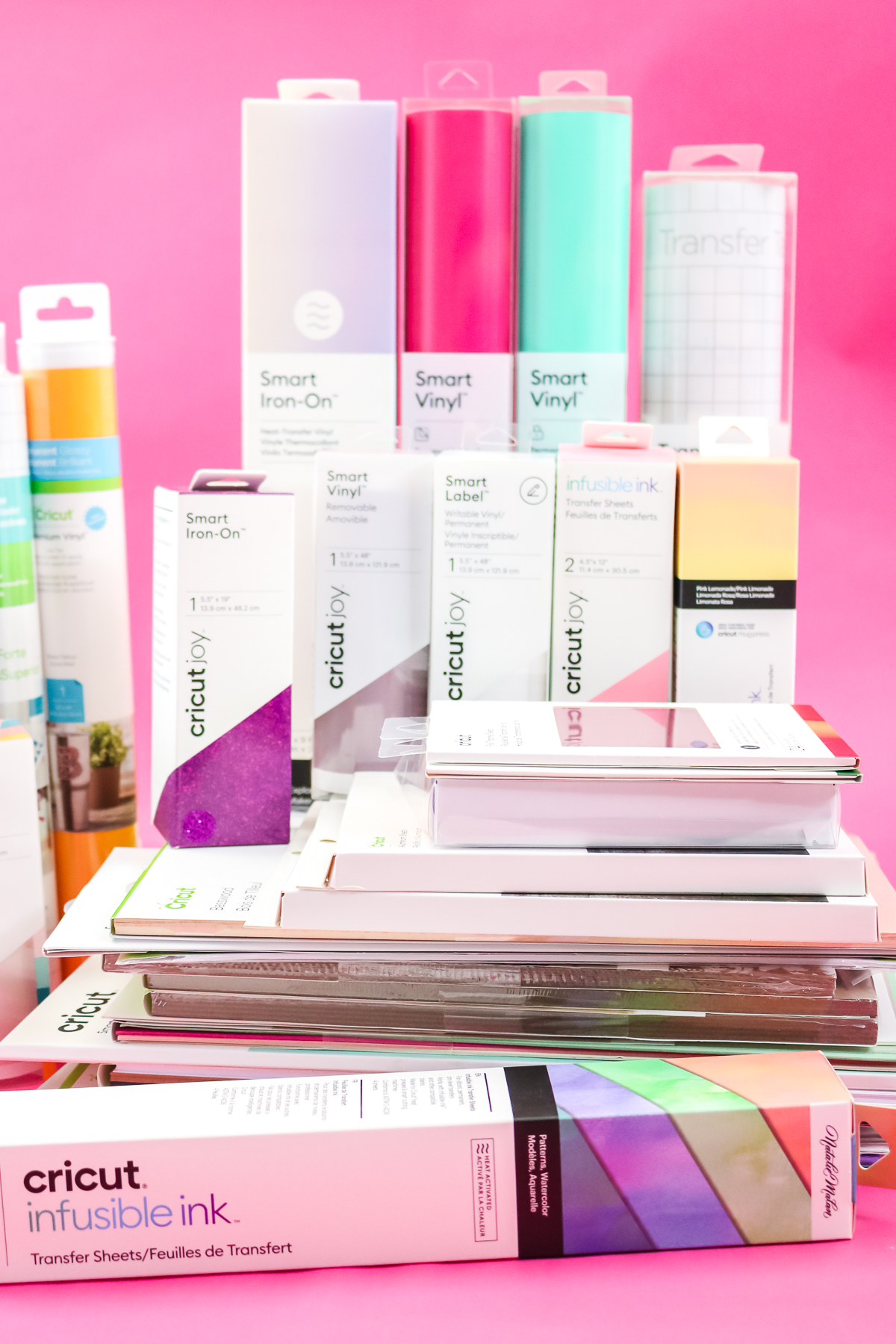 Cricut Materials
If you would like to see me talk about each of the materials, just click play on the video below. I run through each material with information on each so that you can make a decision for your crafting.
Can't watch the video or missed some of the information? You can also follow along below as I walk you through the Cricut materials, what they are, when to use them, and even link you to posts for how to use them the right way.
Paper
Paper is a versatile medium that can make a ton of different craft projects. In fact, many people purchase their first Cricut machine just to cut paper. So, let's take a look at my favorite paper for crafting.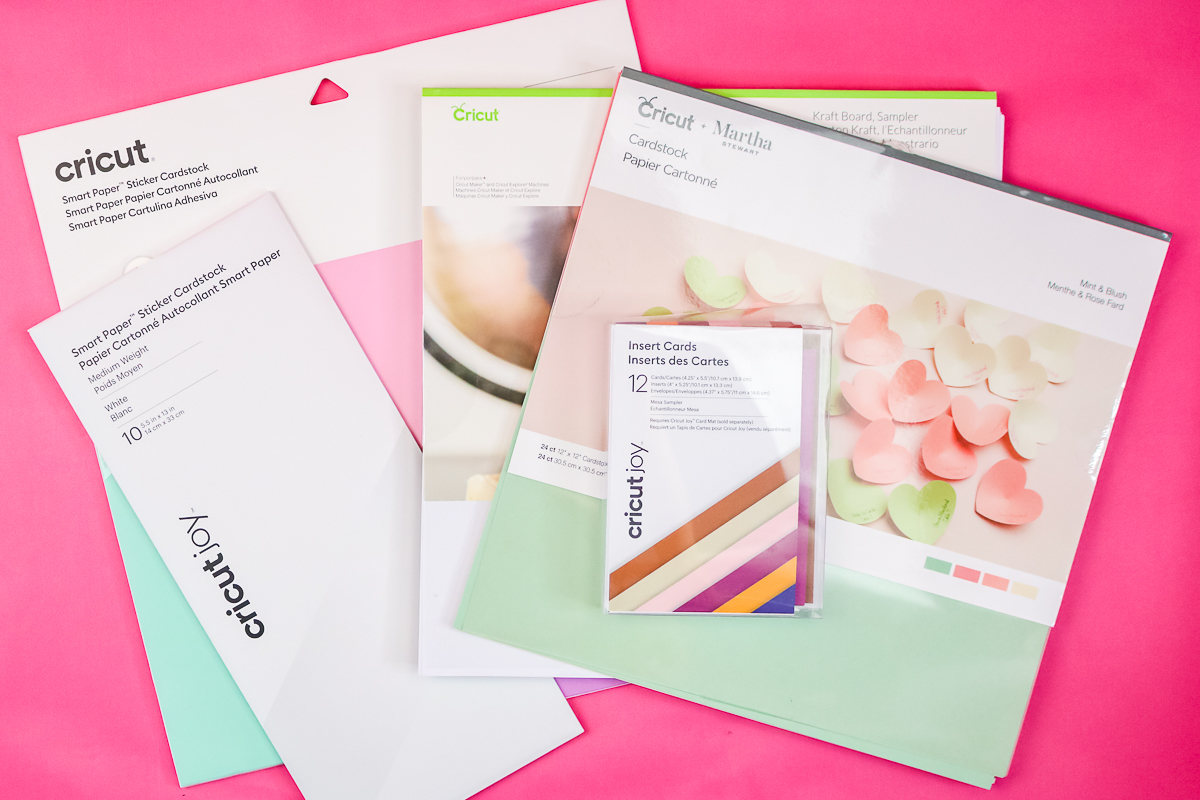 Description
Cardstock is what is most popular for crafting. You may see it referred to by weight (80 lb, 100 lb, etc) and that indicates the thickness of the paper. The higher the number the thicker the paper will be. You will also want to look at whether the paper is solid core or white core. This could make a difference for some project ideas. Just look at the side and see if there is color all the way throughout or a white core covered with color just on the outside.
When to Use It
Paper is very versatile but my favorite applications are cards, tags, paper flowers, banners, and more. I have even made paper plants with my Cricut!
Types
Here are a few of my favorite paper products:
How to Use It
Paper can be cut on your Cricut mat with the fine point blade that comes with every Cricut machine. So, just pick your paper and get started on any project! Paper is actually a great place to get started with Cricut materials if you are just learning how to use your Cricut.
Adhesive Vinyl
I feel like vinyl is another easy to work with material that every Cricut crafter should keep on hand.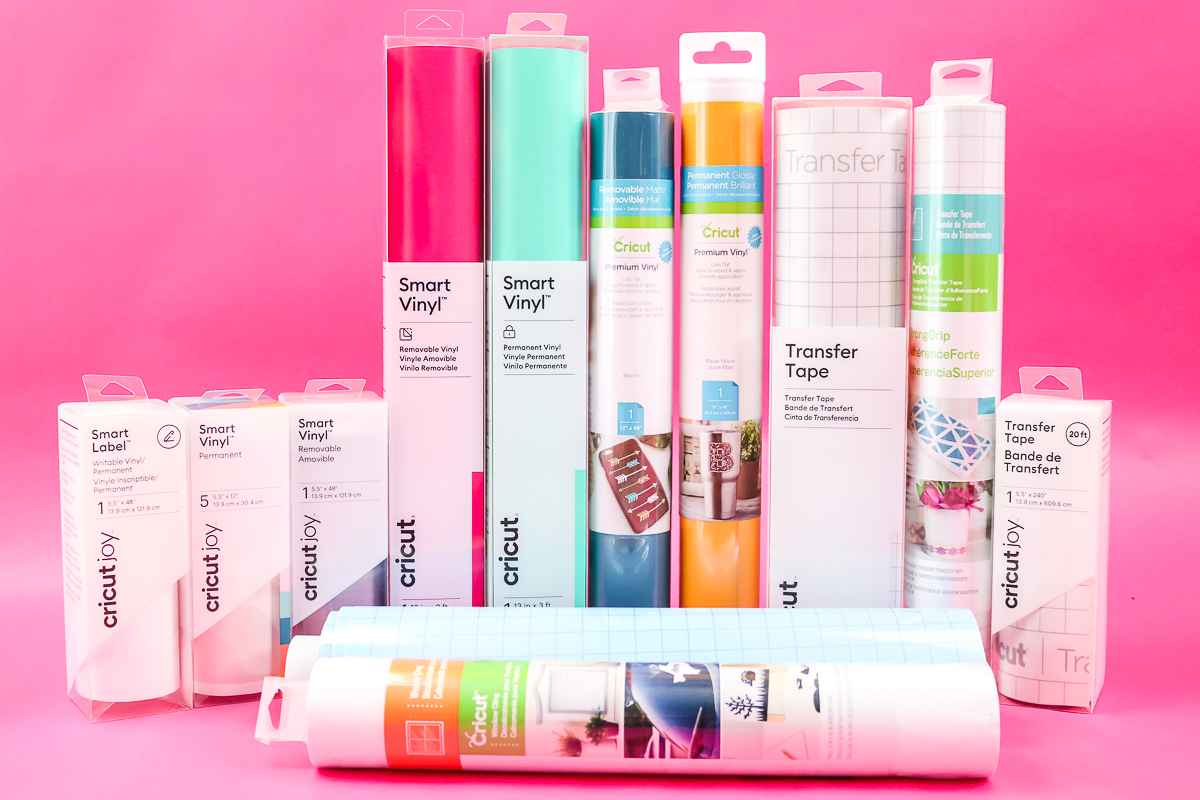 Description
This vinyl has a sticky backing on it and can be cut into shapes. There is both a permanent and a removable version depending on the application. You will need transfer tape to use with your vinyl to make it easier to use.
When to Use It
Permanent vinyl is great for applications where you know you want the material to stay on for a long time. Mugs, signs, glasses, tumblers, car decals, and more! Removable is for applications where you know you will want to remove it later. Vinyl decals on walls, seasonal decor, and more!
Types
There are so many types of vinyl that I will not be able to cover them all here, however, I will list a few of my favorite types.
How to Use It
I have a full tutorial on how to use Cricut vinyl here. It will walk you through the basic steps of cutting and applying your vinyl to your surface. There are special instructions to follow at times depending on the type you are using so be sure to look up instructions if you are confused. It does cut with the fine point blade and can be used in any Cricut.
Iron-on or HTV
We just talked about vinyl for hard surfaces, but what do you use for fabrics and more porous surfaces? Iron-on or heat transfer vinyl (HTV) is the answer and no post about Cricut materials would be complete without a section on this popular material.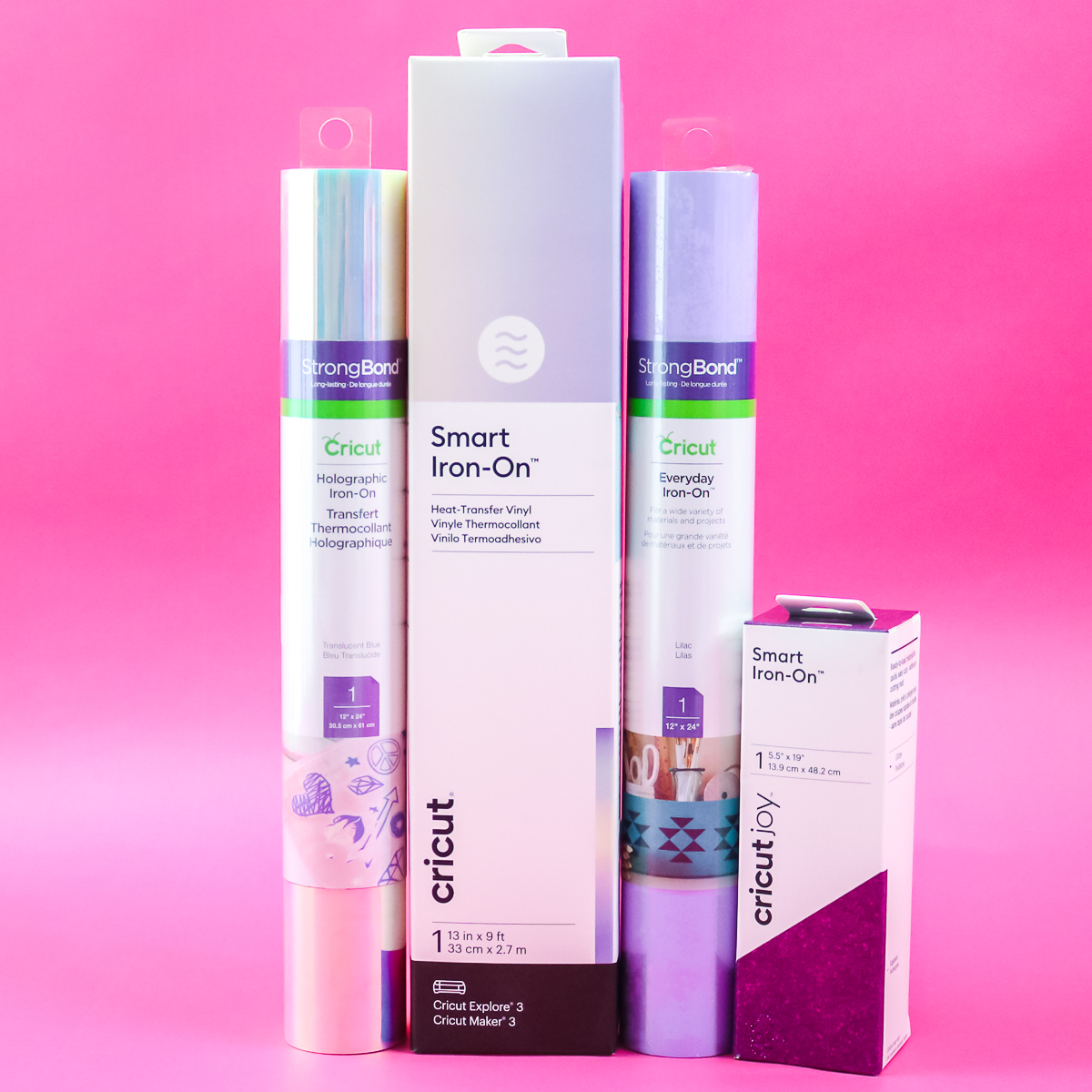 Description
Vinyl with an adhesive on the back that is only activated by heat. This makes it adhere to a variety of fabric surfaces and is the perfect solution for a ton of craft applications. As a general rule, iron-on has a carrier sheet already on the roll so you don't need to worry about transfer tape with this type of vinyl.
When to Use It
This is the perfect material for shirts, totes, shoes, zipper pouches, pillow covers, and so much more. HTV is actually fairly versatile and permanent on most porous surfaces.
Types
Just like with vinyl, there are a ton of different types of iron-on. I will just list a few of my favorites below but you can definitely explore a wide variety.
How to Use It
Now that you have decided that this material is perfect for your project, you will want to see our tutorial here on the basics. It is a bit different as there are a few things you need to remember especially when cutting. It does cut with the fine point blade and can be used on any Cricut machine.
Infusible Ink
If your fabric is polyester or you have a poly-coated blank, you may want to consider Infusible Ink for your project instead. It is permanent and fairly easy to use!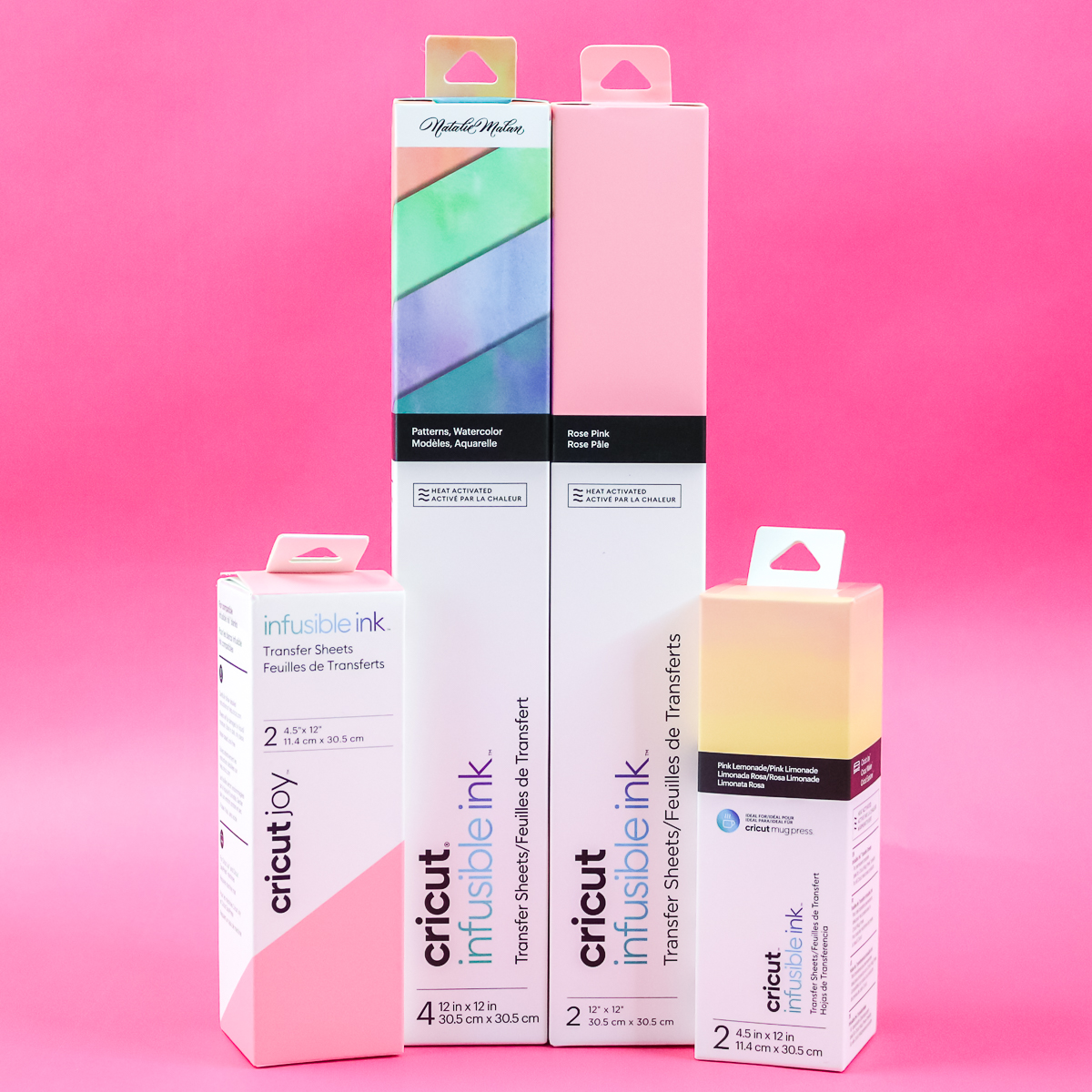 Description
Infusible Ink reacts with polyester or poly-coating when heated to make a permanent bond to your surface. This means the colors actually get embedded into the material instead of just sitting on top like they do with vinyl.
When to Use It
You can use this anytime you have a fabric that is at least 65% polyester or a special blank that has poly-coating. Look for Cricut blanks here that meet those criteria.
Types
There are really only two types of Infusible Ink:
How to Use It
There is a learning curve to Infusible Ink as it is different than other Cricut materials. I recommend our beginner's guide here. It does cut with the fine point blade and can be used on any Cricut machine.
Foil Sheets
There is a foil transfer tool for the Explore and Maker as well as one for the Joy now. That means that you can add metallic foil accents to your projects in any Cricut machine. NOTE: This is a product that you apply to other Cricut materials.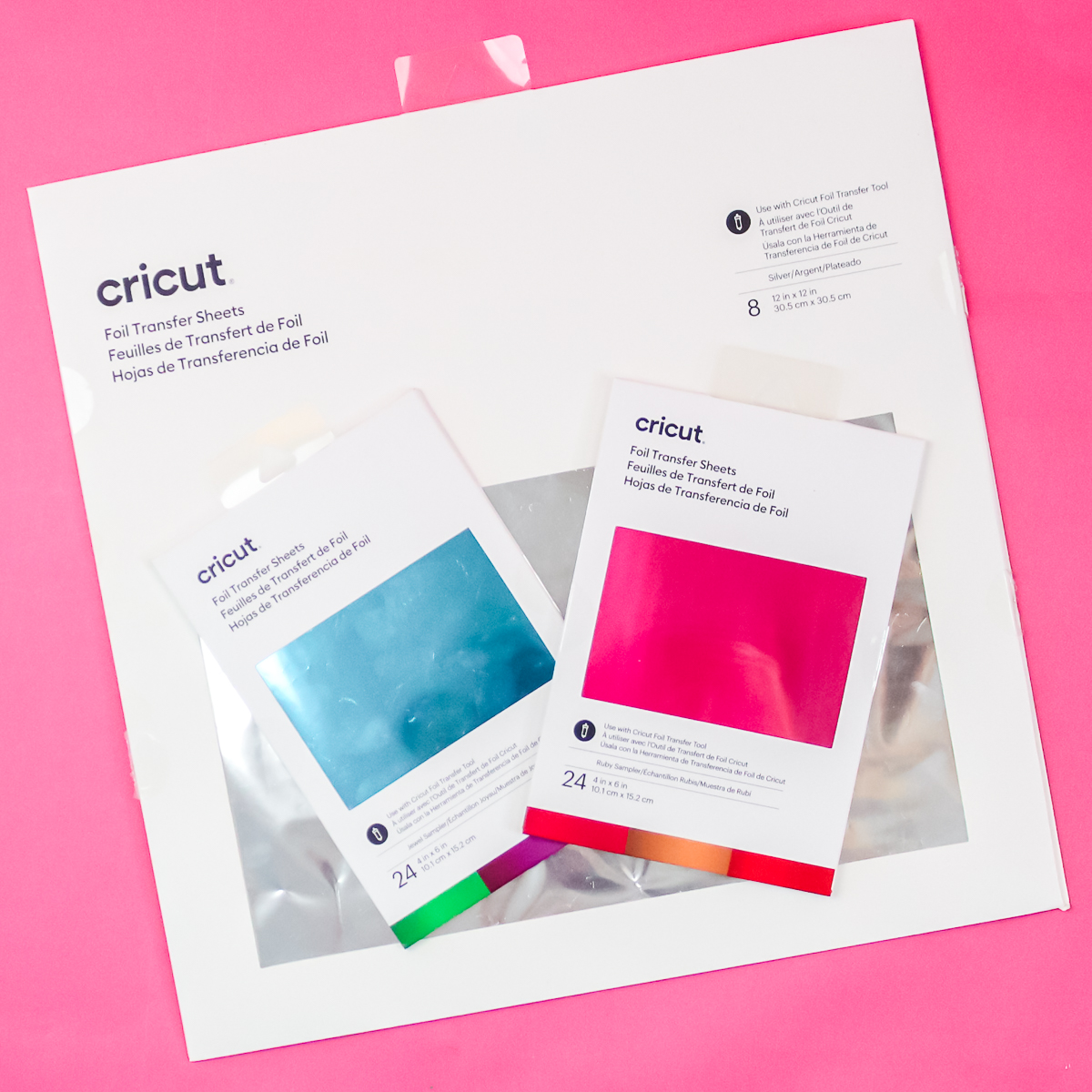 Description
Foil sheets are shiny metallic sheets that are extremely thin. The foil transfers to your surface when pressure is applied. This works really well on paper surfaces and even things like faux leather if you have the Explore or Maker.
When to Use It
You would use this material to add accents to your paper crafts and possibly even other materials as well. It is a material that would be used in addition to one of the other materials on this page.
Types
There is only one type of Cricut Foil sheets, however, they do come in two different sizes. The larger sheets can be cut with scissors so I would just get whichever one works best for your projects.
How to Use It
This material uses a special tool in your Cricut for foil transfer. To see just how to use this, head here if you have an Explore or Maker, or head here if you have the Cricut Joy.
Acetate
This can be a great addition to your crafts plus you can even make some projects just from acetate sheets. Throw in the variety with foil acetate, and this may be one material that is missing from your craft room.
Description
Clear and thin plastic sheets that are easy to cut with any Cricut. These sheets are very thin so they will not hold any weight.
When to Use It
You can use this as "windows" in crafts or this material can even be formed into boxes and more. It is popular for making shaker crafts and cards.
Types
There are two basic types of acetate:
How to Use It
Just put this material on the mat and cut with the fine point blade. It is actually really easy to cut and use so give it a try for your next project.
Printable Materials
Did you know that both the Explore and Maker machine can do print then cut? That means that you can print with your printer then cut out your designs with your Cricut. That opens up even more crafting possibilities with printable Cricut materials.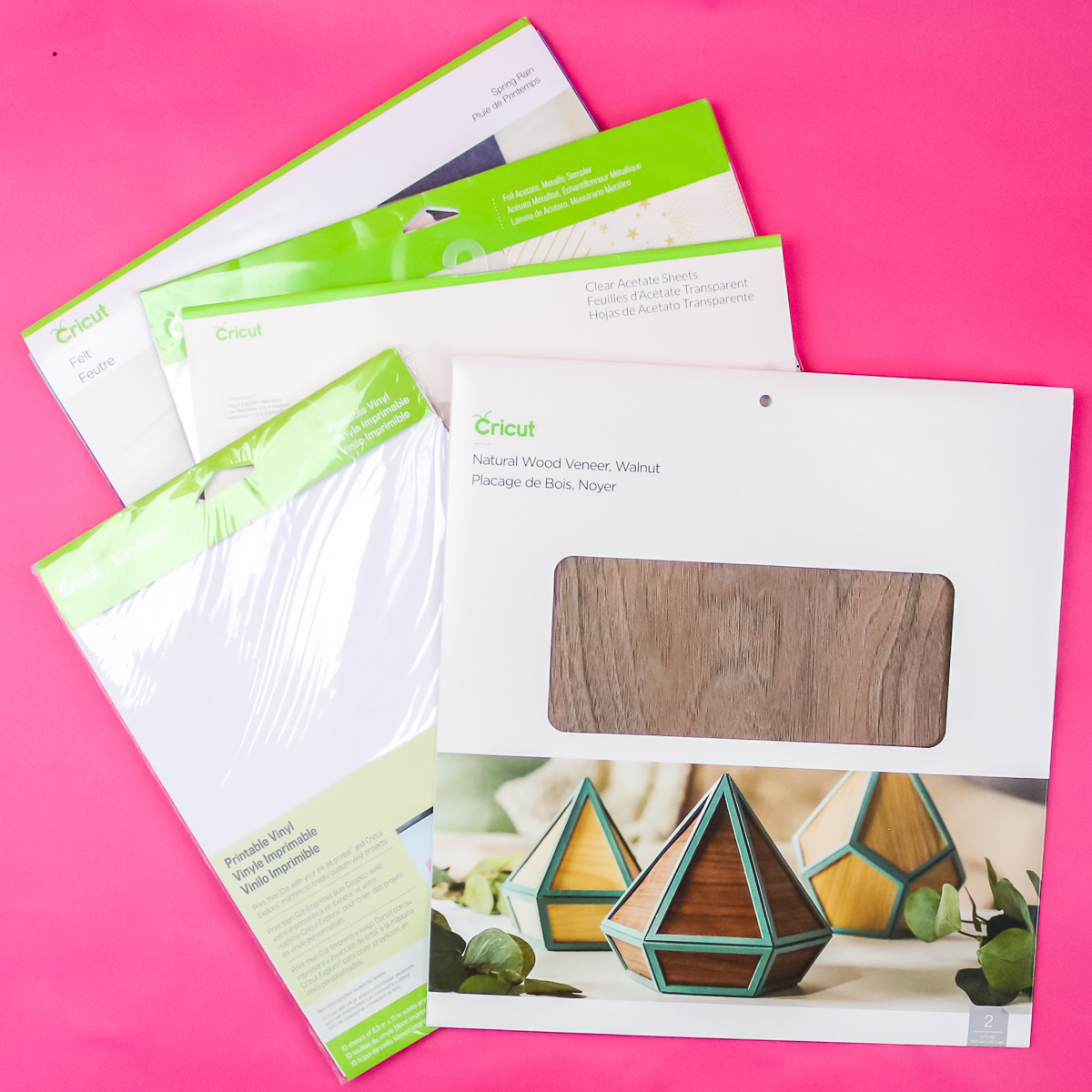 Description
These are material that you can print on before you cut. There are a wide variety of materials that you can find to use this technique with besides just plain paper.
When to Use It
If you want to print something before using it on your surface, this is the material for you. Look for a printable material that matches the surface you want to add your design to and get started.
Types
There are a wide variety of printable materials on the market but here are a few of my favorites:
How to Use It
You will need a computer and a printer in order to send your design from your Cricut to be printed. Otherwise, the process is fairly simple. Be sure to check out this tutorial for making stickers and this one for printable HTV.
Felt
Felt can be easy to cut if you use the right felt and the right settings. However, I don't recommend cutting felt with the Cricut Joy although I have with some success.
Description
Felt is a material that does not fray when cut. That makes it perfect for so many craft projects. The felt that I recommend cutting is actually a stiff felt and you can read more about that below.
When to Use It
Try this when you want to use fabric but you are worried about raw edges. It is also great for projects that you are going to give to the kids as it is durable.
Types
The type that I recommend cutting with your Cricut is the Cricut Felt. It is a stiff felt that cuts like a dream. I have cut all sorts of felt and most of them are hard to cut and can be frustrating. The Cricut brand of felt cuts great every single time.
How to Use It
I recommend cutting this material in your Explore or Maker with the fine point blade. You can change to the rotary blade with the Maker if you are having issues. The number one issue with felt is that it ruins your mat. See more about cutting felt and some of my tips and tricks here.
Faux Leather/Suede
Faux means fake and this version of leather and suede can be a blessing for your crafting needs. These Cricut materials are easy to cut and will look great in a wide variety of projects.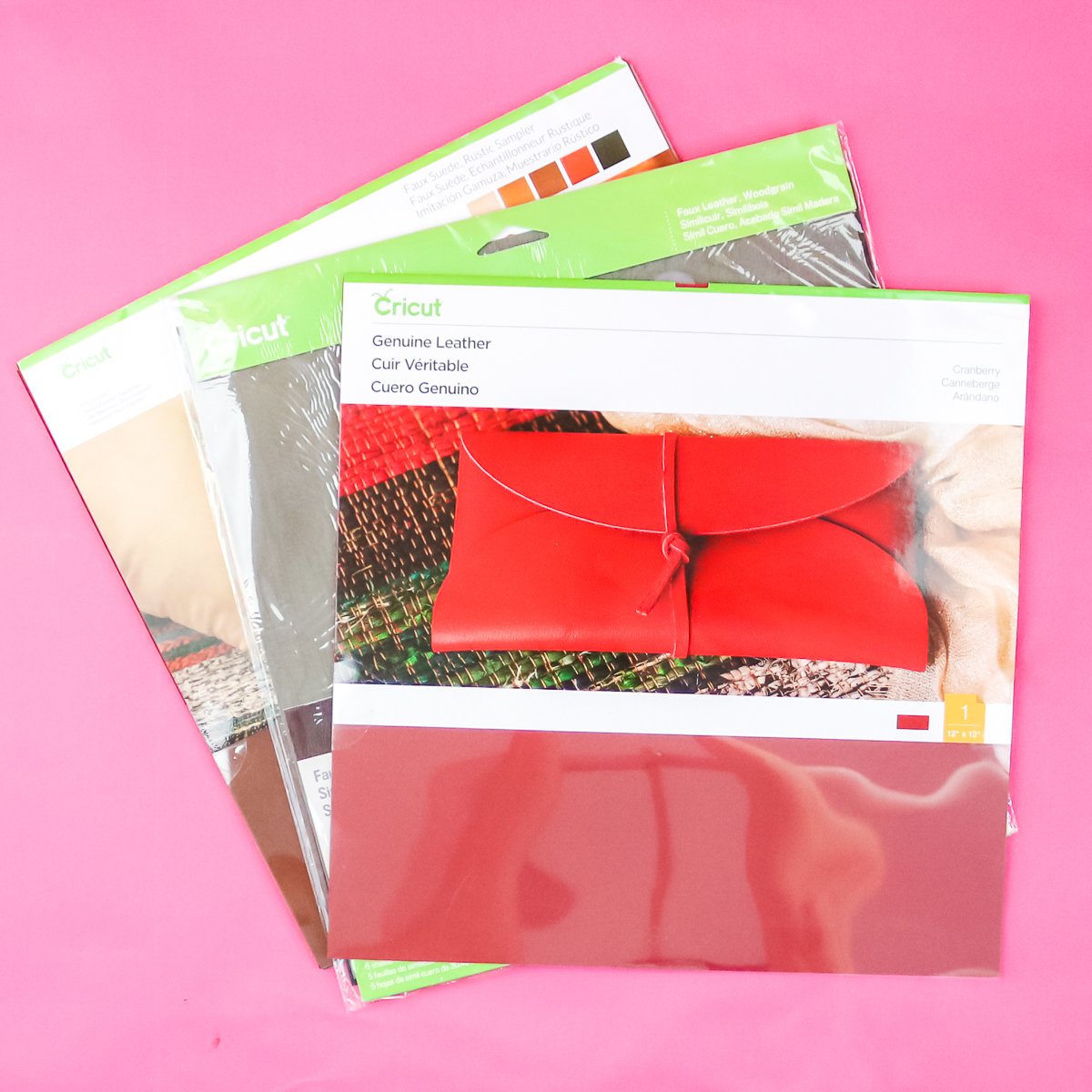 Description
This is a fake version of leather and suede that is made to look similar. However, this material is much thinner and lighter weight. That makes it the perfect solution for your crafting needs.
When to Use It
Consider using this in the place of leather whenever you can get away with it. You will love how easy it cuts and how great it looks. My favorite application is jewelry (like earrings) as the lighter weight material makes this material a much better choice.
Types
There are several different finishes of this material but there are two main types:
How to Use It
This material can be cut on any Cricut machine with a fine point blade. It really is that thin and easy to cut! You can see more about cutting it here.
Real Leather
We discussed the fake options above, however, sometimes you just need the real thing. I recommend only cutting real leather on the Cricut Maker. From my experience, it is the best machine for the job and way less frustrating than the others when it comes to getting good cuts from this material.
Description
Real or genuine leather can be found a ton of places and it is, as the name states, real hide that has been tanned.
When to Use It
There are certain projects where you are just going to want to use real leather. I would say if you are making a wallet, notebook cover, or want to engrave leather, the real thing is the only way to go.
Types
There are a variety of leather products on the market and the Cricut Maker will cut a majority of those. I do like the genuine leather sheets from Cricut for most of my projects.
How to Use It
As I mentioned above, I really only like the Cricut Maker for cutting real leather. I find it difficult on the Cricut Explore although the machine does say it will cut it. You can see more about cutting leather with both machines here.
Aluminum
While no Cricut can cut thick aluminum, you can engrave it with your Cricut Maker and the engraving tip. This really expands the Cricut materials that you can use with your machine and the projects you can make.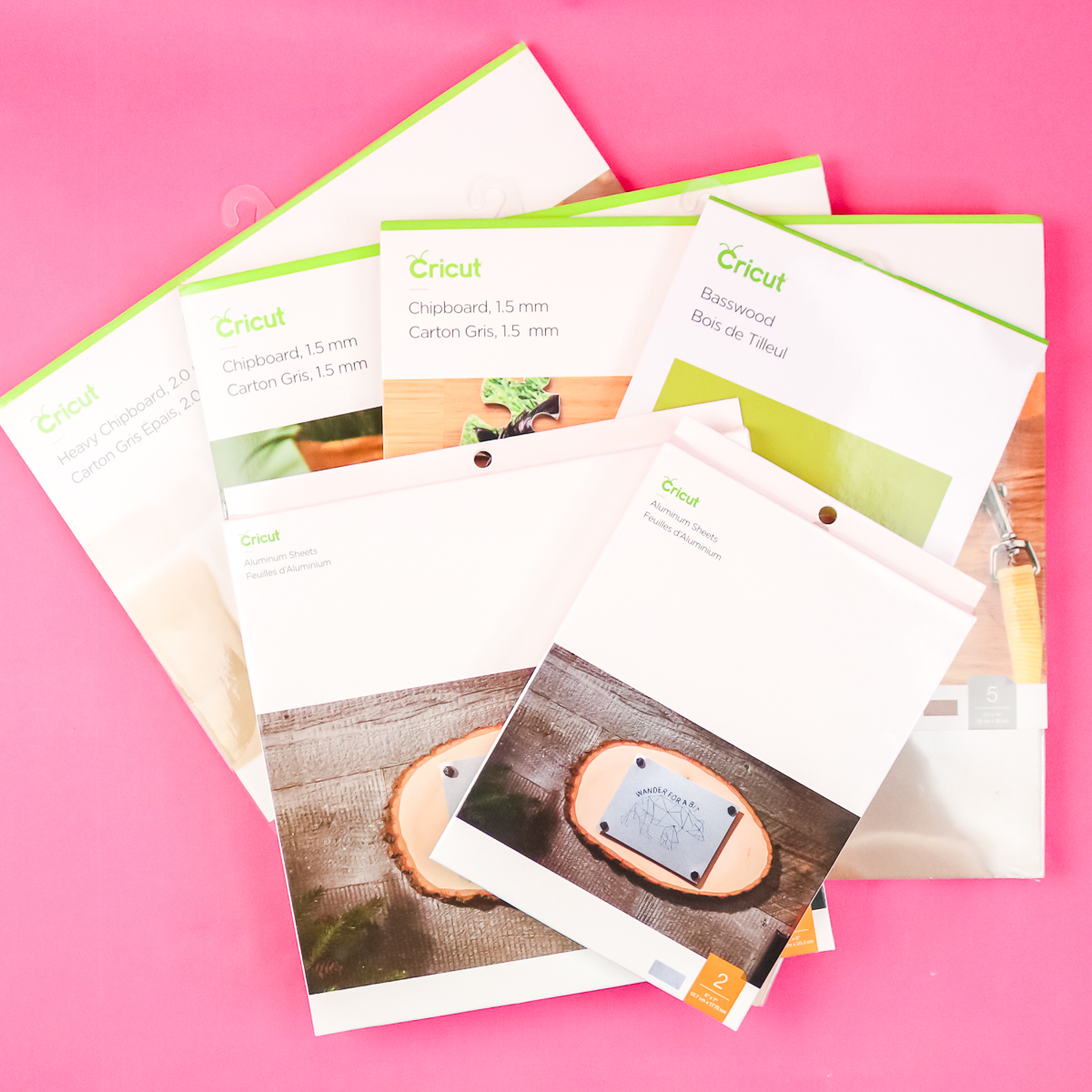 Description
These metal sheets are made from aluminum which is a softer metal that can be engraved with a wide variety of images and even text.
When to Use It
If you are looking to engrave metal, aluminum is a great place to start. I like how large these sheets are so that you have a ton of room to experiment and locate your design correctly.
Types
You can find a wide variety of metal blanks to engrave but be careful of thickness as well as quality. The Cricut Aluminum Blanks are made especially for the engraving tip so they are a great place to start.
How to Use It
Just add your project to Design Space and change your lines to engraving lines. You will need to locate your cut to be placed on the blank correctly. You can see more about engraving metal here.
Chipboard
While thick chipboard can only be cut with the Maker machines, it is still one of my favorite Cricut materials. It allows me to make really substantial projects easily right at home!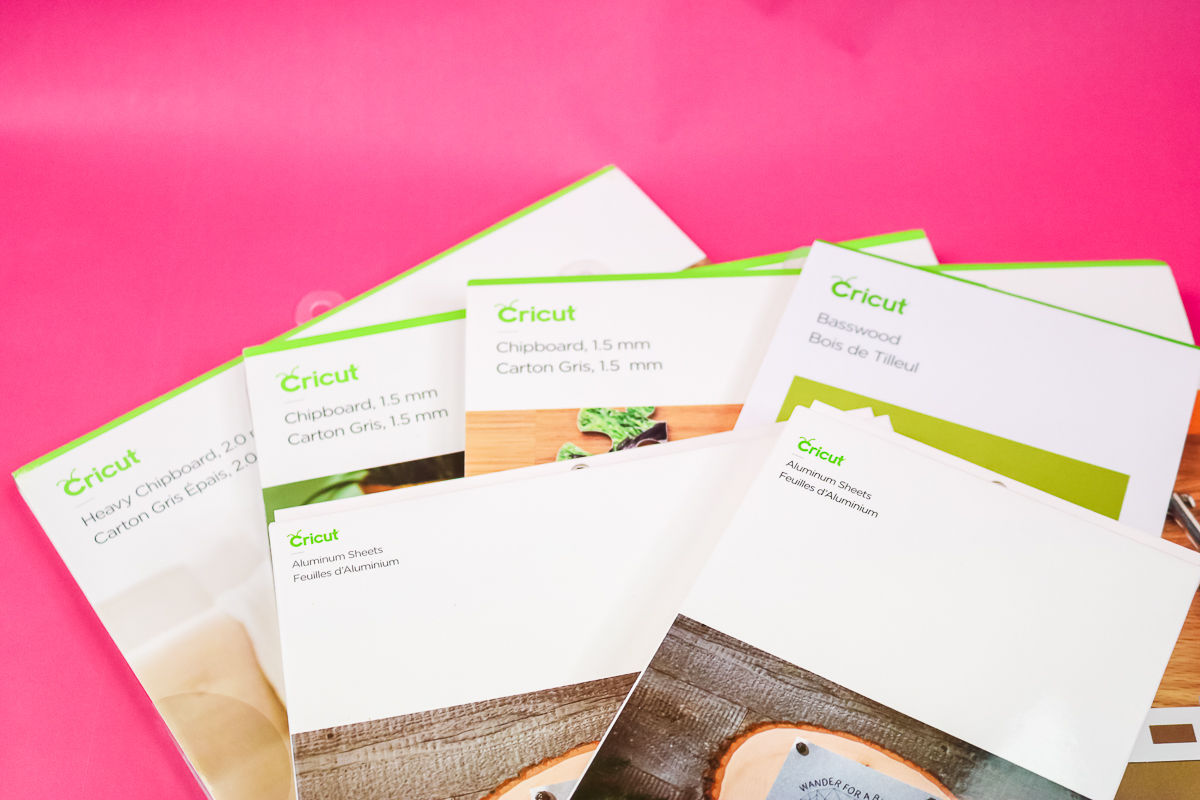 Description
I like to describe chipboard as the paper version of plywood. It is a bunch of paper fibers all compressed together to make a sheet. Now, not all chipboard is created equal! I have tried a bunch of brands and I can definitely say that Cricut makes the best for cutting on their machines.
When to Use It
If you want something that is going to be super thick and even make a structural project, chipboard is for you. I will say it does not hold up well to moisture and the cut edges are not very pretty so you will want to keep that in mind when choosing a material.
Types
There are a few different sizes and types to choose from:
How to Use It
You can only cut chipboard with the knife blade and the Cricut Maker. This also means that you have to have a computer as you cannot use the knife blade on mobile devices. Click here to see a project I made with chipboard.
Wood
Yes, you can cut wood with your Cricut Maker. In my opinion, Cricut materials don't get any more existing than this. Don't have a Maker? Read on below as I have another option for you as my next material.
Description
The Cricut Maker series can cut basswood and balsa wood. Both are thin woods but basswood is by far my favorite as it is harder and sturdier.
When to Use It
Use this material when you want to make those 3D or structural projects but you want a wood look. I find balsa wood to be too soft for most projects so I rarely use it.
Types
I will say that not all basswood is equal. I find that the Cricut basswood cuts much better and I have way more luck with it than any other that I have tried. Actually, I only use the Cricut brand now as I have had so many issues with other types.
How to Use It
You can only cut basswood with the knife blade and the Cricut Maker. This also means that you have to have a computer as you cannot use the knife blade on mobile devices. You can see more about cutting wood with the Cricut Maker here.
Wood Veneer
I promised you a chance to get a wood look on your Explore machine! If you have the deep point blade, you can use wood veneer to get that gorgeous look on your crafts.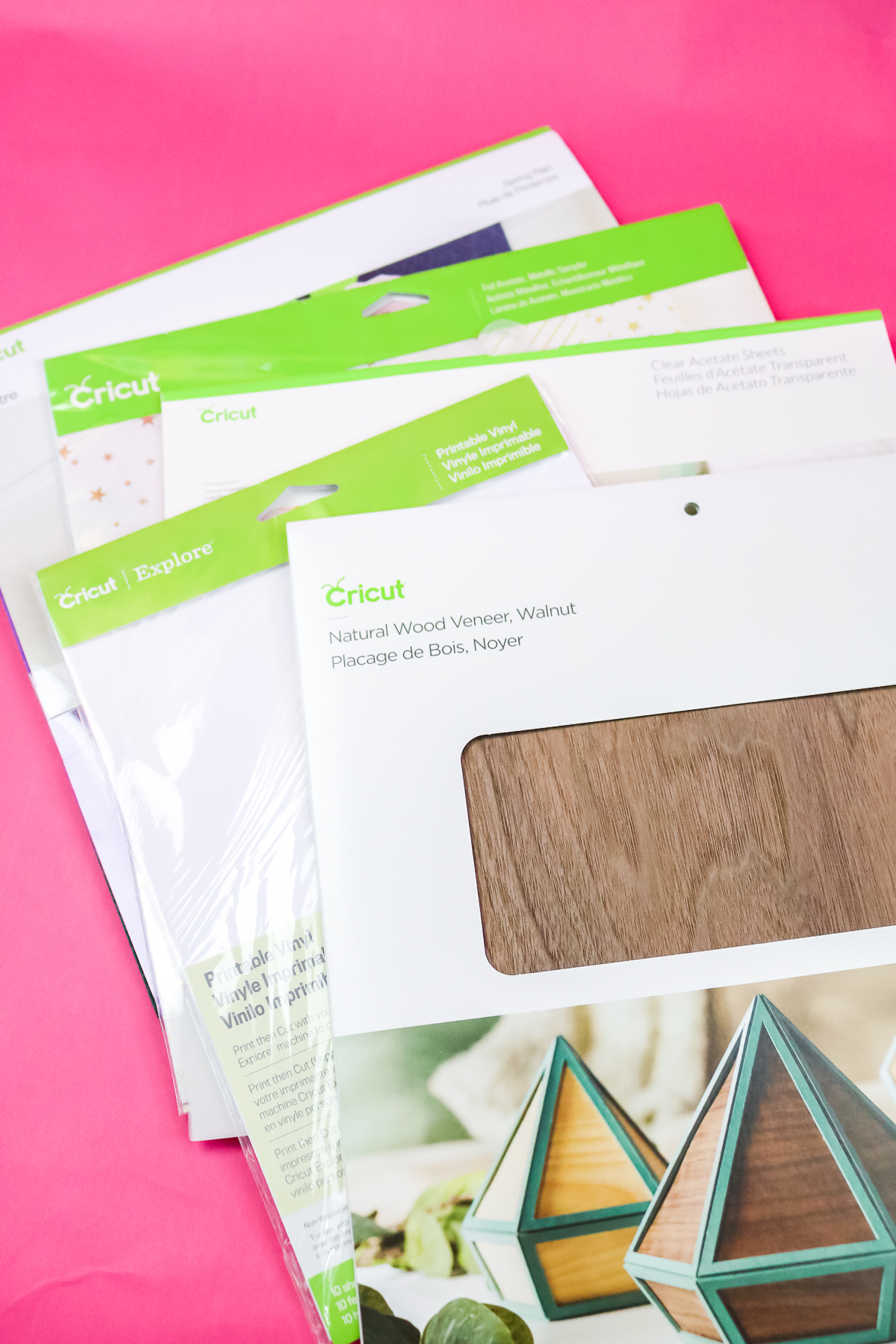 Description
Wood veneer is real wood that is sliced super thin and can be layered on top of other materials to give a wood look to your project. This material is about as thin as some thick paper so it should not be used for any sort of structural project.
When to Use It
Use this when you want a wood look for your project but you either don't have a Maker or you prefer the inlay look that you can get with real wood veneer.
Types
You can definitely find other brands of wood veneer but I have really enjoyed working with the Cricut wood veneer. It comes in a wide variety of wood finishes so you can let your imagination run wild when using it.
How to Use It
This product is really easy to cut, however, you will need the deep point blade. You can see more about cutting this product as well as a project that I did here.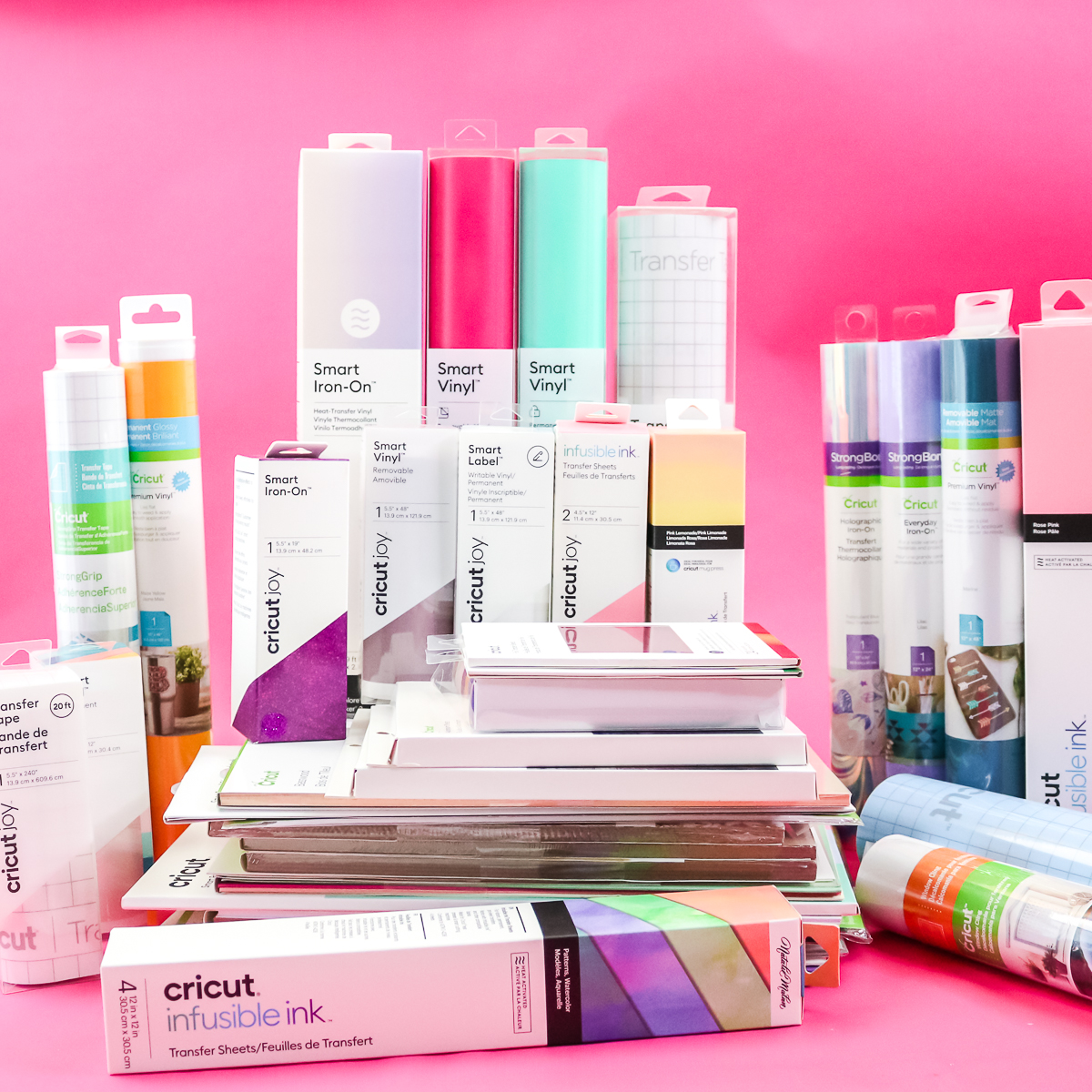 So, now that you have seen all of these Cricut materials, which will you start with? I always recommend starting with something simple and moving towards more complicated materials as you get more familiar with your machine.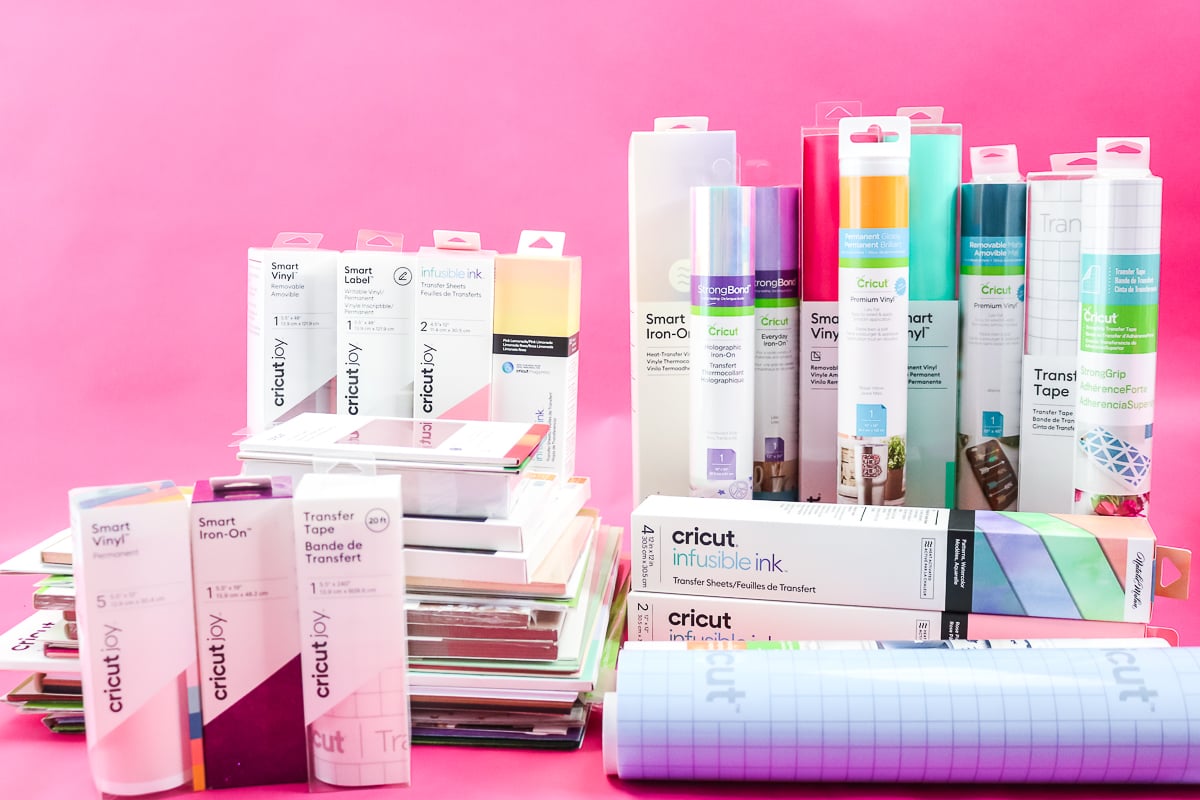 So, pick up some Cricut materials from the store and start planning your next Cricut craft. I know you will love your machine as much as I do once you gain the confidence to start crafting with it!