It is almost time for a change of seasons and fall lawn care is something you might want to consider this year. Lawn care begins to change in the fall as your lawn tries to take in as much nutrients and moisture as it can in preparation for the dormant winter months ahead. I have everything you need to know below to take care of your lawn this autumn. When spring arrives, you will be left with a healthy yard for playing lawn games and more. This post is sponsored by Grass Seed USA however all projects and opinions are my own.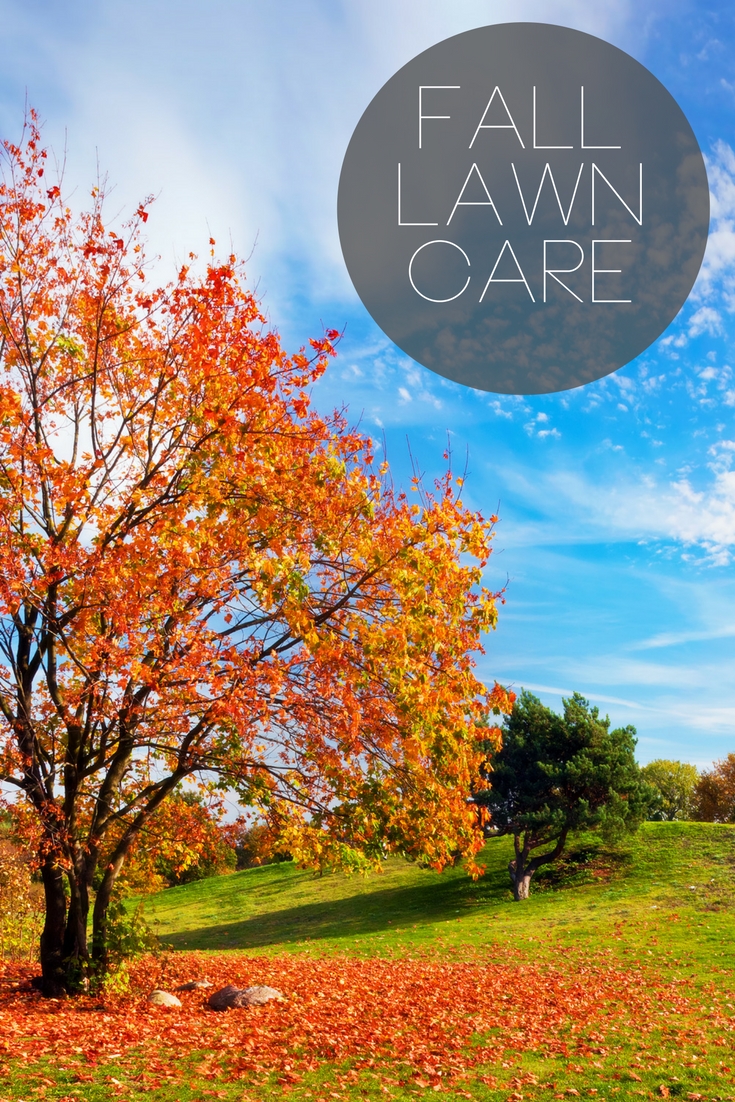 We will start with some fall lawn care tips and then advice for seeding your lawn this season. Proper care promotes good root development and extends color retention in lawns. Why should you maintain a healthy lawn? For one, a lush green lawn reduces erosion, making fall lawn maintenance all the more important in regions that experience rainy winter seasons. Other benefits include stress relief, a cooler yard in the summer months, and of course curb appeal. Finally, when you responsibly manage your lawn, your grass absorbs and stores away carbon, therefore reducing your carbon footprint. So are you ready to grab your tools yet? Start with our tips below.
Fall Lawn Care Tips
Fall is a great time to seed! After a hot and dry summer, a well-used lawn may have thinned out considerably. If you have thin or bare areas in your lawn, you can find some tips for seeding later in this article.
Be sure to have your soil tested. A soil analysis is inexpensive and provides important information about nutrient levels and soil type. You can then use those results to determine whether you need to lime or fertilize the area. The results will also help when it comes to seed selection.
Fall is also a great time for aerification or core cultivation. Try using hollow tine core cultivation which pulls a small core out of the soil. After you are finished you can top dress with soil, compost, or even sand at a ¼ inch depth.
In the fall, ¼ to ½ inch per week of water (via rainfall or irrigation) is generally sufficient to meet your turf's needs.
Simple lawn care chores such as reseeding, weeding, aerating and fertilizing help a lawn immensely and show nearly immediate results come spring.
Lawn Seeding Tips
Pick grass seed that has tested well in your area. Talk to your state agriculture school or a local gardener to figure the right seed for your lawn.
No one type of grass is best suited to all situations. Avoid the trap of letting personal preference and the costs of establishment become the overriding factors in selecting a grass. Your choice of a lawn grass should be based on climate, sustainability, intended use and desired appearance.
A sunny lawn with irrigation does well with perennial ryegrass. Tall fescue works for sunny lawns. If you have a shady lawn, use fine fescue. Lawn that are a mix of sun and shade should be seeded with a mix of perennial ryegrass and fine fescue.
It is important to purchase quality grass seed. Make sure the seed was tested in the last six months and check that the germination rate is 85 percent or better.
Seeding Procedures
Prep the soil in bare areas using a straight rake. The objective is to remove dead organic matter and fluff the top ½ inch of soil.
Consult a local gardener to determine if applying a lawn fertilizer is appropriate in your region. Most cool season grasses respond well to three primary nutrients: nitrogen, phosphorus and potassium. Remember that testing your soil can tell you what it needs and if it is adequate for planting.
Apply seed only after these steps have been taken.
A lawn is naturally self-repairing. If you choose the right grass for your climate conditions and lawn use patterns, it will be highly resilient and regenerate quickly in response to drought, frost or even foot traffic. Want to read more information on the best practices for growing and maintaining a healthy turf? Be sure to visit WeSeedAmerica. Follow our fall lawn care tips above for the best success possible.