I have a fun way to make your own hexagon wind chimes today. This is part of the Craft Lightning series where I post a 15 minute craft every morning. Then every afternoon I post a round up of quick crafts from around the web. If you want a chance to be featured, there is still time to link up YOUR quick crafts to our Craft Lightning linky party. For today's project, I wanted to do an outdoor craft with my DecoArt Patio Paints. I am on their design team which is amazing but as always all projects and opinions you see here are all mine. Hexagons are becoming super popular and I see them everywhere. Here a simple hexagon pencil cup becomes hexagon wind chimes with this craft tutorial.
If you missed any of the Craft Lightning fun, be sure to check out the quick crafts from day 1, day 2, day 3, and day 4.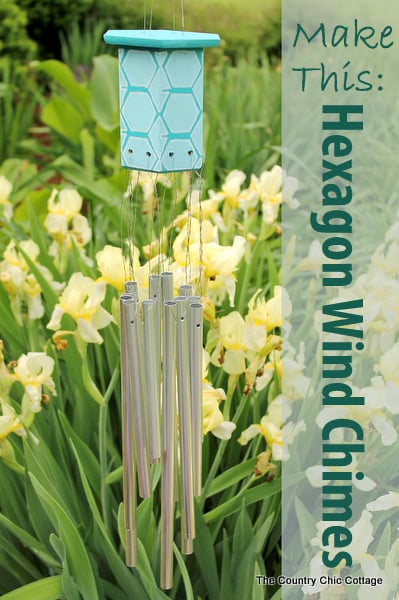 Hexagon Wind Chimes Supplies:
NOTE: Some of the links below may be affiliate links which means a portion of any purchase will go to support this site. Also all or part of the supplies below were given to me as part of my design team work.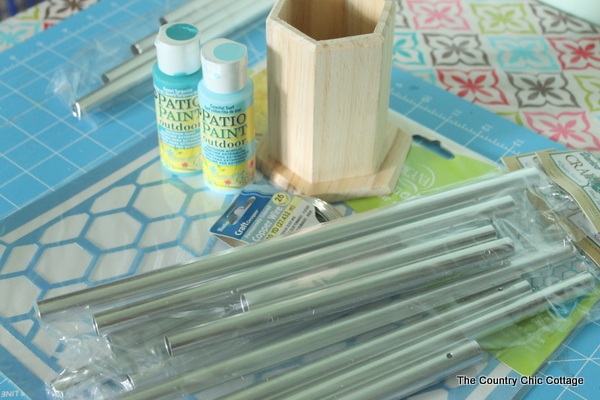 We need to start by drilling holes in the wood pencil cup to hang the chimes from. I made the holes about 1/2 inch from the bottom and two equally spaced in each side of the hexagon. I used a pencil to mark the locations.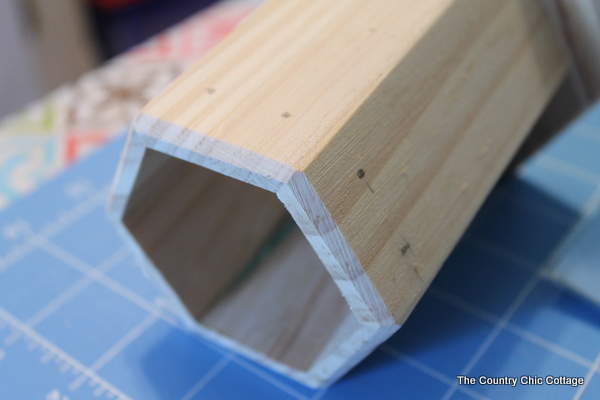 You will also need holes in the top to hang the entire thing from (the pencil cup will be upside down when the project is complete). I used the bottle of patio paint to keep my holes equally spaced.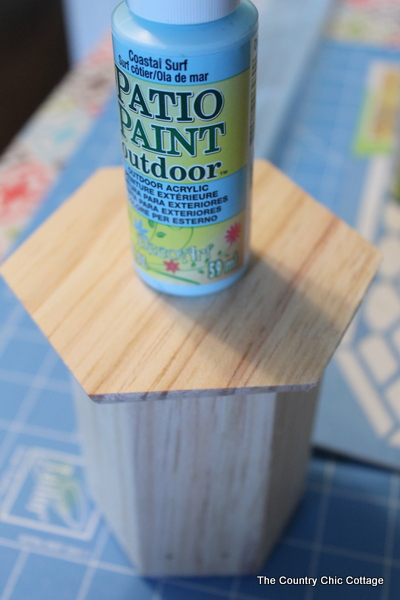 Make sure you put the bottle in the center. Then just mark 4 holes around the outside of the patio paint bottle using a pencil.
Who says a quick craft can't use a drill? Not me! Grab your drill and start with the holes in the top.
Then drill all those holes in the sides. This is a ton of steps so far but this was really super quick to do.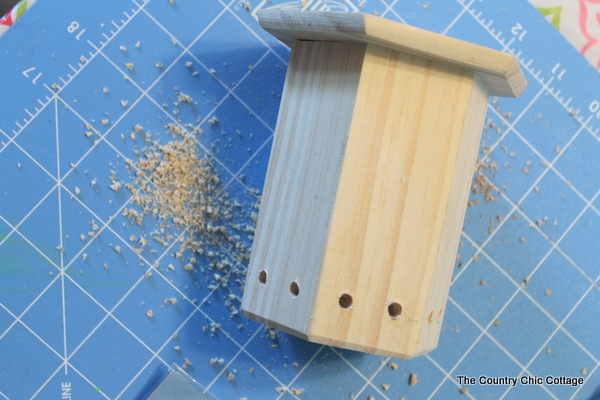 Now you will want to protect that raw wood. Patio paint is amazing for outdoor use. I applied a couple of coats to the inside and out of the pencil cup. Literally once I was done with one coat it was dry enough to go over with a second light coat. I am using Desert Turquoise for my base coat but feel free to customize the colors to those that you love.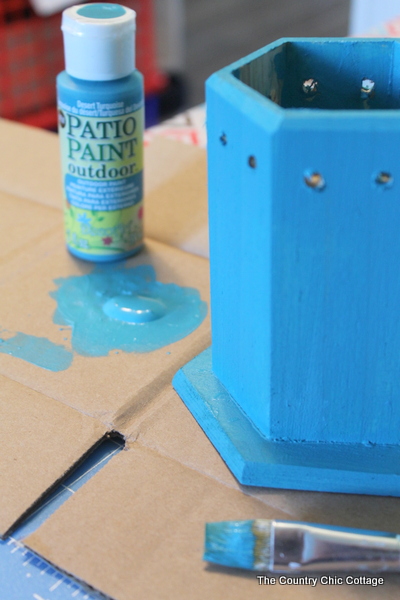 I allowed that to dry completely then we are ready to stencil. I love the Busy Bee stencil from DecoArt so I used it with the Patio Paint in Coastal Surf. Use a stencil brush for this step and lightly paint on your hexagon pattern to each side of your pencil cup. Allow this to dry completely before continuing.
So the wind chimes ended up needing a little something to make them pop. I ended up using a white paint pen to trace around the stencil and that did it! This part is optional but for me it really made a big difference.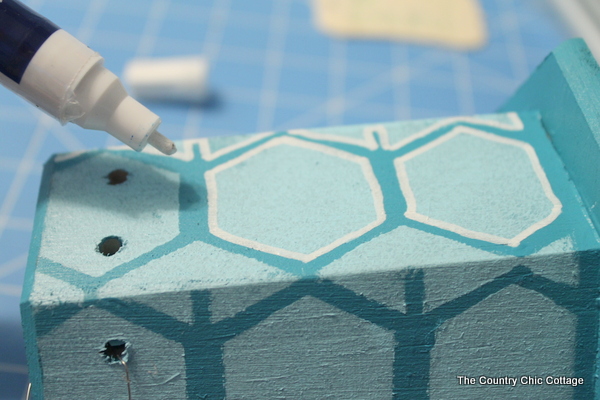 Now lets wire this up and get it outside. Use two LONG pieces of wire and run each one through two holes in the top. Gather the ends together and loop them as shown below. Wrap them around each other to secure. You can use a pair of pliers if you have trouble wrapping the wire by hand.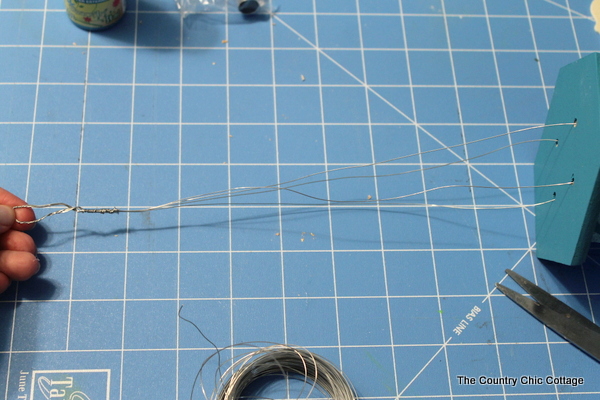 Next cut 12 pieces of wire the same length. These will be used to hang your chimes and it is just important that they are roughly the same length.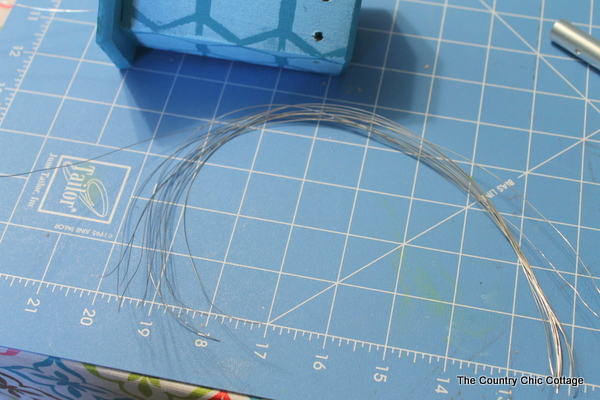 Now we just need to add those chimes. Run the wire through the chime. It should be equal lengths from the chime to the end. Then twist the chime and the wire will wrap around itself. Stop 3 – 4 inches from the ends. Run the end through the hole in the pencil cup and secure on the inside by wrapping the wire tight around itself.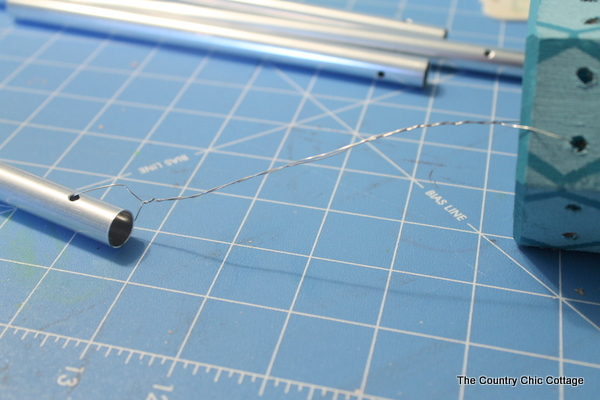 Continue 12 times until your chimes are all hanging from your pencil cup. I got really fast at wiring these on.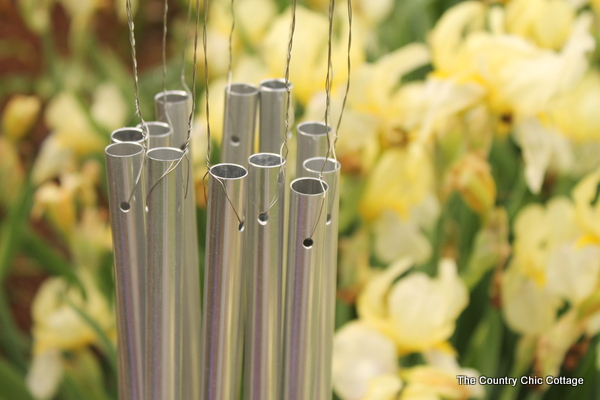 You are ready to hang your hexagon wind chimes outside. Please be sure to allow the paint to cure for 72 hours before exposing to moisture however.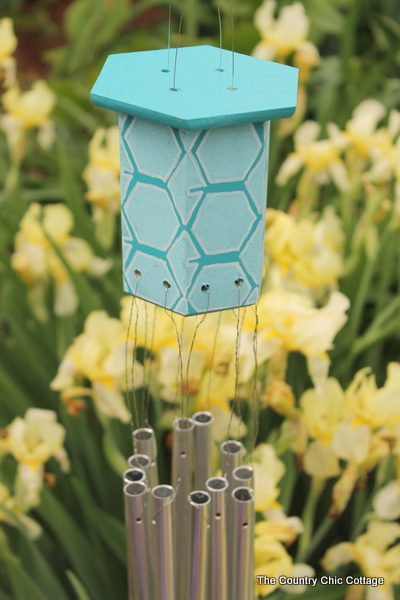 Would you ever guess this is a pencil cup? Nope. Me either. I am excited for this new addition to my landscape. The fact that the hexagon wind chimes are quick to make is just a bonus!