If you want some great Cricut Maker projects, I have you covered! Today I am going to cover my top 5 projects. These are all projects that utilize features of the Maker exclusively. So, if you have this powerhouse of a Cricut machine, today is your lucky day! Pick a few of these project ideas to try with your Cricut Maker this weekend.
This is a sponsored post written by me on behalf of Cricut.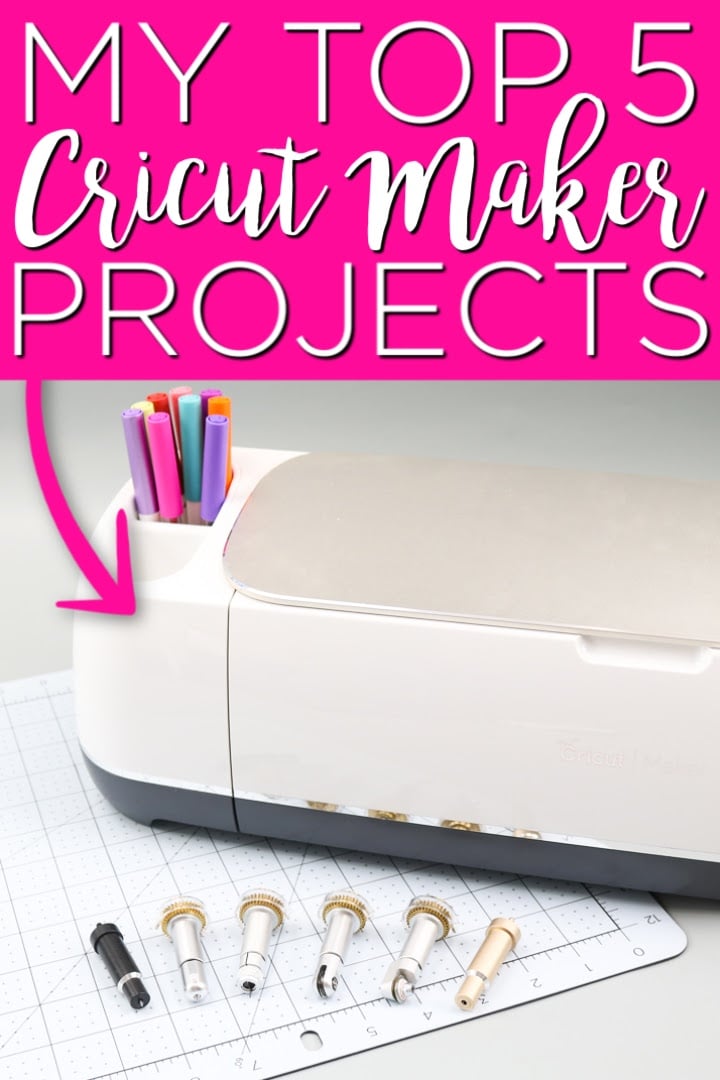 Cricut Maker Projects
The Cricut Maker has some great features that are not available on any other Cricut machine. From the knife blade to the engraving tip, we have top projects that you will love to use these exclusive tools on.
Want to see each of the projects in a video? You can watch that using the player below.
Love this video and want more? You will want to be sure to subscribe to our YouTube channel here.
Can't watch the video or missed some of the projects? You can read about each below. We are starting with our most popular and working our way to number five.
10 Things You Didn't Know the Cricut Maker Could Cut
My first "project" is really a collection of 10 projects. This is my top Cricut Maker post and you all have loved it!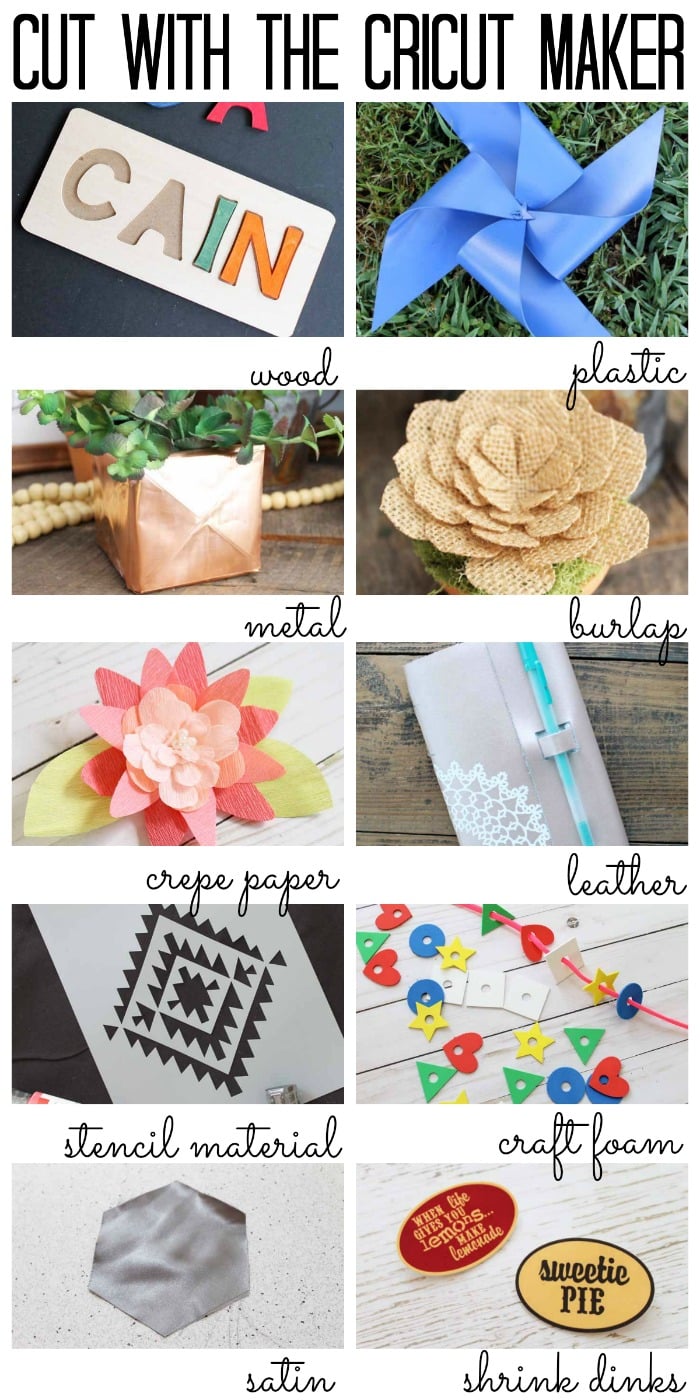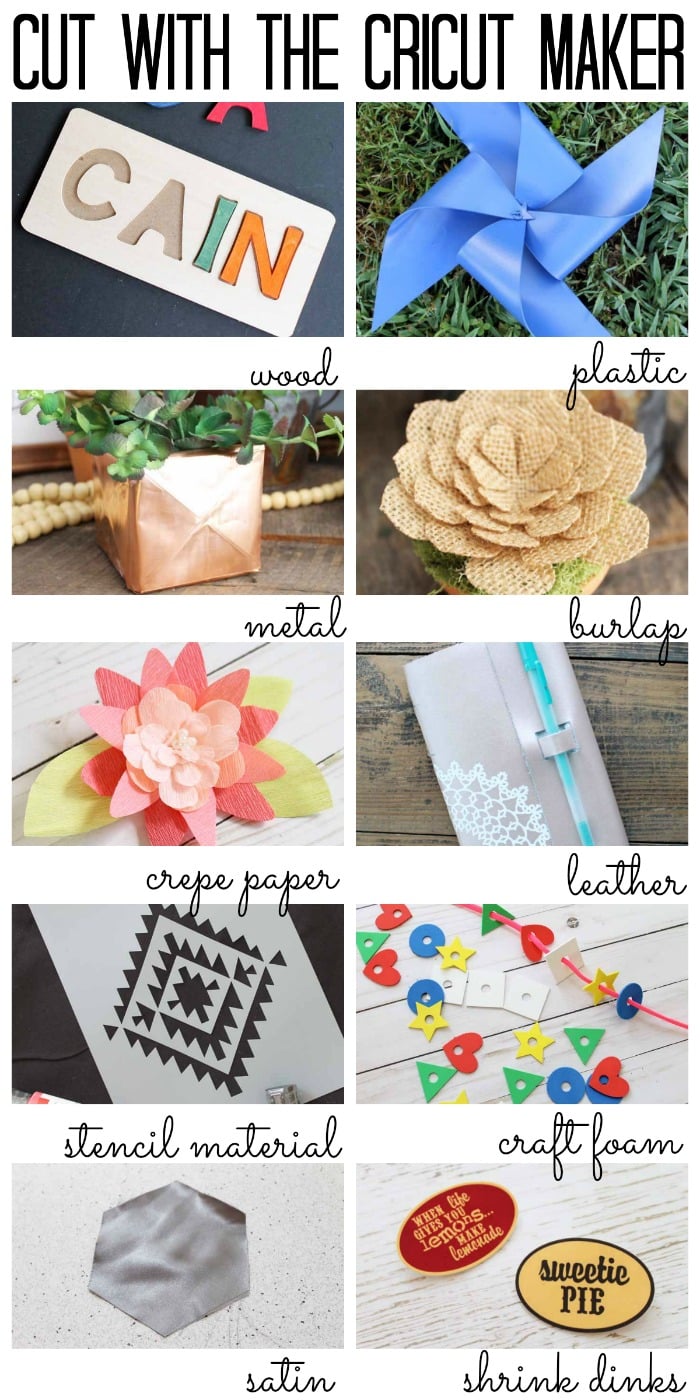 You can see the full post here. We offer up suggestions for cutting all of the following in one post:
wood
plastic
metal
burlap
leather
stencil material
satin
shrink dinks
Now, if you want to cut even more materials with your Cricut Maker, you can see our other posts about materials by clicking on them below:
Those just touch the surface of the materials I have cut with my Cricut Maker. If you have something you want to cut and are not sure how to do it, be sure to ask in the comment section below and I will point you to a post if I have one!
How to Make a Name Puzzle
Want to make a great personalized gift with your Cricut Maker? This name puzzle is a great way to do that and you can make it with your knife blade.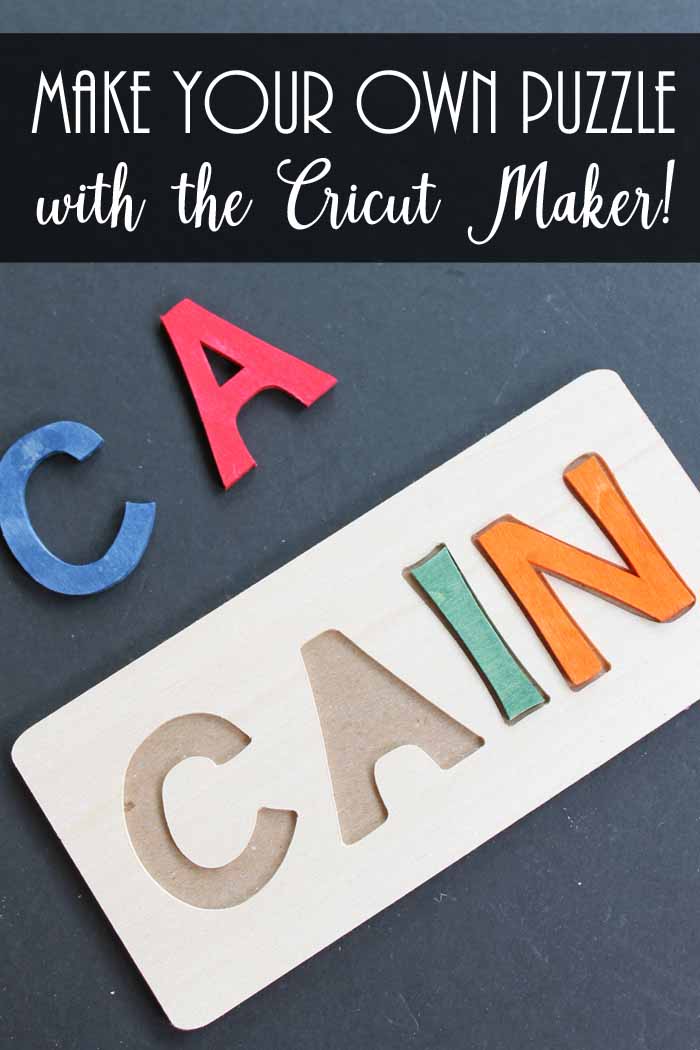 I show you how to customize this for any name then cut wood on your Cricut Maker to make your own puzzle. You can see the full blog post on how to make your own puzzle here. Use this same idea of cutting the thin wood on your Cricut Maker and layering it for tons of other projects as well.
How to Engrave Leather on the Cricut Maker
With the new engraving tip, you can make so many Cricut Maker projects. I have used it on many materials but love using it on leather.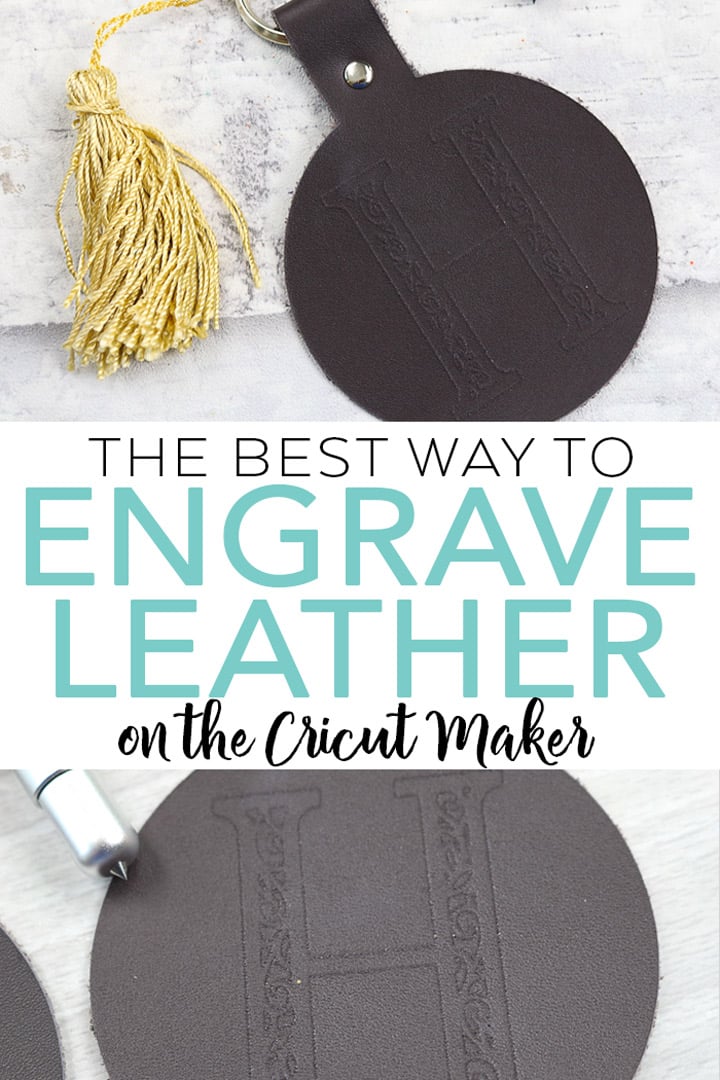 You can see my tips for engraving leather as well as how to make this keychain here. I can see this same method used to engrave leather notebooks, clutches, and so much more. This is another great way to make those personalized gifts right at home with your Maker.
DIY Leather Notebook with the Cricut Maker
When we talk about everything the Cricut Maker can do, I am so glad that this leather notebook made my top projects list. It really shows off the versatility of this machine. You cut the leather, iron-on, paper, and even add scoring.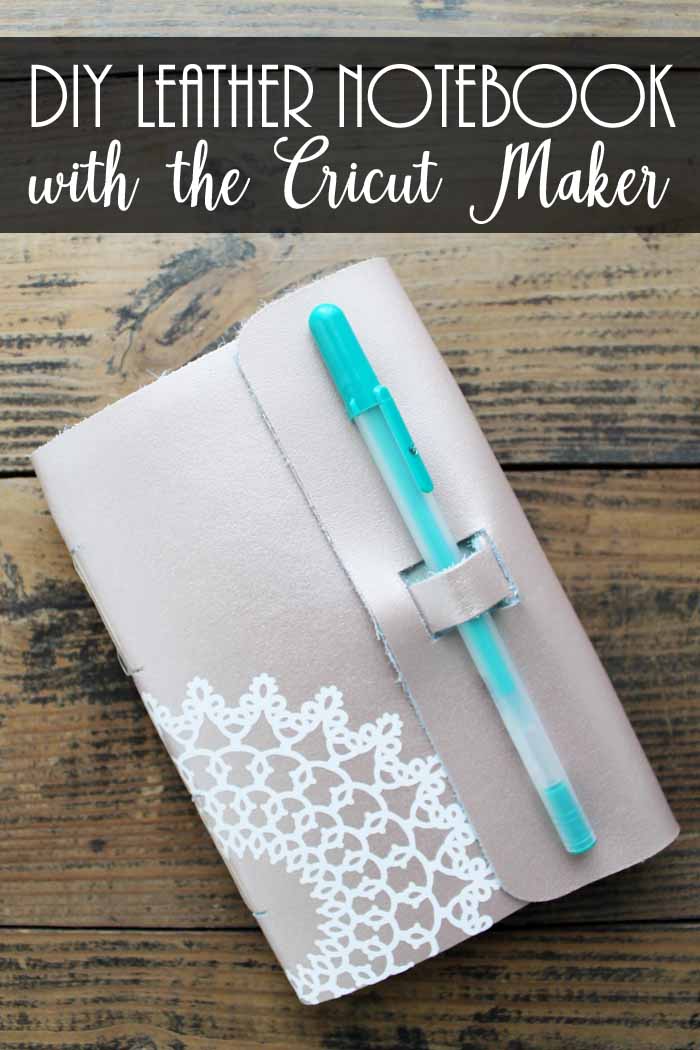 You can get the cut file for this one and see how to make it here. Making projects like these helps me to see just how great my Cricut Maker is. I own all of the Cricut machines and sometimes get bogged down because they can all cut certain materials. But the Maker is the star of the craft room when you start talking about these odd materials and making amazing Cricut Maker projects like this one.
Zipper Pouch Tutorial
The original reason I loved my Maker was the fabric cutting abilities. So, the final project on our list is thankfully a fabric project that shows off how great the Cricut Maker can do just that.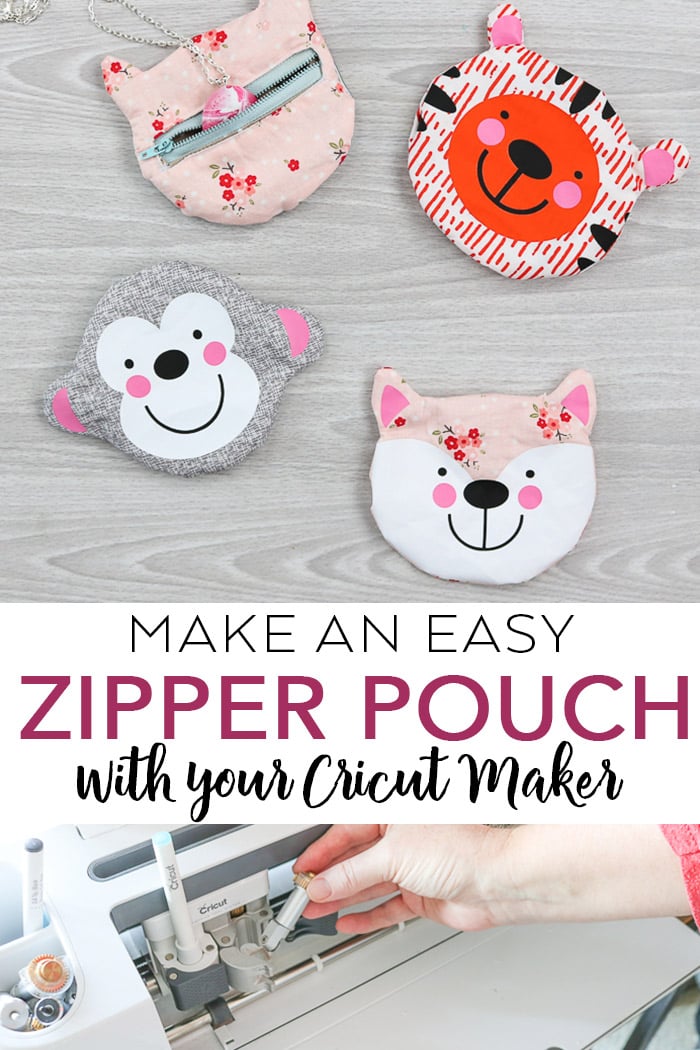 These zipper pouches may very well be my favorite of all the Cricut Maker projects I have ever made. You can see how to make them here. They are adorable, useful, and made easy courtesy of the Maker. This is another one of those ideas that is great for gifts. And yes, I pretty much think everything I make with my Cricut machine will make a great gift. Don't you?
Supply List for Your Cricut Maker
So, now that you are inspired to make your own Cricut Maker projects, what do you need? Here is a list of some supplies and what you would use them for. You can click on each of them to see more and purchase.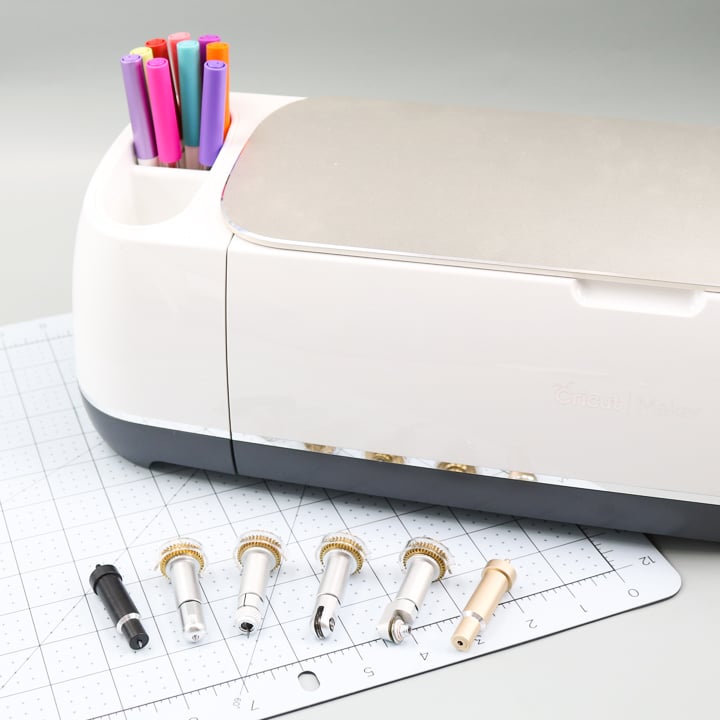 I hope you enjoyed these Cricut Maker projects and come away inspired to fire up your machine and give some of these a try for yourself. I guarantee that you can be successful when using your Cricut Maker.
Want even more inspiration for projects to make with your Cricut Maker?
I have a few other friends that are sharing their top 5 projects as well. Be sure to visit their sites for even more inspiration for Cricut Maker projects you really must make.
New to Cricut?
Sign up for our email list here to download the Beginner's Guide to Cricut Design Space for FREE today!
Sign up to get the guide emailed to you!