This post and photos may contain Amazon or other affiliate links. If you purchase something through any link, I may receive a small commission at no extra charge to you. Any supplies used may be given to me free of charge, however, all projects and opinions are my own.
Hi everyone! I'm Nikki from Lilybug Designs. It's so good to be here at Country Chic Cottage. Today I'm going to show you a great handmade gift that I knitted.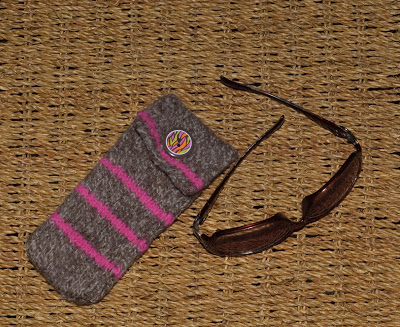 I'm a self taught knitter and if there is anyone out there that wants to learn to knit there are some fabulous websites that can show you the basics and have great videos. I've found knittinghelp.com has been a wonderful resource.

Let's get started. It's important to buy 100% wool yarn if you want to felt it and some #9 circular knitting needles.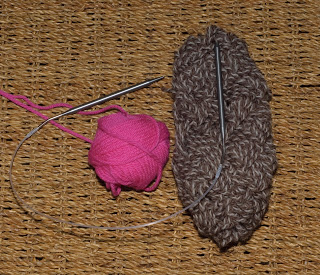 Cast on 30 stitches and split between the two needles so you can knit the piece in the round.


Knit for 12 rows and if you want to change colors do so now, then knit 2 rows with the new color and go back to the original color.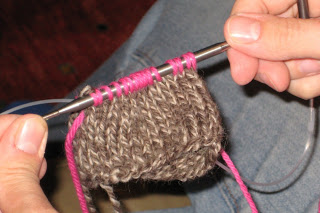 If you want to do the pattern I did then you will knit another 8 rows and switch back to the color and knit 2 rows. Repeat this again. Then continue knitting with the original color for another 24 rows.

Now you will work the flap, bind off 15 stitches. Knit one row and then purl. Repeat 8 times. This next row we will make the buttonhole. Knit 5 stitches, bind off 5 stitches, knit 5 stitches. Purl 5 stitches, cast on 5 stitches, purl 5 stitches. Knit a row and purl a row. Switch back to accent color and knit a row and purl a row. Return back to main color and knit and purl a row then bind off.

Turn the case inside out and sew the bottom closed.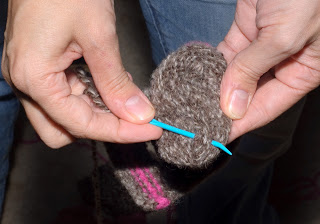 Weave in the loose ends. Now it is ready to be felted. I usually throw it in the washer with a couple towels and wash hot. After washing cycle is complete then you will stretch it into shape and let it air dry. Finally, sew the button on and the project is complete. This would make a great stocking stuffer or even a gift for a friend.

Don't miss all the posts about handmade gift giving that have been posted so far! Be sure to follow the CCC so you don't miss the rest! Each day there will be a great Christmas tutorial and a feature on a great handmade shop!
~Thanks for stopping by!~