I have a fabulous guest today that is going to share a crystal and pearl necklace tutorial that is perfect for a wedding party. I generally don't do jewelry tutorials so when Sarah of Bombshell Bling offered to do one I jumped at the chance. Y'all enjoy!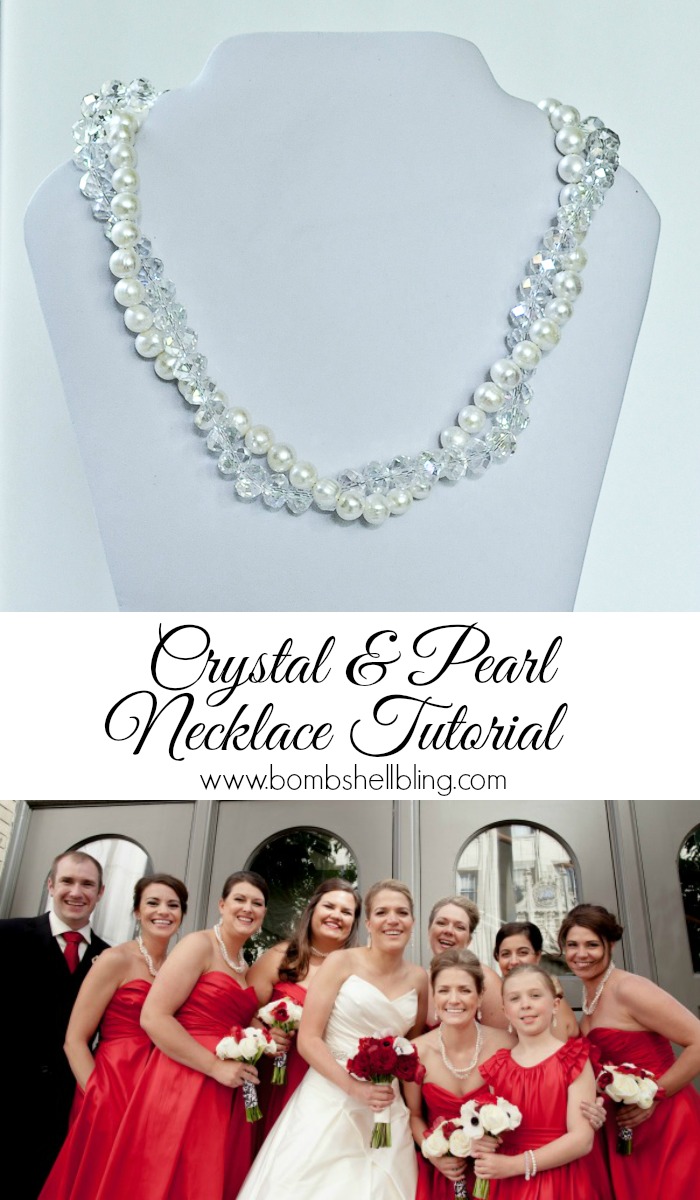 Hello, Country Chic Cottage readers! I am so excited to be here guest posting today! My name is Sarah and I blog over at Bombshell Bling. I am a former elementary school teacher with a love for all things sparkly and colorful. I blog about everything from recipes and parties to jewelry and sewing. I would love for you to pop over and say hello! I am a jewelry designer, and an old friend from my childhood saw my work in my Etsy shop, Bombshell Bling Jewelry, and asked me to design the jewelry for herself and her wedding party last summer. SUCH an honor! Today I am sharing with you a tutorial for a necklace that I made for the members of a bridal party last year (shown above). I was brainstorming about jewelry with the bride and her maid-of-honor, and we were coming up with affordable but still elegant ideas and this necklace came into imagination after showing the bride another necklace that I had made. You can see that necklace (which is made using this exact same method, but using Blue Agate Stones and large Chinese Crystals) below.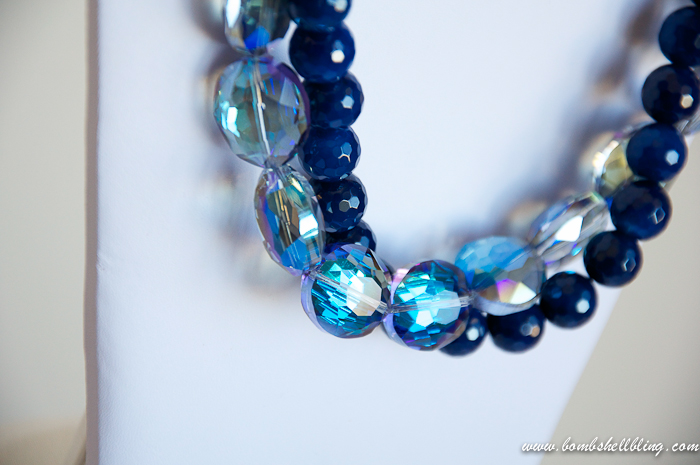 We decided to do this exact same necklace using round, white freshwater pearls and large, clear Chinese crystals. You will be very surprised when you see how simple the process is to make this necklace! Let's get started.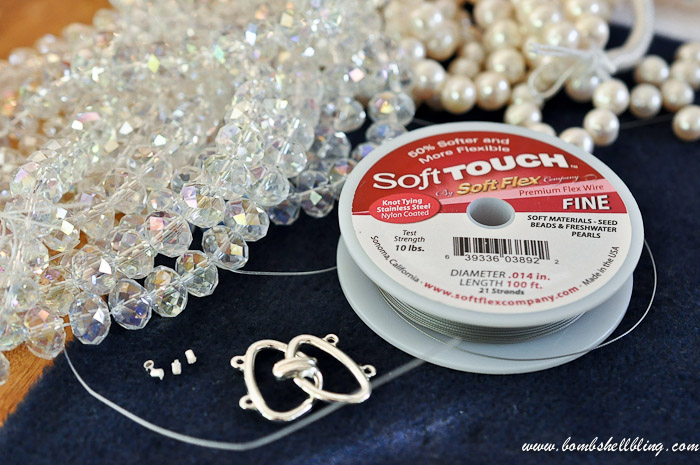 For this necklace you will need the following supplies:
white freshwater pearls (19.5″ strand worth….I had to use one and a half strands of pearls for each necklace)
clear Chinese Crystals (19.5″ strand worth—Also, you can use Swarovski Crystals if you would like to, but they are much more expensive…MUCH.)
a double strand clasp (I found mine online, I believe on Firemountain Gems.)
beading wire (I used SoftTouch FINE wire, as shown above)
four crimp tubes (You should buy some extras, though, because they are so tiny that they get lost easily.)
crimp pliers and wire snips (Both would come in a basic jewelry making supply kit.)
Decide how long you want your necklace and string that many pearls onto the beading wire. The bridesmaids wanted 19.5″ necklaces to compliment their strapless necklines, but you could go longer or shorter very easily.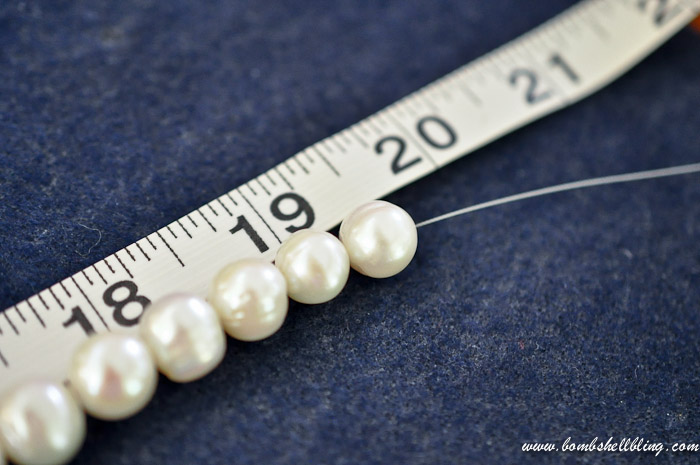 Snip the wires with plenty on each end for later use, and then repeat this process with the Chinese crystals.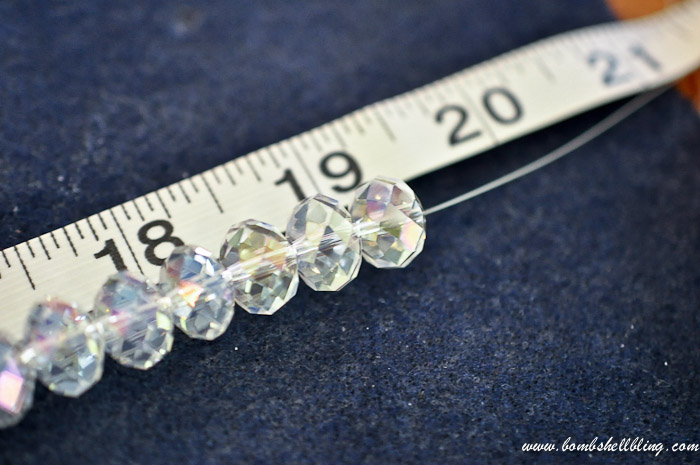 Now that you have both of your strands strung you are almost done. Seriously.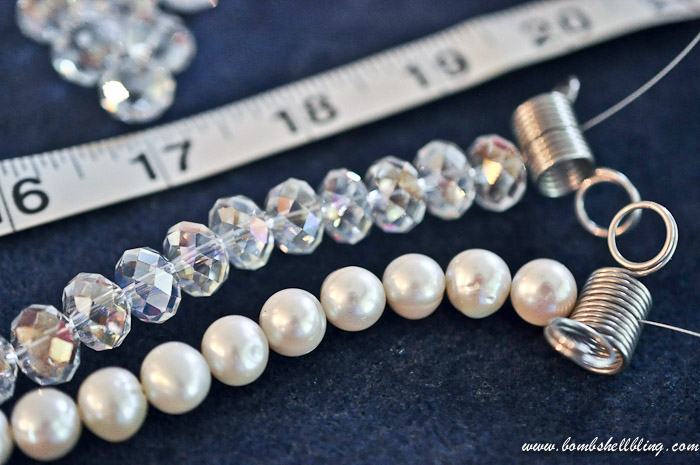 Get your crimp tubes and your crimp pliers. This picture isn't nearly as crisp as I was hoping, but on the pliers you can see two large scooped areas on the bottom. On the top you will see a large scoop and two small scoops. Here's the scoop (no pun intended, believe it or not…) on those scoops: First you will squeeze the crimp tube (In a minute….hold your horses!!) with the inner scoop area that has the one large bottom area and two small top areas. This will create a U-shape. Next, turn the crimped tube perpendicularly and squeeze the U shut using the front area that is just one large scooped out area. This will make your crimp tube nice and tight.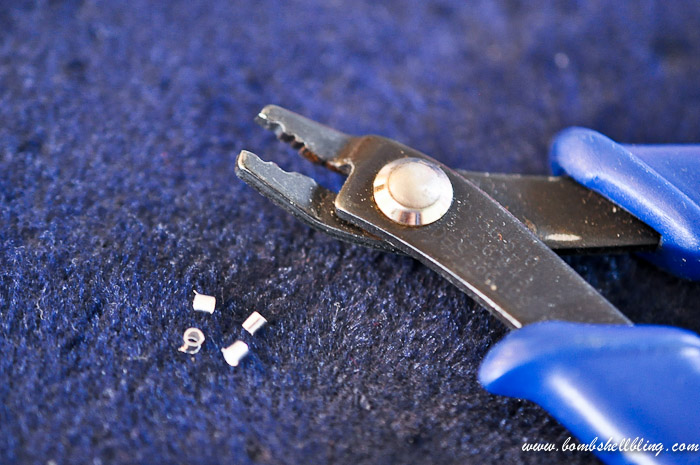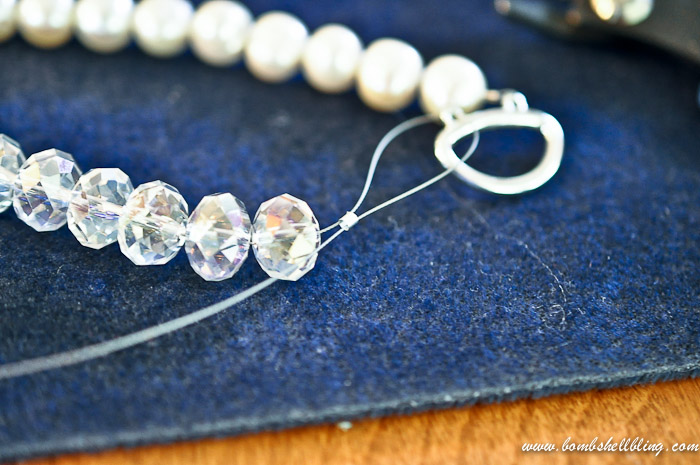 This is the only part that can be a tad tricky. No you want to thread a crimp tube onto the beading wire, loop the excess beading wire through the clasp, thread it back through the crimp tube, and pull it until there isn't too much excess wire. HOWEVER, don't pull it TOO tight or it will snap the wire when you go to twist the necklace. Tight enough to look nice but loose enough to twist. Experiment a bit before you commit and shut the crimp. Repeat with all four loose wire ends. Once you have squeezed your crimp tubes shut snip off the excess wire with your wire snips.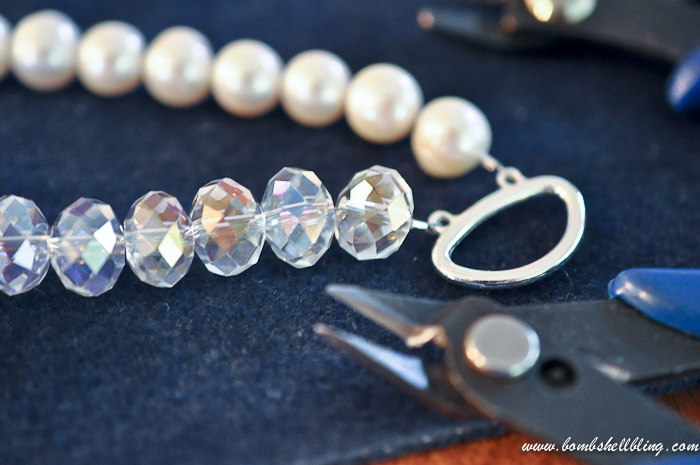 And now you are done! Simple, right? Simple but striking! It did take quite a while to get seven necklaces done, though!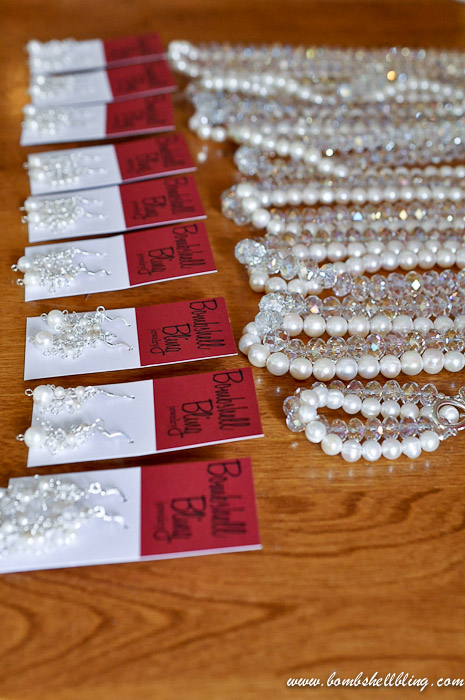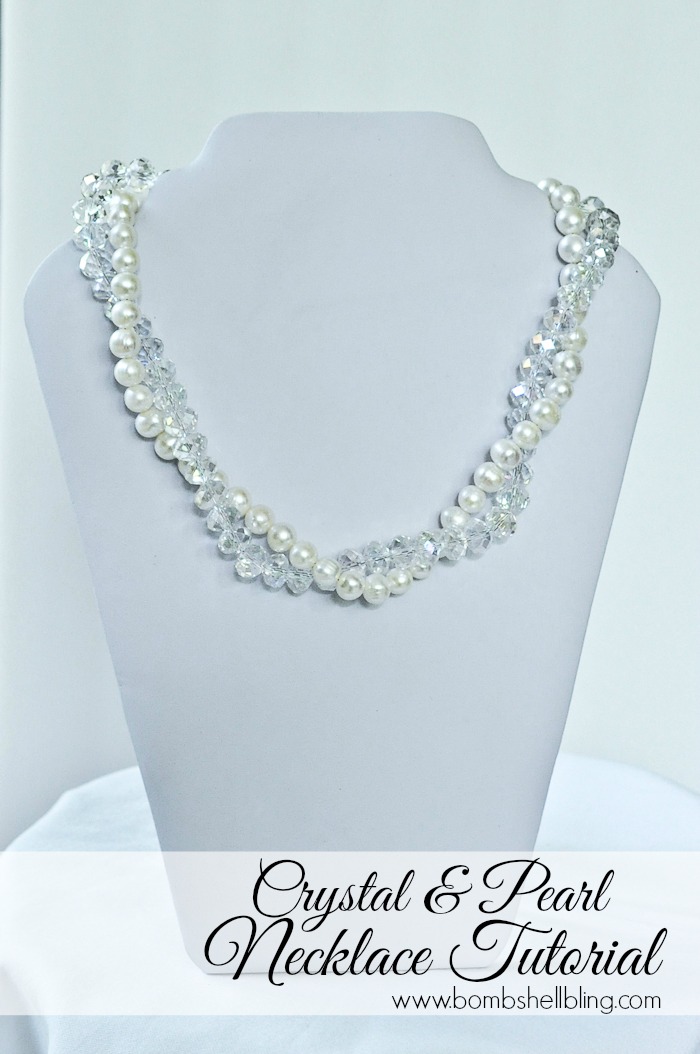 And THAT, my new friends, is how you make a Crystal and Pearl Necklace for a bridal party. I also made a bracelet for the Junior Bridesmaid using the exact same technique, but with much shorter strands and no twist.
Would you like to see them in action?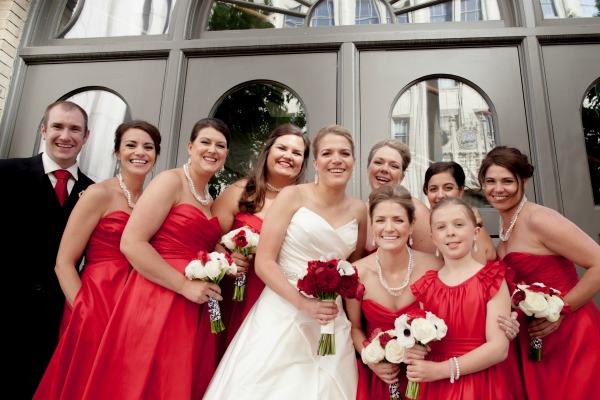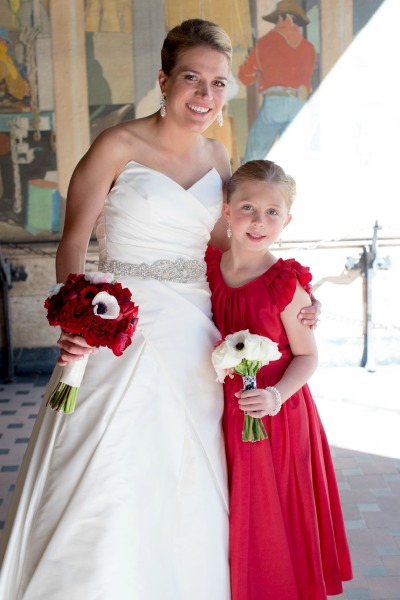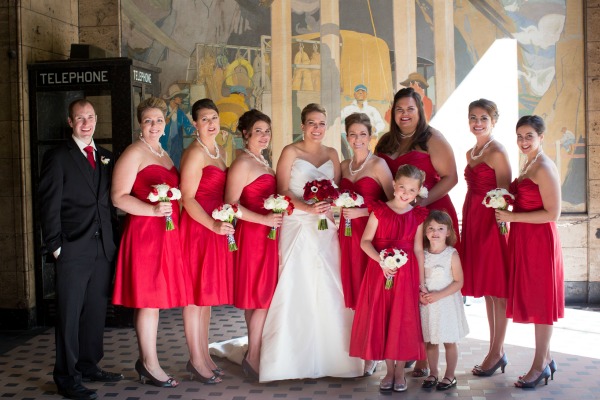 I love those colors! You may have noticed the earrings, which I also made. The bride's earrings were very glam, and the rest of the wedding party had smaller versions of her earrings. Earrings are a perfect way to use up those extra pearls and crystals that you now have lying around! Here are two earring tutorials that I have shared, both of which are my best-selling wedding party earrings, especially since I make them in a variety of colors, materials, and sizes.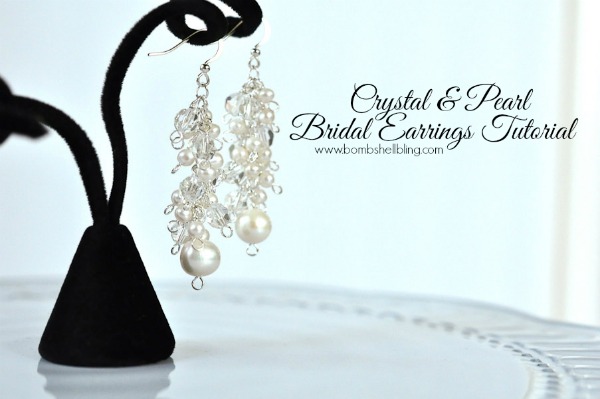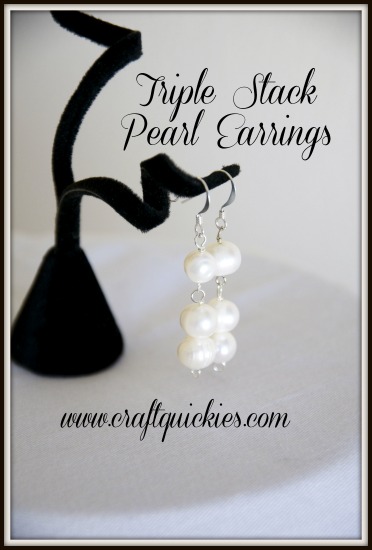 I had a great time sharing this tutorial with you today, and I would love for you to follow along with me on my blogging adventures! You can find me on
Pinterest
,
Instagram
,
Twitter
,
G+
,
and
FB
! Happy wedding planning!
Thank Sarah for being here today! Y'all be sure to head to Bombshell Bling for craft tutorials and more! I love this crystal and pearl necklace…what about y'all?