If you have been on Netflix or the internet for that matter, you have probably heard about the famous Konmari declutter. The Konmari method was developed by Marie Kondo and focuses on organizing your items by category and not by location. If you are feeling inspired after watching a heart-pounding episode of her new series Tidying Up with Marie Kondo, I highly suggest you read this post about 5 important things to know before you Konmari declutter first.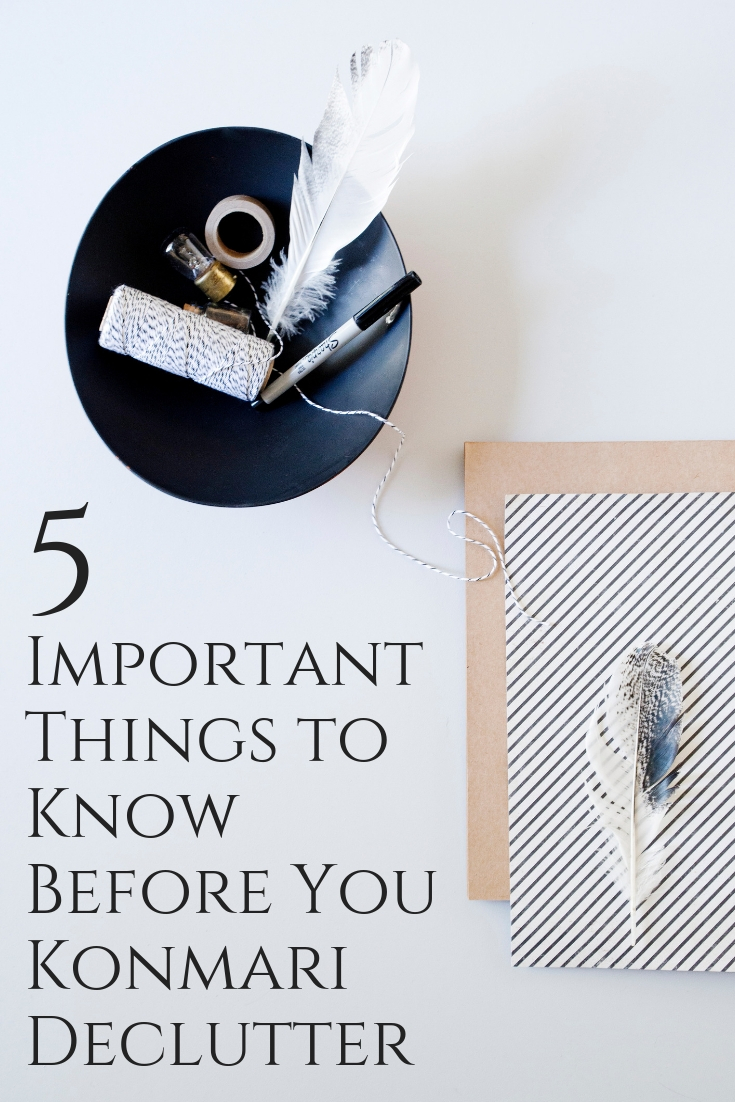 #1 When you declutter with any method, it will get messy before it gets tidy
When you think about the concept of decluttering, there is this idea that your space will magically feel lighter than when you started. In reality, pulling everything out of a space to organize will likely mean your home will get a lot messier before it gets tidy. Don't expect to start tidying with the Konmari method in the morning, then host a party that evening.
#2 This method won't work if you continue to bring in more clutter
For the Konmari method to be effective, you need to think beyond your home. You need to evaluate your spending habits and deal with incoming clutter too. This method won't do you any good if you are constantly bringing in new items that don't spark joy, and will continue to add more clutter to your home. Before you start the Konmari declutter, you need to look at your spending habits and why you are buying more things. Consider doing a no spend beforehand or even cutting down your shopping habits to make sure you don't mess up all your hard work.
#3 Konmari declutter is exhausting
Decluttering your entire home by category is going to be exhausting. Gathering up all of your items, and then sorting through all of it is going to be tiresome. There is a reason why every episode usually has someone saying "we're tired" or "this was a lot of work" at the end. Don't go in thinking this will be easy, but go in ready to put in the work.
#4 This is not a task for one person
You will need to tidy as a family to be effective. This is not a task that one person can do, or that one person should do. Each person should be responsible for their stuff and help tidy up the home. It's important for everyone to get involved in the process for this to have lasting effects.
#5 You may never declutter again
Marie Kondo says in her book that once you do this one time, you'll never need to do it again. When you are decluttering with her method, you will find that you may not need to revisit certain areas again or that they are easier to organize now. While it may seem too hard at first, think of the work you are putting in as a potential one-time investment.
Whether you think this method is right for you or not, please keep these five things in mind before your next big declutter! So, have you tried the Konmari declutter? Will you?
Love this post and want more ideas? Try our links below!
Declutter Your Home in 31 Days!
Clear the clutter and organize your home with our daily emails! Every day for a month we will send you a prompt to declutter! Sign up for our email list below to get started.