When it comes to organizing ideas for your home or your life, nothing can be more disheartening than expensive storage solutions. You don't need to do a lot of planning or to spend a lot of money in order to have an organized space! These 10 easy organization ideas are all $10 or less and will also keep you organized for years to come!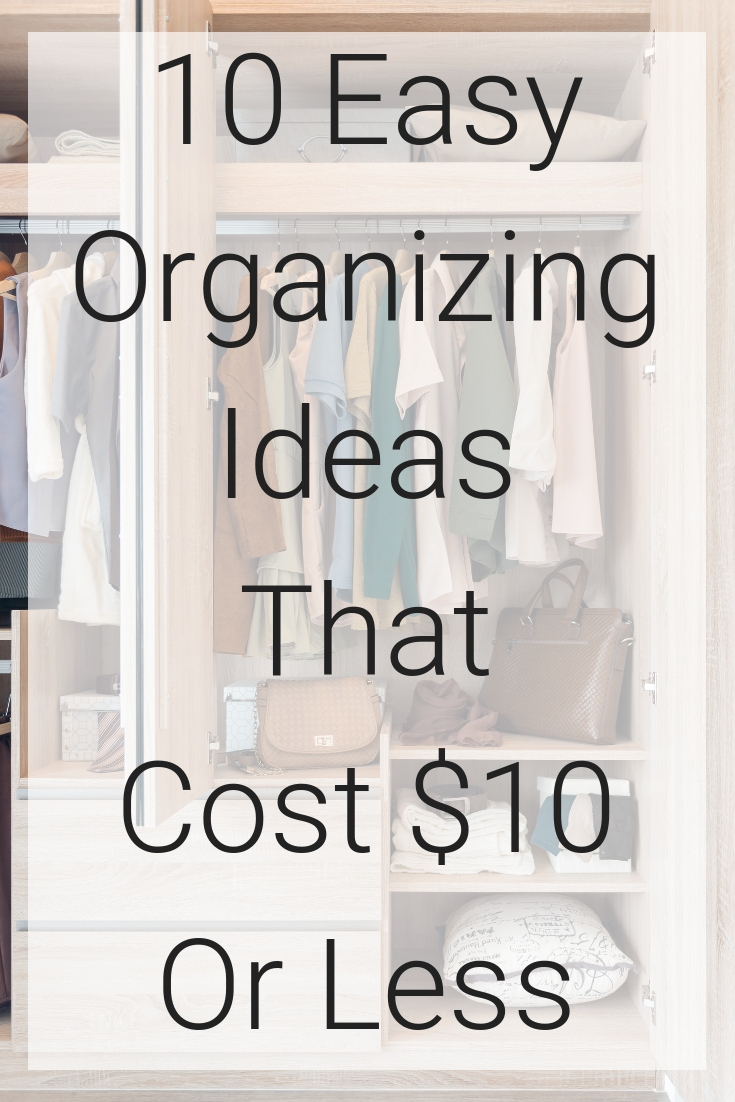 Organizing Ideas
Use a turntable to organize small spaces. Turntables or lazy susans are a great way to organize a small space! Use them in your fridge to hold leftovers or condiments, or in your spice cabinet to easily find the spices you need. You can find a DIY one here that you can make from supplies at the dollar store.
Use a magazine rack to hold small items. Magazine racks or file holders are a great way to organize those odd shaped items! Use them for storing paper plates, water bottles, and also a variety of other items. I actually use them to store the lids to my plastic bowls. You can see more about my method here.
Use a loop hanger for belts, scarves, and other closet necessities. Loop hangers are extremely inexpensive but can help condense your closet space! With one hanger you can keep your belts, ties, scarves, and also other closet essentials organized.
Make your own floating shelves. Floating shelves are extremely easy to make yourself! All you need is some wood, and a coat of paint if you prefer it to not be wood colored, and you have a great storage solution for any space!
Use command hooks to hang your measuring cups and spoons. The inside of your cabinets is usually unused real estate! Add command hooks to the inside door and hang your measuring cups and spoons to free up your drawer space. You can see where I did this here.
Simplify your chore chart system. You don't need a whole household management binder in order to keep your home in tip-top shape! Simplify your chore chart system by using popsicle sticks in a cup or a dry erase board with a list of chores. Here is a great chore stick chart that might also work for you.
Utilize over the door space. Many closet doors go unused! This can be a great way to get things out of bins and in a place that you can easily see them! Use over the door shoe organizers for closets and also your pantry. See a few of my best ideas for the backs of doors here.
Repurpose laundry baskets. If you have old laundry baskets lying around the home, reuse them for storing tall items such as wrapping paper! This is also a great way to give an old laundry basket a second life.
Use tackle boxes for organizing small items. Tackle boxes can be bought online or in a store, and I've even seen them at dollar stores! These are great for dividing small items such as batteries, jewelry, and also memory cards for storage.
Invest in a mail holder or sorter. This will be the best $10 you ever spend, trust me! By having a place where mail and papers can go without much effort, you will be able to stay organized and also you will never lose a bill again!
So, as you can see, it is possible to organize your life even on a tight budget! If you don't have a lot of money to spend, that doesn't mean you can't get organized this year. Try our organizing ideas above to simplify things around your home.
Declutter Your Home in 31 Days!
Clear the clutter and organize your home with our daily emails! Every day for a month we will send you a prompt to declutter! Sign up for our email list below to get started.