I am wrapping up Craft Lightning today with a mega round up of over 50 quick crafts. These can all be completed in 15 minutes or less. So get crafty FAST with these great ideas. Who says you don't have time to craft? If you have 15 minutes and some supplies, you can make one or more of the fabulous handmade ideas below.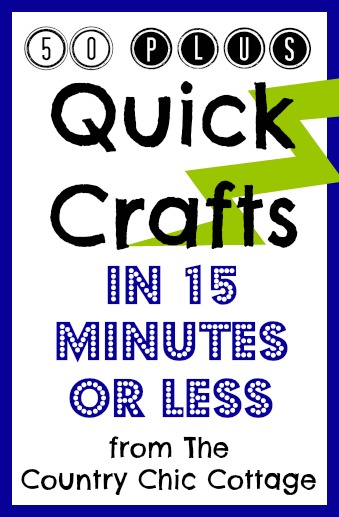 I am going to do a link list below to all of the quick crafts from this week. However if you would rather see the pictures all together, you can head on over for all of these quick crafts and more on our quick and easy crafts Pinterest board. Now lets get started!
DIY floating toy boat
Picnic Silverware kit
Mason jar utensil holders
Tie dyed underwear
Doll size button shoes
Glittered flower pots
DIY wood backdrops
Water color thank you card
Have we inspired you to get creative in less time? Grab a few of these quick crafts and make something handmade….all in 15 minutes or less!