This post and photos may contain Amazon or other affiliate links. If you purchase something through any link, I may receive a small commission at no extra charge to you. Any supplies used may be given to me free of charge, however, all projects and opinions are my own.
Do you understand the types of Styrofoam to use for crafting? Did you know that Styrofoam is actually a brand name? In reality all types of foam fall under the category of craft foam. There are several different types and choosing a type is dependent upon your application. Don't worry! We are going to walk you through everything you need to know about Styrofoam and other craft foams! Find the best one for your craft project and get started making something amazing today.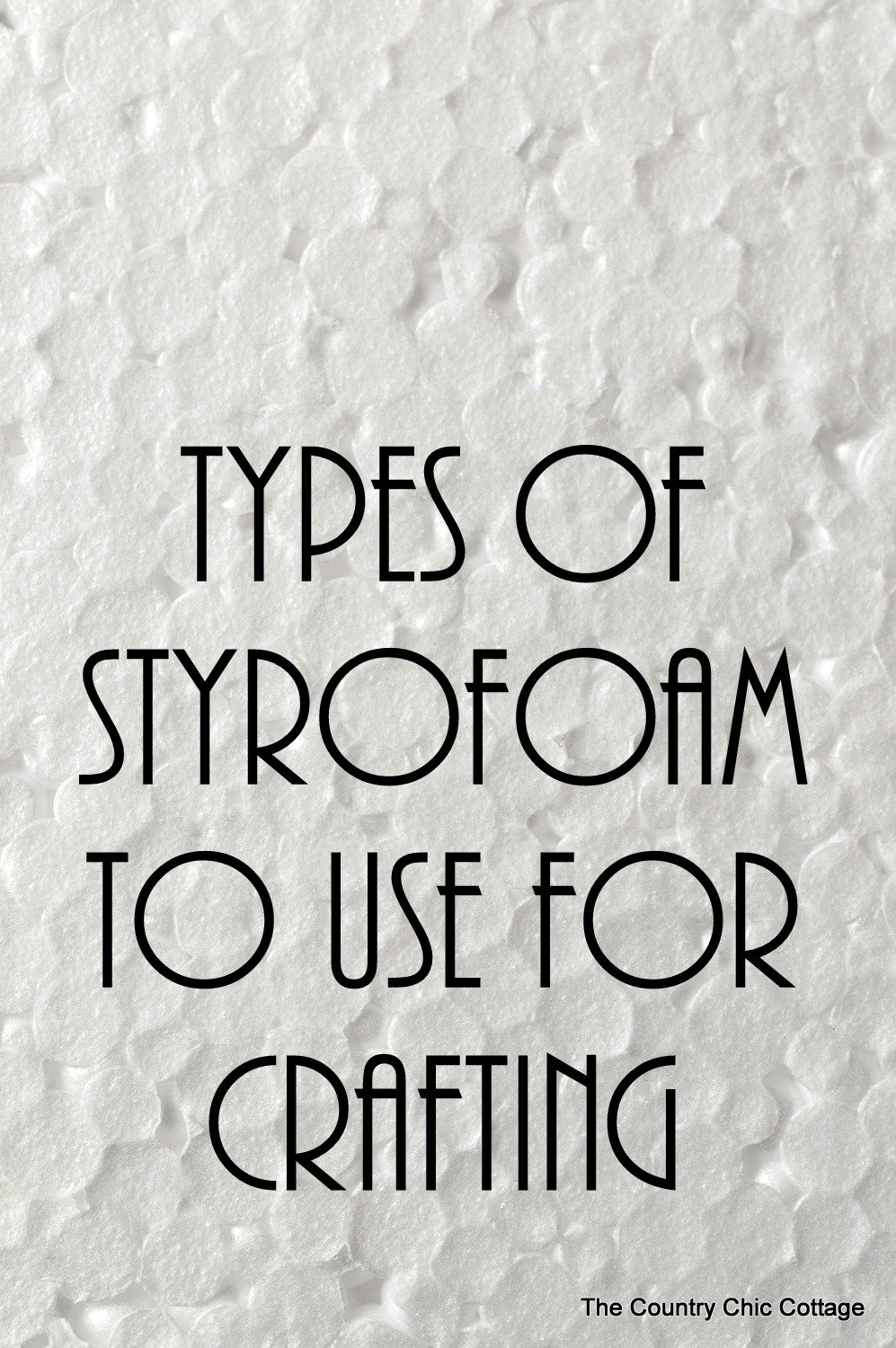 Types of Styrofoam to Use for Crafting
Links in this post my be affiliate links.
Fresh Floral Foam — this is the first product I tackle in the video below. It is intended to wick moisture to keep fresh floral arrangements alive. It is extremely soft and easy to mold with your hands to fit in a container. All foams can be purchased in a variety of shapes and sizes. You should double check the label for the word "fresh" or "wet" when dealing with fresh floral arrangements.
Dry Floral Foam— intended for silk floral arrangements and is usually green in color. You can get this under the desert, dry, or econofoam brand names. It is not as soft as fresh floral foam. I would recommend a serrated knife or electric foam cutter to trim to the size of your container. This foam is designed to keep your silk flowers upright when you press the stems into the foam. It also comes in a wide variety of shapes and sizes so pick one closest to your needs. Be sure to double check the label when purchasing this craft foam as you do not want the wet foam in this case.
STYROFOAM ® — this is what people generally say when talking about craft foam. It is actually a brand name indicated by a manufacturer. It is intended for a variety of craft projects and comes in a wide variety of shapes and sizes for any project you have in mind. My personal favorite aspect is that it comes in huge sheets that you can then cut to any size or shape you desire with a foam cutter. STYROFOAM has a rough texture on the surface that will show through when you paint. There are a couple of products on the market that will fill in that texture if a smooth finish is required. Note that water based paints are recommended for all foam products and you should never use spray paint. Spray paint will damage the foam and leave you with a less than desirable result. You can also buy extruded foam products under the STYROFOAM brand name such as wreath forms. While these products are still STYROFOAM, they are extruded to give a smooth texture. I do not recommend the extruded forms if you are going to be adding anything that you need to poke into the surface.
Smoothfoam — this is the smooth version of STYROFOAM that is manufactured by a different company. For a quick comparison, you can read this post over at Craft Test Dummies. It is smoother for painted applications but still not a super slick surface. For most applications, my personal preference is STYROFOAM but Smoothfoam will do in a pinch.
Specialty Foam — this is generally urethane foam that is in specialty shapes. You can expect to find shapes from topiaries to heads and more. This is great if you are looking for something specific for a project. Especially if the shape will be too difficult to cut yourself from another foam product.
I shot a quick video showing you the different types of foam and explaining the differences. You can watch the video below.
Now that you understand the types of Styrofoam to use for crafting, get out and make a few craft foam projects! You can create so many amazing things with just a little foam!